When the Industrial Revolution hit in the late 19th century, not everyone was enthused to embrace the powerful tools of the new era. Some things were better left crafted by hand. The violin, for example, was invented three centuries before in Italy, where to this day some of the best luthiers go to school to learn the craft of building stringed instruments.
"Those people who resisted were called luddites because they preferred the old-fashioned way of working on something and not being so modern," says Lou Lynch, owner of Tulsa Violin Shop. "So in a way, this is a little capsule, a bubble of luddites," he says, motioning to the dozens of wooden instruments of varying sizes hanging along the walls. "I always tell people I'm a luddite."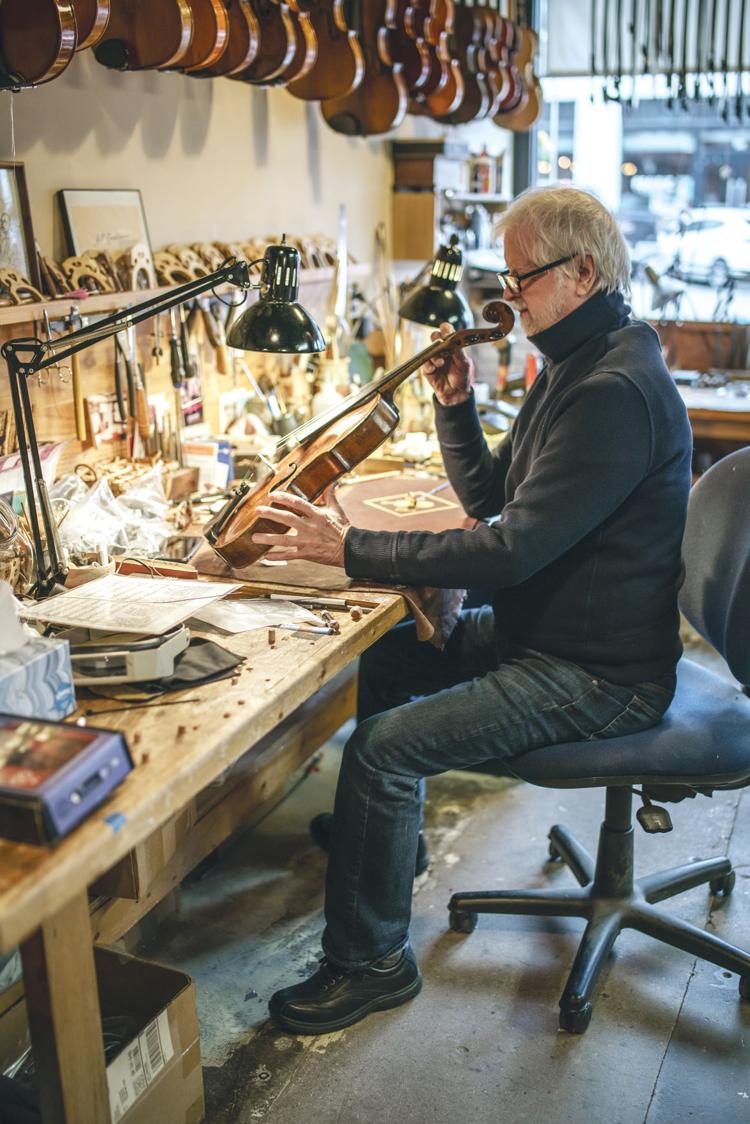 Tulsa Violin Shop anchors the brick-and-mortar stores along North Main Street in the Tulsa Arts District the same way strings anchor an orchestra. For nearly 24 years the shop with the notable lapis facade has provided violins, violas, cellos and basses to Boomtown's musicians. The shop's anniversary is April 1, and there are no plans of going anywhere else.
Inside, Lynch and his shop partner, Phil Wachowski, work carefully on stringed instruments. The store has two large rooms, one with the new and used inventory for sale and one where Lynch and Wachowski do surgery on broken instruments. This is just one of Wachowski's jobs. The other is his role as associate principal viola in Tulsa Symphony.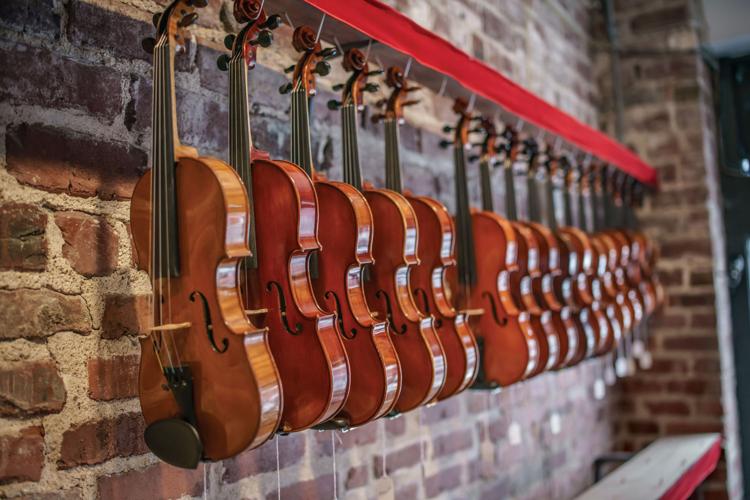 In the repair shop, dozens of instruments line the walls awaiting repair, hanging by their scrolls on plastic wires to maximize use of the space. Some belong to professionals, but most belong to Tulsa Public School students. "A lot of them are from schools," Lynch says. "Last week, there was a symphony concert — the Tulsa Symphony — and they have a lot of players that come from out of town who play. And we had two fingerboards that were needing repaired. One was a Symphony player's, and the other was a student's whose mom brought it in, but they had a performance and needed to have it right away."
Lynch and Wachowski aren't luthiers, exactly — they don't build the instruments — they're more musicians-turned-mechanics. Lynch is a cellist; Wachowski a violist. The two met in the early '70s in Kansas City, Missouri, where Lynch was playing in the city symphony and Wachowski landed his first gig out of school. "And the first thing that happens to him (Wachowski) when he shows up in Kansas City is that the orchestra's on strike," Lynch says. They were negotiating wages.
"It was a union gig," Wachowski says. "The first rehearsal I went to, there was… what was his name? Otto. Got in front of his section and stood in front of the door and just starts quoting the preamble of the Constitution."
"That guy made it out of a concentration camp, so he has a history," Lynch adds. "I mean, we're talking about musicians that barely make enough to eat on and pay their rent. And every time there's negotiation for a contract, they got beat down further and further, so it takes its toll."
Lynch says through all that he and Wachowski never became jaded in terms of music. "But many people do because emotionally they've been run over by people who have the power, so to speak," he says.
Eventually both men wound up in Tulsa playing in the Tulsa Philharmonic, the organization that predated the Tulsa Symphony. It turns out the Philharmonic's impending demise brought Wachowski to work in the Tulsa Violin Shop.
Wachowski was manager for the Tulsa Philharmonic, but says he saw "the writing on the wall." Lynch was looking for someone to re-hair bows. "He had an actual luthier working in the shop here so I learned, sort of apprenticed, for the guy that was here," Wachowski says. Lynch learned what he knows from mentor Amos Harberry, whom he met during a stint in Colorado.
The pair listens to classical music as they work, cranked up on the boombox in the repair-side of the shop. Like a smooth and steady legato, each brings his own expertise and way of thinking to the table.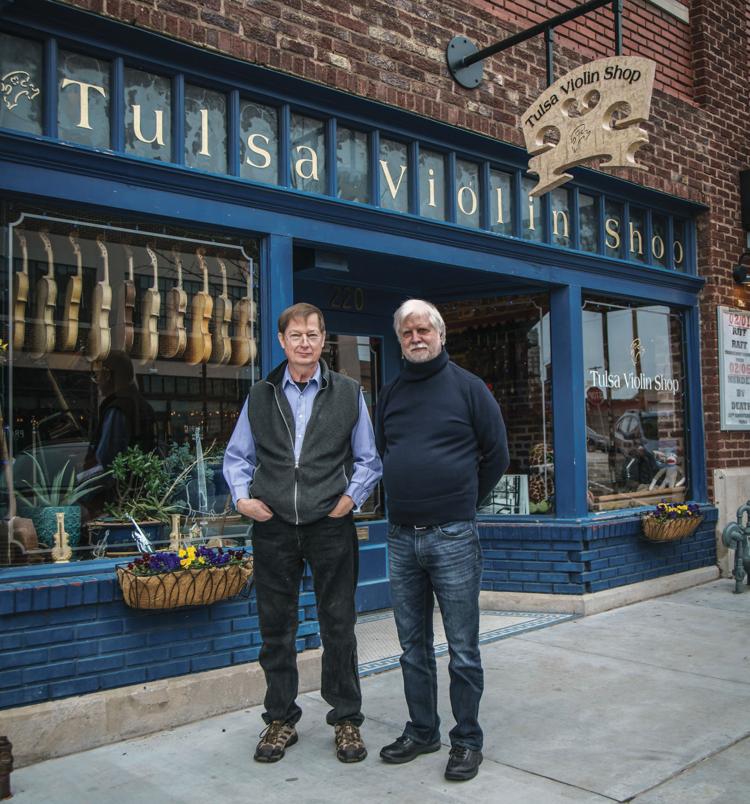 "I'm gluing up this fiddle," Wachowski explains. "They put them together with special hide glue that is not stronger than the wood because you want the glue to break if something happens, instead of the wood splitting."
One of the most challenging things about working on the violin family is the curvature, which makes fitting new pieces (like the bridge that holds the strings up) a process unique to each instrument, Wachowski says.
"One of the things we do to get that curve right is we put a piece of carbon paper on the top of the instrument, take the bridge we're trying to fit and try to move it back and forth. Just slightly, so it marks the high spots," he says. "And we use the knife and we make just a tiny shaving off here and there. You know how the dentist does when he does a filling? Bite, tap-tap-tap."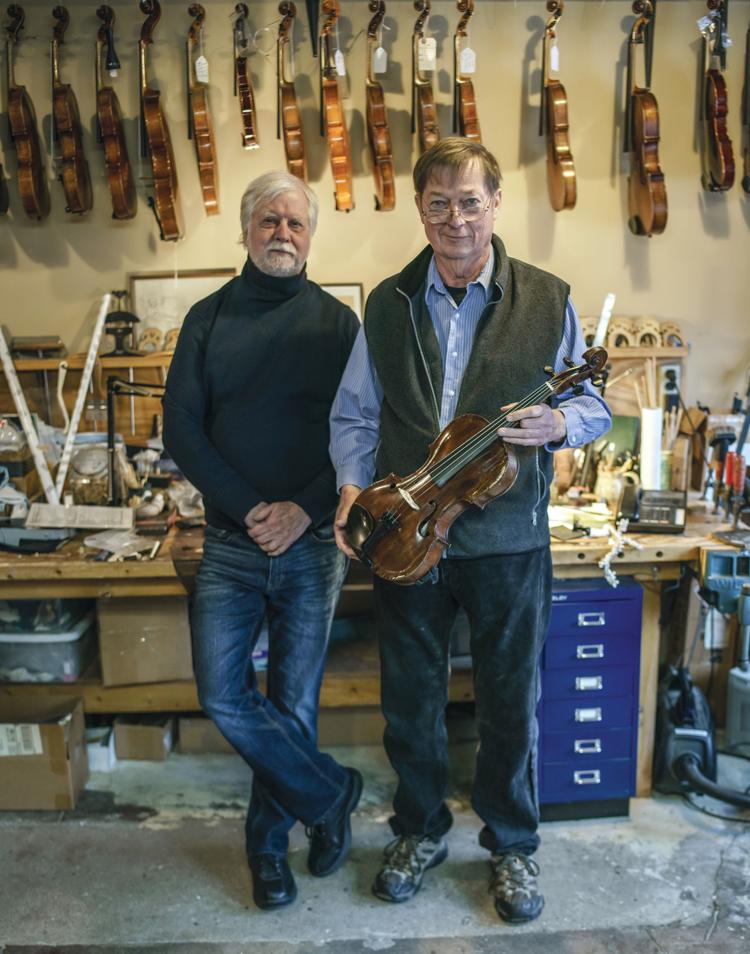 Lynch picks up an old instrument from the 1700s they've been working on since this past summer. He bought it with a handful of others that someone brought into the shop, unsure if he and Wachowski could bring it back to life. "This is a very peculiar type of instrument," he says.
"It's a viola. A very small viola, which is unusual. It has a very tight, high rib structure. We had the top off of this because when I got it, it was really a total mess." The body looks almost like a mosaic, carefully pieced together by a patient hand. "We had to go in and just go over every individual crack and then get it glued, clean it."
Every repair is, in a sense, a gamble. It's a feeling. You can't know how the instrument will sound before it's repaired. "You have to have faith," Lynch says. "But this whole business is a non-verbal sort of thing. I mean, I get to see 3- and 4-year-old kids come in who have been asking their parents to play. Nagging them to play the instrument for a year or so. So there's an element that can't be explained. It defines itself."
"Music in itself is a different expression," he continues. "But we understand it, we know it's very powerful. In all forms, not just classical. I think everybody recognizes there's an energy, something that can change our moods. It can enhance certain things. Something so sad can be so beautiful. It's not always so black and white. So that's sort of the way everything is approached here."
---
See a video about the historic shop below!