It's Friday night in the Arts District. The sidewalks are crowded with people in varying degrees of formal dress, at varying levels of sobriety, and the hum of conversation mixes with music from different bars to create a pleasing cacophony. Suddenly, a scream cuts through the night. "Oh my god! Is that a snake? Can I touch it?" 
A crowd gathers to investigate. Most of them are young, most have been drinking; all are holding smartphones. At the center of the cluster stands a young man, wearing a shirt that says Follow Me, with a four-foot-long python wrapped around his neck. This is Solofa Halley, 26, Tulsa's self-styled "Jungle Boy."
For those who live or work in the Arts District, Halley is a familiar sight. He's out there most weekend nights, sundown to bar time, posing for people's selfies and answering questions. He'll even let you wear the snake yourself—for a price. And for many denizens of social media, where clicks and likes are a kind of currency, the five bucks Halley charges is nothing when weighed against the opportunity to thrill your Instagram followers with a snake selfie. 
The combination of snakes and social media has proven to be so valuable, in fact, that Halley has built an entire business around it. "I make about $20 an hour when I'm out with the snakes," he said. "That's here in Tulsa. When I'm in Miami, I make at least $50." 
A few years ago, he discovered that he could charge much more in other cities, and now he and his snakes spend part of the year on the road. "Spring Break and Carnival bring thousands of people to Miami, and that's thousands of people who might like to hold a snake and get a cool picture taken with him," Halley said. 
He also travels to Austin for the South by Southwest Festival, New Orleans for Mardi Gras, and New York. A recent video on his YouTube channel offers a glimpse into these trips: Wearing his nine-foot-long reticulated python Dionysus, Halley strolls through a boot store, poses with a group of giggling tourists, stands still while a woman touches Dionysus with a nervous hand, and carefully lifts the snake from his own neck and drapes it across a man's shoulders. For people brave enough to wear them, the snakes seem to act as a living Snapchat filter—another way of trying on an image that isn't quite your own. 
Halley and his menagerie also do more formal photo shoots. Through Instagram, he connected with a number of reality show stars who recognized the attention-grabbing potential of Halley's animals. In 2018, he traveled to Chicago for a shoot with Katherine "Cobra Kat" Fullerton of VH1's tattoo shop reality series, Black Ink Crew: Chicago. It was a success, one which Halley used as leverage to make other reality show connections. 
In 2019, he did a photo shoot with Kenisha "Tip Drill" Myree and a music video with Diana de los Santos, better known as Amara La Negra, both from VH1's Love & Hip Hop: Miami. The music video, which features rapper DJ Kool, opens with a shot of Halley's ball python Cupcake as it slithers across an ornate throne. According to Halley, DJ Kool was "scared of the snakes most definitely, but mad cool." 
Each celebrity shoot elevates Halley's business profile, increases his follower count, adds to his portfolio, and garners networking opportunities that lead to other gigs—and the difference is clear. In just two years, Halley has gained nearly 50,000 followers on Instagram. "When I started, I wouldn't hear back from most of the people I reached out to," Halley said. "Now, at the very least, I'll get a response, even if they're not interested. Now my name is out there, and they're reaching out to me." 
*  *  *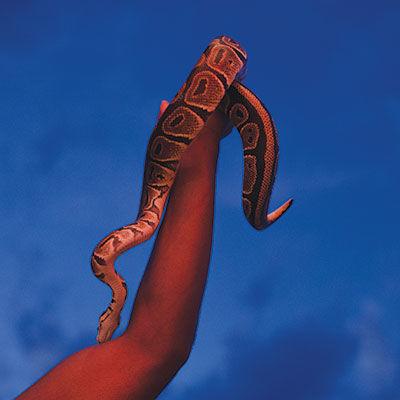 It All Started with a Snake
Growing up in Gilcrease Hills, Halley was surrounded by animals. His family's proximity to the woods meant they frequently saw wildlife—including deer, coyotes, and even bobcats—in their backyard. Halley loved them all. The family had dogs, too, but as a kid, the most exotic animal Halley ever had was a pet rat. 
That all changed one day in 2011, when he was 18. "It all started with a snake," he said. "I was at my mom's apartment watching Animal Planet, and one of her neighbors put his snake in a little container out in the hallway while he was cleaning the cage, and I just thought it was so cool." That afternoon, he went to a pet store and asked if he could hold a snake. They gave him a few to hold, and he decided to buy a corn snake. Soon he went back for more, quickly acquiring a boa constrictor and a ball python. "That's when I started walking out in public with them. I saw people walking their dogs, and I thought, I'm going to walk my snake."
At the time, Halley was bouncing from job to job, mostly in the food industry. After graduating from high school at 16, he trained in the culinary arts through Tulsa's Job Corps Program, but his heart wasn't in it, and he found it difficult to keep a job for more than six months. "I had a hundred jobs. I worked everywhere in Tulsa," he said. 
Meanwhile, his collection of pets was growing, as he adopted other snakes, lizards and even insects. But it wasn't until 2015 that he realized he could make money with them. Halley and his friend Amber took some snakes to Mayfest, just for fun. "Back then, I was just doing it for the attention. Everybody wanted to take a picture... you know, girls would talk to me," Halley laughed. 
They got so much attention that Halley's friend got frustrated. It was a hot day and she wanted to get something to drink, but people were stopping them every few feet to ask about the snakes. Finally, Amber lost her temper. "When the next person asked to touch the snake, Amber said in this loud voice, 'Five dollars!' And everybody around us just broke out five dollars," Halley remembered. By the end of the night, they had made over $300. "I was like, I can make money doing this?"
Halley started brainstorming ideas for a business. If he could make money with the snakes, he thought, maybe he could also make money with some of his other animals—the gecko and the bearded dragon, the frogs and the turtles. He came up with the name Jungle Boyz Exotics and started advertising that he was available to do school and daycare visits, all while still working his restaurant day jobs. "A lot of it I had to figure out on my own," Halley said. "People gave me business ideas, but it's kind of a different ballgame when there's a snake involved. A lot of the time I just have to roll the dice, take chances, and see what works." 
*  *  *
Crocodile Hunter of Snakes
Today, Jungle Boyz Exotics, which has expanded to include more than 150 animals, earns enough to be Halley's full-time job. But for him, it's more than a business—it's a form of advocacy. Every time someone stops to ask him a question about the snake around his neck, Halley has an opportunity to educate them. He believes that the chance to get up close and personal with a python can help people to overcome their fear of snakes. "A lot of people are afraid of snakes, and they don't even know why. I want to help break that for people," he said. 
School visits provide Halley with a chance to ease that fear in a younger audience. "I teach kids not to fear snakes, but to respect them. They're wild animals, but they have minds just like we do." He talks about how snakes are good for the environment and why they make great pets. To explain why an animal might bite when it's surprised or disturbed, Halley encourages children to put themselves in the snake's place, and imagine how they would feel if a giant reached into their house and pulled them out. "I tell kids, 'If you see a snake, just leave him alone. Maybe he's on his way to work, and you're making him late. I would bite you too, if you made me late for work.'" 
Halley dreams of creating a wildlife refuge in Africa to protect animals from poachers, but in the meantime, he plans to continue expanding his business in order to reach as many people as he can. "I want to be like Steve Irwin, the Crocodile Hunter, but with snakes. I want to teach everyone in the world about them."