The Community Service Council of Greater Tulsa
A gang prevention model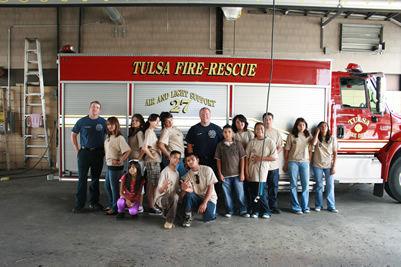 The Tulsa Youth Intervention Project, or TYIP, is a comprehensive gang-prevention model that aims to reach students already involved in gangs and prevent others from becoming involved. Facets of the program include providing case managers for students in Office of Juvenile Affairs (OJA) custody or on probation to reintegrate them back into school; forming relationships with families to ensure siblings do not get involved with gangs; and working with police to address and prevent gang violence, CSC Planner Dolores Verbonitz says. 
Another component of the TYIP is school-based outreach. Jordan Westbrook leads a group of eighth-grade boys at Cleveland Middle School and an after-school group of sixth- through eighth-graders at Gilcrease Middle School. During these sessions, Westbrook provides life skills, gang prevention education and anti-aggression training. 
He also participates in a program at East Central High School and Cooper Elementary School called Teens in Action, which facilitates mentoring between high school and elementary school students, and he leads a Choose to Lose committee through the Eastside Coalition, which allows students to complete community service projects while learning about alcohol prevention. 
Westbrook says these programs are vital to addressing the dropout problem, and the community must step in and take an interest in the issues facing today's students.
"You can't really ignore it anymore," he says. "There are entire schools where the whole student body … every single kid would have multiple risk factors for dropping out of school."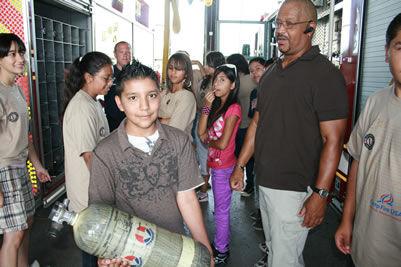 Because he speaks Spanish fluently, Witt-Araya serves as a trusted confidante, someone who, literally, speaks the students' language.
"These kids really want to succeed," he says. "They just have to find some sort of foothold in saying, 'I can do this; I can belong to this.'"
Conecctiones for families
Another program, called Conecctiones, helps create connections with Spanish-speaking families in the Will Rogers High School feeder pattern. Starting at the four elementary school sites, Bryant, Clinton, McKinley and Sequoyah, Conecctiones' staff work to develop relationships with parents and provide support so that students can be successful in school. For example, a child could be missing school because he or she is at home taking care of a younger sibling, so Conecctiones provides resources for the parents to find a day care for the younger child.
Conecctiones also works with students and parents at the middle school level, a critical period for preventing dropouts, to express to families the importance of education. 
"We have to encourage the parent and talk to the child and help them see through (their situation,)" says Talia Shaull, a Conecctiones staff member. "It's how we can support them to get their needs met but also understand that the child needs to continue their education."
At the high school level, Conecctiones has a community and family liaison, Angela Bovar, who works with families at Will Rogers.
Improving behavioral health
The CSC is focused on children's behavioral health as well, says Carla Tanner, who leads the Tulsa Children's Behavioral Health Community Team, which comprises most all of the nonprofit mental health providers in Tulsa. Tanner says meetings usually include about 50 people, who discuss school-based mental health, mental health services for children in foster care, intervention with young children and developing relationships between caregivers and children.
The initiative also includes a team that provides wrap-around services for families of children dealing with behavioral or mental challenges, identifying ways to connect families with services, whether at school or elsewhere, and teach them how to develop a support system to handle crises.
"Emotional health is more of a deterrent for a person being educated than any other disability," Tanner says. "They're less likely to succeed than even a person with mental retardation. It really is a high, high dropout rate with kids with behavioral health problems."
Alice Blue, director of the Area Prevention Resource Center and senior planner for community and school partnerships for the CSC, says Tulsa Public Schools has been receptive to the CSC providing in-school services for students, especially at the elementary school level, where the community-schools approach has shown significant gains in academic achievement for high-needs students. Blue is optimistic that this concept also will rise to middle and high schools, where students have the same needs — needs the community could help meet.
"Societally, we're failing miserably, and particularly by the minority kids in our world, and that translates to what's going on in Tulsa," she says. "I think it's probably the first time that I've really seen this kind of energy addressed at making sure we have a foothold to reaching some of these children."
New Hope
Providing opportunities for children of incarcerated parents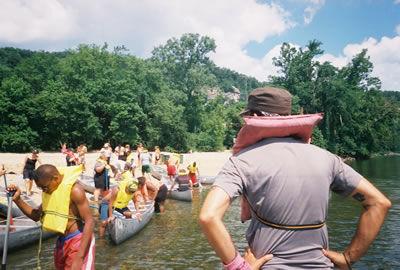 This situation is what fuels New Hope, a program that began in 1992 when a group of Tulsa Episcopalians began visiting prisons. After talking with the inmates there, they realized many of them had children and were worried about their welfare.
That led to the creation of a summer camp for children whose parents have been incarcerated, beginning with just three children and six adults and now serving 125 children ages 8-15. The camp aims to provide a safe place where kids can spend a week just being kids, says Judy Gann, New Hope executive director.
Gann says many of the students New Hope serves face challenges in their lives, from stress to coming to school hungry to caring for younger siblings. Even if one parent is in prison, another could be struggling with drugs or mental illness at home. Many times, these students bring those challenges to school. As a result, New Hope developed after-school programs to stay in contact with campers and provide additional support.
The Girls' Circle, which began in 2007, and Boys' Counsel, which began in 2008, meet at Trinity Episcopal Church weekly. During the Girls' Circle, participants discuss a new theme each week, including being a girl, body image, diversity and friendship. It's a place where they can talk about anything and ask about anything, Gann says.
This fall, New Hope will begin an after-school program for fourth- and fifth-grade girls at Marshall and Mark Twain elementary schools, with the potential addition of a third school. In all, New Hope hopes to serve 60 students in the after-school program.
Mobility is also an issue, with kids switching from school to school and staying with different family members and friends. This is one reason why Gann says she expanded New Hope past the summer months: to stay connected with kids. New Hope also aims to fill other needs. To help teenagers learn about the working world, older campers, who serve as counselors-in-training, fill out job applications and do interviews. To help prevent teen pregnancy among the girls in the group, New Hope hosts a retreat to talk to them about reproductive health. New Hope also secures mentors for all of its participants.
Gann says she has seen a difference in the girls who have been attending the Girls' Circle. They have formed bonds and enjoy talking and listening with one another. She says these positive relationships will have an impact on lowering the dropout rate, providing a forum for girls and boys to come together and feel safe asking questions.
"They don't always want answers, just someone to listen," she says.
Girls Empowered
Helping girls achieve their potential
A program offered through Resonance Center for Women Inc., Girls Empowered aims to provide opportunities to help at-risk girls, ages 12-16, learn skills that will help them "do anything and be anything they want to be," says Paula Royce, Resonance's youth programming director.
Under the umbrella of the Girls Unlimited program, which has been operating for 10 years, Girls Empowered was created three years ago to serve older girls, for whom summer programs often aren't available. Royce says the dynamics of Girls Unlimited were changing, with the majority of girls attending on scholarships, so Resonance changed the program to accommodate these participants' needs.
During the program's three summer sessions, the girls, who are referred by local youth-serving agencies, participate in a variety of activities to increase their confidence and understand their potential.
These include exploring self-expression through the arts, health and fitness and community service and participating in self-esteem building exercises. The program also encourages education by taking the girls on tours of universities and local companies, where they meet female business leaders and hear their tips for what they can do to prepare for their career.
"Our goal is to take young women out in the community and to meet different people and see, how did you get here? What skills do you have?" Royce says. "It's always, 'I stayed in school. I made education a priority.' We're not saying, 'OK, you have to choose right now what you want to do.' We tell our girls, education gives you more choices."
Royce says this exposure is important because, in many cases, the Girls Empowered participants are facing poverty, mental health challenges or early pregnancy, obstacles that may have prevented them from exploring their full potential through education and careers.
"We do a lot of goal-setting to help them get there," Royce says.
The program also emphasizes the relationships the girls develop with one another and with adult mentors. Royce says research has shown that girls need healthy relationships, people who will make them feel safe and cared for.
"If we can find someone who can help guide them and to help them make good choices, I think that's really important," Royce says.
To continue to develop these connections, Girls Empowered hosts small groups that meet at Tulsa middle schools, through which the girls continue the activities they learned during the summer program, such as listening to guest speakers; visiting local nonprofits; and discussing topics such as healthy relationships, boundaries, friendship and controlling anger.
"It's a good time for girls to get together and be a girl," Royce says.
Tulsa County Juvenile Bureau
New approaches for at-risk students
Brent Wolfe, director of the Tulsa County Juvenile Bureau, is enthusiastic about Tulsa Public Schools' (TPS) new efforts to reach some of Tulsa's most challenging students.
Six years ago, the Juvenile Bureau and TPS created a collaborative middle school called Phoenix to serve youth who were on probation or who had been suspended. When that program was terminated two years ago, Wolfe created a new program that would keep students from merely staying at home during their suspension or probation, a day program through which the students could complete schoolwork and learn life skills.
Last spring, the program, called Phoenix Rising, added a teacher from TPS, who helped 85 percent of the program's 35 students receive enough passing credit to advance to the next grade level. This year, Phoenix Rising will have one full-time TPS teacher, a part-time special education teacher and a part-time teacher from Career Tech to assist with career development. Phoenix Rising also has partnered with individuals and organizations in the community to help students explore other interests, such as art classes with Garden Deva Lisa Regan and glassblowing at the Tulsa Glassblowing Studio.
Phoenix Rising facilitator Scott Ferris says offering the program in the NorthPointe shopping center removes the stigma of the detention facility.
"We don't try to be the hard-core, militant (program), penalizing them," he says. "We're just trying to help them to learn."
In the fall, Wolfe and TPS officials plan to take the program a step further. Phoenix Rising will begin operating under the Big Picture Learning model, an international network of schools that focuses on authentic and relevant learning experiences tailored to students' individual interests. Additionally, TPS is instituting a new "continuation school" to serve students who have displayed serious disruptive behavior in school and, as a result, may not be suited for the mainstream classroom.
Wolfe says he appreciates TPS' dedication to serving the system's most at-risk youth.
"These will be the hardest-to-serve youth in their (TPS') system," Wolfe says. "Granted, they probably don't know how to be in a mainstream classroom, and understandably teachers don't want them in the classroom. However, the amazing part is, they've (TPS officials) now said that they will be in a classroom."
The Juvenile Bureau also is involved with tracking truancy in TPS, operating a truancy court, where students, with their parents, are instructed to return to school or face fines. The bureau also is working to counter these problems before they reach the court level through Check and Connect, a truancy-diversion program that aims to find causes for students missing school and identify ways to manage them.
The program, which will be offered in four elementary and two middle schools this fall, works by embedding a staff member in each school who keeps track of students with tardy or truancy problems. That person then follows up with the students' family to find solutions, such as providing transportation if the family has no car or purchasing an alarm clock if the student oversleeps. In one case, Wolfe says, a family had only one set of school uniforms, so when they got dirty, the mother kept the children home from school while she washed them by hand.
"That was a pretty simple problem to solve, but had we not been able to make that relationship and be at the home and actually see what was happening, it could have continued," Wolfe says.
Now in its third year, Check and Connect has demonstrated statistical improvement in the schools it serves, and Wolfe says he'd like to see it expand to additional schools, including high schools.
Wolfe says these new alternative approaches to education will be a "major step" toward reducing truancy and dropouts.
"(It shows students that) we're going to find you and stick with you; we're not going to let you go," he says.