During the golden hour of an evening in late July, I sat on the porch of "The Outsiders" house drinking Pabst and smoking Camels with Zach Matthews, owner of Cellar Dweller, and Donnie Rich, owner of The Venue Shrine. Ubiquitous train sirens howled and bugs chirped and buzzed in the sticky twilight. It was a bit surreal; clearly, it still is for them, too.
"This was the Curtis Brother's house. Sodapop. Ponyboy. And older brother…Darr-ell!" Matthews rolls that last bit out with an Okie flourish, as if we should all posthumously pour one out for Patrick Swayze, who played the eldest Curtis brother in the 1983 film. 
The house, which sits at 731 N. St. Louis Ave., was home to Francis Ford Coppola's 1983 adaptation of S.E. Hinton's novel "The Outsiders" and is now being renovated and transformed into what will be The Outsiders House Museum.
 "There's probably 20 people in this neighborhood that lived in this house at one point," said Rich, who has been helping with restoration and fundraising efforts. "They were here during the filming. They've been here since. To them, they've just been surrounded by it their whole lives." 
The blue-collar Crutchfield neighborhood lies between Peoria and Utica, just north of the train tracks. The modest area hasn't changed much in the 25 years since the film; most of the houses are 50-100 years old, and many of them are in various states of disrepair. 
"What you see here, this house isn't here out of preservation," Matthews said. "This house is here out of neglect. What Susie Hinton wrote about 50 years ago was a socioeconomic divide." 
The divide persists.
Ten minutes into my visit, a neighbor joined us. Chuck Drywater has lived next door to the house since before the film was made.  After shooting wrapped, the original couch from the film found a new home on Drywater's porch, where it sat for decades. 
"I tried to get Matt Dillon high," Drywater offered, before launching into a charming, lengthy anecdote eventually drowned out by the howl of another passing train. 
"That's the sound right there," Rich said.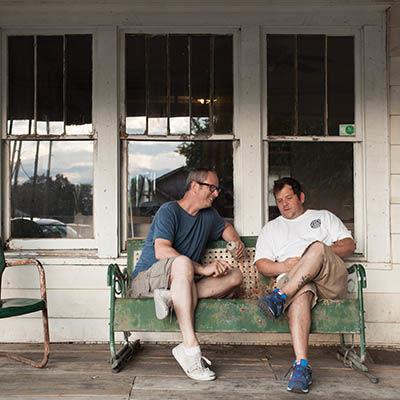 Matthews and Rich are citizen scholars. They know details like local filming locations, who was an extra and who was a makeup artist, who now owns what famous car from the movie, where a certain photograph was taken. One might say they're obsessive, a perfect match for the owner of the house, Daniel "Danny Boy" O'Connor.
O'Connor it turns out, was the catalyst for the resurrection of "The Outsiders" house. 
A rapper from L.A. by way of Brooklyn, O'Connor is most notable for the band he formed with Everlast and DJ Lethal, House of Pain. If you were a '90s club kid, you likely pogoed to "Jump Around." 
"I saw ["The Outsiders"] when it came out and it just left an indelible mark," O'Connor said. "It's one of those movies that's a classic. Right side of the tracks, wrong side of the tracks. I was the perfect age, 14 years-old, and I related with the characters." 
O'Connor enjoyed a three-day layover after playing a show at Cain's Ballroom in 2009. During a cab ride, O'Connor asked if any of the film's locations were still around. His providential driver took him on a tour: Circle Cinema, the Admiral Twin, and the dilapidated 1920s Craftsman-style abode the Curtis brothers called home. 
"It blew my mind. I like L.A. and I like New York. But stuff changes so quick. Nothing looks the same," he said. "When I first got to Crutchfield Park, and 'The Outsiders' house—dude, I got goosebumps … my jaw dropped. It was like being in the 1980s. Or '60s, really."    
Since then, on tours or road trips, the charmed O'Connor made a point of visiting Tulsa, growing more disconcerted each trip by the neglect that has defined Crutchfield since Hinton's time. 
"I thought, why doesn't somebody around here save this place?"
 "Never in my wildest dreams did I think I would buy 'The Outsiders' house," he continued.
After being introduced to Zach Matthews through a mutual friend, O'Connor and Matthews bonded over a love of film—especially "The Outsiders"—and started talking about how they could save the famed-but-dilapidated house. During a series of road trips together, visiting cities with favorite film locations, O'Connor and Matthews decided to buy the place, which turned out to be easier said than done.  
A renthouse in a poor neighborhood, the house was owned by a widowed landlord in Florida, and the sleuthing it took to get in touch with her was only the beginning. Then came the real predicament: how to turn a sagging derelict into a shrine.
"We bought the house sight unseen," O'Connor said. "When I got there I was so blinded that I didn't see the mess. Zachary was out of town and I had to sneak in a back window. Dude, that house was destroyed." 
"Destroyed" meaning stolen copper, frayed electricity, a hordes of roaches—it gave them a sinking feeling that matched the foundation. But with the house bought and Zach and Donnie onboard, the only way out was through. 
"Within 48 hours I had a tool bag over here and we were ripping out walls," Rich said. "It wasn't meeting Danny O'Connor from House of Pain. I worked with him for three weeks before that even kicked in. I was in awe of the house."
---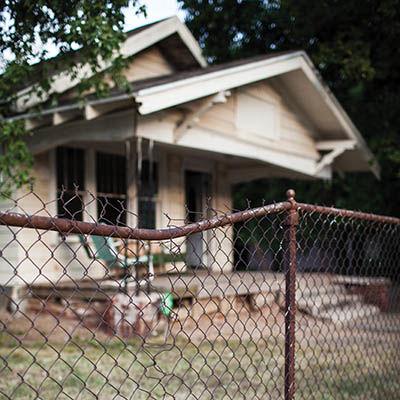 The house is still a mess, but of a different kind. It's now immersed in process. We walked through the skeleton, stripped to studs and plywood, some of which is stamped 1982, the year they replaced walls torn out to shoot scenes. 
It's undeniably the house, with placeholders for the exhibits that will make up the re-creation of the first two rooms. They have the Magnavox TV. They know where to get the Curtis's stereo. The stained glass is in Florida. The front door has been remade by a local remodeling company that donated its services.  
"My plan is to fix the entire house, and restore the first two rooms to how they look in the movie to the best of our ability," O'Connor said. "Those two rooms are the most prominent in the movie. The back rooms will be filled with all the paraphernalia I have [along with many submissions]. Posters, magazines, you name it, from all over the world. I have a switchblade collection. S.E. Hinton gave me Matt Dillon's jacket. I have some Holy Grail stuff."
Rich and Matthews also hit up antique shops and locals, veritable Tulsa Pickers, looking for any match to the original set they can find. 
"You realize how many fans are still here," Rich said. "They have these artifacts." 
Tentatively scheduled to be christened in April of 2017, the museum's opening will coincide with the novel's 50th anniversary. S.E. Hinton has expressed her support. 
"I'm thrilled Danny Boy O'Conner is undertaking this," Hinton said. "I would not do it myself. To me, it's just a movie location. But seeing how everyone is pitching in and helping this happen—from all over the world—has made me see how much it means to so many."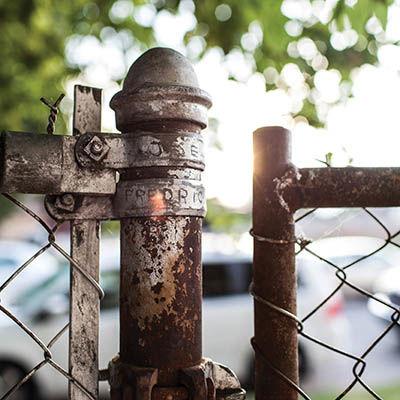 The city is on board—the Oklahoma Film and Music Office, Visit Tulsa, and the City Council are all lending their full support to the effort, and, by proxy, the legacy of our most famous house. Innumerable fans are donating would-be exhibits and the stories that go with them. Someone even saved (and has donated) Ralph Macchio's (Johnny Cade) now-30-year-old prosthetic scar.
Businesses and individuals are offering free labor, from leveling the foundation to mowing the lawn. Rob Lowe (Sodapop Curtis), Macchio, and Hinton (among others) are donating memorabilia for a silent auction. Darren Dalton (Randy) and C. Thomas Howell (Ponyboy Curtis), who formed a lifelong friendship during the production, are overjoyed to lend themselves to the cause, and will be in town to participate in this weekend's fundraiser.  
But it's the unlikely trio's providence and enthusiasm that's infectious. You can practically see their haloes.
"Being here 35 years, I've seen a lot of cool things fall apart in Tulsa. When the Admiral Twin burned, I didn't think it would be rebuilt," Matthews said. "You see these things drop away. Who knew the Circle would go from being a grindhouse to a boutique cinema? Perfect. So what's next on the map? 'The Outsiders' house. Like Donnie says, 'it's our Graceland.'"
For more from Joe, read his review of "Jason Bourne."