A new concept at Mother Road Market is cracking open fresh takes on breakfast staples. 
Da Yolk, 1124 S. Lewis Ave., serves up artful and fun food presentations that delight the eyes and the tastebuds. The Nest ($11), the restaurant's most popular item, is a take on an eggs Benedict with a playful twist. A soft-boiled egg sits in hashbrowns shaped like a bird's nest, drizzled with a rich hollandaise sauce and topped with Abundant Farms microgreens.
The concept grew from owner Kalee Kallam's passion for making food, which began at a very young age thanks to her late grandmother, Joyce. Kallam began making ready-made meals through her business Mae'd Meal Prep, a Kitchen 66 project. She later opened Da Yolk in November 2020. 
Other popular dishes include egg rolls ($8) with a traditional, flaky crust wrapped around a soft-boiled egg and finished with a drizzle of chipotle mayo, as well as orange curd pancakes ($6) featuring a refreshing, citrus glaze. The ever-popular Brunch-Wich ($9) is made up of hashbrowns, a sausage patty, fried eggs and a splattering of hollandaise sauce served on a toasted brioche bun.
"We wanted to make a more unique experience with fun-looking and appetizing food, something more than just scrambled eggs and bacon on a plate," Kallam says. 
---
Beyond eggs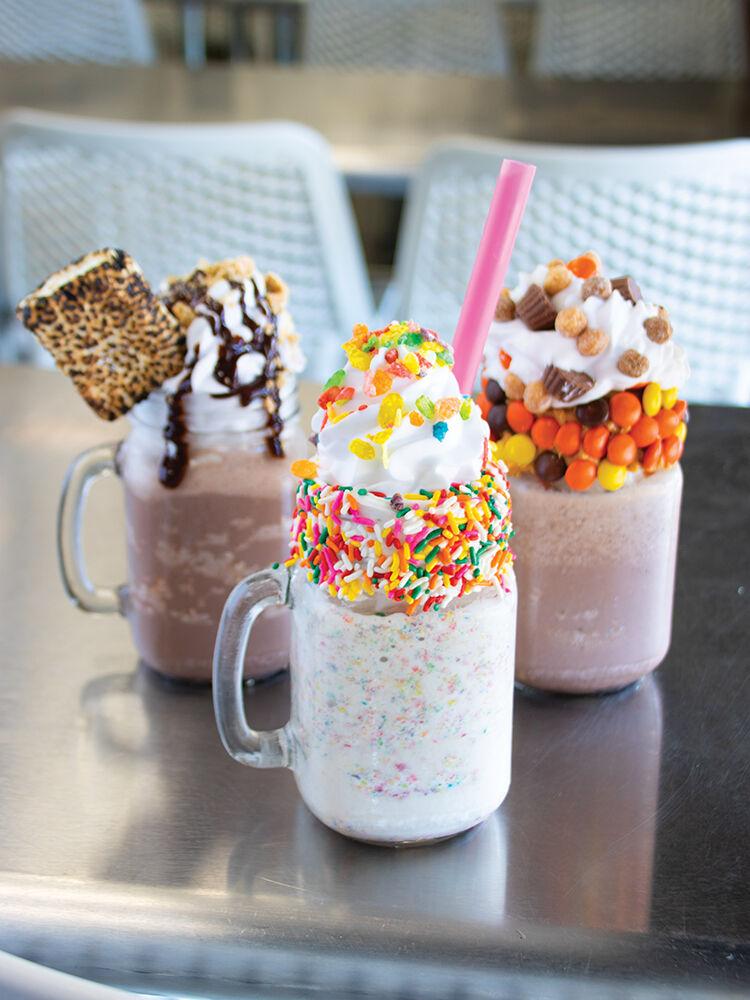 These extravagant milkshakes from Da Yolk are the stuff of dreams for both children and adults. Twelve milkshakes make up the dessert menu at this shop known for its breakfast and brunch fare.
The camper in all of us will appreciate the S'mores milkshake with its perfectly roasted marshmallow in a cloud of whipped cream, graham cracker crumbles and a Hershey's chocolate syrup drizzle.
The Fruity Pebbles is perfect for cereal lovers with its beautiful presentation of frosting and sprinkle rim.
The Reese's Puff contains peanut butter cups, Reese's Puffs and Reese's Pieces, completed with a peanut butter and Reese's Pieces rim. All three milkshakes are priced at $6.50.