Many of us have found a new comfort in cooking. Meals don't have to be complicated to bring great joy and a sense of belonging and happiness. Here we have compiled some of our favorite recipes for the perfect summer barbecue: brisket and ribs, creamy and cool seasonal sides and a simple, but delicious cobbler.
Fall-off-the-Bone Pork Spare Ribs
This rib recipe is award-winning, including numerous top-10 finishes and a spot in the finals at the Houston Rodeo World Championship. Pick St. Louis rib racks that are between 3.5-4 pounds each in individual packages, deep red in color and preferably with thin striations of fat on the top — not big chunks.
Recipe by Doug Scheiding of Rogue Cookers, World Champion BBQer and Head Country Brand Ambassador, in collaboration with Head Country
At least 2 St. Louis-style racks of ribs 3.5-4 pounds each
Canola oil (or grapeseed or avocado)
Head Country Original Championship Seasoning
Head Country High Plains Heat Championship Seasoning
Apple juice
Coca-Cola
Light brown sugar
Butter
For the glaze: A mixture of ½ cup each of Head Country Original BBQ Sauce, Head Country Apple Habanero BBQ Sauce and honey.
You'll also need: Instant-read meat thermometer, heavy-duty aluminum foil, basting brush, two flippers or spatulas
Preheat grill to 300 degrees. If using charcoal, light a full chimney of coals, then set up a two-zone fire by piling lit coals on one side of the grill, stacking to increase the grill temperature and spreading to decrease the grill temperature.
First, trim the ribs. On the meaty side of the racks, trim the large piece of fat from the thick end of the ribs. Cut the rib rack into a rectangle and down to 10 total ribs. Flip the ribs over and trim any excess fat on the bone side, as well as the flap of meat, if there is one. Remove the back membrane: Make a cut down the middle of one of the bones on the end, and use a paper towel to remove by pulling it away from the rib rack.
With the meat side down, apply a thin coating of canola oil, then a medium coat of Head Country Original Championship Seasoning. Flip the ribs to meat-side-up. Apply a thin coating of canola, then a medium coat of Original Championship Seasoning. Next, apply a medium coat of Head Country High Plains Heat Championship Seasoning. Spritz the ribs with apple juice to induce sweating. Let the ribs sit for 10 minutes.
Place the ribs, meat side up, with the thickest end of the ribs to the back of the preheated grill (or closest to the source of the heat). Allow to cook for one hour. Reduce the temperature to 275 degrees if the original weight of the ribs was between 3.75-4 pounds, or 250 degrees if the weight was closer to 3.5 pounds for two hours. Spritz lightly with apple juice every 30 minutes to keep the ribs moist (not wet).
Use two sheets of heavy-duty aluminum foil measuring almost twice the length of the ribs. Using one spatula on each end, pick up the rib rack without touching the top of the ribs, and place one rack on the foil, meat side up. Pour 3-4 ounces of Coca-Cola around the ribs. On top of the ribs, add a light layer of brown sugar. Add 3-4 thin slices of butter along the rib racks, on top of the sugar, spaced evenly. Wrap the ribs like an A-frame house so that the foil does not touch the top of the ribs. Fold the sides up first, then the ends.
Place the loosely wrapped ribs in the grill, with the thicker side toward the back of the grill (or toward the heat source). Let the ribs cook for another 2.5 hours at 250 degrees.
Remove the ribs from the grill and open the foil wrapping on each rack. Pour a light coat of glaze on top of the ribs and spread lightly with a basting brush. Place the ribs back on the grill for 5 minutes at 250 degrees.
Place the ribs on a cutting board, meat side up. Cut the ribs with a long knife between the bones. If you are unsure where to cut, use a toothpick before slicing to mark a safe zone between each bone. Serve immediately and enjoy.
---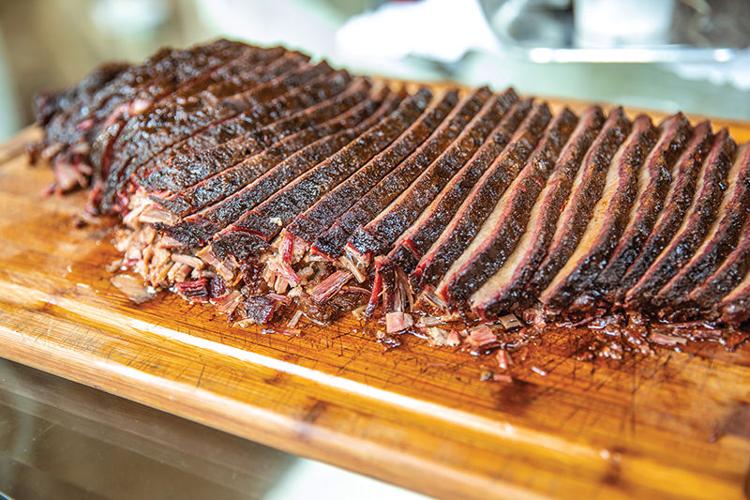 A version of this recipe has earned numerous top 10 calls at world barbecue competitions where hundreds of teams roll smoke in hopes of taking home the big prize — and the bragging rights.
Recipe by Doug Scheiding of Rogue Cookers, World Champion BBQer and Head Country Brand Ambassador.
Texas-style World Champion BBQ Brisket
12-16 pound full packer Prime brisket
Head Country Original Championship Seasoning
2 tablespoons chili powder
Head Country Marinade
Ground black pepper
Injection (optional): Prime Brisket (Butcher BBQ) or CattleProd (Big Poppa Smokers) or beef broth
You'll also need: Instant-read meat thermometer, apple juice, heavy-duty aluminum foil, Apple Habanero Head Country BBQ Sauce, basting brush
Trim the brisket. Cut the large fat collar off the top. Make a long cut parallel to the grain on the flat side and a short cut perpendicular to the grain. Trim the silver skin off the top of the brisket. Trim off any side meat that is brown or oxidized. Flip the brisket and trim excess fat off the point side down to the meat and trim the flat side to 1/4-inch of fat.
Optional step: Inject 2-3 cups of injection mixture diluted with water, primarily in the flat. Let the brisket rest for a couple of hours in the refrigerator.
Preheat the grill to 200 degrees.
Mix the Head Country Original Championship Seasoning and chili powder to create a rub. Liberally apply Head Country Marinade on the fat side of the brisket. Sprinkle a medium coating of the rub mixture over the entire brisket. Flip the brisket and repeat: apply marinade, then sprinkle a medium-to-heavy coat of the rub mixture on the top and sides of the brisket. Apply a light grind of black pepper to finish. Let the brisket sit for 15 minutes.
Place the brisket, fat side down (this protects the meat while the brisket cooks), on the grill and smoke overnight, or for 10-12 hours at approximately 200 degrees. Spritz lightly with apple juice every 30 minutes if you are tending your fire.
When the brisket reaches an internal temperature of 155-165 degrees, wrap the brisket in heavy-duty aluminum foil. Pour 4 ounces of leftover injection mixture or beef broth into the foil with the brisket and wrap tightly. Increase the grill temperature to 275 degrees. Put the larger, point-end of the brisket toward the back of the grill, or closest to the heat source in your grill.
Smoke the brisket for another 2-3 hours, or until the internal temperature reaches 199-204 degrees. The brisket is done when an instant-read meat thermometer can be inserted into the brisket with very little resistance, usually at a slightly higher temperature for a higher-quality meat, such as wagyu or prime.
Allow the brisket to rest for 2-6 hours in a cooler or insulated food carrier in the foil. Do not allow the steam escape.
Optional step: Heat a bottle of Apple Habanero Head Country BBQ Sauce over medium heat. Open the foil and, with a basting brush, lightly apply the heated barbecue sauce to the brisket. Let sit for 10 minutes.
Slice the brisket parallel to the short cut on the flat (perpendicular to, or against, the grain).
---
This queso mingles with fire and smoke on the grill. What results is a creamy, spicy dip packed with flavor. This recipe makes enough to top burgers and nachos — or omelets at breakfast — and we aren't afraid to admit it's an indulgent supper, paired with a stack of fresh, salty tortilla chips.
Recipe by Doug Scheiding of Rogue Cookers, World Champion BBQer and Head Country Brand Ambassador.
Smoked queso blanco dip
16-ounce package smoked hickory breakfast sausage
1 white onion, chopped
2 roasted poblano peppers, skin removed and chopped
Block of queso blanco with jalapenos, divided
into large chunks
16 ounces Oaxaca Mexican cheese, shredded
1 cup chopped cherubs or cherry tomatoes, sliced
2 cups jarred green chiles
10 ounce can cream of mushroom and garlic soup
2 tablespoons Head Country Championship Seasoning, High Plains Heat
You'll also need: A 5-quart cast iron Dutch oven
In a medium skillet, fully cook the hickory smoked pork sausage and chopped white onion. Break up the sausage into small pieces. Drain the excess grease.
While the sausage cooks, roast poblanos using a small torch or open flame. Put peppers into a plastic bag to sweat. After about 5 minutes, the peppers should be cool and the skins beginning to peel. Remove the peels, chop the peppers, discarding the seeds.
Preheat grill to 350 degrees. Combine both cheeses, tomatoes, green chiles, poblanos and canned soup in a 5-quart cast iron Dutch oven. Add cooked sausage and onions, plus the Head Country Championship Seasoning.
Cook for 60 minutes on the grill at 350 degrees, stirring every 15 minutes. Serve carefully; the Dutch oven will be very hot.
---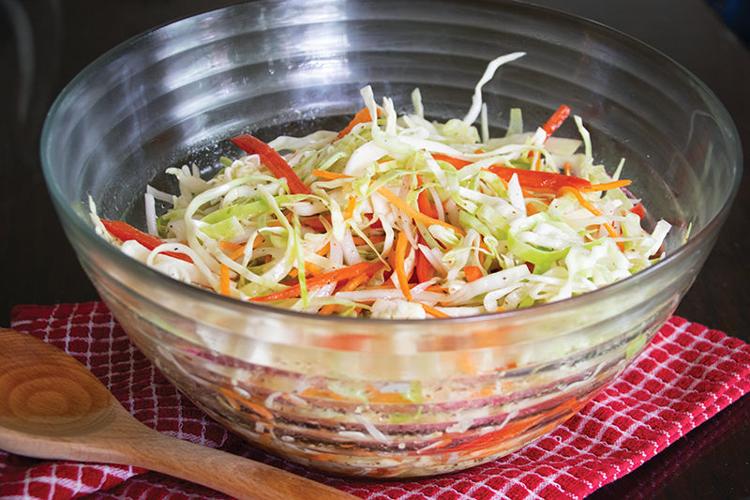 This is the kind of recipe that's found in church cookbooks or passed down. We love this version from noted Southern chef Martha Hall Foose and her book, "Screen Doors and Sweet Tea."
Three-day Slaw
Serves 8
1 cup cider vinegar
¼ cup sugar
1 teaspoon dry mustard
1 teaspoon celery seeds
1 teaspoon coarse salt
1 cup vegetable oil
1 small head green cabbage, shredded
1 small white onion, halved and thinly sliced
1 red bell pepper, sliced thinly
1 cup shredded, peeled carrots
In a small saucepan over medium heat, combine the vinegar, sugar, mustard, celery seeds and salt. Bring to a boil. Stir until the sugar is dissolved. Remove from the heat and add the oil. Cool until just warm to the touch, about 30 minutes.
In a large bowl, combine the cabbage, onion, bell pepper and carrots. Pour the warm dressing over the cabbage mixture. Cover and marinate for at least 8 hours, refrigerated, or up to three days.
---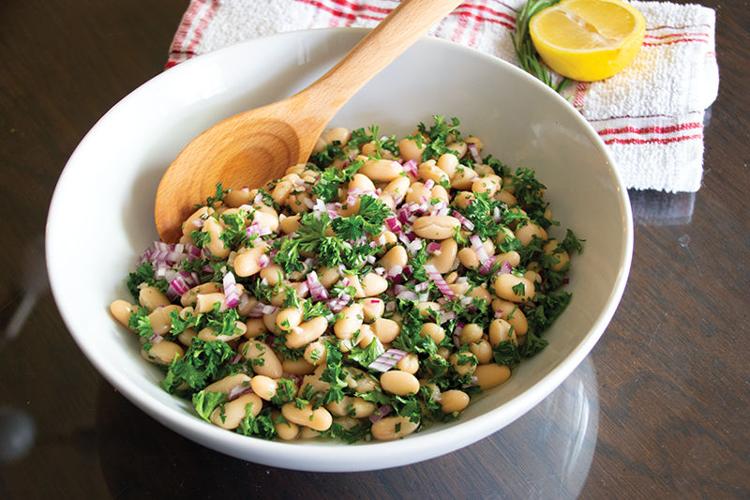 This salad can be served right away, but is even better when it marinates in the refrigerator for a few hours.
White Bean Salad
Serves 4
2 (15-ounce) cans cannellini beans, drained
¼ cup chopped fresh parsley
1 tablespoon minced fresh rosemary
2 tablespoons chopped red onion
3-4 tablespoons extra virgin olive oil
2 teaspoons red wine vinegar
2 tablespoons freshly squeezed lemon juice
1 clove garlic, minced
Salt and freshly ground pepper to taste
In a serving dish, combine beans, parsley, rosemary and red onion.
In a small bowl, whisk together olive oil, vinegar, lemon juice, garlic, salt and pepper. Pour this mixture over beans, lightly tossing. Add more salt and pepper if needed.
---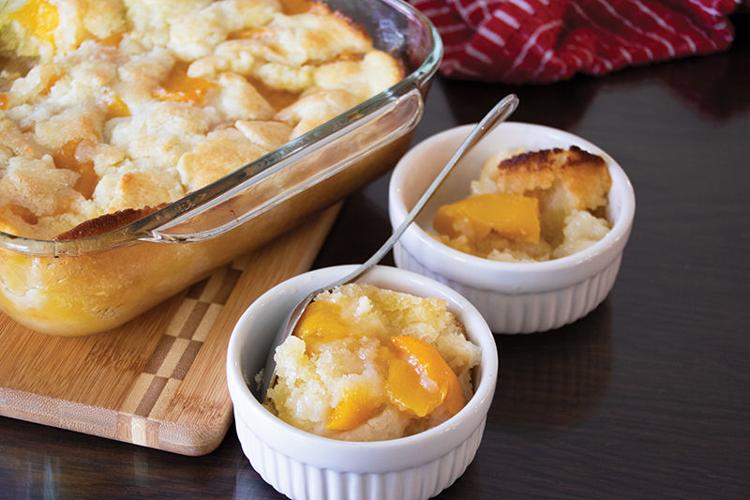 Don't worry if you don't have fresh peaches. This simple cobbler is just as delicious with canned peaches.
Perfect Peach Cobbler
Serves 6-8
1 stick butter, melted
1 (20-ounce) can sliced peaches in juice
1 1/4 cups sugar, divided
1 cup all-purpose flour
1 cup whole milk
1 1/2 teaspoons baking powder
1/4 teaspoon salt
Pour butter into a shallow 2-quart baking dish, and set aside.
Drain peaches, reserving 1/4 cup juice. In a saucepan, bring the peaches and juice to a boil.
In a bowl, combine 1 cup sugar, flour, milk, baking powder and salt. Pour over butter in baking dish. Spoon hot peaches over batter. Sprinkle with remaining sugar. Bake at 400 degrees for 25 minutes or until golden.
Note: This cobbler is best served warm. And is even better with ice cream. 
---
Take your 'cue from good to great
Tips and tricks for the best barbecue, courtesy of Head Country
Barbecue is a summer staple, and spring is the perfect time to brush up on grill skills. From choosing the best meat to getting the right heat, these tips take the intimidation and guesswork out of cooking outdoors.
The planning The better the plan, the better the cook. Before slinging seasoning or firing up the grill, have the right tools at the ready. The essentials include a good instant-read thermometer, a pair of heat-proof gloves or oven mitts and a chimney starter, if your heat-source choice is charcoal.
Choose a food turner or hook that handles easily — there's no need for the oversized grill-kit versions. It's nice to have aluminum foil, a cooler (the perfect place to rest a brisket or pork shoulder), a large serrated knife, a smaller paring-style knife, seasoning, marinade, and sauce or glaze on hand, too.
The meat Choose briskets and ribs with good color and marbling. Remember, great ingredients equal better barbecue. If any anxiety sets in over springing for large cuts of meat, just remember that the best barbecue and grilling recipes are simple: meat + heat, with seasoning and sometimes a glaze or sauce to finish. Don't under-season; experts say most backyard cooks do. With chicken, keep it light; for beef and pork, layer on a good-quality seasoning, allowing the meat to rest between layers. This helps create a bark that's delicious. For kebabs, soak wooden skewers in water to avoid burning. When it's time to pull meat off the grill, let it rest before slicing or pulling. This gives juices a chance to settle back into the meat after cooking.
The heat Imagine two kinds of heat: hot and fast (300 or more degrees), or low and slow (300 or fewer degrees). Go hot and fast for burgers, steaks and kebabs, then low and slow for ribs, brisket and pork butt. When cooking with charcoal, set up a two-zone fire by stacking coals on one side of the grill for hot, direct heat (great for searing), leaving the other side of the grill for smoke bathing and low-and-slow cooking. Skip the lighter fluid and try using a chimney starter instead. Don't overload the grill; airflow is key. Always cook to temp, not to time, limiting temperature checks to every half hour to limit heat loss from the grill. Move food away from flare-ups to maintain good color and even cooking. Wood-burning grills and smokers are a favorite amongst serious barbecuers, but soaked wood chips in charcoal grills offer delicious wood-smoke flavor, too.
The clean-up A clean grill is a happy grill, and happy grills work hard for many summers' worth of burgers and brisket. Once the grill is completely cool, dispose of ash and wipe down the inside of the grill, the grill grates, and the outside of the grill with some dish soap and warm water, using a non-scratch sponge. For stubborn food burnt on to the grates, a piece of crumpled aluminum foil works wonders. Pro-tip: On charcoal grills, line the coal grate with aluminum foil for super-easy clean-up.