Welcome to the golden age of barbecue.
Sauce might cover a multitude of sins, but in a time when everyone's a food critic, barbecue cooks must prove themselves through the bark on their ribs and the tenderness of their brisket.
The allure of the mom-and-pop barbecue stand remains, but the past decade brought new blood and a renaissance of cooks who consider 'cue as much a calling as a business.
In Tulsa there's still a beautiful mix of old-fashioned barbecue joints and guys new to the scene.
There's also a combination of styles, which has always been the case in Oklahoma.
It's not easy to pinpoint Oklahoma-style barbecue. Its influences come from all around. Celebrity chef and restaurateur Rick Bayless was right when he said Oklahoma barbecue is defined by what it isn't more than what it is.
Oklahoma barbecue is not held to the exacting standards of Texas or to the tradition of Kansas City. Rather, we're an amalgamation of smoke and sauce, of heat and sweet, of pork ribs and sliced brisket.
Tulsans don't use a checklist to decide what makes the barbecue great.
We appreciate meat good enough to skip the sauce, but we're just as likely to squeeze some on a rib. We're discerning but not hard to please, and a friendly staff (or a great cobbler) will go a long way in making us repeat customers.
RibCrib
Bret Chandler started RibCrib out of a retrofitted old house turned barbecue shack in 1992.
He had little more than the shack, a smoker and his recipes. The original menu of five meats with two side options has grown exponentially. And in place of that old shack, Chandler has 60 RibCrib locations across eight states, including 32 in Oklahoma.
Chandler and his team have recrafted those original recipes over the years, entering many barbecue competitions and devouring the knowledge of pitmasters along the way. RibCrib's signature dry-rubbed spare ribs have won many of those competitions and remain one of the most popular menu items in the restaurants. But, how do they ensure consistency across 60 locations? "RibCrib strives for consistency of product through ongoing intensive training programs and reviews as well as a culture of people who truly love the art of barbecue," Chandler says.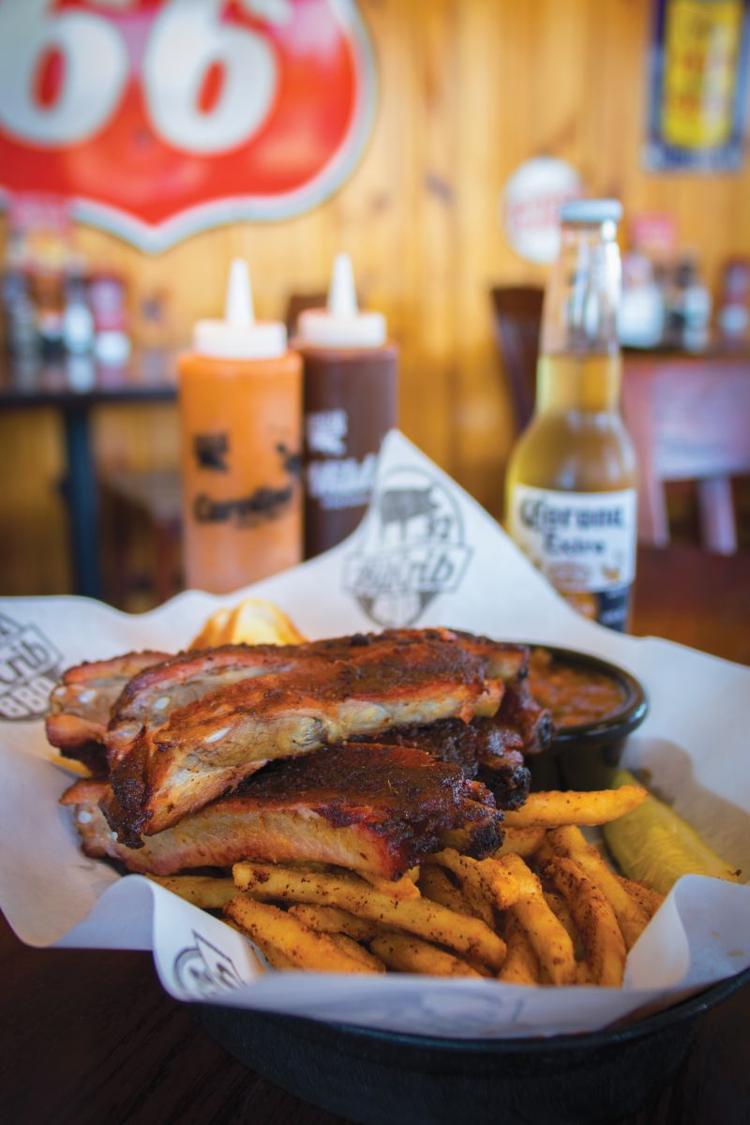 Within five years of operation, Chandler had opened six other locations and had a vision of taking quality barbecue mainstream.
Those St. Louis-style spare ribs and baby back ribs are still on the menu and are smoked onsite at the individual restaurants each day. But the menu has gone way beyond ribs. Now you'll find a smoked chicken salad, burgers, chicken tenders and catfish, among many other things.
"Twenty-five years is a proud milestone for our team," Chandler says. "This would not have been possible without our shared vision for serving customers mouthwatering barbecue without having to pull over on the side of the road or go off the beaten path. Our food has been more art than science, and we are always chasing barbecue perfection."
RibCrib's corporate headquarters remain in Tulsa.
RibCrib has 11 locations in the Tulsa area. Visit ribcrib.com to learn more.
Smokies
For five years, Mark Latsos planned and dreamed about opening a barbecue restaurant. As a truck driver, he had plenty of time to think. So he considered his smoker, what sauce he would use, even how he would decorate the walls.
In 2012, he opened Smokies and, to his surprise, quickly had a following. That following has grown far outside the parameters of Broken Arrow, in part because of national accolades, including from Garden and Gun magazine. The Southern lifestyle magazine placed Smokies on its barbecue bucket list. Other fans have found their way to Smokies after a national barbecue writer called it the "holy grail" of barbecued bologna.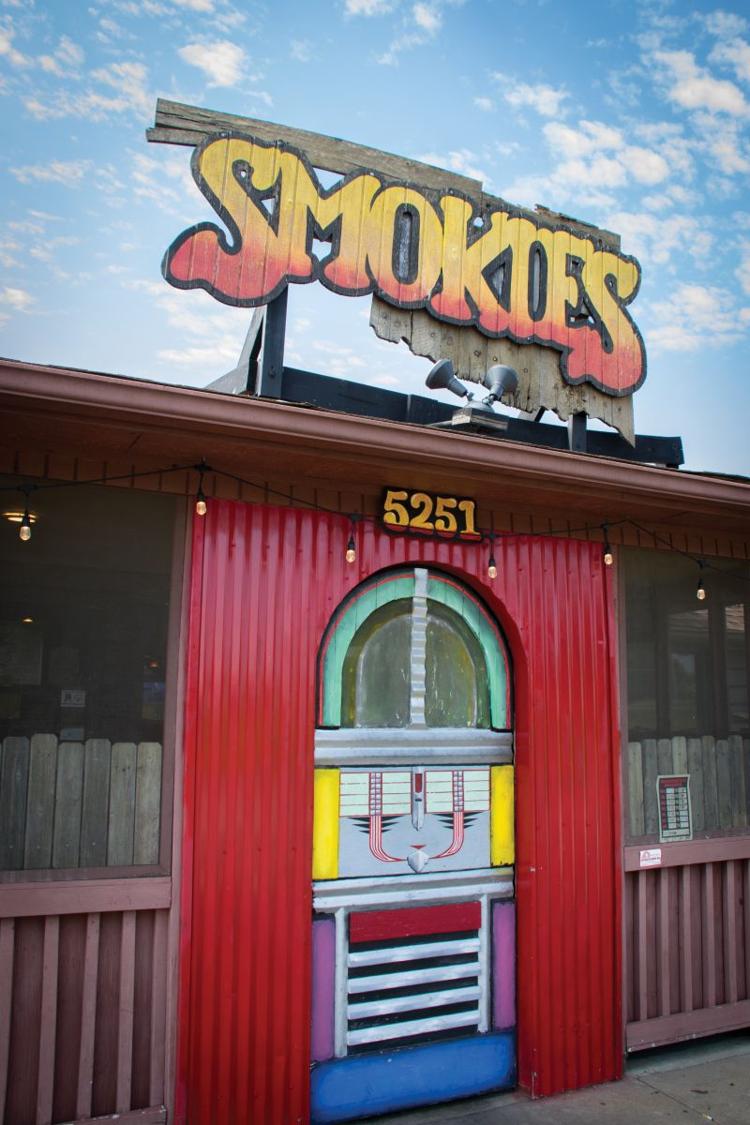 Latsos says his bologna is unique because it's sliced a half-inch thick and then placed in the smoker. Many barbecue cooks, he said, place the entire roll of bologna in the smoker, and then slice it to order. His bologna has a smokier and more aromatic flavor because the smoke permeates both sides of each slice, he says.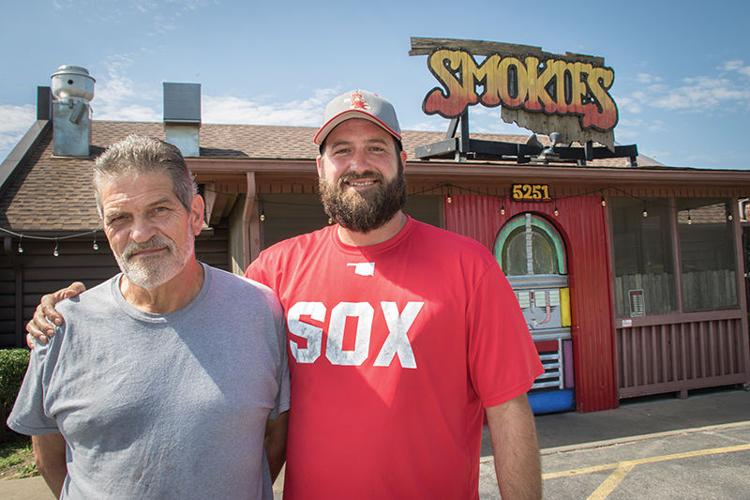 The smoker itself is unique at Smokies. Latsos and his family made it themselves out of a piece of hydro conduit, or concrete water pipe. The cylindrical smoke chamber is constantly puffing while the fire box is filled with plenty of hickory wood. "Barbecue is the most difficult product to be consistent in cooking," Latsos says. "There are so many factors: temperature, humidity, wood."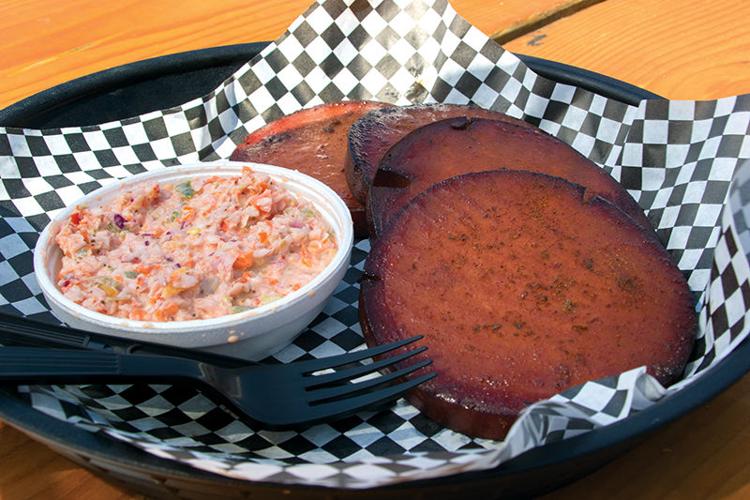 Latsos says his smoked meats are so good they don't need sauce. But for customers who prefer it, each table has four offerings, all made in Oklahoma: Head Country mild and hot, Ranger Creek and Sa-Mokin.
Customers love Smokies' coleslaw, a family recipe. Latsos also created a popular atomic coleslaw, an adaptation of the original, with red and green cabbage, red bell peppers, jalapeños and a habanero-based coleslaw roux.
5251 E. Kenosha St., Broken Arrow | 918-357-1113
11 a.m.-8 p.m., Monday-Thursday; 11 a.m.-9 p.m., Friday-Saturday
Hot Mess BBQ
At least twice a week, someone asks Jen Scavo if her husband or dad smokes the meat for her barbecue food truck.
She's used to the question and doesn't take offense, but she does set them straight. "I do all the cooking. All the smoking. Everything," Scavo says. "It's an art once you get it going."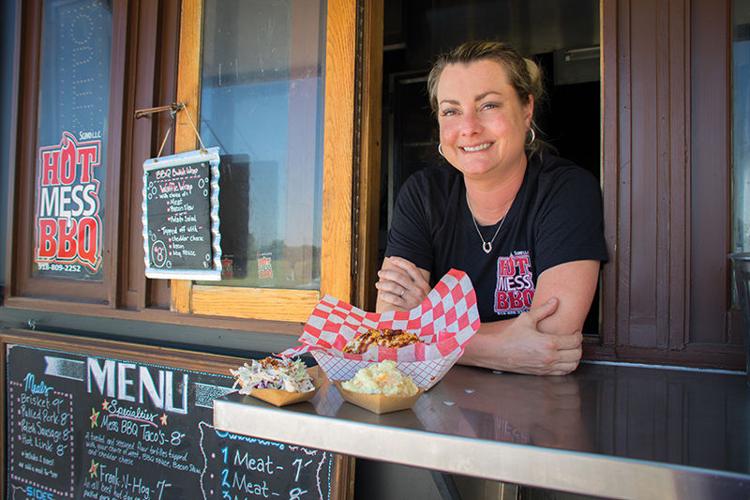 Scavo settled on her food truck before she settled on barbecue. The truck, which is actually more of a trolley, had just the look she wanted. When she discovered it was already equipped for smoking, she decided to delve into the barbecue world.
Scavo uses her own rub and sauce to make brisket, pulled pork and sausage, with the brisket being her top seller. She occasionally puts chicken and turkey legs on the menu, but says most people prefer something slightly heavier to eat.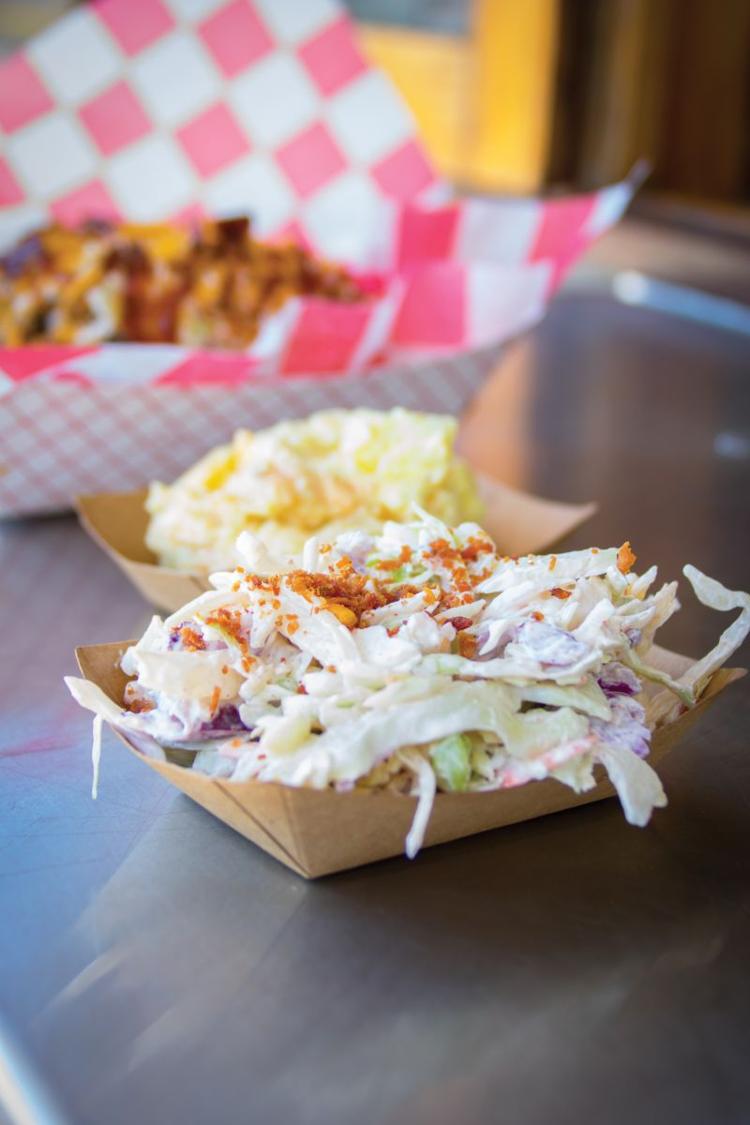 Her barbecue tacos are always a hit. And after a trip to Hawaii, where she discovered the Hawaiians' love for pulled pork on hot dogs, she decided to give it a try in Oklahoma. She calls it the Frankenhog, and customers love it.
The Frankenhog is a hot dog topped with smoked pulled pork and a bacon slaw. The slaw, which has a sour cream rather than mayonnaise base, is loaded with bits of smoked bacon and cheddar cheese.
Scavo's two boys, ages 9 and 11, often help in the truck on busy days.
For a schedule, visit facebook.com/scavohotmessbbq. | 918-809-2252
The Business of BBQ from TulsaPeople Magazine on Vimeo.
Elmer's
Before Keith Jimerson became the owner of Elmer's BBQ, he was an industrial engineer. And 14 years since he bought the restaurant, he continues to see the restaurant as much from an engineer's perspective as a barbecue cook's.
"Before I came, the kitchen worked by eye, by hand, taste and feel," Jimerson says. "Now we have a more consistent way of doing things." That methodology and consistency paid off, and Elmer's has long been considered one of Tulsa's best places for barbecue.
After 35 years in Tulsa, Elmer's has a loyal customer base, with generations of customers coming in for their tried and true favorites. To keep up with changing tastes, Jimerson has added smoked salmon and a boneless, skinless chicken breast, which he says customers love. But it's the traditional barbecue — the ribs, sausages, bologna, brisket and pork — that has kept people coming back. "In this part of the country, your brisket has to be extremely good," Jimerson says.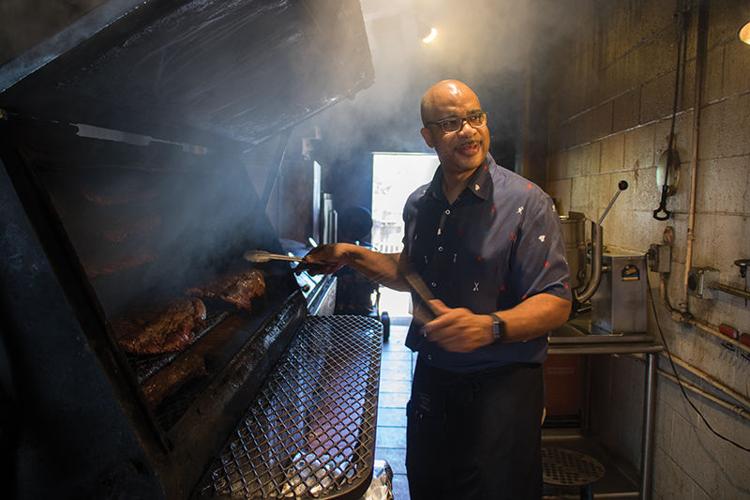 Some say Elmer's homemade sauce — available in mild, sweet and spicy, and hot — is the best in Oklahoma. "It complements our smoked meat so well," Jimerson says. "It doesn't overpower it, but enhances it."
Elmer's potato salad is creamy and smoother than most potato salads. It's made the old-fashioned way, with Idaho potatoes cut and boiled down each day.
Jimerson is astute about the role of social media in the restaurant business today. And though he has always made it a priority to take care of each guest and to be friendly, he knows how important it can be when everyone's a critic. "A lot of customers are taking pictures of their food," Jimerson says, "and they're reviewing you as soon as they sit down."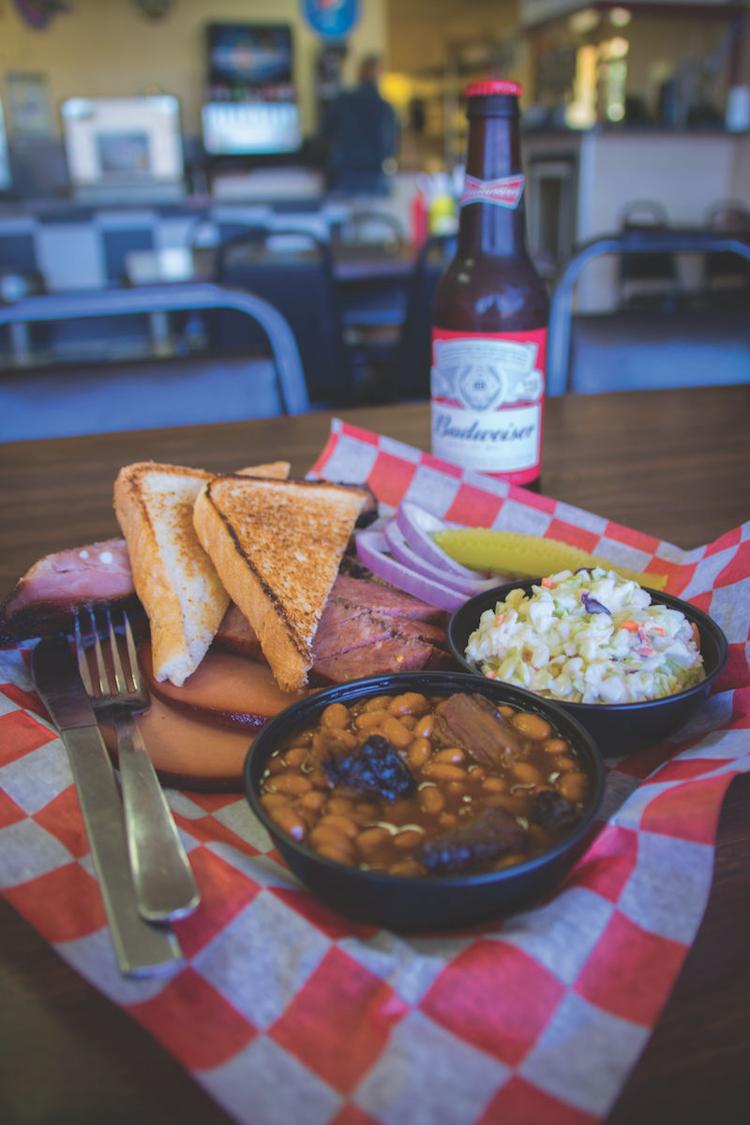 On a visit to Elmer's, you can't go wrong with the Badwich, which has samples of rib, chopped beef, smoked bologna, hot links and smoked sausage. It's served on a bun or Texas toast with two sides. Plan to share or ask for a to-go box.
4130 S. Peoria Ave. | 918-742-6702
11 a.m.-8 p.m., Tuesday-Thursday; 11 a.m.-9 p.m. (or until they run out), Friday-Saturday
Burn Co.
No restaurant in town has had more sustained buzz than Burn Co.
From the time Adam Myers opened it in a small location on East 11th Street across from the University of Tulsa, a line of people stretched out the doorway. There was no slow burn to this news. Food lovers told their friends about this crazy, wonderful place where everything was cooked on Hasty-Bakes, where the bark on the ribs was insanely good and where those in the know could order a "happy plate": a glorious mess of whatever the cooks decided to give you.
When they opened their current location at 1738 S. Boston Ave. in 2014, the intensity seemed only to amplify. Most days, you'll see a line curling out the door toward the parking lot. Open the doors, and you'll hear music thumping from the kitchen and, if you're early (and lucky) enough, you'll be offered a free rib while standing in line.
That reward for waiting might be the only rib you taste. Ribs are the first to sell out at Burn Co., but no worries, there are plenty of other foods not to be missed. Diners start lining up as early as 8:30 a.m. on weekdays and 9:30 a.m. on Saturday for the best chance for ribs.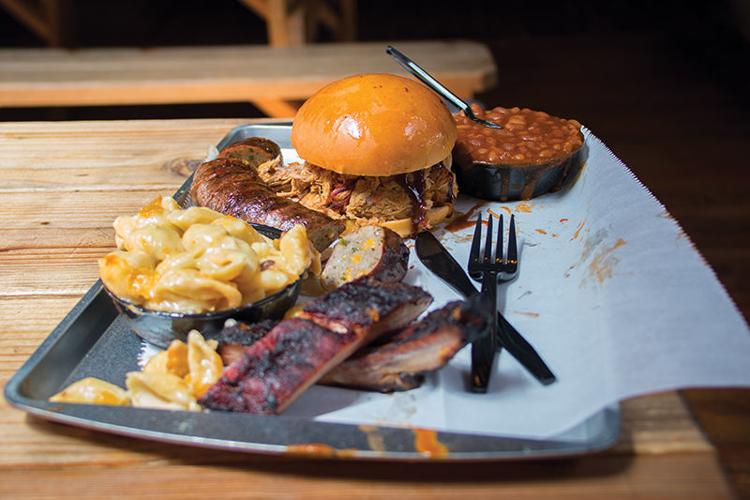 Along with the legendary ribs, Burn Co. is known for the Fatty, a sandwich of bacon-wrapped chopped sausage, ground sausage and minced hot links. Some come only for it. Some call it a work of art.
Hasty-Bake grills take up much of the kitchen space, with a giant vent hood in the middle. Everything, even the grilled potato salad, is made on a Hasty-Bake. You won't find a microwave, or even an oven, in sight.
Burn Co.'s cult following has grown to include day trippers and barbecue connoisseurs who put Burn Co. on their pilgrimage. Food celebrities, including Alton Brown, have stood in line and declared its greatness. A new Southern Living cookbook, "The South's Best Butts," includes a section on Burn Co. with recipes for its grilled potato salad, the Fatty and candied bacon.
It's a great start, but we know others are holding out for the recipe for Burn Co.'s much-talked about mac and cheese, thick and smoky with bits of bacon.
In early July, Burn Co. will open a second location on the Jenks Riverwalk. This location will be open for dinner as well as lunch. Myers plans to expand Burn Co.'s grilled menu at the new location and make its in-house rub and steak and chicken seasoning available for purchase.
1738 S. Boston Ave. | 918-574-2777
10:30 a.m.-2:30 p.m., Tuesday-Saturday
The Jenks location will open this summer at Riverwalk Crossing.
Oklahoma Style Bar-B-Que
Mattie Bledsoe-Hayes has a firm barbecue foundation. The owner of Oklahoma Style Bar-B-Que has been in the barbecue business since she was a teenager, learning everything from how to smoke meat and make beans to how to run a restaurant from her aunt, Lizzie Peters.
Peters and her husband, Oscar, owned Pete's Barbecue, a Tulsa favorite since it opened on North Peoria Avenue in 1968. When it closed in 2001, most of Pete's fans found their way to Oklahoma Style.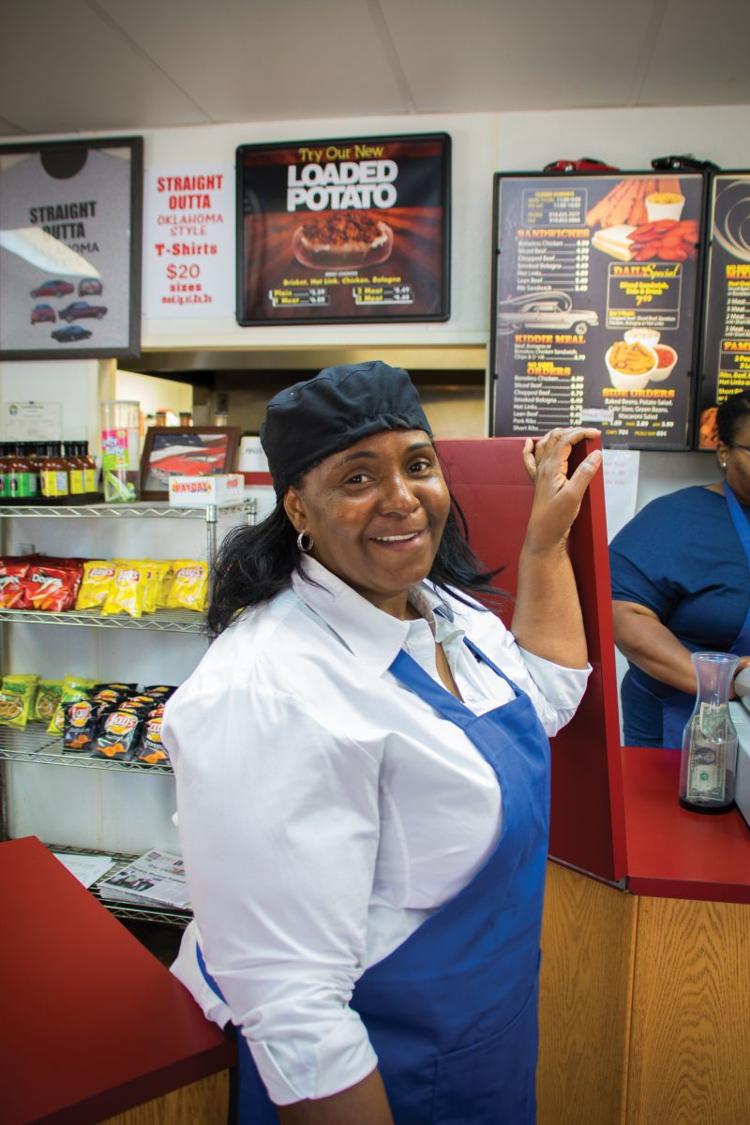 Oklahoma Style, which opened in 1993, is still very much a family business, with nieces and nephews, cousins and family friends working everywhere from the kitchen to the cash register.
You'll find classic Oklahoma barbecue here, including sliced and chopped beef, ribs, bologna and hot links. And though chicken is becoming easier to find on barbecue menus, at Oklahoma Style, it's not an afterthought. Chicken here has a smoky and sweet flavor that's good enough on its own but even better with Oklahoma Style's homemade mild or hot sauce. The chicken is sliced and cut into chunks, so customers can have it as part of a two- or three-meat special or sandwich it between slices of soft white bread.
Many people order racks of ribs or meat by the pound to take home for dinner or parties. Along with the meat are solid sides, including baked beans, potato salad, coleslaw, macaroni salad, broccoli salad and green beans.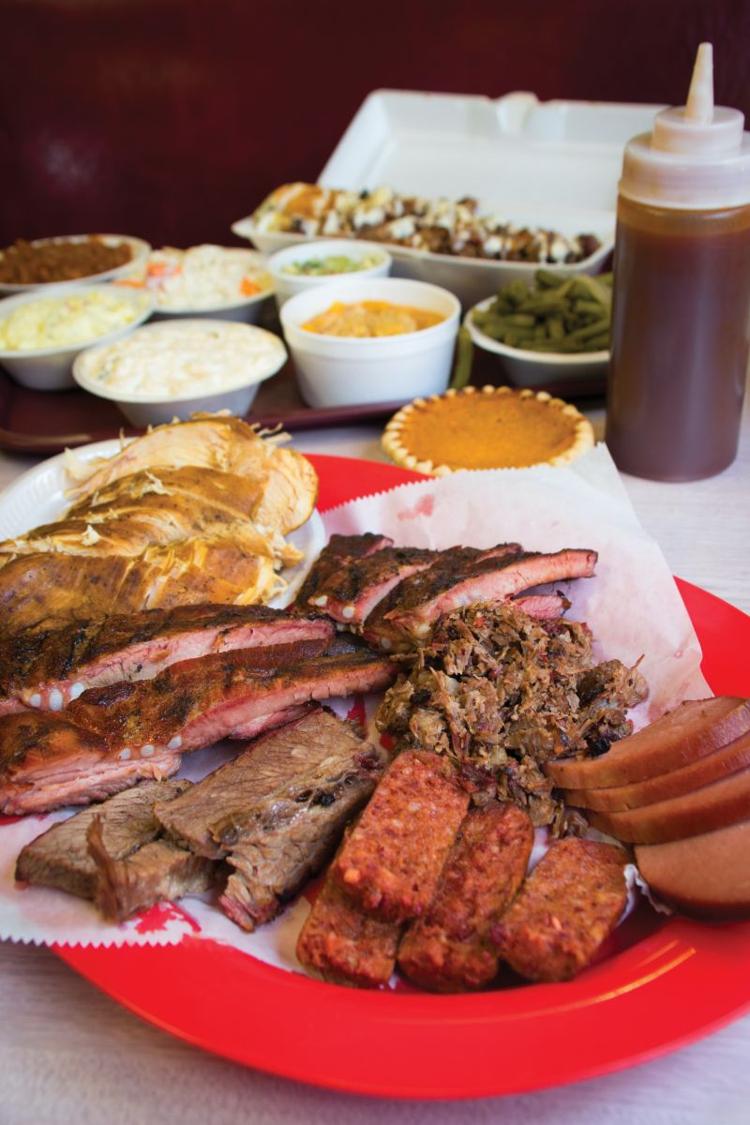 No matter how full you are, don't pass on the sweet potato pie. Served warm in individually sized pie tins, the sweet potato filling is creamy, full of cinnamon and held together with a tender crust. Other desserts include peach cobbler, lemon cake, chocolate cake, carrot cake, coconut cake and cheesecake.
2225 N. Harvard Ave. | 918-835-7077
11 a.m.-9 p.m., Monday-Thursday; 11 a.m.-10 p.m., Friday-Saturday
---
---
Noteworthy sides
Baked beans, potato salad, coleslaw: the trinity of barbecue sides. These side dishes, and others, like corn on the cob, fried okra and mac and cheese, round out a great barbecue meal. Here are some of our favorites.
Tabouli at Albert G's is a welcome side to a barbecue meal. Tabouli here is made from scratch each day, bright and fresh,
with a nice hand of lemon and parsley. Pair it with smoked turkey breast for a lighter lunch.
2748 S. Harvard Ave.; 421 E. First St.
---
Joe Davidson takes his sides seriously. In creating his menu, Davidson, owner of Oklahoma Joe's Bar-B-Que, made sure the sides had as much love as the meat. The barbecued beans are great; better than typical baked beans, with a complex flavor of smoke and sweet. Also try Oklahoma Joe's spicy slaw.
6175 E. 61st St.; 333 W. Albany St., Broken Arrow; 423 N. Main St. in Cain's Ballroom
---
So it's not exactly a side, but the buttermilk pie at Stutts House of Barbeque is not to be missed. Anyone who's a repeat customer knows to order pie with lunch. If you wait, it might be gone.
2021 E. Apache St.
---
Here's a side you won't find at any other barbecue restaurant in town: bacon cabbage. Big Anthony's BBQ's bacon cabbage combines crisp bacon and onions with red and green cabbage and a balsamic vinegar glaze. Also great are Big Anthony's brown sugar baked beans.
8151 E. 21st St.
---
If you want a good variety of sides, try Route 66 BBQ. Corn nuggets, fried mac and cheese, potato salad, green beans and fresh-cut fries are all solid choices.
2604 E. 11th St.
---
Barbecued baked beans at Leon's Smoke Shack are simply called, "Them Beans." There's something different, and addicting, about "Them Beans." See for yourself when you order them along with their great hot links and pulled pork.
601 S. Sheridan Road
---
Billy Sims Barbecue has a diverse menu with tasty Polish sausage, jalapeño and cheddar hot links, smoked turkey, chopped brisket and more. But no matter what you order, include Billy Sims' potato salad as a side. This creamy, flavor-packed potato side is a fan favorite for a reason.
Locations across the Tulsa area
---
---
Good 'cue
Here are some other good spots for barbecue in and around Tulsa:
Knotty Pig BBQ, Burger and Chili House
6835 E. 15th St., 918-258-0005
7915 E. 71st St., 918-252-4499
3524 Southwest Blvd. 918-445-0972
1904 S. Elm Place, Broken Arrow, 918-286-8585
8888 N. Garnett Road, Owasso, 918-272-7427
---
---
Fill 'er up
Oklahomans will drive incredible numbers of miles for good food. Mention good barbecue, and that number doubles. So, plan to jump in your car for a Sunday road trip or Friday lunch at one of these restaurants that is worth the drive.
The Butcher BBQ Stand, Wellston
Levi Bouska serves barbecue out of a converted train car on Route 66. It has the undiscovered dive feel that some people go crazy for, yet it's anything but hidden since he sells out nearly every weekend.
Bouska grew up helping his grandparents at their barbecue restaurants, then took his dad's championship-winning barbecue recipes to make buzzworthy food, like the Butcher's Burnt Ends and Apple Pie BBQ Beans.
3402 W. Highway 66 in Wellston
About an hour drive, west and south from downtown Tulsa
Open three days a week. 11 a.m.-8 p.m. (or until sold out), Friday and Saturday; and 11 a.m.-3 p.m. (or until sold out), Sunday.
butcherbbqstand.com | 405-240-3437
Mac's Barbeque, Skiatook
Mac's has all your smoked-meat favorites, like ribs, ham, bologna and brisket. Sides, including campfire potatoes and pinto beans, also are excellent.
If you're in the mood to try something different, give the Okie a try. The Okie is a Philly-style sandwich of chopped beef with simmered bell peppers and onions and melted cheese. Or try the Messy Pig, a sandwich of pulled pork and barbecue sauce piled high with coleslaw.
1030 W. Rogers Blvd. in Skiatook
About 30 minutes north of downtown Tulsa
Open 11 a.m.-8 p.m., Tuesday-Saturday; closed Sunday and Monday.
macsbbqok.com | 918-396-4165
Wild Horse Mountain BBQ, Sallisaw
A true destination restaurant, Wild Horse Mountain has long been a favorite place for a meal after a long motorcycle ride or food road trip. Don't miss the sliced beef or the peppery beans made with bits of onion and meat.
111001 A. 4612 Road, Sallisaw
About 1 ½ hours southeast of downtown Tulsa
Open 10 a.m.-8 p.m., Tuesday-Saturday; 10 a.m.-6 p.m., Sunday; closed Monday.
wildhorsemountainbbqco.com | 918-775-9960
Smokin' Joe's Rib Ranch, Davis
Many barbecue fans drive hours to Davis, just to see if Smokin' Joe's is as good as people claim. Once the Travel Channel show "Food Paradise" aired a segment on Smokin' Joe's, even more barbecue aficionados made the trek.
Some say the brisket is the best in the state. And if you're there on a Friday or Saturday, check out the smoked prime rib. Tasty pinto beans are dotted with bits of brisket.
Over the summer, Smokin' Joe's plans to add an airstrip, which means you can fly in for some barbecue.
3165 Jollyville Road in Davis
Two hours and 40 minutes southwest of downtown Tulsa
Open 11 a.m.-8 p.m., Monday, Tuesday and Thursday; 11 a.m.-9 p.m., Friday and Saturday; closed Wednesday and Sunday.
facebook.com/davisbbqmafia | 580-369-2818