Deidra Kirtley is the executive director of Resonance Center for Women. Working with women involved in the criminal justice system, she sees firsthand how difficult it is for those with a felony conviction to find a job or housing. She sees women eager to start fresh, but whom no one will hire.
Enter Take 2: A Resonance Cafe, 309 S. Main St. Take 2 provides employment and housing for formerly incarcerated women seeking a second chance. It also serves the best prime rib sandwich you'll find in Tulsa.
We talked to Kirtley about Take 2's latest achievement: adding breakfast to the menu.
---
Why start serving breakfast?
We've been wanting to serve breakfast for quite some time. We have staff onsite in the morning prepping for lunch at that time anyway, and we know downtown Tulsans are always looking for a place to grab a quick breakfast and cup of coffee. Thanks to a generous donation from the Lobeck Taylor Family Foundation, our chef (Lia Lewis) has been able to experiment with some new recipes to create options we think customers will enjoy and has trained employees to prepare these made-from-scratch items.
What's on the breakfast menu?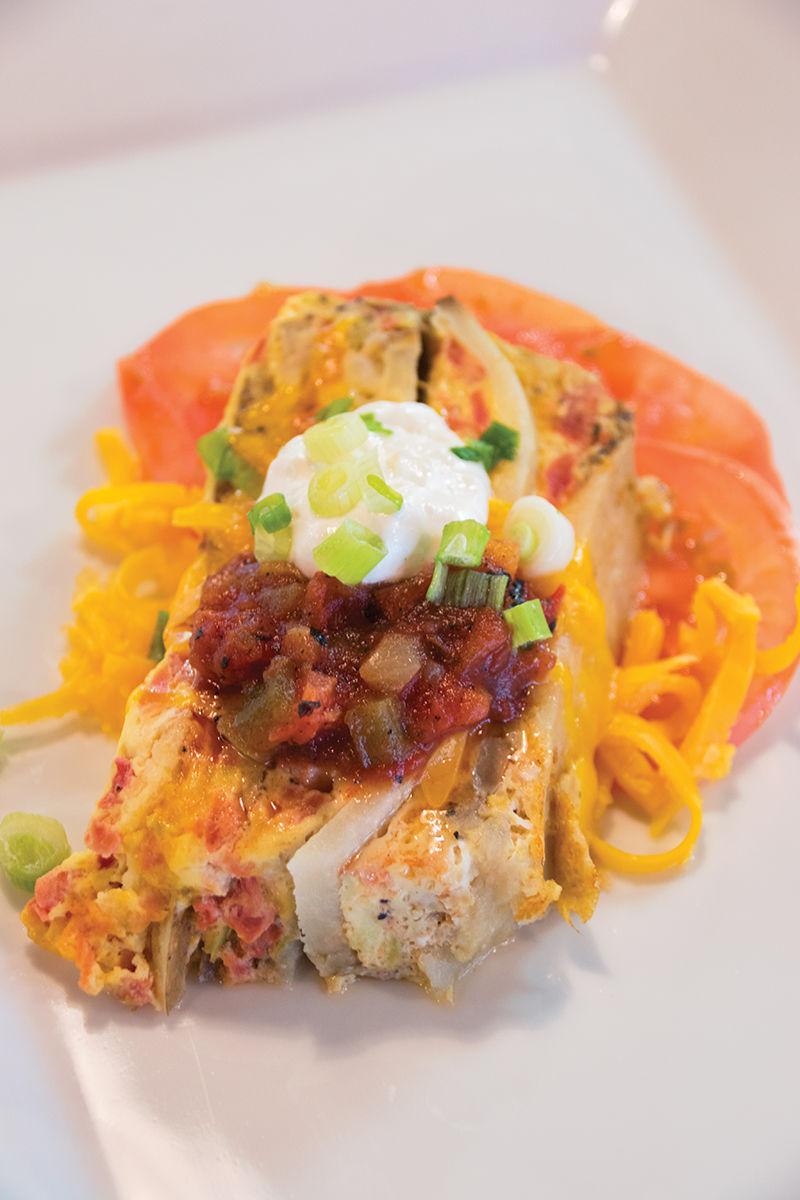 We have a very tasty Breakfast Strata. It has layers of eggs, cheese, chilies and tomatoes and is served with salsa and sour cream. One of my favorite breakfast items is the Bruleed Banana Nut Bread, made with slices of homemade banana bread, coated with cinnamon and sugar, toasted and topped with whipped cream. And, of course, everyone loves a good cinnamon roll, and Take 2 has one of the best. It's huge and topped with a rich cream cheese icing. Also available is a Fruit and Granola Parfait, made with our homemade nut and spice granola. We are proud to partner with She Brews, a social enterprise in Claremore also working with women involved in the criminal justice system, for our coffee. They roast their own coffee beans, and we are convinced it's one of the best brews around.
What's popular on the lunch menu?
Far and away, our most popular sandwich is the Riggs Abney Prime Rib Au Jus, served on French bread with horseradish. The Turkey Club, piled high with turkey, bacon, cheddar, tomato and lettuce, is a popular sandwich, as well. In the winter we sell more beef stew than you can imagine.
We have some new items on the menu that have a sold exceedingly well, including the Korean Pulled Prime Rib Slider served with sesame soy coleslaw and spicy pickled red onions.
Tell us more about Take 2.
Oftentimes our case managers will transport women directly from prison to Take 2, where they will go through work orientation, get situated in their new home, obtain work clothing, a food handler's permit and ID and begin working and earning a paycheck within a few days. Secondly, our goal is to serve great food. We know patrons will support a good cause once, but we want them to keep coming back for the service and the food quality.
Women work at Take 2 and live in Resonance's adjacent housing for six months, during which time they are working on life and work skills, saving money and benefiting from both peer and community support. At the end of their time in the program, we help them springboard to a new job and independent housing. To date, we have employed almost 45 women, and promoted three to assistant manager positions.
What are your hopes for the growth or future of Take 2?
Our next growth venture for Take 2 Cafe includes satellite food sales. We are planning to partner with office buildings to sell ready-made food items and box lunches in their lobbies during the lunch hour.