The fun thing about chicken and waffles is it can't be categorized. It's breakfast and it's dinner. It's a main course or a snack.
More than anything, it's food that makes you happy. And food that puts a smile on your face is what we all need now.
Maybe that's why every time we've been to Waffle That!, there has been a line. Be patient when you call in a to-go order because you'll likely be put on hold. The phone, especially on the weekends, rings off the hook, and the staff takes and makes the orders as fast as they can get them out the door.
Roy Tillis started Waffle That! as a food truck in 2018 and opened a dine-in restaurant near downtown on Martin Luther King Jr. Boulevard in 2019. That location was such a success Tillis opened a second location in February at 5079 S. Yale Ave.
"Everything is based around a waffle," Tillis says. "Chicken in a waffle cone. Chicken wings and waffles. Waffle fries and chicken tenders."
The only thing difficult about Waffle That! is choosing which wonderful waffle creation to order.
Tillis' interest in food comes from being in the kitchen with his mom when he was growing up and watching her cook. Before starting his food truck, he researched what Tulsa was lacking and landed on chicken and waffles. 
We tried the classic chicken and waffle ($11.99), and it was great. Three big chicken tenders were crisp and well-seasoned on top of a classic waffle. The dish comes with Waffle That! syrup made in-house. The syrup isn't overly sweet and is a nice complement to both the chicken and the waffle.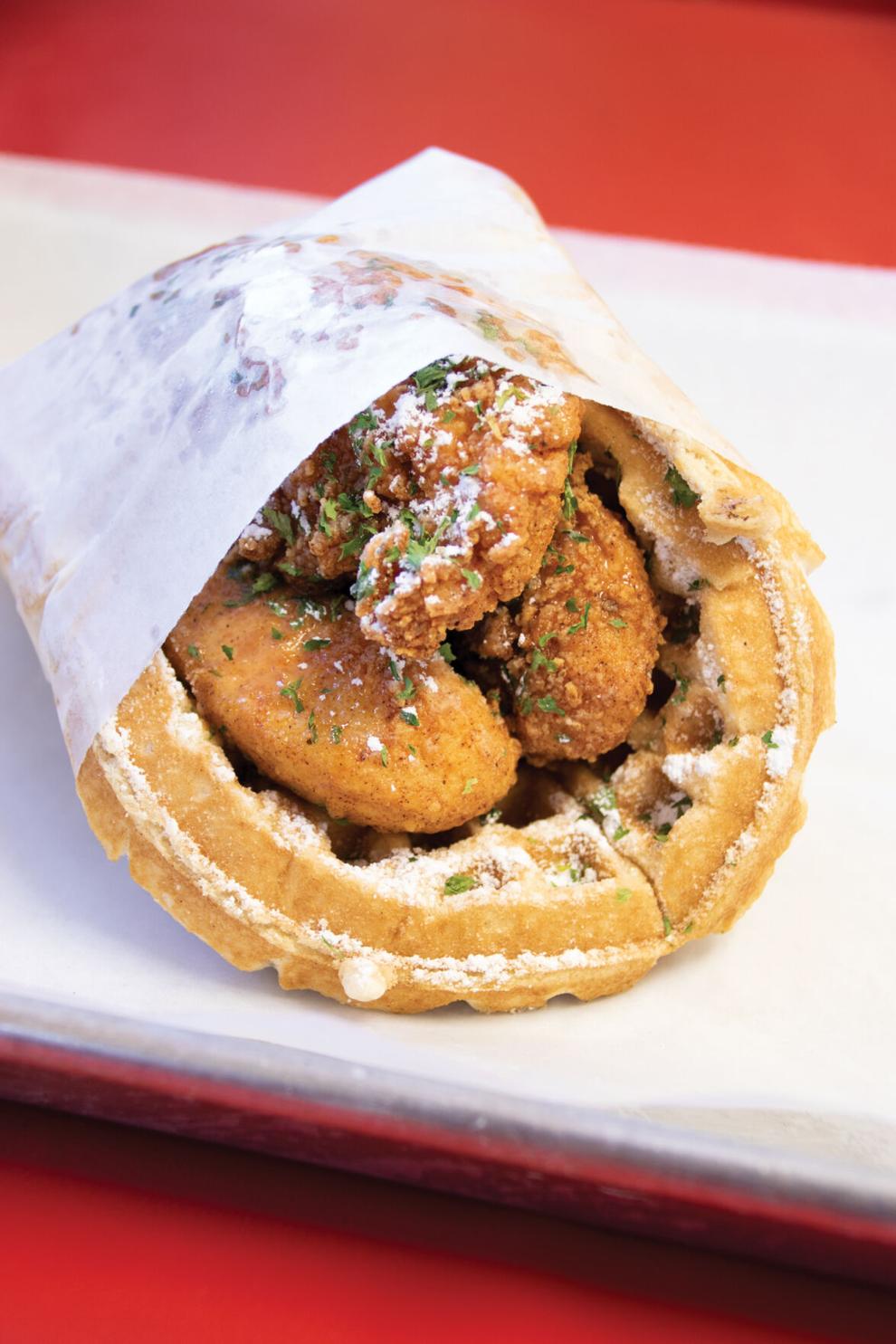 Chicken in a cone ($8.99) is probably the favorite of kids. A large waffle cone is stuffed with pieces of fried chicken and then drizzled with syrup and sauce. Lots of customers have fun eating it just like an ice cream cone, bite by bite without a fork in sight.
The loaded fries ($10.99) were perhaps our favorite dish. Waffle fries are covered in bits of fried chicken, then covered in ranch, buffalo sauce and Waffle That! syrup. This is a great one to share or to have as a side. The fries inevitably get soggy, especially if you're taking this one to go, but the flavor is so good we didn't mind.
Some people order from the walk-up window at Waffle That! and then eat right in their cars since chicken and waffles are superior when hot and fresh. But it's also a good idea to preheat your oven and then warm and crisp up everything once you get home.
One of the most popular dishes is the wings and waffles ($12.99), which has a nice amount of heat in the seasoning plus sweetness from a dusting of powdered sugar.
Waffle That! serves breakfast all day, including basic breakfast staples like waffles, eggs and sausage or bacon. It also has some interesting takes, like a waffle covered in gravy with eggs and bacon or sausage. There's also a waffle breakfast cone filled with eggs, cheese and bacon or sausage.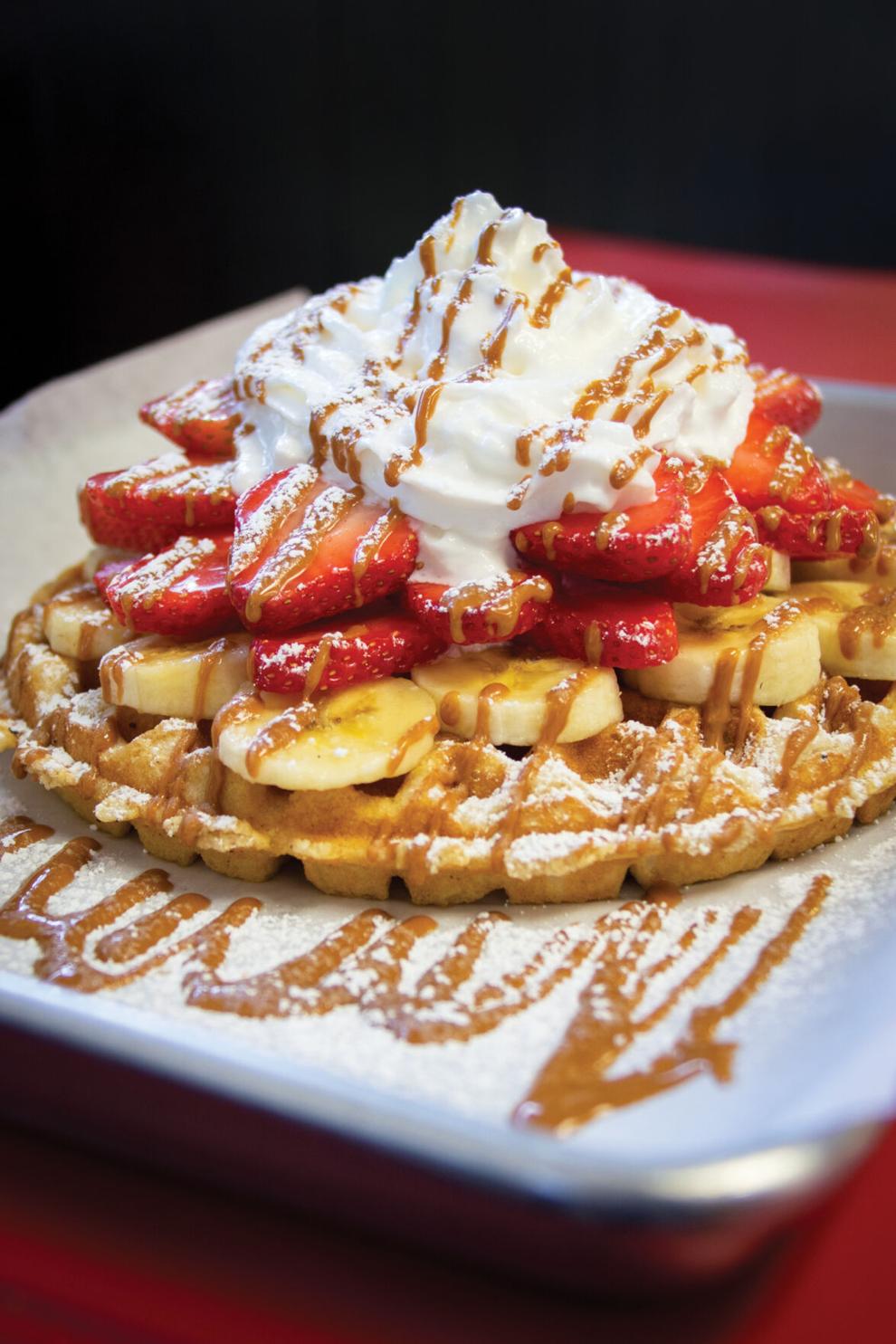 Other dessert waffles are the Nutella waffle, the cookie butter waffle, the cinnamon roll waffle and the Reese's waffle ($7-$10). Perhaps the showstopper is the strawberry waffle ($7.99), a strawberry-
flavored waffle topped with sliced strawberries, whipped cream and powdered sugar.