For a sweet tooth, it's not a golden turkey or buttery mashed potatoes that make it a holiday. It's an entire table full of pies — double-crust apple, familiar pumpkin and pecan, Grandma's lemon chess, chocolate with fresh whipped cream.
If you're not doing so already, might I suggest to always have extra pie. Running out of sweet potatoes isn't the end of the world. But not having enough pumpkin pie? Well, that just won't do. Besides, everyone knows you must have enough for breakfast the next morning.
Most pies can be made in advance of Thanksgiving. So, make your pie crusts weeks ahead, then freeze until you're ready. When it's time to bake, this makes it easy because all you're worrying about is filling.
And though the crust is many people's favorite part of the pie, it's a lot of fun to play with the fillings. Traditional is so for a reason, and you can't go wrong with classics like pumpkin and pecan. 
But Thanksgiving also is a good time to experiment with new flavors. Try using maple syrup in place of the sugar in your pecan pie, or add bourbon and chocolate chips to it for a knock-out pie. Make a meringue topping for your pumpkin pie. Add dried apricots and orange zest to your apple pie. Or try our recipes for pumpkin pie with a streusel topping and chocolate cream pie made in a sheet pan.
Thanksgiving is the biggest cooking day of the year, so make it count with pies that are not only delicious, but also fun to make.
Chocolate Cream Slab Pie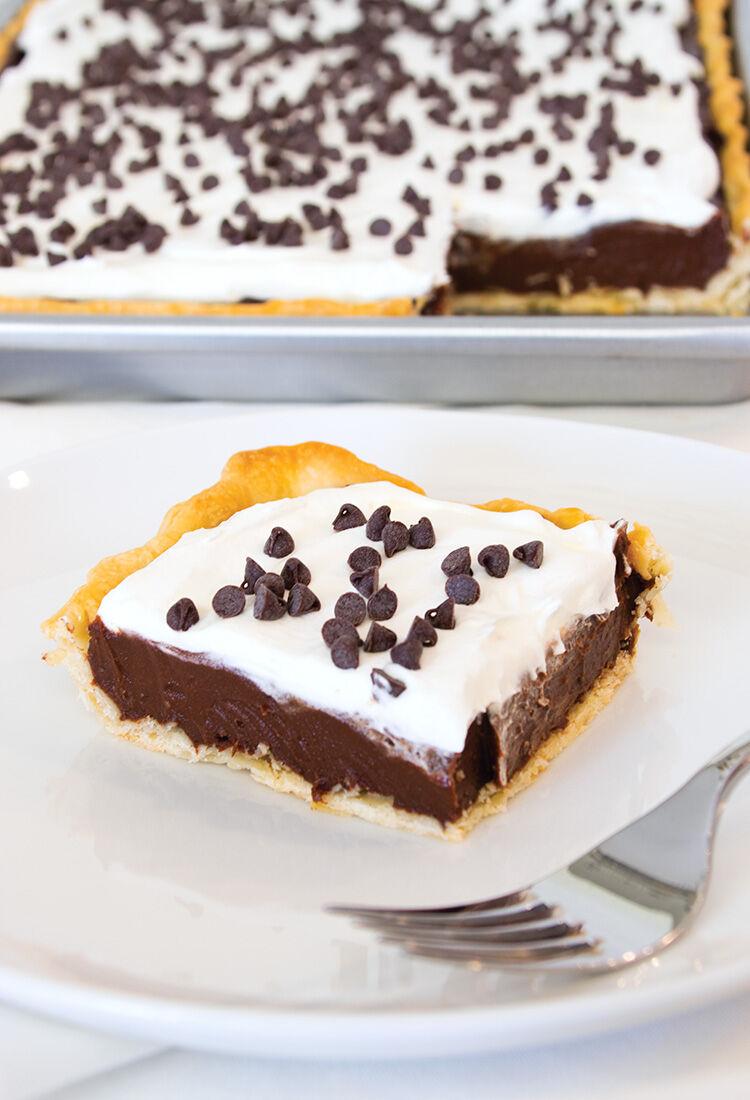 Slab pie is great for holidays because it can be easily cut into squares to feed a crowd. Serves 20  
Crust:
3cups flour
1teaspoon salt
1tablespoon granulated sugar
6tablespoons shortening
7tablespoons cold butter, cut into small pieces
6-8 tablespoons ice water
Filling:
2cups sugar
cup cornstarch
Pinch of salt
1½ cups heavy cream
1½ cups buttermilk
8egg yolks
8ounces unsweetened chocolate, chopped
2tablespoons butter, sliced
2teaspoons vanilla extract
Topping:
2cups heavy cream
cup powdered sugar
Preheat oven to 350 degrees. In a bowl combine flour, salt and sugar. Add in shortening and butter. Use a pastry cutter to blend the shortening and butter in to the flour mixture. Add water, a few tablespoons at a time, to flour mixture, using a fork to gently mix. Once you can pinch dough together and it holds shape, the dough is ready. If it falls apart, add another tablespoon water. Form dough into a flat circle, cover and refrigerate 30 minutes.
When dough is ready, roll out to the size of your sheet pan, making sure the excess goes over the edge. Place dough gently in pan, cut off excess and crimp. Poke holes over bottom and sides of crust with a fork. Loosely line with aluminum foil or parchment paper, then fill with dried beans to weigh down the crust. Bake for 10-13 minutes until slightly golden brown. Remove foil and beans, and bake an additional 5-10 minutes, checking to make sure crust is not overly brown. Cool completely before adding filling.
For the filling, combine sugar, cornstarch and salt in a large saucepan. Whisk in the cream, buttermilk and egg yolks. Place over medium heat, stirring constantly until mixture thickens and just comes to a boil, 6-8 minutes. Remove from heat and stir in the chocolate, butter and vanilla until melted and smooth.
Let cool 10-15 minutes, then place plastic wrap on the surface of filling and chill for 30 minutes. Pour filling into crust and refrigerate 4 hours.
In a chilled bowl, beat the cream on medium speed until soft peaks form. Beat in powdered sugar. Spread over filling.
---
Pecan Lover's Pecan Pie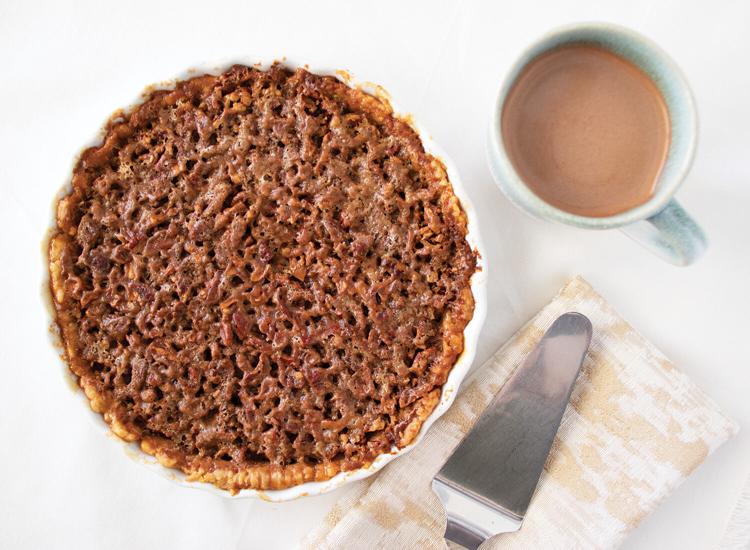 Sweet is great, but most homemade pecan pies would be twice as good if they were half as sweet. If you want an excellent pecan pie, use more pecans, toast them before adding to the filling and include some heavy cream for a luxurious, pecan-rich filling. 
1 (9-inch) piecrust, unbaked
2 1/2 cups pecans, coarsely chopped 
1 stick unsalted butter
1/4 cup dark corn syrup
1/4 cup light corn syrup
1/3 cup heavy cream
1/2 cup light brown sugar, packed
1/8 teaspoon salt
Fit dough into a 9-inch pie pan. Trim and crimp edges. Place in refrigerator while making filling. Or, make crust ahead of time — refrigerate a day ahead or freeze up to a month ahead.
Preheat oven to 350 degrees. Prebake pie shell: Prick bottom and sides of pastry with a fork. Line with foil and fill with pie weights or dried beans. Bake 15 minutes. Carefully lift out foil, and bake another 5 minutes. Cool while making filling.
Toast pecans 5 minutes at 350 degrees. Set aside.
In a saucepan over medium heat, stir together butter, corn syrup, cream, brown sugar and salt until butter is melted and sugar has dissolved. Remove from heat. Cool, then stir in pecans until they are well coated.
Pour filling into pie shell. Bake for 40-50 minutes, shaking slightly to see if filling is set. Pie should be well glazed and browned.
---
Pumpkin Streusel Pie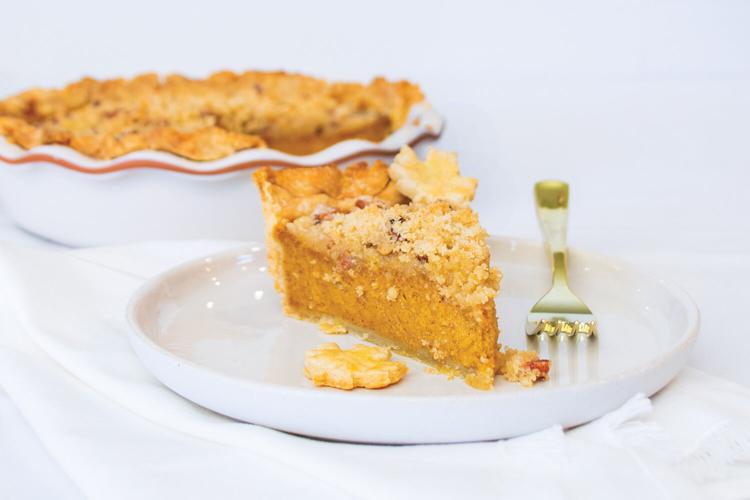 Streusel topping is a nice change to a regular pumpkin pie. If you prefer just a light streusel, cut the topping ingredients by half. Expect people to ask you for the recipe.
1 (9-inch) piecrust, unbaked
3 large eggs
1 (15-ounce) can pumpkin
1 1/2 cups heavy whipping cream
1/2 cup sugar
1/4 cup packed brown sugar
1 1/2 teaspoons ground cinnamon
1/2 teaspoon salt
1/4 teaspoon ground allspice
1/4 teaspoon ground nutmeg
1/4 teaspoon ground cloves
Streusel:
1 cup all-purpose flour
1/2 cup packed brown sugar
1 stick cold butter, cubed
1/2 cup chopped walnuts
1/3 cup finely chopped crystallized ginger
Preheat oven to 350 degrees. Fit dough into a 9-inch pie pan. Trim and crimp edges. Place in refrigerator while making filling. Or, make crust ahead of time — refrigerate a day ahead or freeze up to a month ahead.
In a large bowl, whisk eggs, pumpkin, cream, sugars, cinnamon, salt, allspice, nutmeg and cloves. Pour into crust. Bake 40 minutes.
To make streusel: In a small bowl, combine flour and brown sugar. Cut in butter with a pastry cutter or two forks until crumbly. Stir in walnuts and ginger. Gently sprinkle over filling.
Bake 15-25 minutes longer or until a knife inserted in the center comes out clean.