The night before Thanksgiving, when the last turkey has been roasted, potato has been mashed and pumpkin pie has been picked up, Nancy Bruce will turn off the lights at Lambrusco'z.
Even though she's cooked in those past few days more than most of us can imagine, she will get together with friends the day after Thanksgiving, as is their tradition, to cook another feast. And just as it is with her customers, pie will be an important part of her own day-after Thanksgiving meal.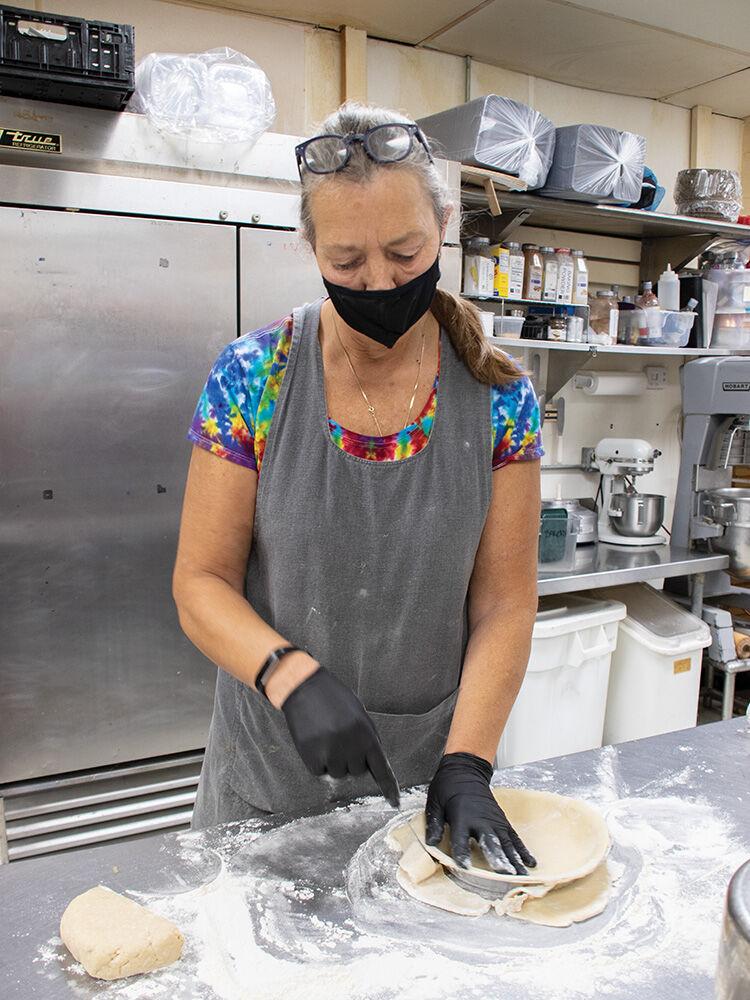 Bruce is an expert pie maker. She has made hundreds of pies over the years and has learned much in the process. Growing up, it was Bruce's grandmother and mother who made the pies. She and her dad were the bread makers. So it took some time as an adult to learn the art of pie making.
We talked to her about some of those secrets to a great pie. Here are some of her tips:
Make your crust ahead of time, then freeze it. "I don't know why everyone doesn't do this," she says. "Pour the filling into the frozen crust, then bake. This keeps the crust from over-browning."
Make (or buy) smaller pies. Lambrusco'z small 5-inch pies are the perfect size for two. Make a 9-inch pecan or pumpkin pie and then buy a 5-inch pie in apple, cherry, baked fudge or coconut custard. "Crust is everyone's favorite part of the pie, and this way you get more crust."
"Butter dough tastes best. Crisco dough is lighter and flakier." If you love the flavor of butter, go for it. If you love a flaky crust, use Crisco. Or, use a combination of both.
What if you really struggle with making your own pie crusts? "You know those red boxes of Pillsbury crust, there's not a thing wrong with them."
If you don't know how to crimp a pie crust, no worries. Just press the edges with the tines of a fork and brush with a little egg wash to make it shiny.
When making a pie with a top crust, grate a little cold butter on the top of the filling just before draping on the top crust. "It creates a barrier between the crust and the filling to keep the crust from sogging into the filling, and allows that top crust to crisp. And what doesn't taste better with butter!"