Shadi Afshari's life forever changed in 1999 when she was approved for a green card and moved from Iran to the United States.  
It had long been her dream, and it was now becoming real for Shadi, her husband, Sourena, and 7-year-old son, Sam. Of course, it wasn't easy. Her immigrant story has its fair share of hardship and heartache along with the beauty that comes from carving out a new life. 
Leaving Iran also meant leaving her work in accounting. This profession she was so skilled in wouldn't work out for her in the U.S. since she couldn't speak English at that time. So she took a job that was perhaps a blessing in disguise, working at her son's school cafeteria. She was able to keep the same hours as her son, coming and going from school each day at the same time. 
By the time Sam was in high school, Shadi moved from cafeteria kitchens to restaurant kitchens. She and her husband eventually bought the Tulsa restaurant Shish Kabobs, making a successful run for more than 10 years. In 2020, they opened Saffron Mediterranean Cuisine, closing Shish Kabobs to focus their efforts.
Knowing Shadi's story adds something to the experience at Saffron. She's making the food she grew up with, the food she cooked as a young mother for her son and the food she carried in her heart to the United States.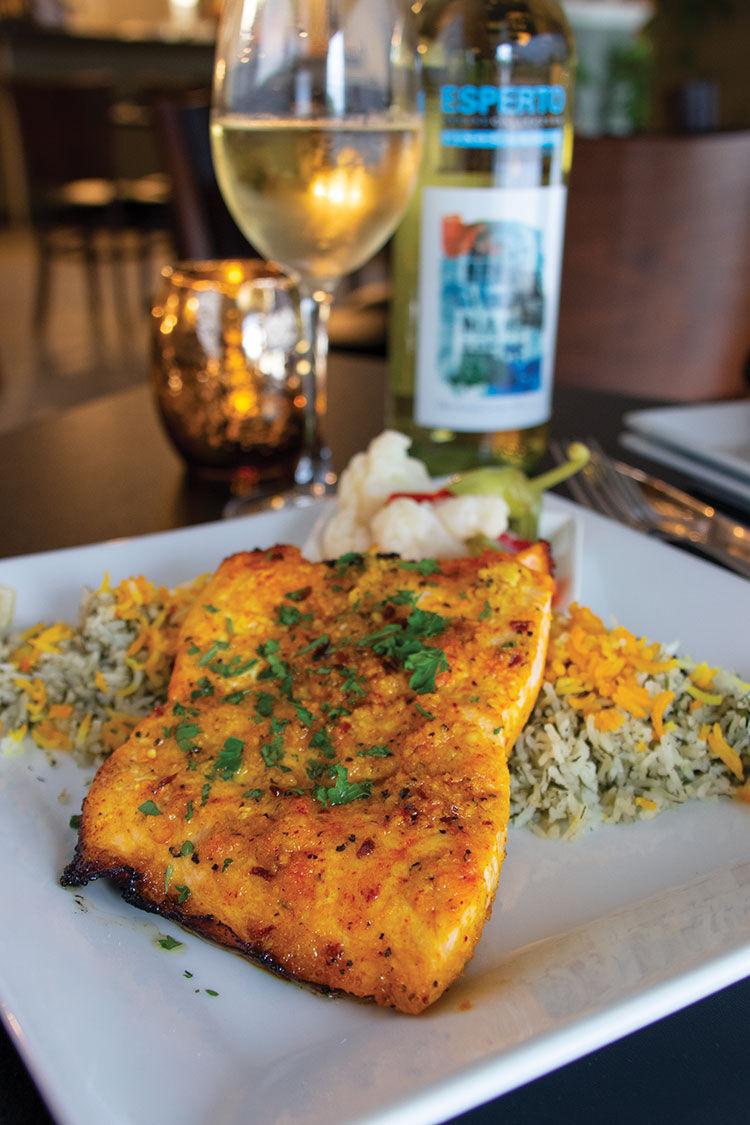 "I tell everybody, my food is really homemade," Shadi says. "I don't know how to do it any differently. I make food in the kitchen the same as in my home."
Saffron's menu has the Mediterranean food you would expect, like gyros, kabobs, tabouli, dolmehs (stuffed grape leaves) and baba ghanoush (pureed roasted eggplant with tahini, lemon juice and garlic). But you'll also find unique dishes on the menu that are Shadi's personal favorites, and she nudges customers to try them to see what they think.
She encouraged us to try the fesenjoon or walnut stew. The stew's origins come from northern Iran where walnut and pomegranate trees grow. The sweet and sour chicken stew has a dark broth and appears that it would have a deeply savory taste. So it's a surprise to taste the sweetness of pomegranate juice and a little nuttiness from the ground walnuts. The fesenjoon ($16) is perfect as a main course. Or, do as we did, and have it split into two bowls to come before your entrée. 
Another wonderful, unique option is ghormeh   sabzi or herb stew ($15), a classic Persian recipe that some call the national dish of Iran. This real-deal stew of braised beef, kidney beans, dried limes and dried herbs is served with basmati rice. The aromatic quality is divine, and if you've never tried it you'll want to give this one a taste.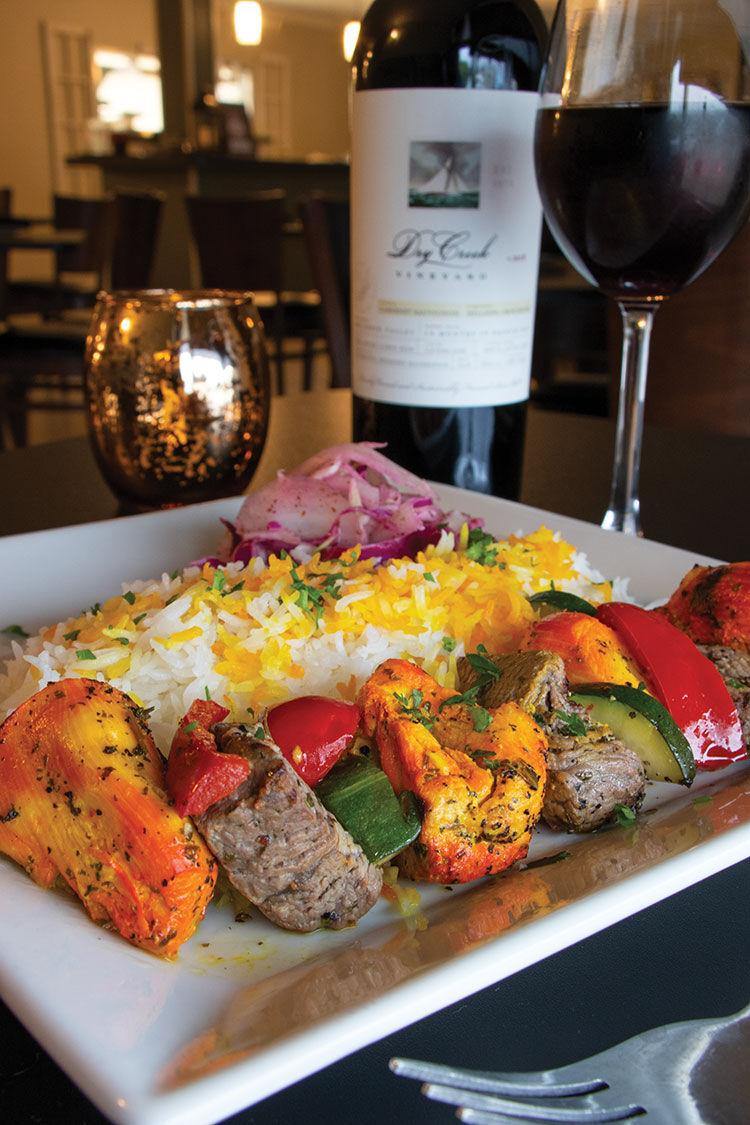 A nice way to sample several things is with the combination plate with either two ($18) or three ($21) meats. We tried the beef tenderloin shish kabob, marinated grilled chicken and koobideh, a seasoned, grilled ground beef. All had good flavor and were served on basmati rice with a side of red cabbage.
Saffron's lamb dishes — both the braised lamb shank ($19) and grilled lamb chops ($29) — are popular. Shadi knows how to properly cook lamb to make it tender and bring out its best flavor, which is sometimes hard to find locally. 
For lighter meals or lunchtime, Saffron has many options, including gyros. Saffron's gyros supreme ($12) is a tremendously good deal. Thin sliced lamb and beef gyro meat is served on warm pita bread, made in-house every day, with lettuce, tomatoes, onions, olives and feta cheese. Tzatziki sauce, served on top, also is made fresh and has a nice, fresh flavor to complement any of Saffron's meats. You then have a choice of a side of basmati rice, French fries, soup or Mediterranean salad.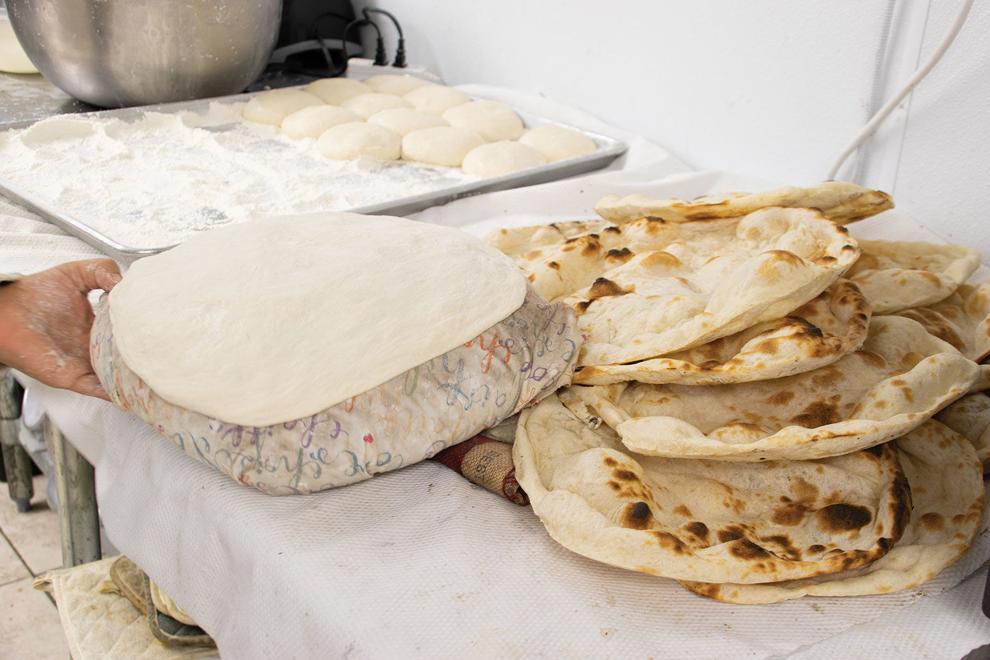 Saffron's appetizers and starters are too good to miss, and are good enough to be ordered as a light meal. We tried the mezze ($21), which gives you small bites of many starters, including tabouli, pita, hummus, a cabbage roll, dolmeh and tzatziki. It also comes with falafel, which Saffron does well. Saffron's falafel isn't the thick, heavy variety sometimes found. This falafel is fresh and flavorful, formed into small rounds and fried crisp. The falafel also is available as a meal on pita bread with tahini sauce ($12). 
For kids, Saffron has gyro with rice, chicken kabob with rice, or chicken tenders with fries. 
Shadi shouldered the tremendous burden that was 2020, opening in the spot that long held Bangkok Thai just a few weeks before the pandemic hit, so it was a tough start and a slow build to bring customers in. 
But customers from her former restaurant and new customers alike are finding this new midtown spot for fresh, authentic Mediterranean food.