On a rainy Friday evening, some of the merchants at Mother Road Market, 1124 S. Lewis Ave., worried it might be a slow night. But by 6 o'clock, the place was packed.  Umbrellas were shaken out and placed by the door, as people strolled around the market. Even those who knew exactly what they were there for made the loop, circling around to check out what was happening at each of the shops and dining spots.
"Oh, I get it, it's like a food court," said a first-timer to the market.
Yes, it's like a food court, but a really great food court with fresh, local fare.
Mother Road Market, 1124 S. Lewis Ave., is a nonprofit project of the Lobeck Taylor Family Foundation, featuring more than 20 restaurants and retail concepts. This includes some names Tulsans are familiar with, like Andolini's, and others that are new. Some of the newcomers were part of Kitchen 66, a program of the Lobeck Taylor Family Foundation that kickstarts Tulsans with great restaurant or food concepts, giving them kitchen space and business training. Now some of those Kitchen 66 graduates, including Bakeshop, Bodhi's Bowl and Big Dipper Creamery, have space at Mother Road Market.
"We've enjoyed a tremendous amount of success since opening in November, with overall sales exceeding more than $1 million in our first 45 days," says Ashley Van Horne, chief communications officer for the Lobeck Taylor Family Foundation.
Van Horne and Jeff Thompson, general manager of Mother Road Market, say there's something for everyone, including vegan and vegetarian and even food for picky kids.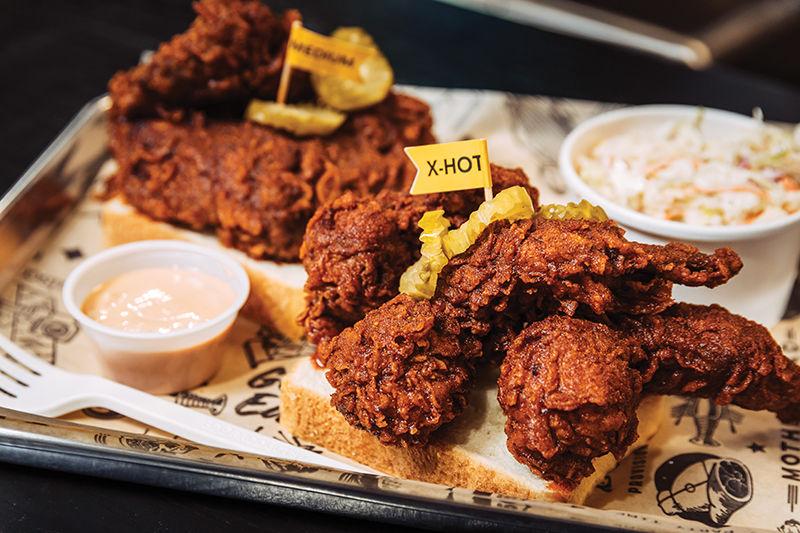 Thompson says customers have been particularly excited about the hot chicken sandwiches at Chicken and the Wolf by Danielle and Philip Phillips, owners of Lone Wolf Banh Mi. Judging by the long lines, customers also are loving ice cream and double-decker ice cream sandwiches at Big Dipper Creamery by Sami and Brian Cooper and the artfully created wraps and salads at Radish, owned by chef Seth Smith and his wife, Melissa.
James Wegner with Bodhi's Bowl says having a space at Mother Road Market has given his business tremendous visibility.
"It has also given me access to a kitchen where my guests can see exactly what it is we do in my kitchen," Wegner says. "I love being able to look over my shoulder to interact with customers."
Bakeshop's Emily Landry says she has been blown away by the customer response, including selling out almost every day of the shop's lemon apricot scone.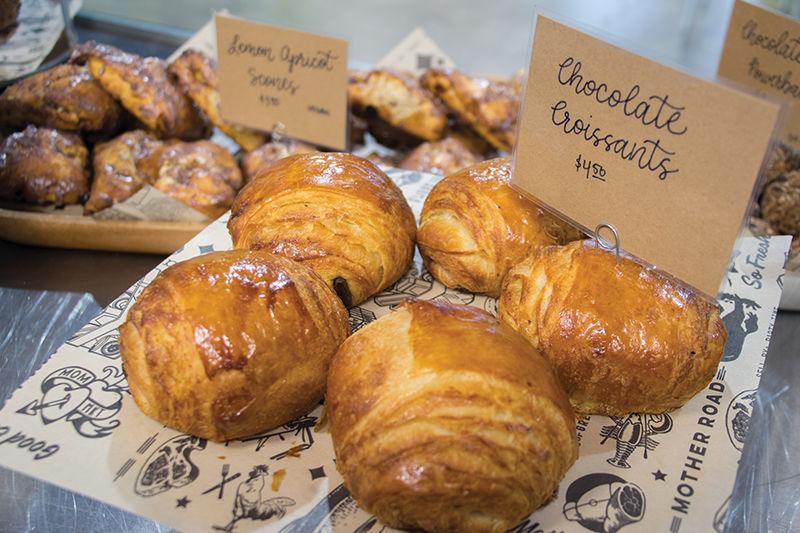 "We've been really pleased with the reception we've received from Mother Road Market visitors, and are enjoying the community between all the different businesses in the market," she says. "It has been thrilling to be part of such a huge new attraction in the Tulsa community."
Mother Road Market is open 10 a.m.-9 p.m., Tuesday-Thursday; 10 a.m.-10 p.m., Friday-Saturday; 10 a.m.-9 p.m., Sunday. Here's a look at what Mother Road Market has to offer.
& Tacos
From the popular food truck Pollo Al Carbon, owners Mario Mazedo and Daniel Ruiz bring the best of traditional Mexican street food to the market.
Andolini's Sliced
Tulsans are familiar with the big slices of pie, which you can fold New York style or eat with a fork and knife. Don't forget to save room for Andolini's authentic Italian gelato.
Bakeshop
Most people can't walk by Bakeshop without staring. Rows of small-batch, artisan goodies like cookies, muffins, cupcakes, granola and bread draw in customers.
Big Dipper Creamery
Ice cream is made fresh and locally, with flavors like salted caramel with brown butter ganache and honeycomb lavender among customer favorites. For a real treat, sandwich your favorite flavor between two sugar or chocolate chip cookies.
Bodhi's Bowl
Gourmet rice bowls are the draw here. The two most popular are the vegan Chakra Chana, a chickpea masala, and the Red Bird Bangkok, an authentic Thai coconut curry bowl.
Chicken and the Wolf
Don't be surprised to find a line here while people wait for Nashville-style hot chicken sandwiches. Try it topped with coleslaw and pickles. Warning: It's spicy!
Ediblend
Find your favorite juice blends and ready-to-go salads at the Ediblend kiosk.
The Farm Stand
Operated by the Tulsa Farmers' Market, shoppers can find locally sourced produce, dairy, meat, fruits, vegetables and more.
Kitchen 66 General Store
Household items, packaged foods and Mother Road Market swag await at the General Store. Shoppers can now find A New Leaf's fresh-cut flowers and succulents inside the General Store.
Metropolis
All your favorite street food under one roof. Metropolis, from the guys at Andolini's, has Philly cheese steaks, Italian beef sandwiches, pretzels, cannoli, New York City-style hot dogs and more.
Mythic Press
This is the place for screen-printed and embroidered Tulsa-themed and Route 66 apparel and more.
The Nest
This popular Cherry Street shop brings some of its customer favorites, like candles, kitchen decor and gifts to the Mother Road.
Nice Guys Shrimp Shack
Beachy fried coconut shrimp, tortilla chips, made-to-order guacamole and batido milkshakes are on the menu at this shrimp shack, from the creators of the Mr. Nice Guys food truck.
OK Cookie Momster
If you've had cookies from OK Cookie Momster's shop in midtown, you know how good they are. So what makes these different? Every cookie is warmed before being served.
Oklahoma Joe's Bar-B-Cue
This is the space to go for championship-style ribs, brisket and chicken, plus great potato salad, mac and cheese, and okra. All your favorites from Oklahoma Joe's are right here.
Radish
A great place to stop for lunch or dinner on the healthier side. Radish has a blend of Mediterranean and American dishes, with great items like a rotisserie chicken platter and baba ghanoush.
Trenchers
Crustacean Station Lobster rolls are always in season at the Trenchers cart. Also find fun extras like chocolate-covered ice cream sandwiches and retro blackberry Clearly Canadians.
Umami Fries
Brought to you by the folks behind Gogi Gui Korean Grill, these meaty, crispy fries are fried twice with a house-made batter. Toppings include bulgogi beef, chicken or kimchi. Or choose from more than a dozen seasonings and extras.
The WEL Bar
Grab a beer or stay awhile for a glass of wine, hand-crafted cocktail or a cup of coffee. The WEL Bar is a fun place for lingering and people watching.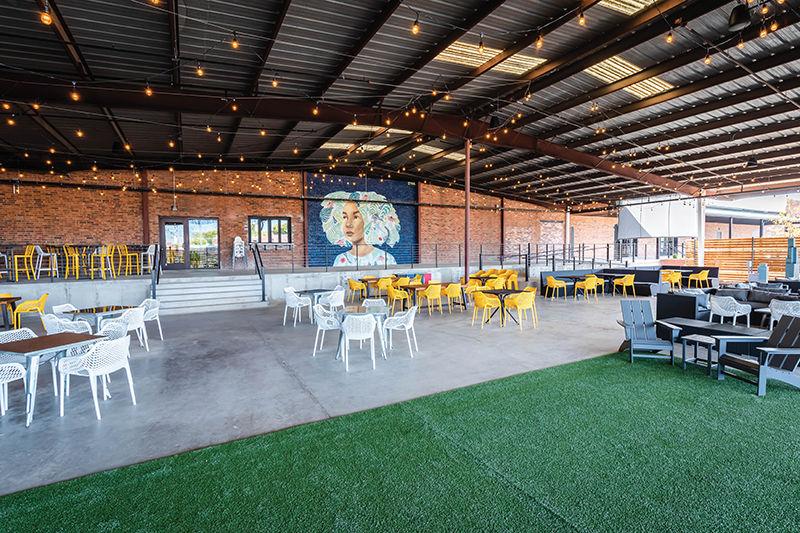 More fun things to do at Mother Road Market
Warmer weather means it's time to enjoy the covered patio at Mother Road Market. Diners can find a seat to eat outside or watch their kids play on the turf area. The patio also has space for yoga classes and Mother Road Mini Golf, a nine-hole mini golf course featuring landmarks from Route 66.
The market has many diverse and fun events in March, including free classes by the Tulsa Master Gardeners, sourdough workshops by Living Kitchen Farm and Dairy and cooking classes from Oklahoma State University Culinary Department. For more information on these events, visit motherroadmarket.com/events.