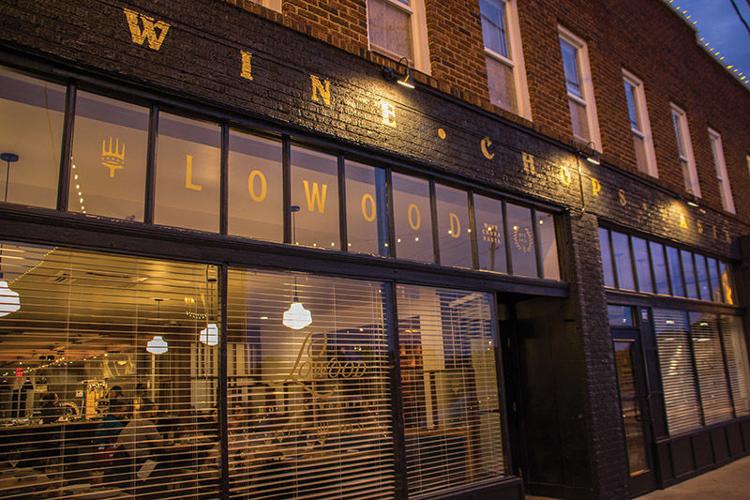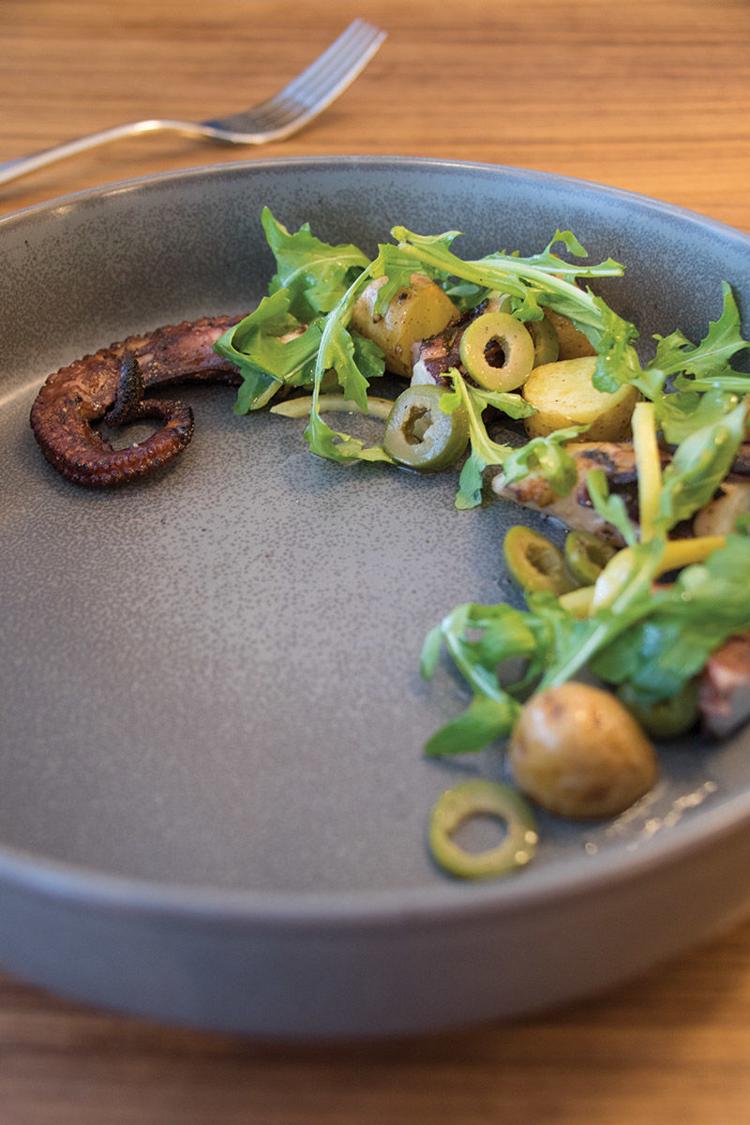 Our expectations for fine dining are higher than ever.
It's no longer enough for food to be excellent. Many diners have a long list of criteria, including the requirement that food should be elevated but unfussy. Menus should have a point of view. Restaurants should have a strong chef presence with some level of accessibility to the diners. And a knowledgeable sommelier is a must.
Somehow Lowood, the new restaurant next to Hodges Bend in the East Village area of downtown, hits all those marks. Credit goes to Hodges Bend partners John Gaberino and Noah Bush, who joined up with chef Ian Van Anglen and T.C. LeRoy and knew a New American restaurant would shine in this spot.
One of the things Lowood so masterfully does is pull back the curtain on fine dining. The performance of the glowing wood-fired grill, the precise cutting of capocollo ham, the plating of beautiful hen-of-the-woods mushrooms — it's all on display in the open kitchen. A seat at the chef's counter gives you an even closer look, but a view of the kitchen comes with most seats in the house.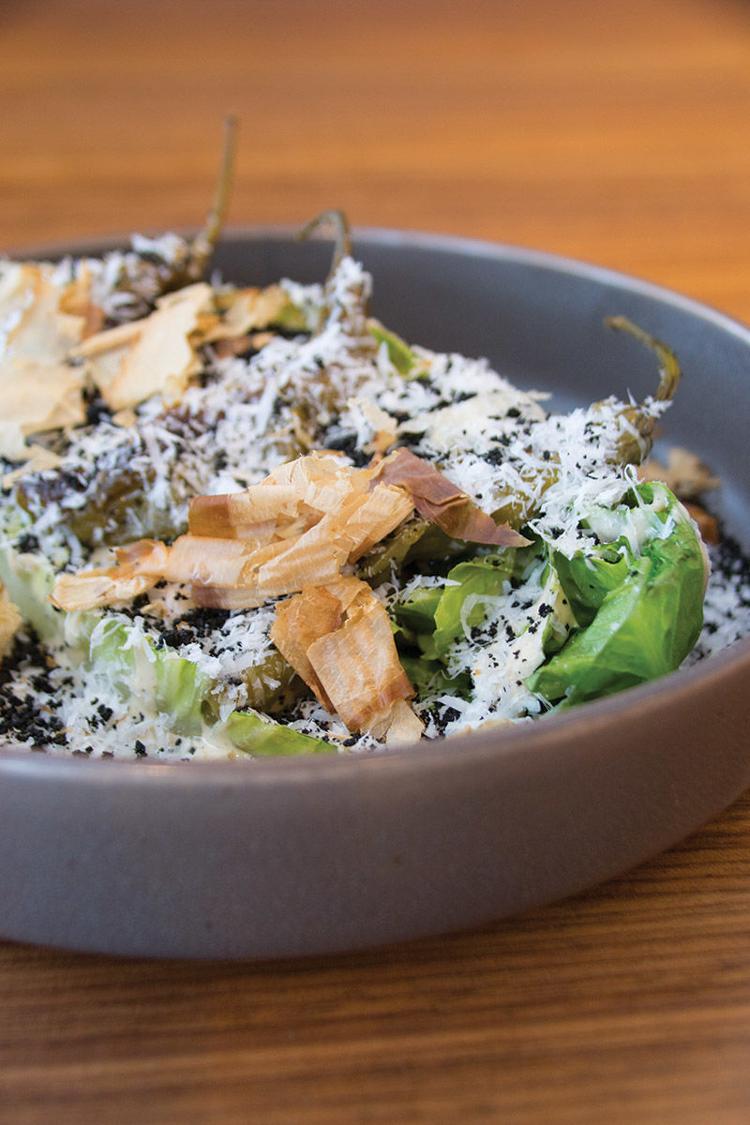 Lowood's appetizers are intriguing by description and elegant on arrival. We loved the cheeseboard ($21), which included a mild sheep's milk cheese with a cherry-ginger jam that was as delicious on crostini as with the cheese.
Daring palates will love the grilled octopus ($18) with a chili citronette, arugula and Castelvetrano olives. The seared quail ($18) was another exceptional first course, served with frisée (a leafy green), fennel and flageolet beans.
Lowood's interpretation of the classic Caesar salad was impressive.
A grilled romaine heart ($11) came on a large serving plate with pecorino cheese, toasted breadcrumbs, pickled shishito peppers, bonito flakes and a Caesar dressing. This is a salad perfect for sharing or passing around the table so everyone can have a few bites.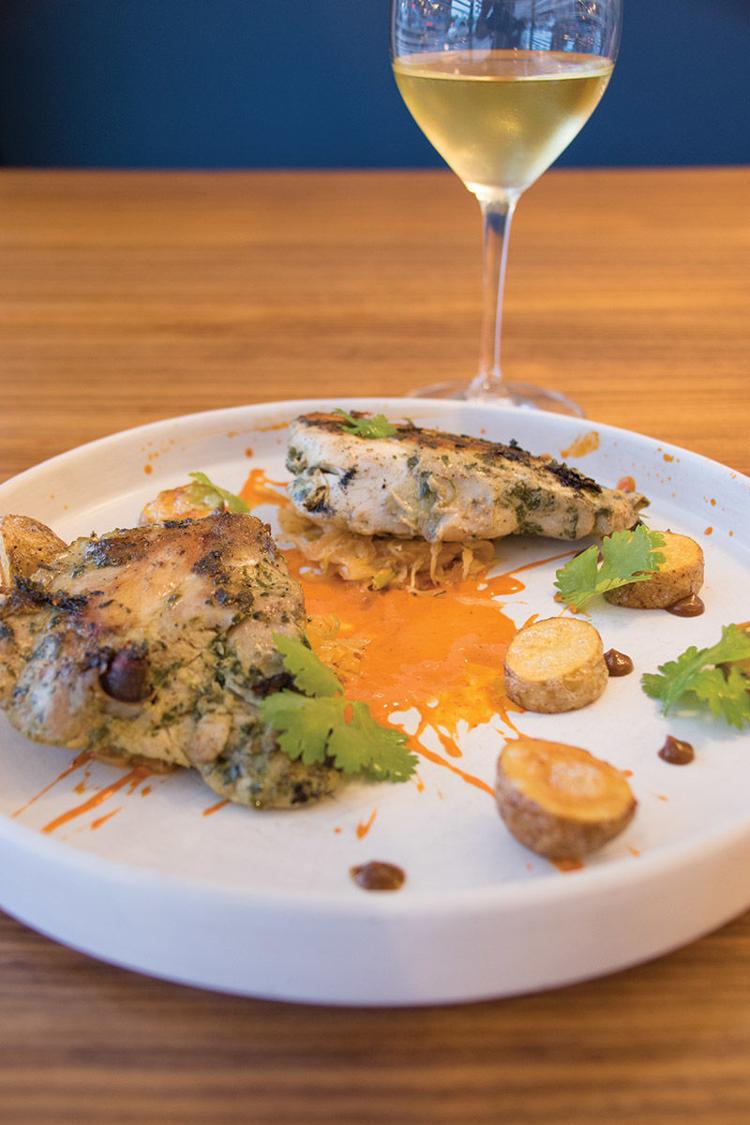 All pastas at Lowood are made in-house, and it's noted upon the first bite. So often the pasta in restaurants is overcooked and gummy. The reginette ($13) we tried had a distinct texture. And the shape — like a thin, long lasagna noodle — was the perfect choice for the sauce, a dry aged beef bolognese.
Risotto lovers will enjoy the butternut squash risotto ($13) with its mingling of flavors, including gorgonzola, pine nuts and an orange gremolata. This is a dish that's sure to become a customer favorite.
Lowood's menu is seasonal and will change according to what's fresh and available. For fall and winter, those entrees perfectly represent the season.
Classic roasted chicken ($26) is updated with an apple fennel kimchi and smoked potatoes. A dry-aged strip steak ($35 for 8 ounces) was served with charred cauliflower and wild mushrooms, a roasted garlic potato puree and salsa verde.
We loved the whole grilled branzino ($36), a mild white fish. Served with the head and tail, the branzino is artfully plated with grilled lemon, fennel and a pepper sauce that brought just the right balance of saltiness and a little heat to the almost sweet fish. This is a dish that really benefits from the wood-fired oven.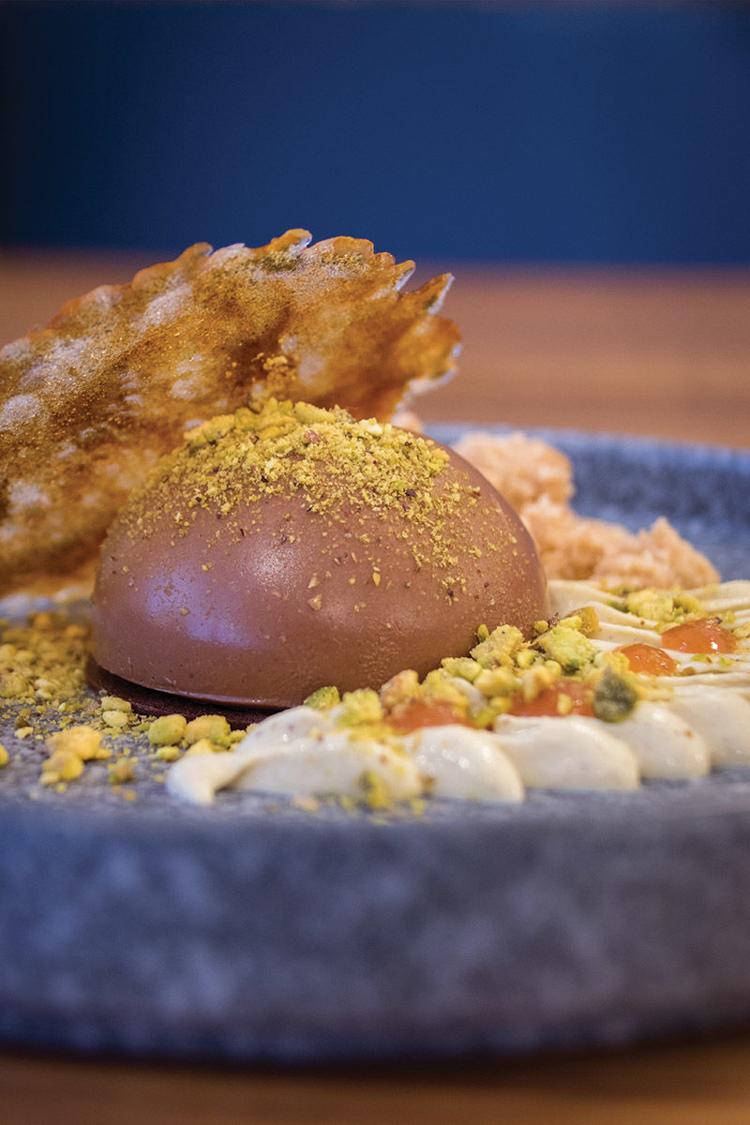 Desserts are complex but fun. The pot de crème ($10) exemplified Lowood's creativity and charm. Rather than a plain cup of chocolate custard, this was a custard encased in a hard chocolate shell with a grapefruit compote in the center of the custard. Like a nesting doll, each bite revealed another layer.
Surrounding the pot de crème were crushed pistachios, pistachio cream, a crumble topping and a piece of caramelized sugar. What could have been a simple dessert was transformed to a next-level course that leaves guests wondering what new surprises Lowood will unveil when they return.