Tulsa is small enough that when a new restaurant opens, everyone knows about it.
It's a common point of conversation. "Have you been anywhere new to eat?" "Hey, have you tried that new restaurant downtown?"
But "new" is relative. A restaurant can be open a year or more and still be considered somewhat new, especially compared to the many restaurants in town with serious longevity.
This past year has brought a small crop of new restaurants to Tulsa, and to downtown in particular. If you're seriously into local dining, you might have already tried them all. If you haven't heard of any of them, no worries. They're all waiting for you and, with one bite, will secure your place "in the know" about the Tulsa food scene.
The Local Bison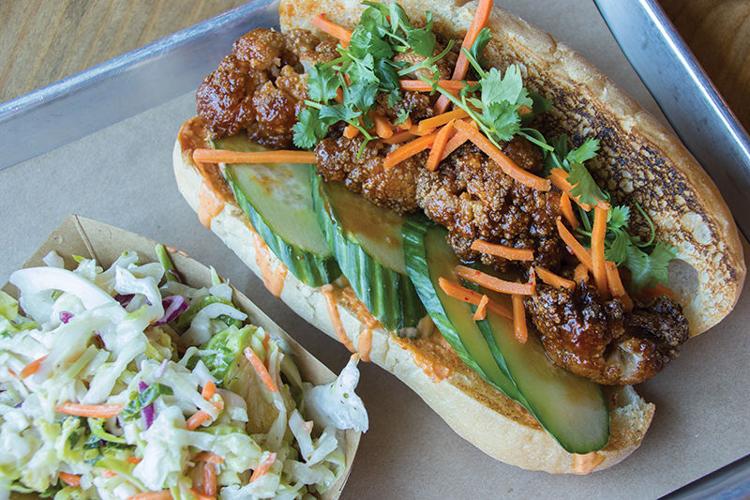 Usually you would be wary about a restaurant that seems to have a little something for everyone. Niche restaurants with specialized menus can sometimes be more interesting. But the Local Bison, open since Feb. 25, is an exception.
This is a restaurant where Korean cauliflower banh mi ($10) shares the stage with shrimp and grits ($14). It's a place both for hanging out at the bar watching soccer or football or for lingering at a table on a date night.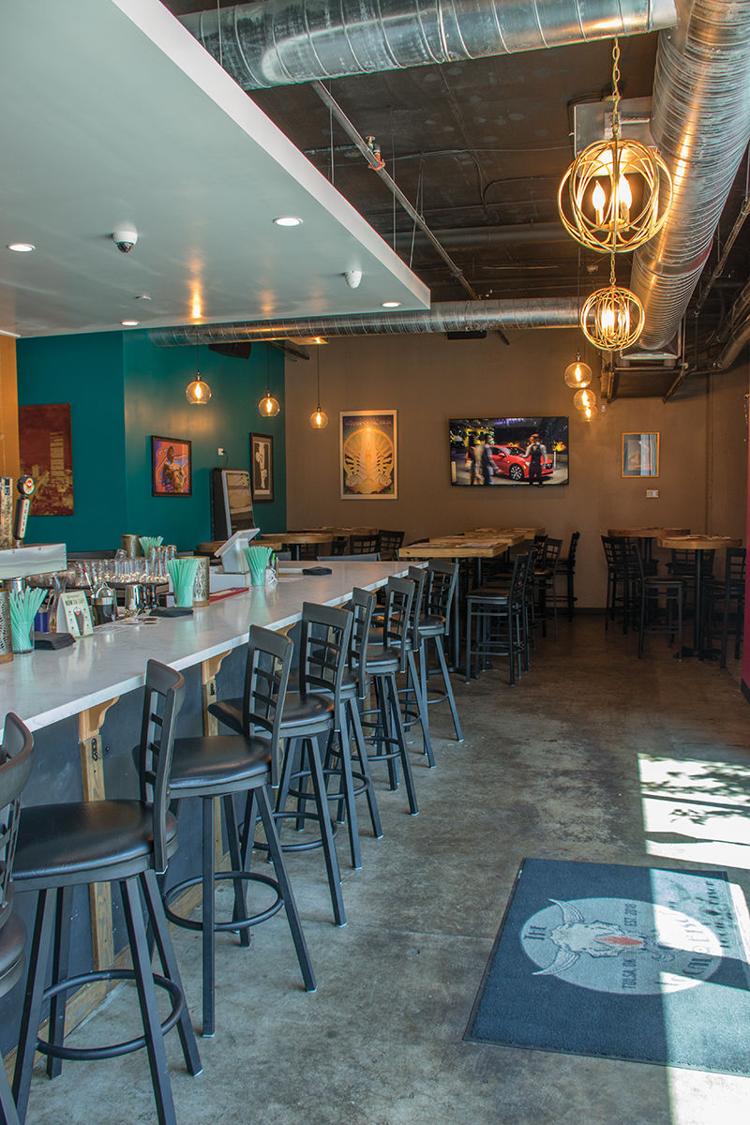 And, the Local Bison's menu includes a good selection of both vegan and vegetarian foods as well as burgers, brisket and beer.
The signature dish, the Bison Burger ($14), is memorable. The bison and beef blend comes with caramelized onions, bacon jam, brie, arugula and tomatoes.
Another favorite, and one you won't typically find at restaurants, is the Potato Chip Chicken ($14). Chicken breasts are brined and then coated with potato chips. It comes with a Brussels sprout and potato hash with a house-made chipotle vinaigrette.
Owners Emily and Tony Galvez say they wanted to create a menu of classic Okie favorites with their own spin. "I think our favorite thing that sets us apart is all the vegan options we have that you can't get anywhere else," Emily says.
The vegan sandwich of the week (usually $12; examples include a mushroom po' boy, Hawaiian cheesesteak and vegan "lobster" roll) has been popular since the Local Bison's opening.
The bar is the focal point when you walk into the Local Bison.
"We don't consider ourselves a sports bar, but we are one of the few bars in the area that does have TVs available for games," Emily says. "We want to be the neighborhood bar that everyone feels comfortable coming to."
522 S. Boston Ave. | 918-561-6114
---
Boston Title and Abstract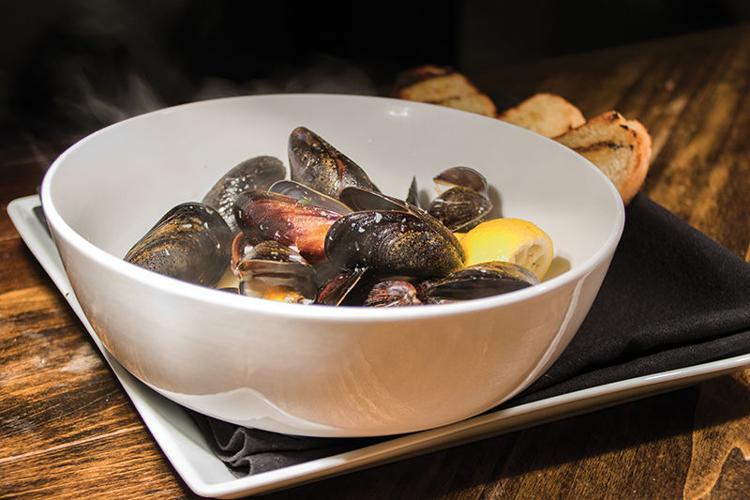 It might be a little hard to find, but that's part of the fun of Boston Title and Abstract. When co-owners Gregor Donnini and chef Paul Wilson opened the restaurant in July 2018, it wasn't by making a splash. Rather, little hints and whispers began popping up on social media about a new restaurant accessible through an alley off Boston Avenue. A small sign with a cocktail glass and a knife pointed the way to the door.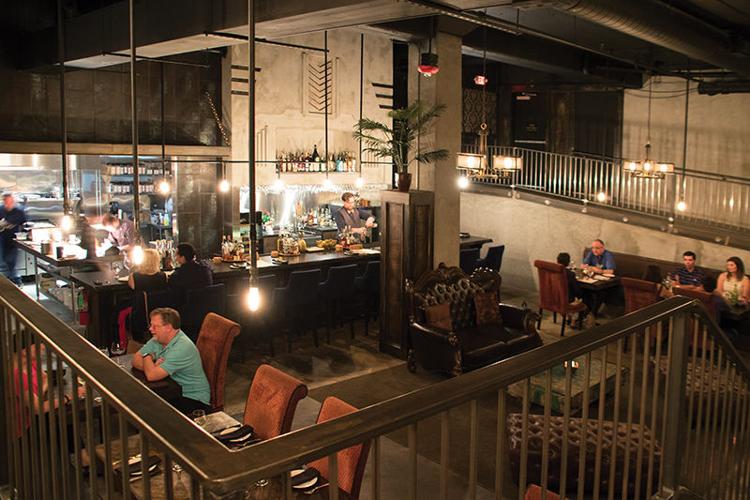 The restaurant name refers to a real estate practice: the abstract of a property's title is a summary that keeps the relevant, important info. Companies that provide this service often have "Abstract and Title" in the name, and a few can be found in downtown Tulsa. Donnini explains the restaurant's name as an attempt to be "discreet and somewhat deceiving," like speakeasys of a bygone era.
But despite having no social media or advertisements to speak of, Donnini says, "Tulsa can't keep a secret," so Boston Title and Abstract has had plenty of patrons since opening. "It's an interesting way to start a business, but a very gratifying and organic way to gain clientele literally one-by-one," he says.
Boston Title never felt quite as secretive as the Bull in the Alley did when it opened a few years ago in an alley downtown. Rather than a speakeasy feel, Boston Title gives the impression it is a hideaway for people seeking something different. The bones of the menu are fine French cooking, but with beautiful surprises in the specials menu, which is ever-changing with different themes each month.
Because the menu evolves, part of the thrill of Boston Title is discovering what's new. Some recurring dishes have become favorites: the ratatouille ($26), the bouillabaisse ($42) and the bourguignon ($35). Each of these French dishes is given a modern touch. Before dinner is served, order the charcuterie board ($20/$31) for an elegant presentation of perfectly chosen cheeses, bread and sausage or other meats.
Dessert also is well done and often in the French style, with pastry creams, fruit and dark chocolates.
522 S. Boston Ave. (lower level) | 918-301-0744
5-10 p.m., Wednesday and Thursday, reservations suggested; 5-11 p.m., Friday and Saturday, by reservation.
---
Chamber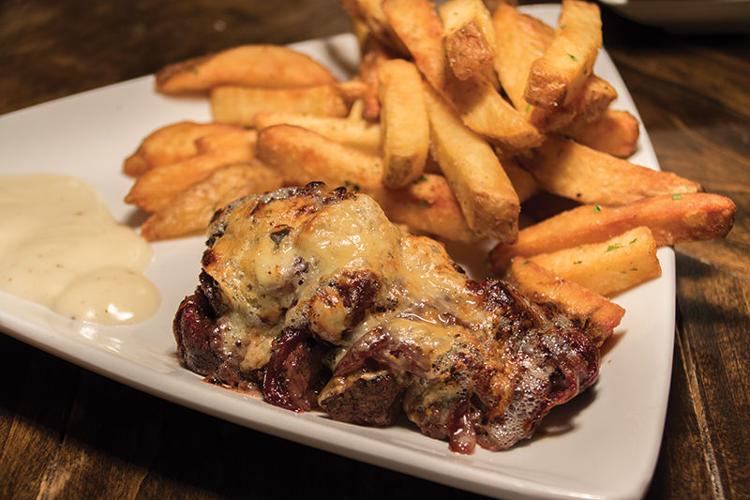 If you could take out-of-town guests to one restaurant right now, it should be Chamber, a representation of Tulsa's past and its future.
Chamber occupies the ground floor of the historic Tulsa Club building, which has undergone an extensive renovation to become the Tulsa Club Hotel. When the Tulsa Club opened in 1927 it was an art deco gem. Designed by Bruce Goff, the building housed the Tulsa Club, along with office space for organizations including the Tulsa Chamber of Commerce.
Ross Group and Brickhugger have both re-energized legacy buildings and spurred other commercial opportunities.
Chelsea Hill, general manager of Chamber, says the restaurant is purposefully modern with nods and touches of historic downtown Tulsa — even when it comes to the food. "We have some things that we pay homage to," Hill says, referring to the restaurant's name association with the Tulsa Chamber; the bar upstairs from Chamber is named Commerce. The menu items at Commerce also refer to notable figures in the Tulsa Club's history — for example, Goff.
When developing the menu, Chamber staff found the original Tulsa Club's Bloody Mary recipe, handwritten from someone at the restaurant years ago. The same Bloody Mary is served to guests at Chamber today.
The Hunters Omelet ($14), with bacon, onion, green pepper and tomato, is another item that was a favorite on the menu at the Tulsa Club restaurant and has been resurrected on Chamber's brunch menu.
Hill says Chamber has many hotel customers staying at the Tulsa Club, but it also captures a large local community — some interested in the building's past and others simply looking for great food.
Chamber has a simple but well-selected menu, starting with appetizers. Instead of a classic shrimp cocktail, Chamber serves a shrimp cocktail tostada ($12). The most popular appetizer is the fried pimento cheese, served with jalapeño pepper jelly ($10). The pimento cheese balls have a crispy exterior with a traditional and creamy, cheesy middle.
For dinner, Hill says diners are loving the coffee-crusted tomahawk pork chop ($28). This dish is beautiful even before the first bite. The coffee crust and other elements — like a blueberry horseradish jam and white cheddar grits — set this entree apart.
Also popular at dinner is the NY strip steak frites, seasoned with parmesan truffle oil ($34).
Chamber's large bar area is a great place to meet for happy hour or to stay for dinner. At the bar, the First Lady ($10) stands as the most popular cocktail. It's an effervescent grapefruit cocktail with edible flowers in the ice cubes.
Chamber opened June 22. Hill says almost every weekend since, couples who were married at the Tulsa Club before it closed in 1994 come in to celebrate an anniversary. They sometimes bring wedding pictures.
"It's been great to have a place where they can come back," Hill says.
And to have a place with food that makes the return delicious is even better.
115 E. Fifth St. | 918-582-5722