From the moment you walk through the doors of Mr. Kim's, it's an experience.
Experiential dining is what chef Ben Alexander had in mind with the creation of Mr. Kim's. He's taken the concept of Korean barbecue — with gas grills built into the middle of dining tables — and elevated it with a sleek setting and interesting flavors.
"I would describe Mr. Kim's as an Asian steakhouse that is heavily influenced by the flavors and cooking methods typically associated with Korean-style barbecue," Alexander says.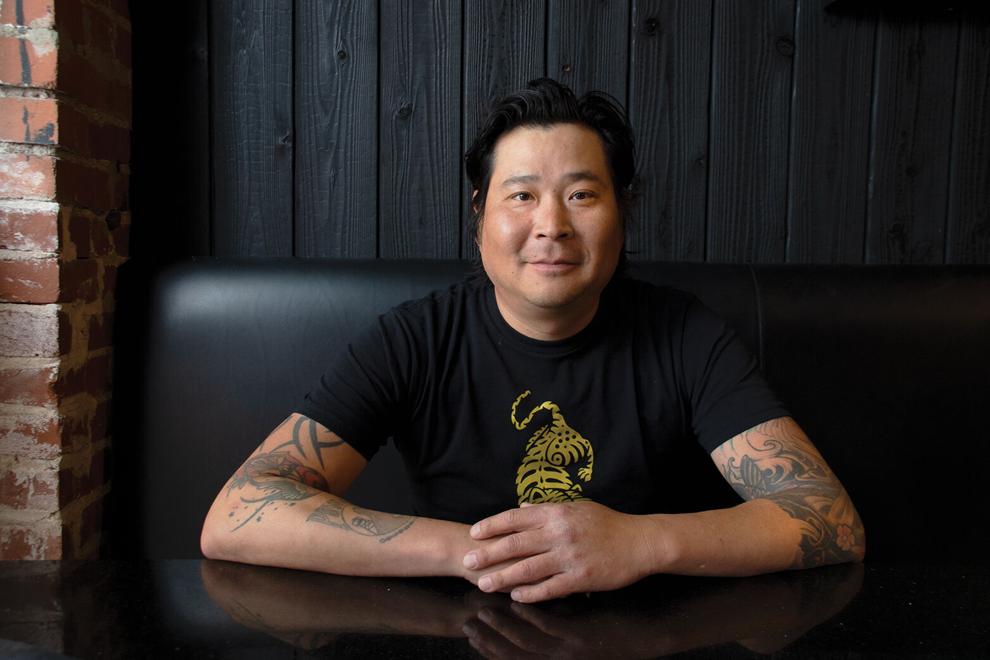 For the uninitiated, Korean barbecue is not the same as American barbecue. Rather, Korean barbecue refers to the method of grilling meats, seafood and vegetables on a tabletop gas grill.
Customers can grill the beef, pork and seafood themselves, or the staff can do it for them. Many people choose for the waitstaff to do the cooking.
Having twice visited Mr. Kim's, we were able to try several menu items and get a feel for the best way to order. Perhaps the smartest choice is to try the chef's tasting menu, giving you a variety. (Editor's note: Many menu prices fluctuate based on supply chain.)
We ordered a la carte, first trying the wagyu snowflake dumplings upon the staff's recommendation. The dumplings were perfect, mightily stuffed with an umami beef flavor and topped with a chili crunch ponzu sauce. The crunch was a nice touch to break the softness of the dumpling. 
For a group, order a few appetizers, including the steak tartare with caviar.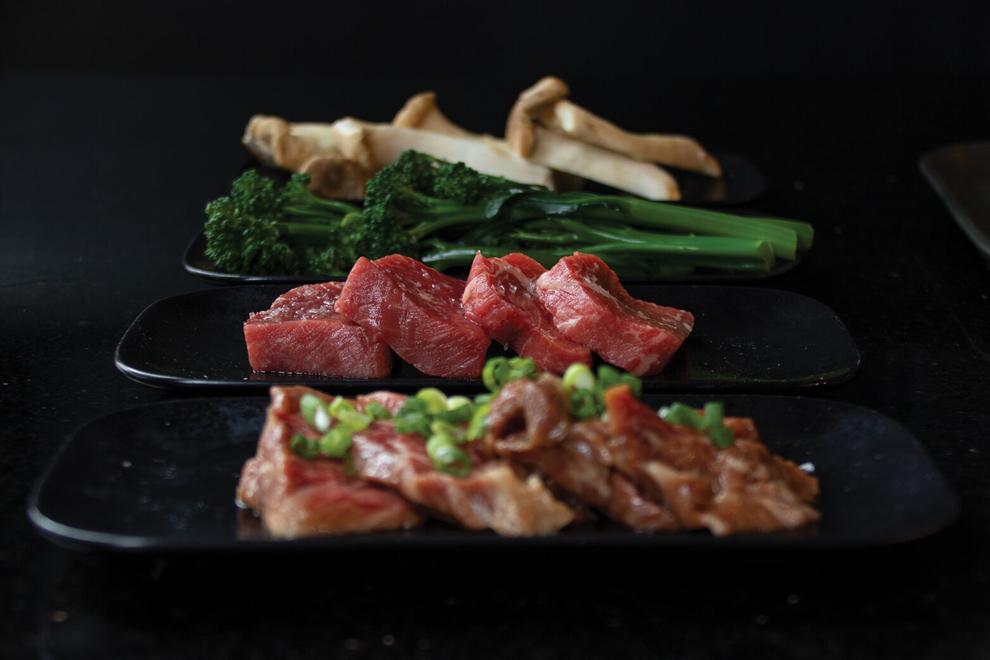 When it comes to selecting foods for the grill, it's a hard choice. Unless you plan on spending a lot for a celebration or special occasion dinner, you'll have to keep track of what you're ordering or the check might shock you.
We tried the filet mignon and prime ribeye, both of which were about 4 ounces. Other cuts of beef include a boneless galbi short rib, prime strip, prime brisket and the crème de la crème — the A5 wagyu.
"The A5 wagyu from Japan is definitely a unique menu item," Alexander says. "If you've never had A5 wagyu, you will be blown away by its incredible marbling of fat and its rich umami flavor."
For pork options, Mr. Kim's has pork belly, pork bulgogi and bacon. Any of these would be terrific seared on the hot grill.
We also tried the seafood options — shrimp and diver scallops (no longer on the menu), both of which have great flavor once grilled. After warming the grill, it is coated with wagyu fat, imparting just a little of that great flavor to whatever you order.
Veggies aren't entirely necessary since a nice salad with ginger dressing is served as a first course, but if you want something fresh to accompany your dinner, vegetables include shishito peppers, broccolini, Japanese eggplant and king trumpet mushrooms.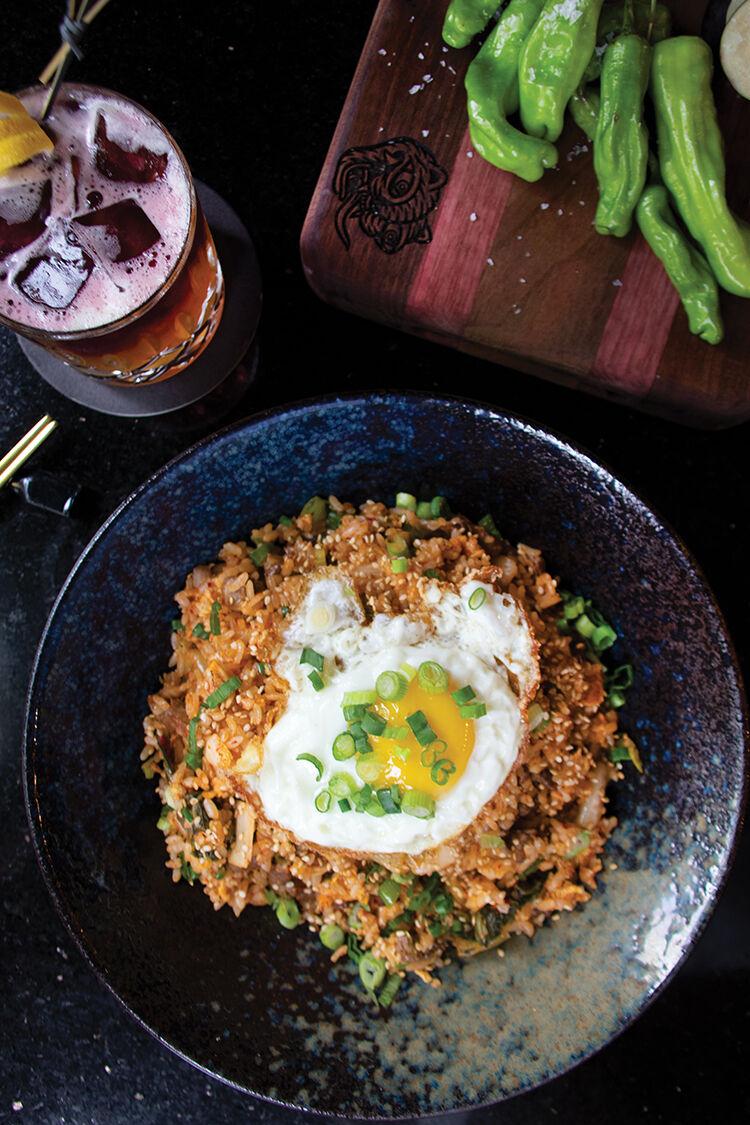 All table grill orders are served with banchan. These little side dishes function as complements to grilled meats and vegetables. They also can be placed on leaves of lettuce (which also accompany dinner) to be used as lettuce wraps with any of the grilled dishes. 
Our server mentioned some of the side dishes — like daikon radish — are nice palate cleansers in between courses. The banchan changes frequently. The times we visited, we sampled a tart and spicy scallion salad, chile cucumbers, red and white kimchi, and sesame-flavored collard greens. Korean potato salad is another banchan favorite that is often served. These little round bowls of flavor add much to the experience at Mr. Kim's. 
Rice is ordered separately, and options include plain steamed rice, kimchi fried rice, corn cheese (corn mixed with mayo, peppers, onion and cheese), and egg and butter rice. Our server recommended the egg and butter rice — a steaming bowl of rice with a 63-degree poached egg mixed into the bowl tableside. Chopped scallions add to the flavor of the warm rice.
Mr. Kim's also has a kid's menu, including steak, teriyaki chicken or steamed vegetables. 
Table grill orders come with a refreshing after-dinner sorbet. We sampled the tangerine variety, which came in small stone bowls that kept the sorbet ice cold. For something with more of a wow factor, Mr. Kim's has seasonal cotton candy.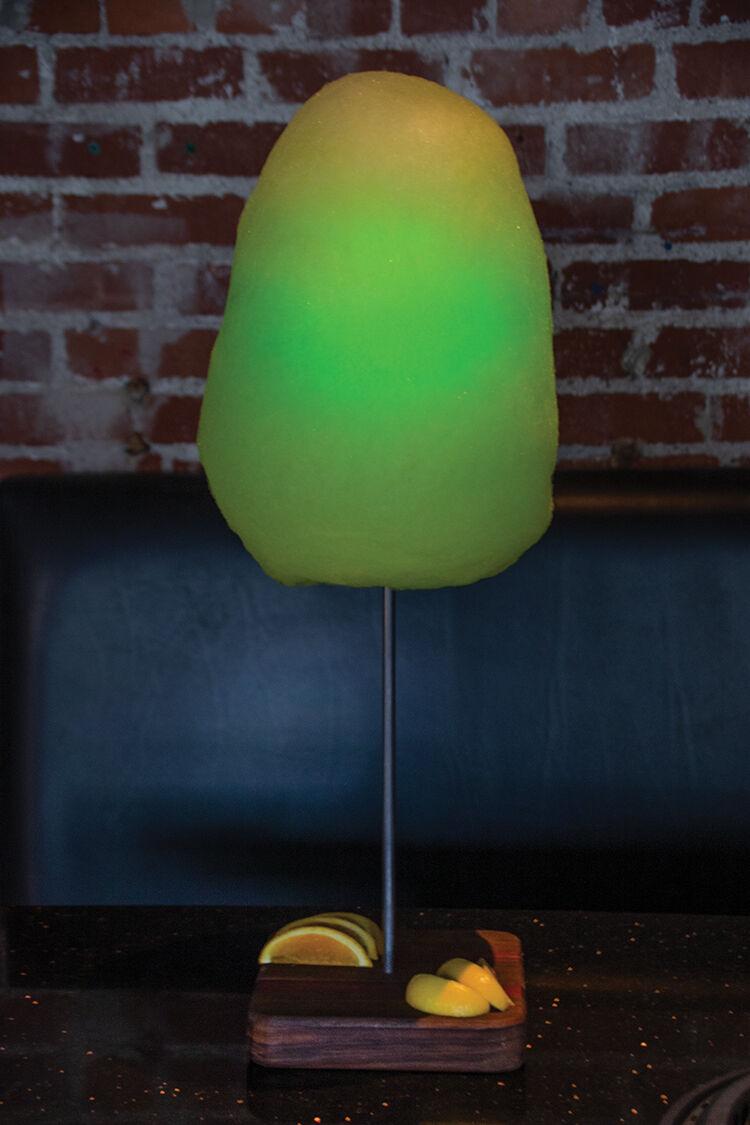 Mr. Kim's is named for Alexander, who as well as being chef is the vice president of culinary operations for the McNellie's Group. Alexander was born in Inchon, Korea, in 1982 and given the name Kim Young Duk at birth. He and his sisters came to the United States in 1984 by their adoptive parents, Phil and Nancy Alexander.
For Alexander, the restaurant is about more than creating a unique dining experience. It's also a tribute to his Korean heritage.