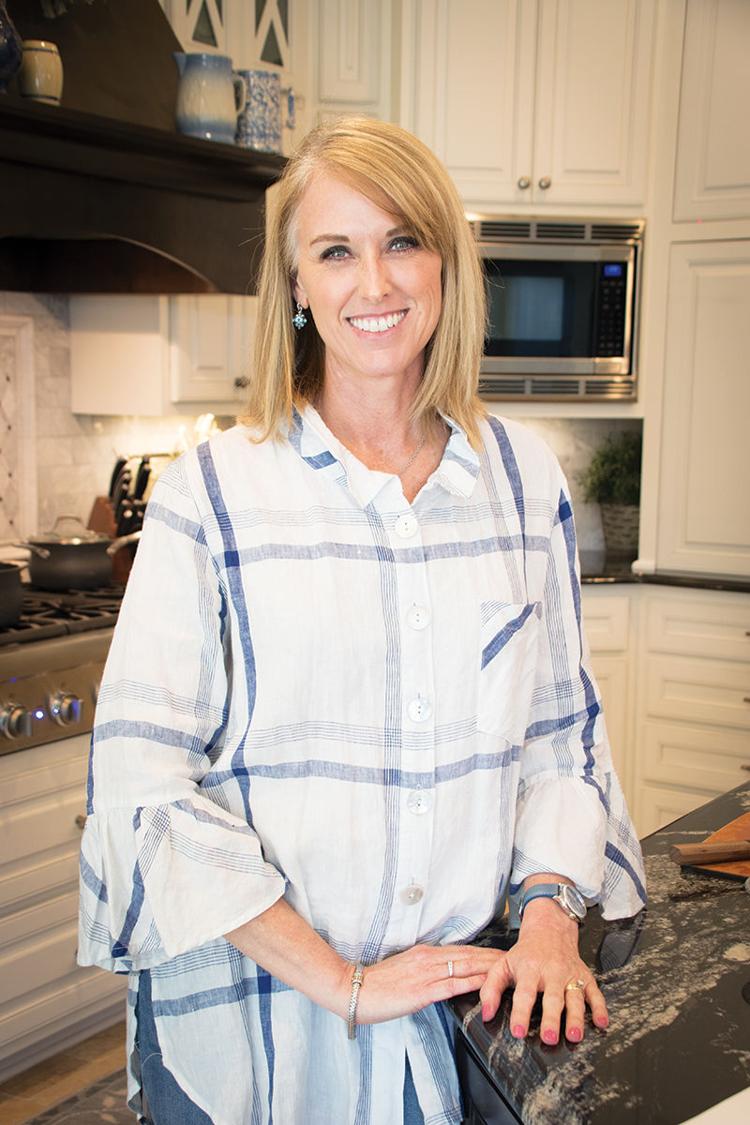 Melissa Furman is the event organizer for Tulsa VegFest on May 4. We talked to Furman about the festival and how she came to the whole food, plant-based lifestyle.
---
---
Tell us about the benefits of eating mostly plants and whole foods, as opposed to processed foods.
The whole food, plant-based (WFPB) lifestyle is sweeping the nation and the world as people understand the power that eating plant-based foods has on personal health as well as the positive effect it has on environmental and animal sustainability. A WFPB diet focuses on the health benefits of eating a plant-strong diet, which consists of fruits, vegetables, whole grains, beans and legumes, nuts and seeds.
Why do you think the plant-based lifestyle has become so popular?
The movie "Forks Over Knives" has really made an impact on people, and more films with a similar message keep coming out (I can't wait for "The Game Changers" to release). "The China Study" (by T. Colin Campbell, Ph.D.) as well as "How Not to Die" (by Dr. Michael Greger) also have been garnering a lot of attention and educating people on the health impact of a WFPB diet. Once people take small steps to plant-based eating like meatless Mondays, they experience positive change and keep taking bigger strides reaping even more benefits. A WFPB lifestyle is more than a diet, it's a way of life, and it's easier and less expensive than many people think. It's hard to get much cheaper than brown rice, beans and potatoes.
How long have you been eating whole food, plant-based?
In 2015, I watched the film "Forks Over Knives," and that was my turning point. Just like turning a page in a book, I changed what I put into my mouth and I never turned back. The more I learn about evidence-based nutrition, the more I'm convinced this is the best way I can live to have a long, active life that also doesn't hurt the planet. It's a journey. Initially, the most helpful thing I did to get me transitioned from the "standard American diet" was to purge my pantry and refrigerator of animal products and highly processed food. I literally threw it away. Then I found some great WFPB cookbooks and resources and launched my new lifestyle.
Is it difficult to eat at restaurants for people who are strictly whole food, plant-based in Tulsa?
My husband, who is also plant-based, and I seek out "veg-friendly" restaurants and go there when we eat out. Our teenage daughter is also plant-based. We love to dine out together and support vegan nights at local restaurants. Things are improving with more Tulsa-area restaurants realizing how easy and profitable it can be to offer plant-based meals.
What are your favorite whole food, plant-based foods to make at home?
For breakfast or a snack, I like to make oatmeal breakfast cookies that have no oil or sugar, sweetened with real maple syrup, and are delicious and hearty. I often make hot oatmeal for breakfast and top it with all kinds of things like ground flax seed, hemp seed, berries, bananas, dried dates and agave nectar. For quick, cheap and filling dinners, I really like baked sweet potatoes topped with black beans, chopped kale, sunflower seeds and a homemade sauce on top. For family dinners or company, I like to make BBQ Black Beans and Corn Over Quinoa or a delicious veggie lasagna made with polenta instead of noodles.
Here's one of Furman's favorite recipes, adapted from "The Plant Pure Nation Cookbook" by Kim Campbell: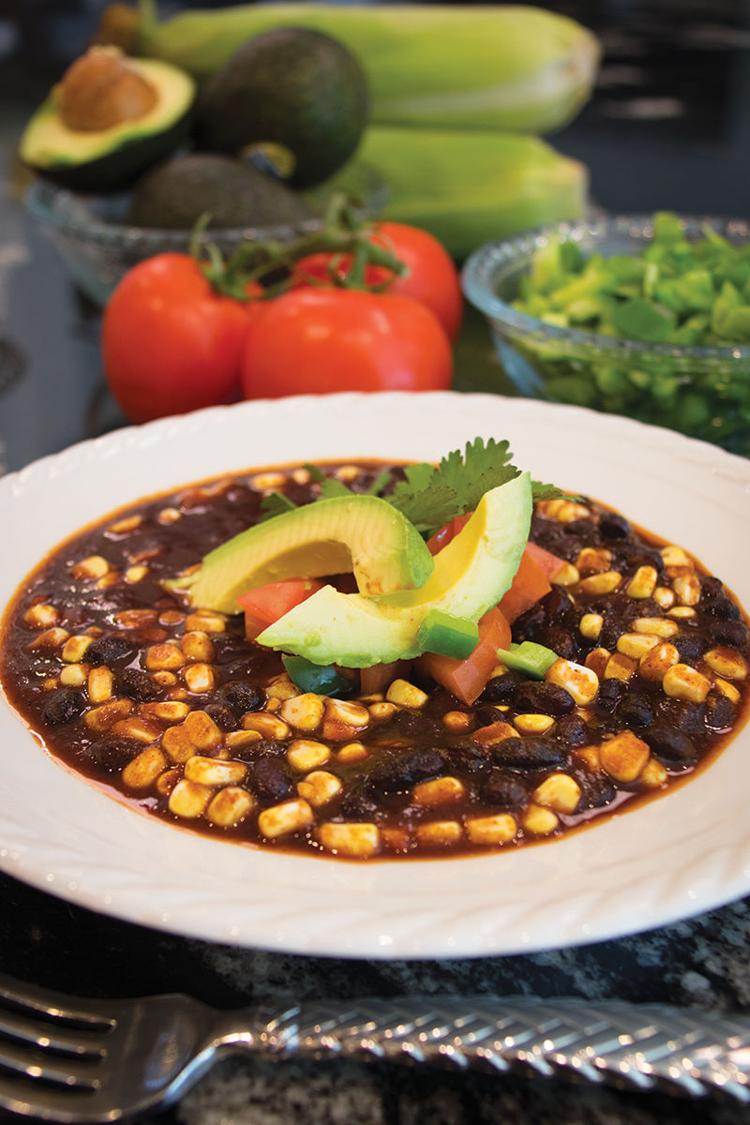 BBQ Black Beans and Corn
Over Quinoa Serves 4
1     cup quinoa
2     cups water
3     tablespoons sucanat (or substitute coconut or date sugar)
2     teaspoons smoked paprika
1/3  cup low-sodium soy sauce (or substitute Bragg's liquid aminos)
1/3  cup vegan Worcestershire sauce
3     garlic cloves, minced
½    cup low-sodium ketchup (no high-fructose corn syrup)
1     tablespoon dry mustard
1     tablespoon chili powder
1 ½ teaspoons liquid smoke
1     (15-ounce) can black beans, rinsed and drained
2     cups corn (fresh or frozen)
Rinse the quinoa, which can have a bitter taste if not rinsed thoroughly. Add the quinoa and the water to a pot, bring to a boil over medium-high heat, then reduce the heat to a simmer. Cover and cook until all the liquid is absorbed.
In a saucepan over medium heat, combine the sucanat, paprika, soy sauce, Worcestershire sauce, garlic, ketchup, mustard, chili powder and liquid smoke. Cook, stirring continuously, for 10-15 minutes. This will reduce and slightly thicken the sauce.
Add the beans and corn to the saucepan and allow to simmer for at least 15 minutes.
Serve over the quinoa.
Furman's tip: I like to top this dish with chopped red or green bell peppers, diced fresh tomatoes and avocado, and then serve with a mixed green side salad. For extra kick, I like to cook in some diced poblano pepper. I always double this recipe so I have leftovers to enjoy later.
Tulsa VegFest
Tulsa VegFest, happening 10 a.m.-4 p.m. on May 4, will celebrate the plant-based diet with speakers and info on sustainability, the environment and whole food plant-based cooking. It's a family-friendly event at Guthrie Green with activities and speakers throughout the day.
Speakers include two experts who have been featured in the films "Forks Over Knives" and "Eating You Alive." Another speaker is Karin Gibson, a registered dietician from Sweden who lives in New York City, who focuses on helping young families maintain a plant-based diet. The festival also includes a Q&A with local medical professionals.
All food vendors will offer 100% plant-based meals, including snacks, beverages and desserts.