Kevin Nashan has a knack for creating buzz.
He did it when he opened Peacemaker Lobster and Crab Co. in 2018. Lines out the door and Instagram photos of Tulsans eating beautiful food made Peacemaker the "it" restaurant that year.
And he's done it again — this time with La Tertulia. Since opening this spring, Nashan's latest restaurant has become the place everyone is talking about. 
The Santa Fe-style New Mexican food is worth the buzz. Nashan never could have imagined the recipes his grandparents and parents first created at their restaurant in Santa Fe in 1972 are the same ones that have people talking nearly 50 years later.
La Tertulia is inspired by his grandparents' restaurant of the same name that closed in 2000. The restaurant, in Santa Fe, was open 27 years. The original La Tertulia was a destination restaurant, known for authentic, made-from-scratch New Mexican food.
Nashan himself worked at La Tertulia when he was a teenager, but didn't have the appreciation for it then as he does now. And he wasn't exactly making good food then either.
"More like making messes," he says. "I never really cooked. I bussed and washed dishes. The irony is that it took me going to culinary school to really appreciate what I had there."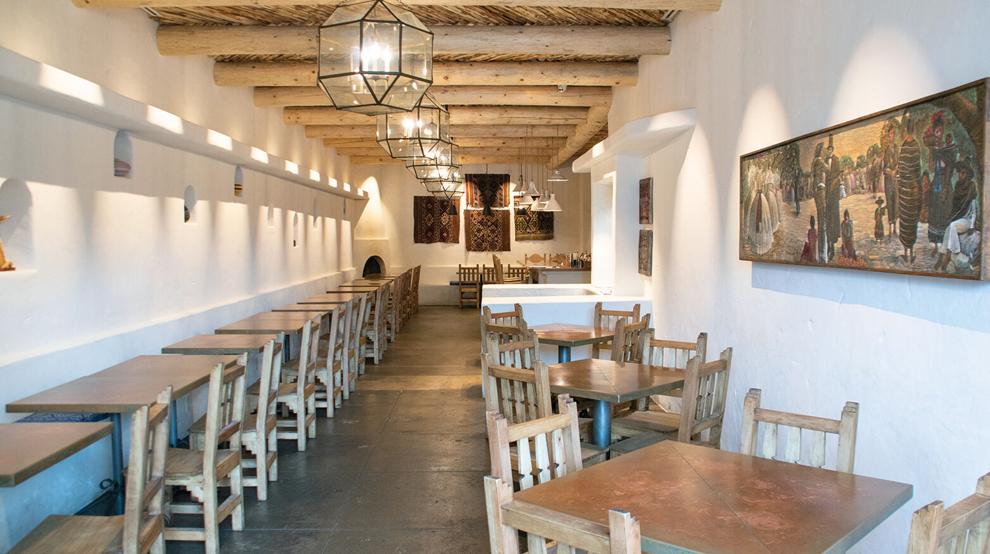 So even as Nashan gained notoriety as a James Beard award-winning chef for his work in St. Louis, and then gained further success with Peacemaker in St. Louis and Tulsa, La Tertulia was never far from his mind.
When the space next door to Peacemaker came available, Nashan considered what to do, and thought nothing could be better than an homage to his family with a rendition of La Tertulia.
"It's like a warm hug, a little tiny space," he says. "I wanted to capture as much of the authenticity as possible."
But how do you do that when the original La Tertulia was a big space with character that had spanned the decades?
"What you do is you take all the amazing concepts and nuance and tell a story," Nashan says.
That ends up being a story told through the decor — a style that exudes a Santa Fe warmth with white stucco walls, chimineas and artwork. But even more of the story is told through the dishes, most of which replicate the original restaurant menu.
Stewed meats with chiles are La Tertulia's stars. The carne adovada, a slow-cooked pork in a red chile sauce, is especially good and comes in the enchiladas, burritos and tamales. Slow-cooked chicken and beef also are excellent choices.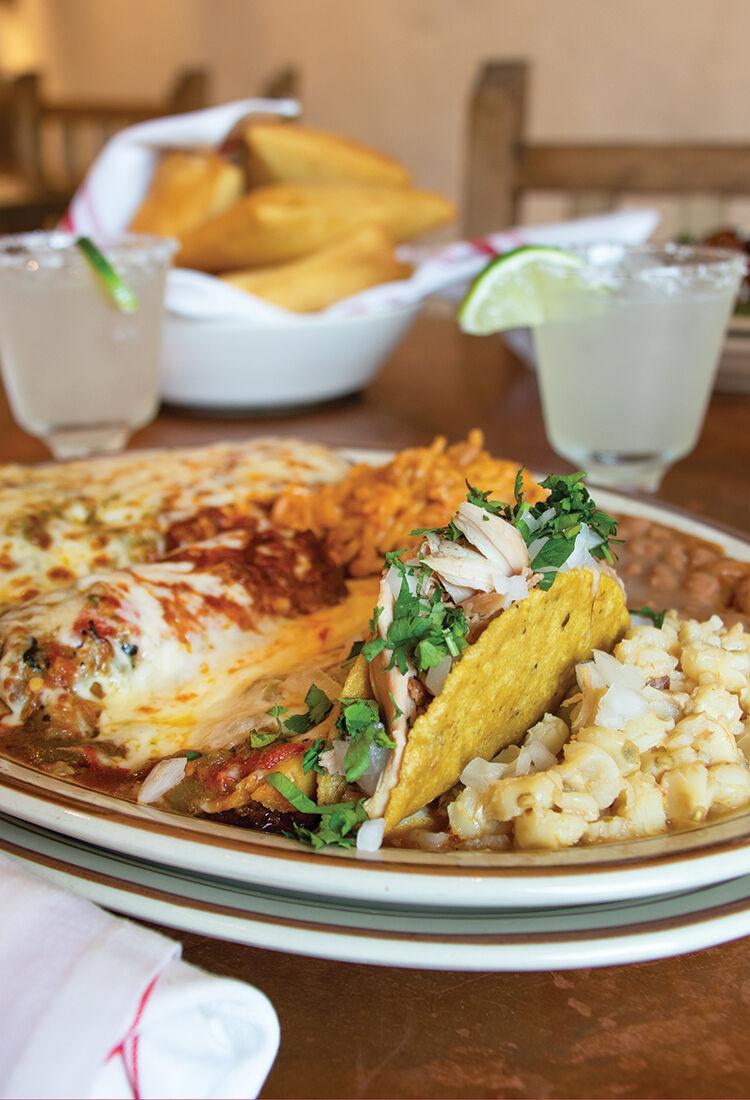 The best way to experience La Tertulia for the first time is with the combination plate ($14.50) where you can have a taste of several things: an enchilada, taco and tamale, carne adovada, posole, rice and pinto beans. A deluxe combination platter ($18.25) also comes with a chile relleno. 
The pollo adobo ($13.25) is another dish not to miss. The roasted half chicken is covered in smoky adobo sauce with rice, posole and crema.
Another fabulous dish is the grilled trout ($18). The rainbow trout has a slight smokiness from the wood-fired grill and is served with pinto beans and crisp potatoes. The potatoes are the perfect conduit for the chimichurri served over the trout. The trout was inspired by Nashan's days camping in New Mexico, where after a day of fishing, they would grill fish and potatoes. It's a dish that stands on its own but also holds the essence of the flavors of La Tertulia.
The same can be said for the steak verde ($35), a New York strip steak with grilled onions, mushrooms and green chile. The ribeye and rellenos ($48) also provides a taste of La Tertulia's classic flavors with the green chile rellenos along with a smoky, juicy wood-fired grilled ribeye.
Sopapillas (75 cents each; five for $3) can be ordered with entrees, as these big, airy pillows aren't sweet. Much like a tortilla, the sopapillas are great for soaking up sauces or eating the last bites of your pork adovada. They also can be ordered for dessert and come with honey.
La Tertulia's appetizers pair well with the house sangria or margarita. The guacamole ($7.25) is super fresh with chunks of avocado and a brightness from the cilantro and lime juice. It's served with thick, house-made tortilla chips. The chorizo flautas ($8) and blue corn tostadas ($8.75) also are favorites.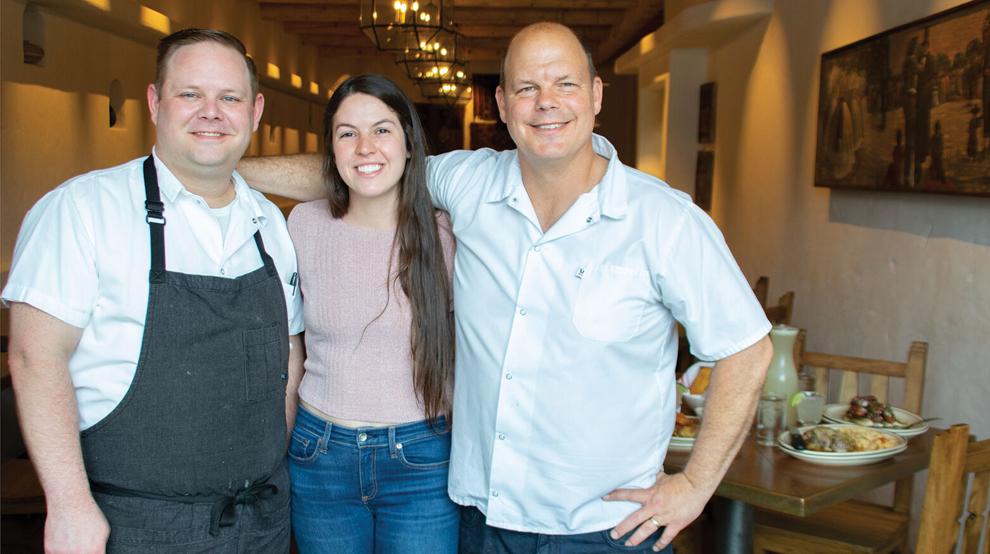 Nashan says the opportunity to honor his family's restaurant in Tulsa seemed meant to be. 
"You never know what's going to work," he says. "But the one thing I kind of knew going into this whole thing was the connection between Tulsa and New Mexico."
He continues to honor the original La Tertulia. Nashan has tracked down seven longtime employees of the original La Tertulia and has invited them to a party with current staff at the new restaurant.