Soave
Who remembers Soave? I barely do, as it's been a while since I've sipped it. In college we drank it and it was a bitter, dry, slightly insipid lemon juice wine that was sold in jugs. Soave, made from the Garganega grape, has received a well-needed face-lift in the last few years and is starting to turn some heads.
Soave is still "lively" with medium-plus acidity and lovely floral, bosc pear and green apple flavors, and can be described perfectly with the word "refreshing." The only sad thing is that Soave isn't $2.99 a bottle anymore.
Soave is broken down into three quality levels. Soave DOC, the basic-level Soave that is clean, delicate and fresh; Soave Classico DOC, produced from grapes grown on the hills of Soave and Monteforte d'Alpone with a little more intensity and minerality than basic DOC Soave; and Recioto di Soave Superiore DOCG, a naturally sweet Soave made from passito or dried grapes.
Whet your palate with the new Soave and leave the Chard and Sauv Blanc in the spare guest room for now.
Super Tuscans
They call these wines "Super Tuscans," an unofficial category of Italian wines from Tuscany. These are on the prestigious side, a little pricey. They incorporate international varietals in their blend, such as Cabernet, Merlot or Syrah, and may or may not include Sangiovese, the native Tuscan Italian grape.
Did I mention how delicious they are?
The grapes for these wines will come from vineyards with low yields and will be picked when very ripe. The wines tend to have jammy, ripe black fruit flavors and remind one of a cross between a new-world (anywhere but Europe) and an old-world wine (Europe). Often, French oak is used to add another layer of complexity.
A few of the top Super Tuscans you should be aware of are: Sassicaia by Tenuta San Guido (Cabernet Sauvignon and Cabernet Franc), Tignanello by Antinori (Sangiovese and Cabernet Sauvignon) and Ornellaia (Cabernet Sauvignon, Merlot and Cabernet Franc).
SIPS AT HOME
2008 Pieropan Soave, Veneto, Italy — $14.78
Pieropan and Anselmi are two of the top Soave producers. This Pieropan is a terrific example of the new Soave. It has beautiful aromas of white flowers, ripe pear and apple, and a hint of nuttiness. Pair this with a salad with vinaigrette or seafood-based appetizers.
Villa Antinori Toscana 2004 — $23.99
Here is a Super Tuscan easily affordable for under $25. It is a blend of Sangiovese, Cabernet Sauvignon, Merlot and Syrah. It is soft and silky with flavors of ripe, juicy black cherries; plums; chocolate; and hints of black pepper. I've seen this wine at Biga (4329 S. Peoria Ave.), so you might swing by for a sample some night. Delicioso!
SIPS OUT ON THE TOWN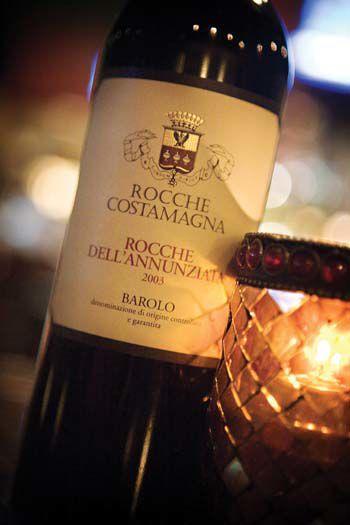 *Wine columnist Randa Warren is a Certified Master Sommelier; Certified Wine Educator; has earned a Diploma of Wine and Spirits, granted through the Wine and Spirit Education Trust in England; and is a Certified Specialist of Spirits.