Tulsa is a small enough city that when a new restaurant comes to town, it's immediately on everyone's radar. But when it was announced that a James Beard award-winning chef would be opening a restaurant downtown, there was more than buzz. Tulsa foodies couldn't believe their luck.
Owner Kevin Nashan is the most prominent chef to open a restaurant in Tulsa. Those who have eaten at his Peacemaker or Sydney Street Café in St. Louis know the electricity that comes from those kitchens. And whether out of modesty or incredulity, some Tulsans wondered why Nashan had chosen Tulsa to open a second Peacemaker location.
We have Tulsa real estate developer Jeff Scott to thank for that. Scott often made the trip from Tulsa to St. Louis to visit family, and while there, he would stop in at Nashan's restaurants. On one occasion he left his business card.
"Honestly, as a restaurant owner you get business cards from people all the time," Nashan says.
But something about this card made him take notice. On the card, Scott had written Bartlesville, a place Nashan was familiar with because it's his father-in-law's hometown.
"I grabbed the phone, called him and we started talking about Bartlesville and life," says Nashan, who has visited the area since the early 2000s. "He said, 'Listen, I really enjoy your restaurant and really think it could be successful in Tulsa.'"
In fact, Scott — who has been heavily involved in downtown's resurgence — had a property in mind to show Nashan. And with not much convincing, Nashan said yes and made the first trip to consider Tulsa.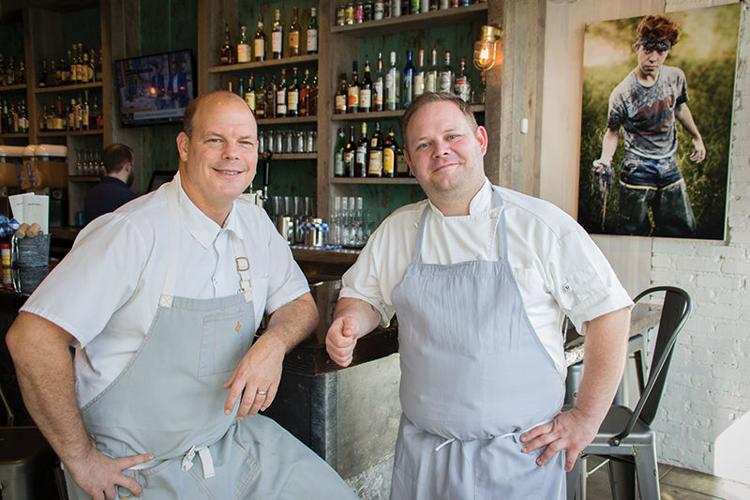 "It took two seconds and I said, 'This is Peacemaker,'" Nashan says. "I brought my family and my team because I wanted to make sure we were making the best decision.
"We went to Bull in the Alley and to Valkyrie. We went to McNellie's on a Wednesday, and it was burger night and packed. I was like, 'Man, this is such a cool town.' It gave me goosebumps."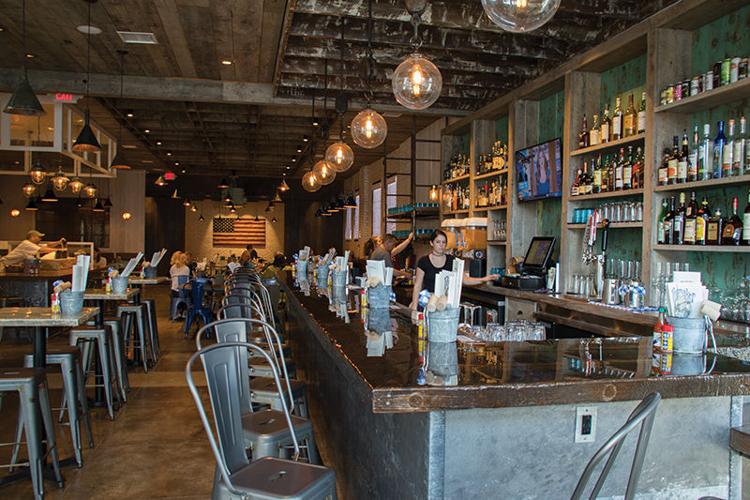 Perhaps it's because it's a seafood-centric restaurant (rare to find in Tulsa) or because of the rustic-modern feel, but Peacemaker, which opened in September, feels like a breath of fresh air in the Blue Dome District. Seafood is flown in daily from the East and Gulf coasts. Both presentation and preparation of everything from the lobster rolls to the shrimp boils are simple with a sprinkle of creativity.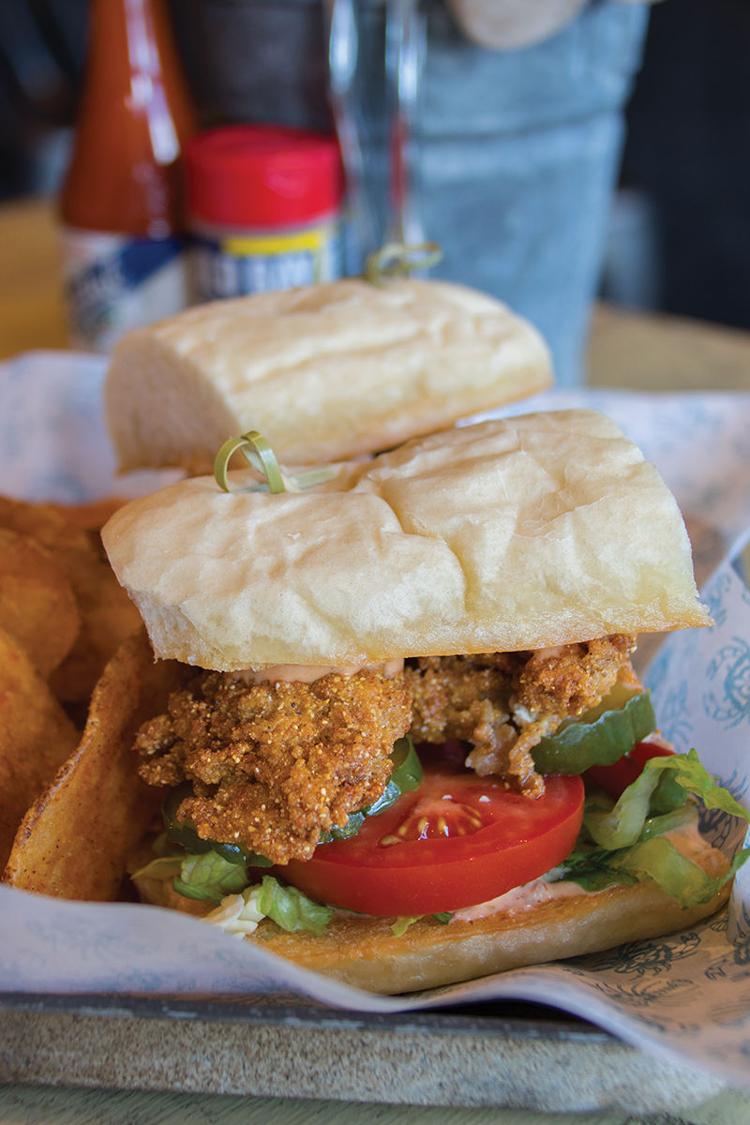 We visited early on a Friday night, and by 5:30, the restaurant was already busy, with seats taken around the raw bar and tables.
We loved the namesake Peacemaker ($11), a poorboy sandwich with fried oysters, lettuce, tomato, remoulade and house-made pickles on French loaf bread.
Nashan says the most popular thing on the menu is the lobster roll, which you can order Connecticut style (warm with butter) or Maine style (cold with mayo). These rolls are packed with nice chunks of sweet, rich lobster.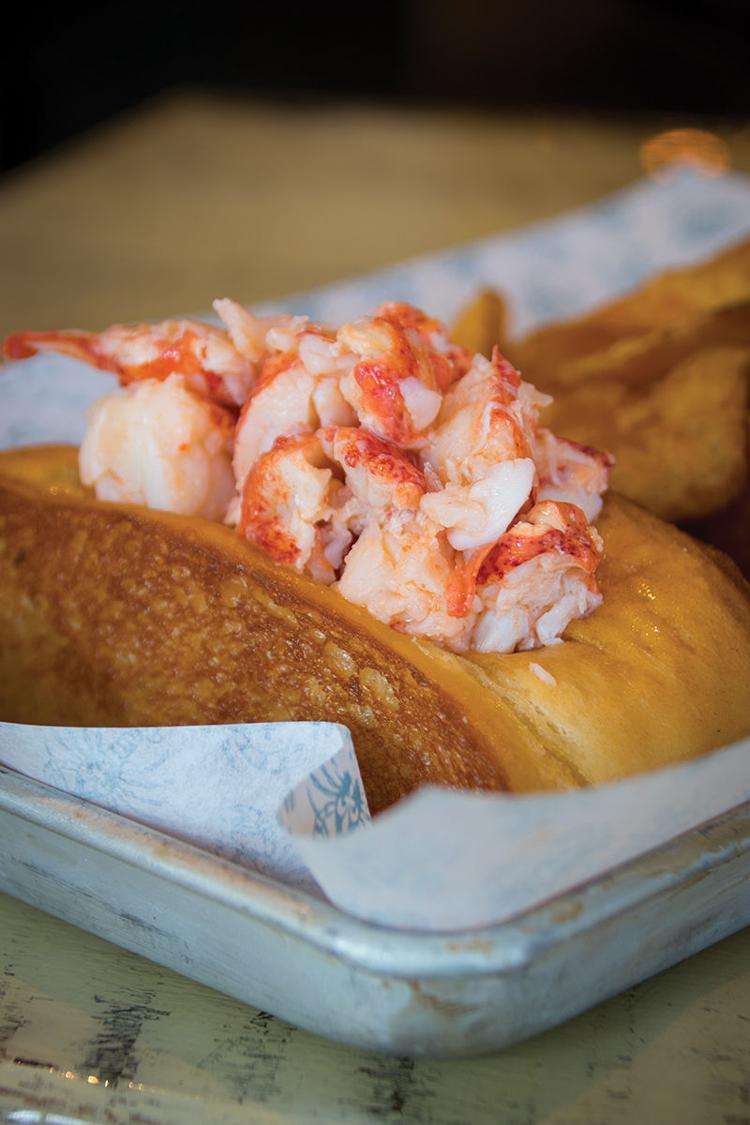 If you're hungry, the lobster, blue crab or shrimp boils are the things to order. ($24, shrimp; market price, lobster and blue crab) You'll want to tie on the ubiquitous crab shack bib to dig in to these boils, served with potatoes, andouille sausage, Brussels sprouts and buttermilk biscuits.
For steamed seafood, the mussels ($15) are superb. Tender mussels come with tomato, bacon and shallot broth with grilled bread. It's a dish to savor.
Beyond seafood, Peacemaker has a smoked brisket poorboy ($10) or a braised beef steamed bun ($6), both of which have been popular at the Tulsa location.
Peacemaker has a fun selection of sides, like a lobster Frito pie, a corn dog (perfect if you have kids at your table), fried green tomatoes, hushpuppies and smothered collard greens.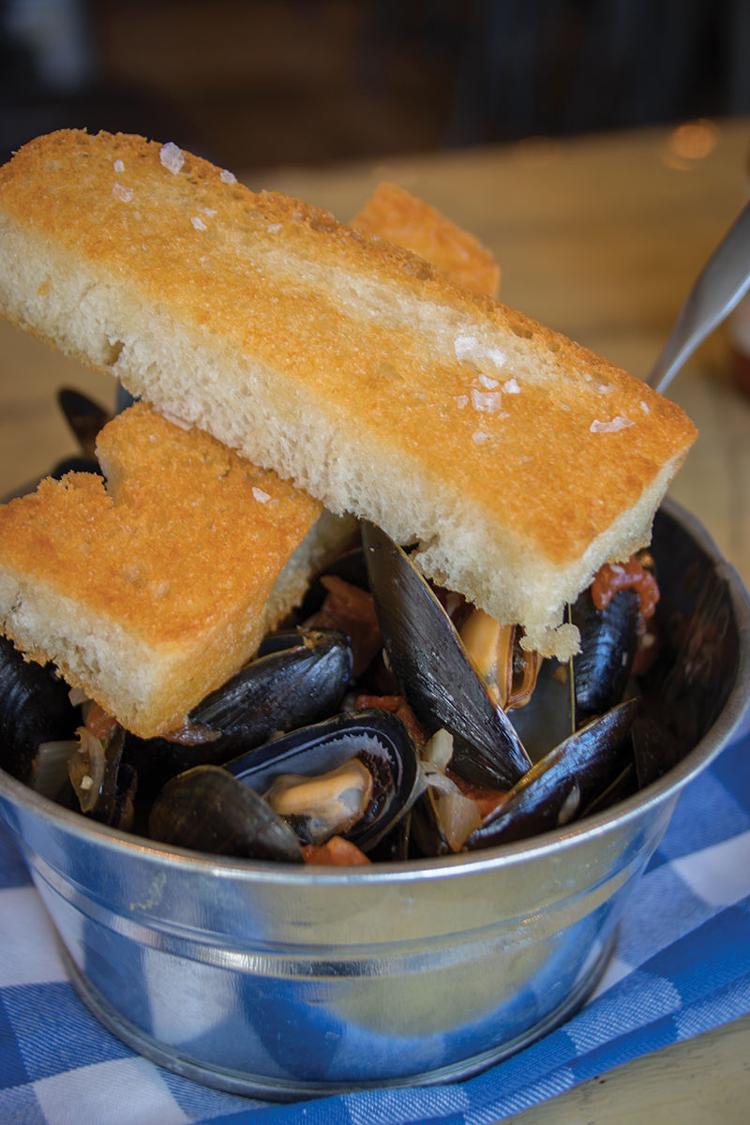 And dessert can't be neglected here. Adults become kids again choosing from this menu of snow cones with house-made syrups, homemade soft-serve ice cream with dark chocolate magic shell and whoopie pies. Slices of pie, like caramel apple or pecan, are served in cast iron tins with vanilla ice cream, and are as good as the best pie you'll find in Tulsa.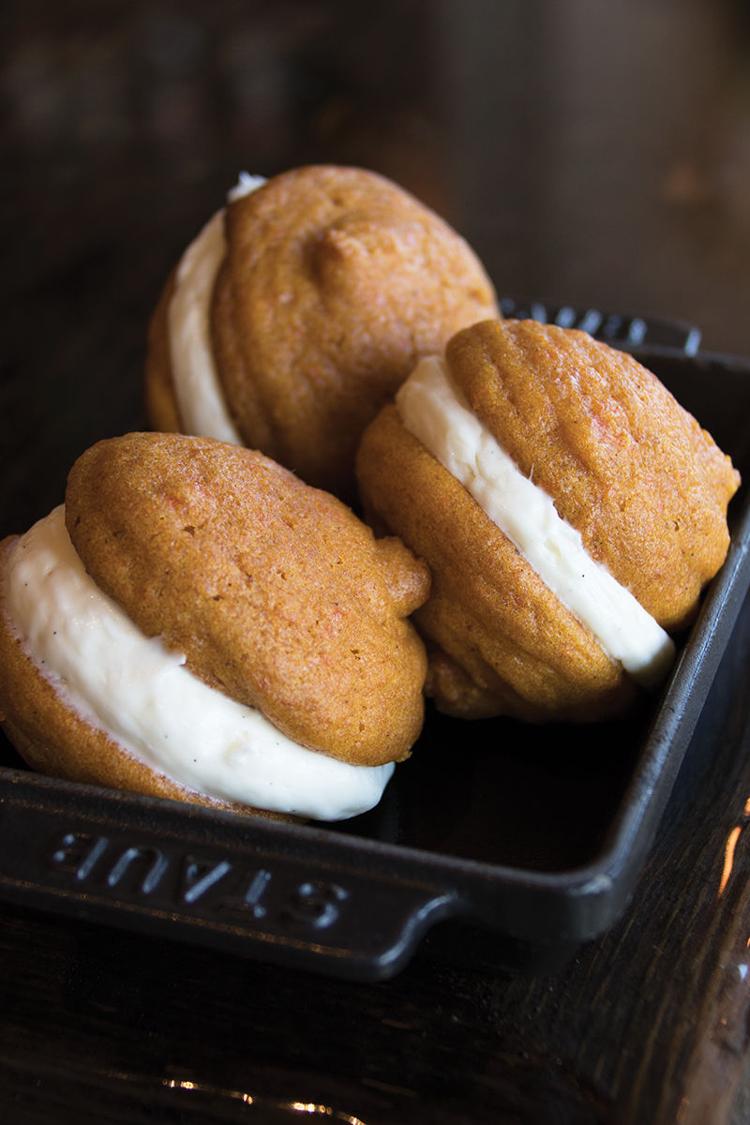 Peacemaker has a relaxed vibe, with silver buckets holding blue and white checked napkins, silverware and lobster mallets on each table. Drinks are served in blue mason jars. The mason jar might hold water or iced tea, or you could give the Bourbon Punch ($8) a try. Bourbon, orange juice, lime juice and tea make a great-tasting grow-up slushy.
Nashan grew up in New Mexico, where his family owned a restaurant for 27 years. He spent many years washing dishes and helping out at the restaurant, and by the time he graduated high school, he vowed to not come back to the restaurant business. But after graduation from St. Louis University and a plan for law school, Nashan was drawn back to the family business. He enrolled at the Culinary Institute of America in New York and later worked at Commander's Palace in New Orleans, Le Francais in Wheeling, Illinois, and Daniel in New York City.
Nashan says Brian Green, who is chef at the Tulsa Peacemaker, has been instrumental in the launch of the restaurant. Nashan and Green have both worked for chef and restaurateur Daniel Boulud, and Green was previously sous chef at Peacemaker in St. Louis.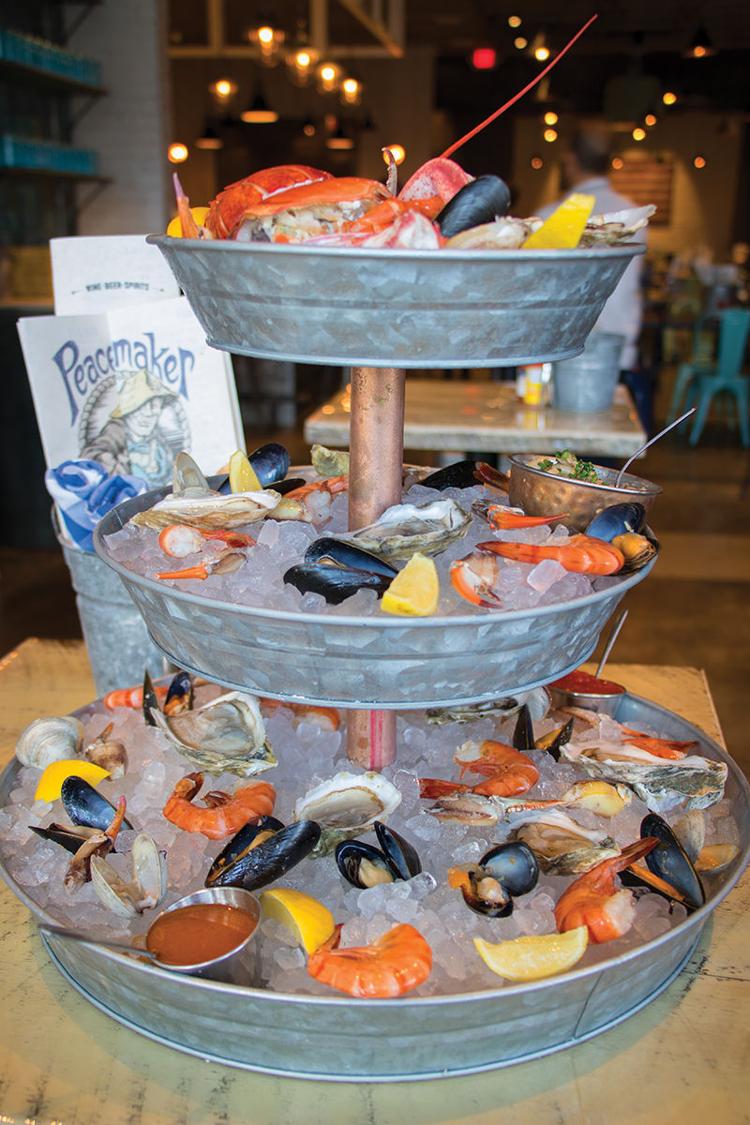 ---
---
Peacemaker Lobster and Crab
313 E. Second St. | 918-551-6781
peacemakerlobstercrab.com/tulsa
11 a.m.-2 p.m., Monday-Friday; 4:30-9 p.m., Monday-Thursday; 4:30-10:30 p.m., Friday-Saturday; 11 a.m.-8 p.m., Sunday