Many restaurants have improved and expanded their patio spaces since last year. Others have taken advantage of a city ordinance allowing them to use some parking frontage for al fresco dining. And nearly any new restaurant you see being built — take the new Brook downtown for example — is including outdoor dining as part of its strategy.
The patio dining trend is only getting bigger as diners have become more accustomed to the space and beauty of dining outdoors.
Everyone has their favorite spot for eating outside, and really there are too many great patios to mention. But we have gathered a few of our favorites. And this is the time to take advantage of them, when the temps are comfortable and before it gets ridiculously hot.
Amelia's Wood Fired Cuisine
The garden space at the entrance of Amelia's might be tiny, but it is one of our favorite patios. Sitting in the open air is perfect for dinner for two. The intimacy of the small tables and surrounding greenery is part of the charm of this patio.
When here, take advantage of something from the wood-fired oven. The sea bass with a spicy-sweet blackberry-jalapeño marmalade and orange hollandaise ($38) is next level. Roasted chicken, lamb chops and wood-fired flatbreads also are great.
122 N. Boston Ave. | 918-728-2435
Bohemian Woodfire Pizza and Homemade Pasta
The relaxed, comfortable patio at Bohemian Pizza in downtown's East Village is perfect for when you want to go somewhere nice but don't feel like dressing up. With a mural on the south wall and a gate to the street, the urban alleyway-like patio is small, but more cozy than cramped. In the fall, waitstaff help you stay warm with throw blankets and pillows, which are a nice touch. 
For something different and delicious, try the Amalfi Coast fig pizza with walnuts, spinach, goat cheese, prosciutto and figs ($16). The bruschetta pizza also is a must, with mozzarella and fontina cheeses, chopped roast chicken and a bruschetta mixture of tomatoes, garlic and basil ($15). Salads and house-made pastas are other menu favorites.
818 E. Third St. | 918-895-6999
Waterfront Grill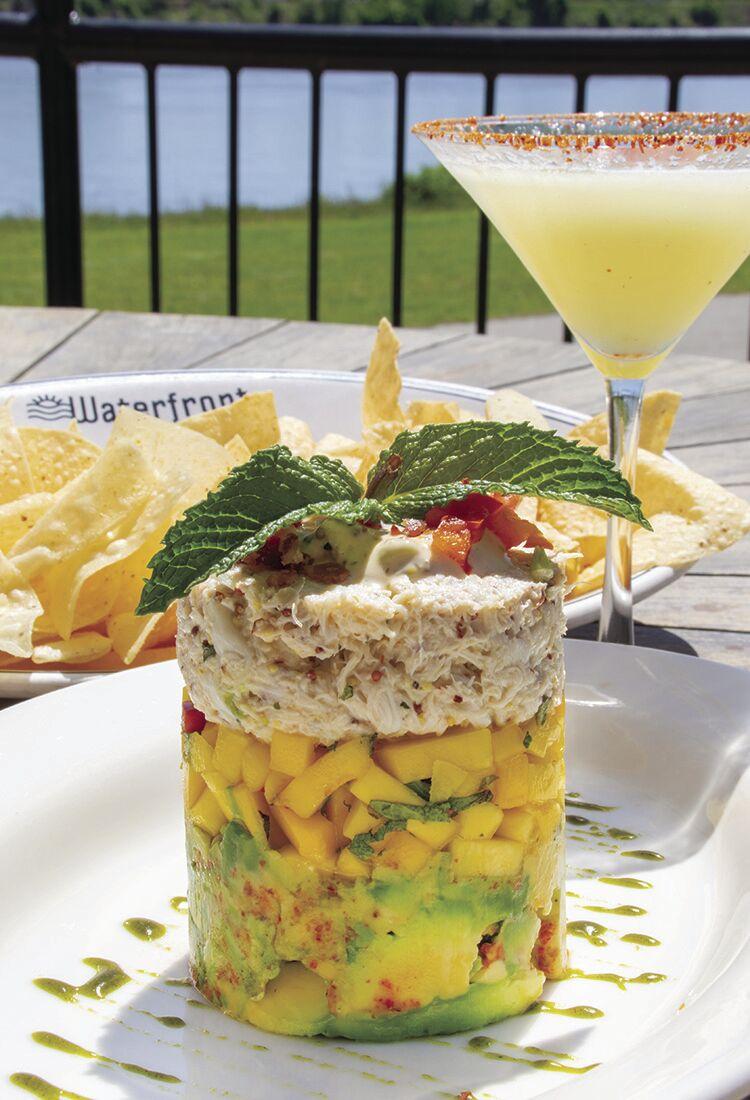 Sitting by the water on a summer evening feels like vacation. Waterfront Grill in Jenks is a great place to have that experience. The large patio has a pretty view, especially if you time it right for sunset. This is a fun place for everything from a date night to family dinner.
Come for drinks and appetizers. The cucumber martini is a house special — slightly sweet with a cool finish. Be sure to try the Crab, Avocado and Mango Stack ($17), an impressive presentation perfect for sharing.
Weekend brunch also is a good time to go. Sip mimosas and eat eggs Benedict, a California omelet or a brunch burger on the patio.
120 Aquarium Drive, Jenks | 918-518-6300
Doc's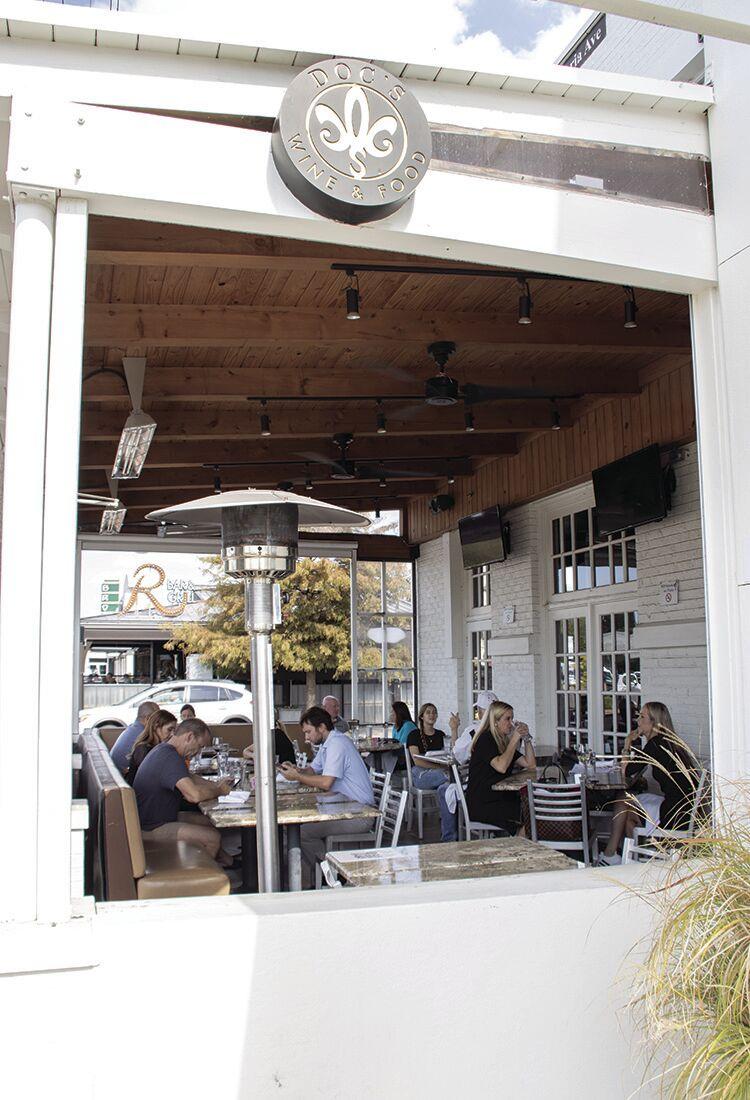 The patio at Doc's is a place to be seen. It's a spot where brunch is an art form and where dinner on the patio can turn into late-night drinks. In the heart of Brookside, Doc's might be the spot for people watching, but it's also a place for some of the best New Orleans-inspired food.
Char-grilled oysters ($17) are a must. Grilled and served with butter and parmesan, you can order them by the half dozen, and they're perfect for sharing with the table. The shrimp and grits ($23), with a little spice of jalapeño and a drizzle of Creole barbecue sauce, is super popular. Don't miss out on a patio brunch where the shrimp and grits also is served, along with great dishes like the Hangover Hamburger, turkey avocado melt and pan-seared crab cake with chipotle-lime vinaigrette.
3509 S. Peoria Ave. | 918-949-3663
In the Raw On the Hill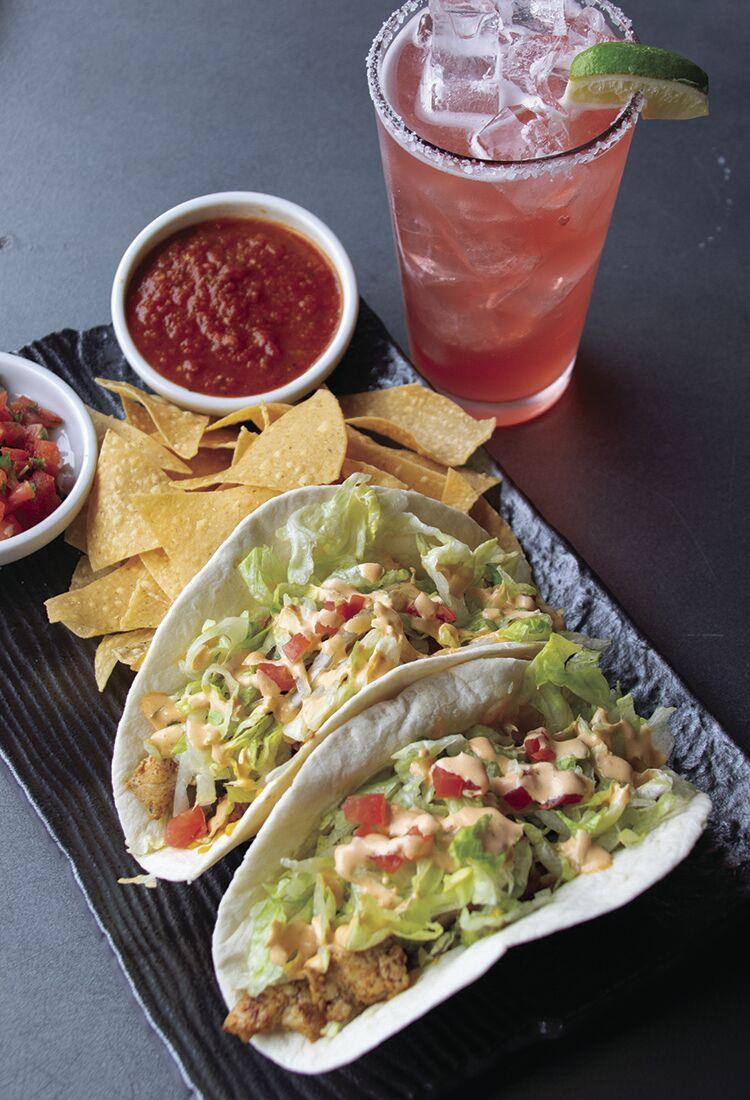 The south Tulsa location of In the Raw has one of the best views of Tulsa. This is a great place to watch the sun set while digging in to sushi rolls.
The In the Raw salad ($7-$10), with a ginger vinaigrette, has been a favorite in Tulsa since In the Raw opened two decades ago. And rolls like the Dunwell ($8), with tempura shrimp and a spicy sauce, are good enough to turn anyone into a sushi fan. Beyond sushi, the Cabo tacos ($14) and
macadamia-crusted halibut ($29) are great. 
6151 S. Sheridan Road | 918-524-0063 
Oren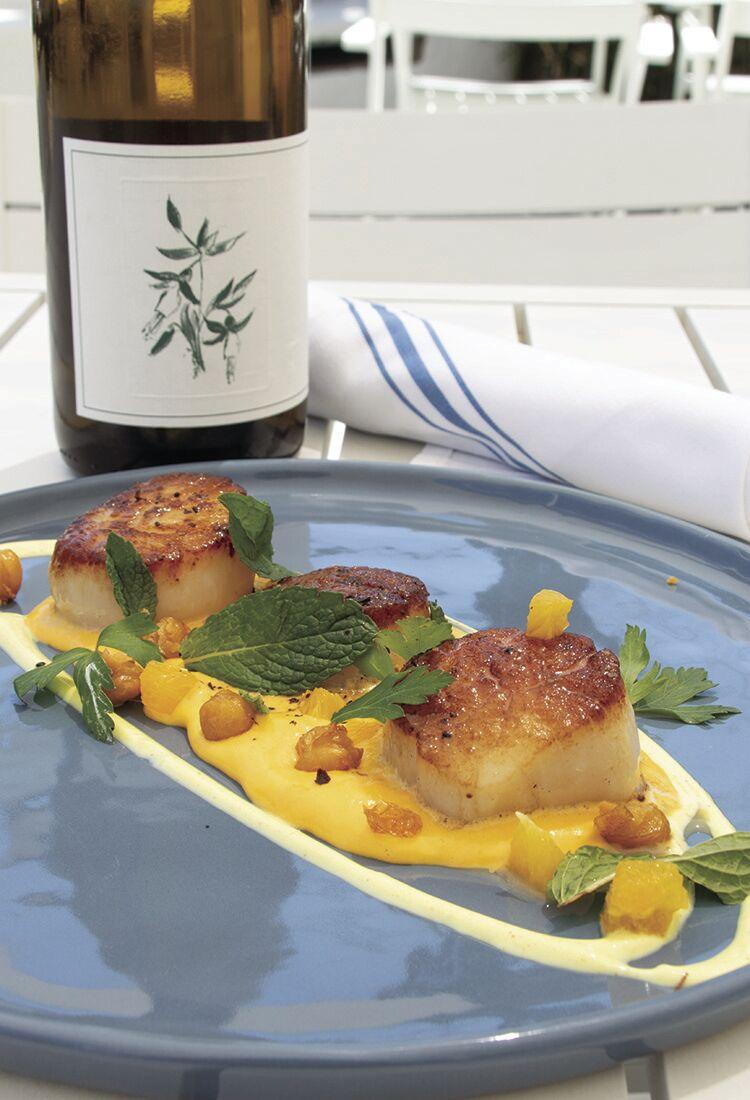 The spacious patio at Oren is both comfortable and classy — like sitting on the patio of someone's well-appointed home, making it a great space to enjoy lunch or dinner or just to relax with a glass of wine or the craft cocktails. Oren is a place where you can enjoy good conversation and won't have to yell over music or street noise since the patio sits behind the restaurant.
So what do you order when everything on the menu is begging to be eaten? Try the artichoke-panzanella salad ($12) with its beautiful beet-tahini puree and the scallops ($28) with a wonderful combination of carrot puree, chickpeas, yogurt, grapefruit and mint. Or if you love a place that really knows how to prepare duck and lamb, both are exceptional here.
3509 S. Peoria Ave., Suite 161 | 918-764-9699
Polo Grill
The Polo Grill's expanded patio dining came just in time. Diners were looking for outdoor options, and Robert Merrifield listened. The brick path surrounding the entrance to the Polo Grill in Utica Square already had a pretty European courtyard vibe, but the expanded outdoor garden feel and table space has created an area even more ambient. Merrifield says the old oak trees and big umbrellas allow guests to linger outside even in the heat of summer.
The menu has something for everyone, but in the summertime, we're partial to the great salads. Try the cobb, caprese, wedge or grilled salmon salads ($15-$17). The chopped salad is especially good, with romaine, salami, mozzarella, chickpeas and a lemon-thyme vinaigrette.
2038 Utica Square | 918-744-4280
Wild Fork
Big and covered, overlooking the courtyard in Utica Square, the Wild Fork's patio is the place where celebrations happen, birthday candles are blown out and toasts are made. But it's also a peaceful setting for low-key life moments like enjoying a lunch outside of the office or sipping coffee before getting the day started.
The recent renovation and reconfiguration in partnership with the McNellie's Group has made the patio seating even more spacious, with tables extending farther down the courtyard sidewalk. 
Wild Fork classics like the fried green tomatoes with tomato aioli ($8.95), five-spice catfish with jalapeño slaw ($17.95) and the shrimp and pimento cheese grits ($24.95) are must-trys. Don't forget weekend brunch.
1820 Utica Square | 918-742-0712