For Tulsa, a city with a pretty diverse food scene, its lack of Cuban food was a surprise to Mary and Anthony Martinez.
Anthony's father was from Havana, Cuba, and Anthony grew up with black beans and rice, plantains and braised beef. If he wanted good Cuban food, he didn't go to a restaurant. He turned to the recipes from his grandmother and relatives.
So when Mary and Anthony and their son, Josh, were approached about a restaurant space on Studio Row, they knew what kind of restaurant they wanted to open. The area around Church Studio, once Leon Russell's legendary recording studio, is getting attention as the studio is being renovated, and it's anticipated to attract even more visitors once the renovation is completed. A coffee shop, retail space and the Martinezes' restaurant, Mangos Cuban Cafe, are part of that revitalization.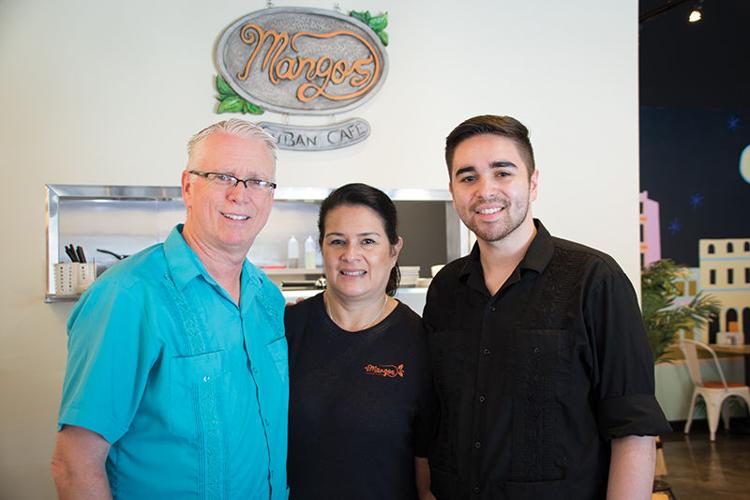 Mangos is a bright, clean restaurant with comfortable seating, a nice bar and lively music. We visited for lunch, and service was quick even with a crowd.
We started with papa rellena ($3.95), mounds of mashed potatoes filled with ground beef, peppers, onions and green olives. The potato balls are then deep fried for a crisp crust. Our table of five immediately ordered another round. We also liked the croquetas ($5.50), a crisp-fried dough filled with a creamy mixture of chopped ham in a bechamel sauce.
Many diners were ordering the Cuban hamburger ($8.95), an off-menu special, that looked delicious, featuring a beef, pork and chorizo patty and dressed with a tomato-based sauce. That and the Cuban sandwich were the most popular foods the day we were there. Mangos' Cuban sandwich ($10.50) is made traditionally with slow-roasted pork, sliced ham, dill pickles, mustard and Swiss cheese. It's served on Cuban bread, which is shipped from a bakery in Florida.
Another traditional Cuban food Mangos does well is arroz con pollo ($10.95), a dish of chicken and seasoned rice, served with black beans and fried plantains.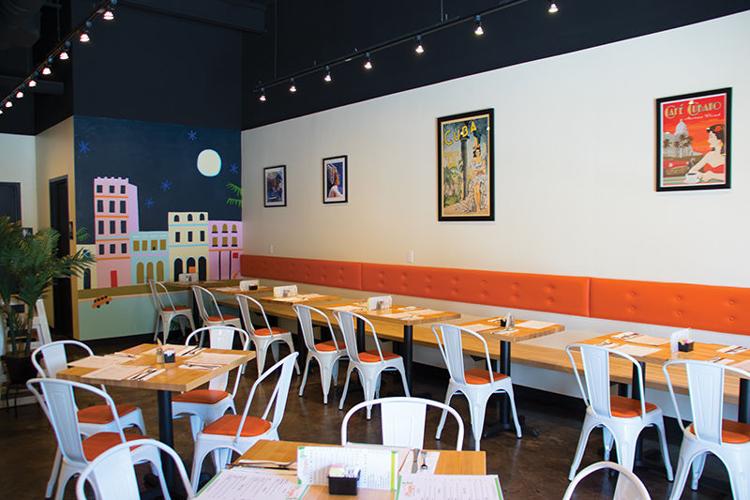 We also enjoyed the bistec palomilla ($12.95), a thin-cut marinated steak with grilled onions.
Josh Martinez says the highest compliment, and one he often hears from people, is the food at Mangos reminds them of food they have eaten in Miami or Cuba.
"We knew there was a market for Cuban food," he says. "A market that was untapped. And now we're hearing that from so many customers."
Still, Josh says, there are a great number of customers who are new to Cuban food. "Some people think it's going to be like Mexican food or very hot and spicy," he says. "But it's nuanced — subtle and very seasoned."
Mangos' menu was developed using Anthony's grandmother's and other family members' recipes.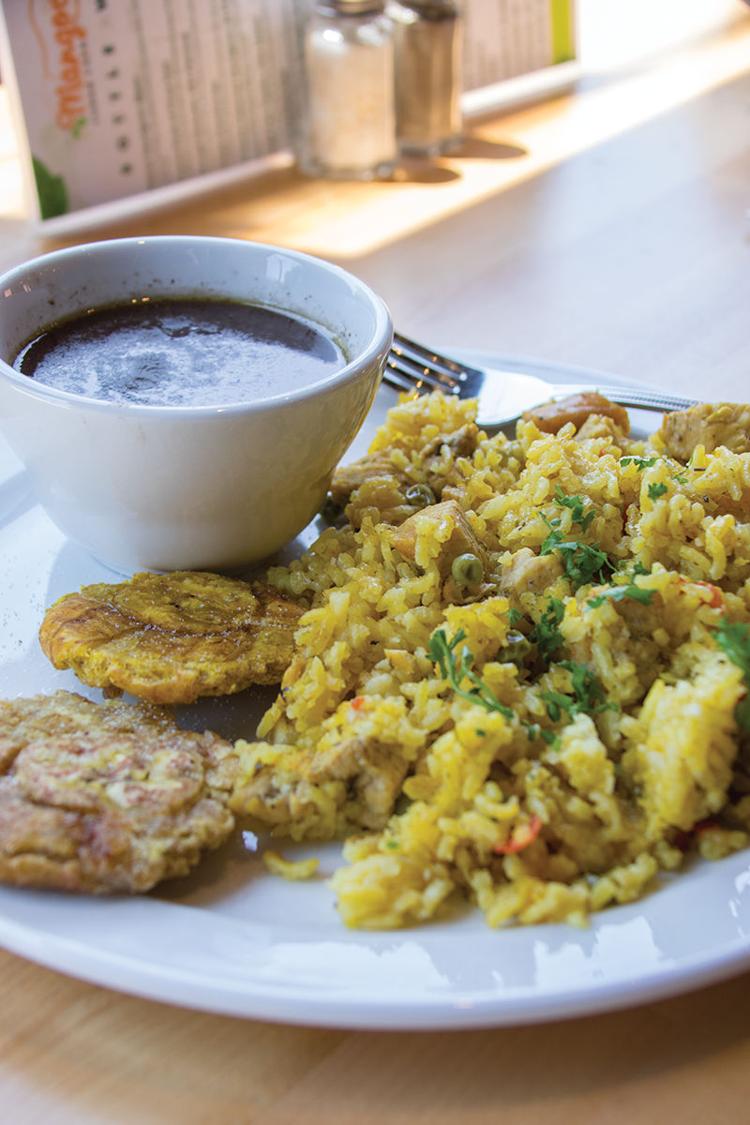 "These are traditional, homemade recipes," Josh says. "It's food that's very specific — food that originates from Cuba and from Cuban people in Miami."
For dessert, the Martinezes make flan ($5.50) in-house. The creamy custard, which is topped with a caramel sauce, is a nice end to a Cuban meal.
Mangos Cuban Cafe
317 S. Trenton Ave. | 918-932-8608
11 a.m.-8 p.m., Monday-Thursday; 11 a.m.-9 p.m.; Friday-Saturday. Closed Sundays.