Tuck Curren had a vision others dismissed: Tulsa needed a jazz club.
If you're at all skeptical, take a chance on Duet, which is part modern American restaurant and part jazz club. Just as it should be, the jazz club is downstairs, with the restaurant and adjoining patio on the street level.
Curren is no stranger to the Tulsa restaurant scene. He opened Biga in 2000, followed by Local Table, which morphed into a popular food truck.
On a recent Saturday night, the patio was packed. It's a great location for people watching, especially on busy nights when games are being played at ONEOK Field or for the First Friday Art Crawl in the Tulsa Arts District.
Though jazz is king at Duet, the food was as important to Curren, as evidenced by his bringing on Nico Albert, a chef formerly at MixCo and Lucky's, who has a stellar reputation in the Tulsa food scene. In fact, the restaurant opened first, in August. In October, it was followed by the intimate, 140-seat club featuring national touring jazz acts and a full-service bar.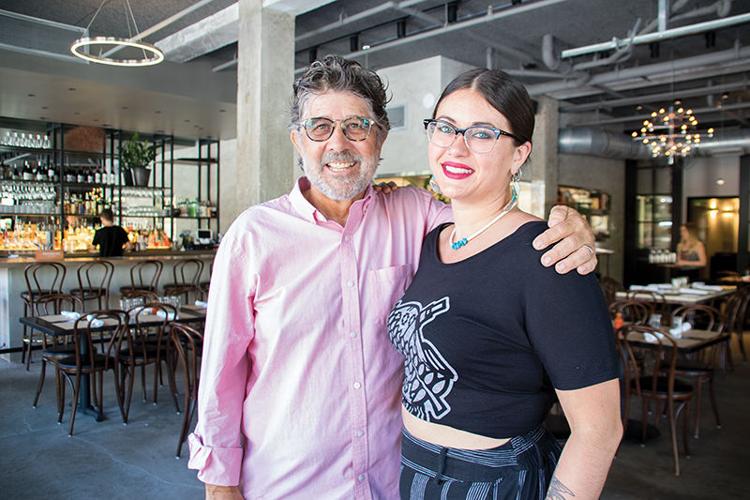 Albert's menu is true modern American, with regional styles and international flavors represented across the board. It's divided into categories of soil, sea, land and sky, giving it a grounded, earthy vibe before the first bite.
"The menu at Duet is designed to emulate the continually evolving nature of jazz by using classic flavors or techniques as the foundations of the dishes, then putting our own spin on it," Albert says. "The dishes are rooted in tradition but elevated by the infusion of all these flavors from different cultures and styles of cuisine that keep things fun and interesting."
We started with some table snacks and especially liked the roasted sweet peppers ($9), stuffed with quinoa, chorizo and cheese. Alongside came a fresh-tasting apple slaw.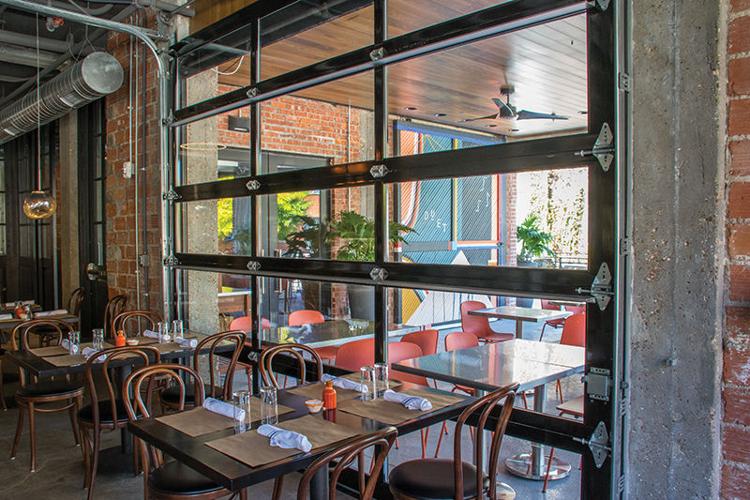 If you're dining with a group or planning on lingering on the patio for a while, the Love Supreme ($20) is the way to go. It's labeled as an "epic cheese and charcuterie spread," and that it is. Bits and bites of beautiful cheese, fruits, nuts and crostini are artfully presented on the board.
In the soil category, Duet has several meatless options. Beet and sweet potato gnocchi ($17) with kale, mushrooms and leeks is a perfect meatless entree. Albert uses a light hand in creating her food. Rather than pound and disassemble, she lets the ingredients speak for themselves. A good example is the golden beet and fennel salad ($11), where grapefruit, beets, fennel, pistachios and goat cheese come together for a salad that's both delicate and a statement of how to combine fresh, beautiful ingredients to create something new.
Duet is open from 11 a.m.-11 p.m., so it has a strong lunch and dinner crowd.
For lunch, the crispy fish tacos ($12) topped with radicchio slaw have been a favorite, as have the Korean barbecue short rib tacos ($10).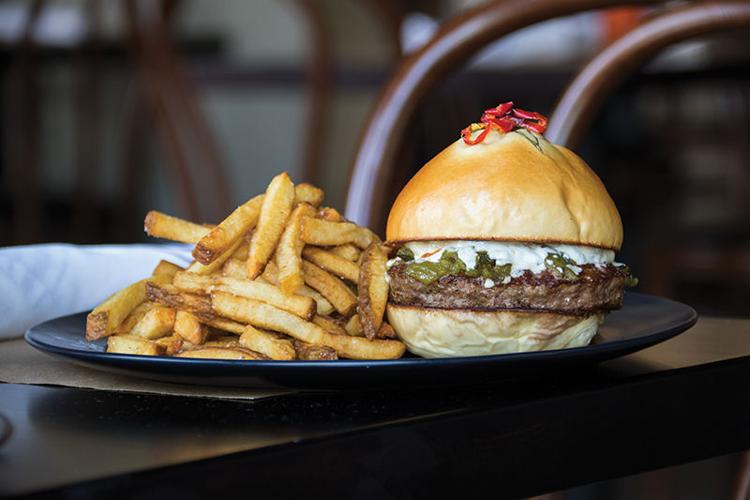 Whether for lunch or dinner, one of the most popular menu items is the Albuquerque Burger ($12). "It's inspired by the all the green chile burgers I ate on a recent trip to Albuquerque," Albert says. "We top ours with a mixture of anaheim and poblano chiles we fire-roast in house, shredded Oaxaca cheese and roasted garlic aioli on a fresh-made brioche bun, with house-cut Kennebec potato fries. It's just so simple and comforting to me."
Because of the diversity of the menu, it's a good idea to order a few things and split amongst your table, if everyone is up for sharing. The grilled flatiron steak ($17) is nice for sharing since it's already sliced into pieces and then topped with a fresh chermoula sauce — a cumin-based marinade used in Algerian, Libyan, Moroccan and Tunisian cooking. Spiced, spiraled sweet potatoes come alongside.
Our server told us her favorite thing on the menu is the black sesame fried chicken ($10), Duet's take on chicken tenders, with a slightly spiced batter and a flavorful sweet and sour orange curd dipping sauce.
Duet also has a popular brunch, served 11 a.m.-3 p.m. Sundays, with great food including a fried green tomato Benedict ($12), blueberry corn griddle cakes ($8) and a pork posole verde served with eggs and corn tortillas ($13).
Cocktails, whether for brunch, lunch or dinner, also are not to be missed. Each drink is its own little work of art.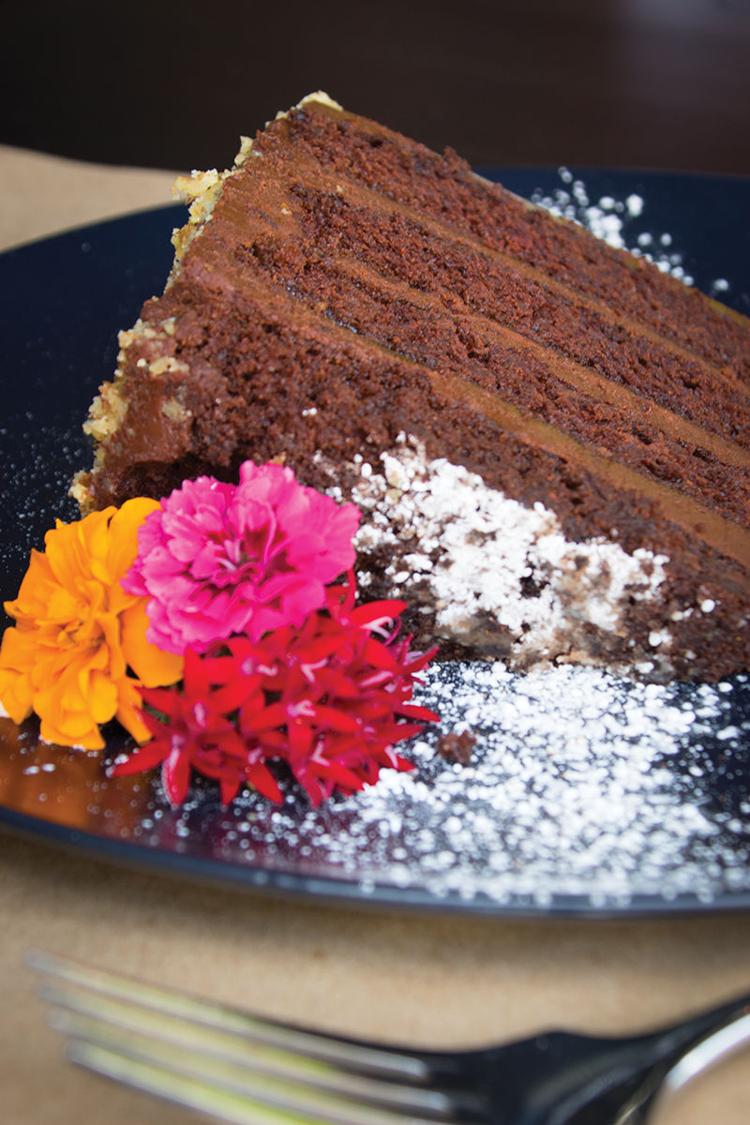 ---
---
Duet
108 N. Detroit Ave. | 918-398-7201
11 a.m.-11 p.m., daily; Sunday brunch served until 3 p.m.