El Rio Verde's wet burrito is one of those dishes that has reached legend status in Tulsa.
If you've ever ordered it, you would remember. It's huge, taking up the whole plate, and is rarely placed on the table without a subsequent "Whoa!"
But if you only know El Rio Verde, 38 N. Trenton Ave., from the wet burrito, you're missing out. Its breakfast menu is one of the best-kept secrets in Tulsa.
The idea to serve breakfast came about in a purely practical way. Cooks arrive each day before sunrise, making everything for the day from scratch. Tomatoes are cooked down for the salsa, refried beans are simmered and meats are prepped and seasoned.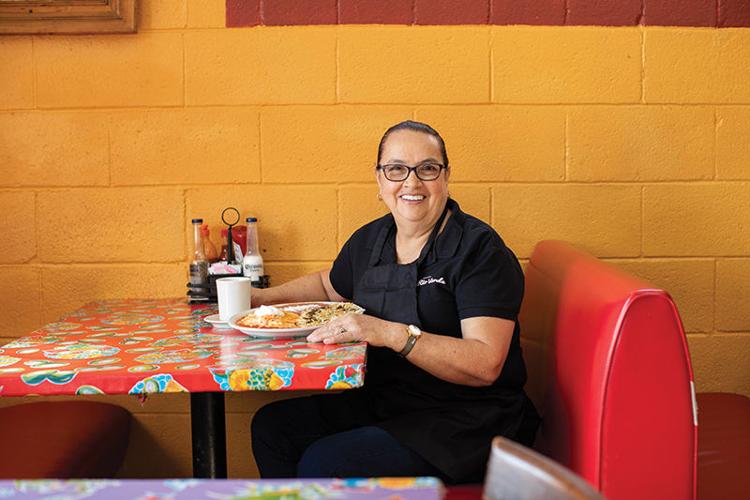 Owners Roman and Romona Gonzalez saw they were missing an opportunity. Since the cooks were there anyway, why not open the door to customers?
The menu is simple, with six choices: breakfast burrito, breakfast quesadilla, huevos rancheros, huevos a la Mexicana, bistec and eggs, and huevos con chorizo. On the weekends, they also make menudo, a soup made with honeycomb tripe, and posole with pork and hominy.
The most popular is the huevos rancheros, which comes with beans, flour or corn tortillas and either hash browns, home fries or potatoes cooked with bell peppers, onions and cilantro. The over-easy eggs in this dish are the perfect balance to the seasoned, shredded beef on stacked corn tortillas.
El Rio Verde isn't for early birds. The restaurant opens at 8:30 a.m. to accommodate the waitstaff, many of whom drop off their kids at school before coming in for the day.
The lunch and dinner menus are served all day. So if you want a wet burrito and OJ, go for it.
Briana Gonzalez, daughter-in-law of Roman and Romona, says everything at El Rio Verde is based on her mother-in-law's recipes. The Gonzalezes have owned the restaurant for 20 years.