To name the best hamburger in Tulsa is risky business. 
Everyone has their favorite. Some of those favorites are based on the best patties, buttered buns or toppings. But others are favorites for sentimental reasons. No one can talk you out of a vote for the hamburger stand your dad took you to every Saturday when you were a kid.
And Tulsa is uniquely fortunate to have so many longstanding burger places, many of which have been around for more than 50 years.
The timeline of the hamburger is a beautiful and delicious thing. And lucky for us, Oklahoma hamburgers are woven through it. 
The first mentions of something close to a modern-day hamburger can be traced to the 18th century. But one of the first references to the American hamburger is from July 4, 1891, when Oscar Weber Bilby cooked Angus beef patties on his slick black grill top, then placed them between sourdough buns. That same griddle is still used today at Weber's in Brookside. 
Another mark on the burger timeline is the invention of the fried onion burger, created by frugal and inventive cooks in El Reno during the Great Depression. To cut costs, cooks added raw shredded onions to the ground beef to make patties. The result became an Oklahoma classic of caramelized onions on a thin fried patty you can still find at burger stands and diners today.
And then there are regional hamburger chains that put Tulsa on the hamburger map. Goldie's has been a go-to place for juicy burgers and the famous pickle bar for many Tulsans, and four area locations remain. Another known by many locals is Ron's Hamburgers, which has 12 locations in and around Tulsa, some of which are family owned while others are franchised.
If the burger timeline begins with griddled burgers and fried onion burgers, it continues to the age of the gourmet burger. Over time, burger lovers and chefs wanted something more, and so burgers with a flair popped up on restaurant menus, where we're no longer surprised to pay $15 or more for a house specialty. These bougie burgers capture us with their brioche buns and toppings like arugula, goat cheese and aioli.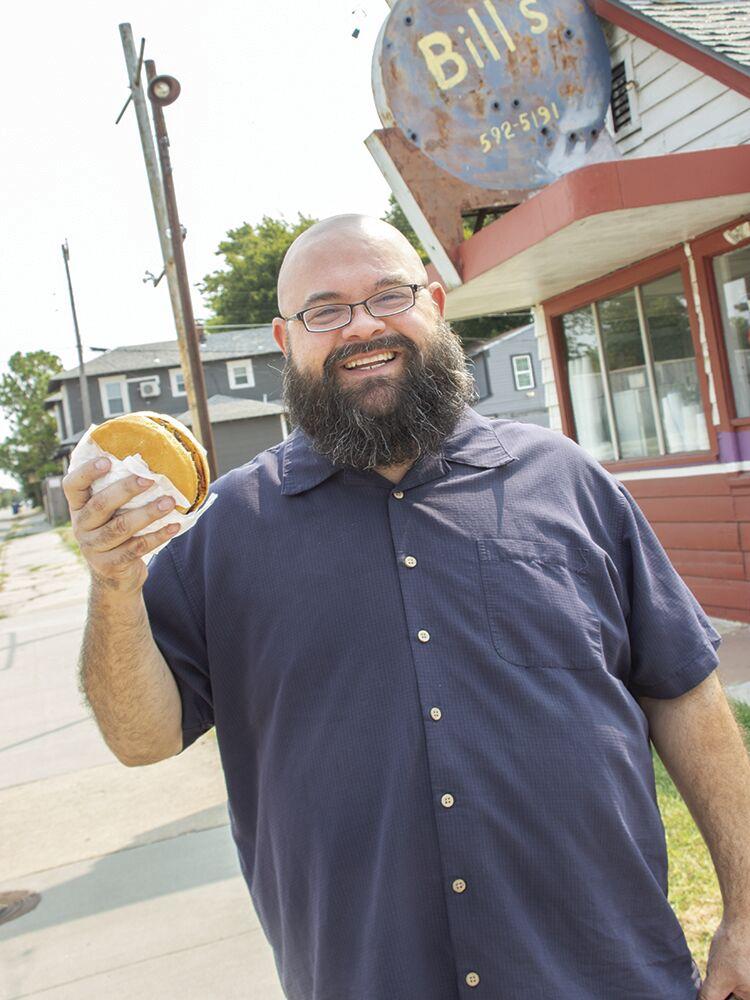 But when it comes to choosing the best, well that's a tough job. Burger preferences are personal, and talking about it can get foodies worked up. Just ask Steve Pisonero, who runs the Facebook group Pisonero's Food Review. A burger connoisseur, Pisonero has documented his burger tastings with reviews and a spreadsheet ranking those burgers based on taste and value.
Pisonero came to Tulsa from Los Angeles, and though he's lived here 20 years, he doesn't have the Tulsa history and lore of some of the old places as baggage in his decision-making.
"For me it's really just about the best-tasting burger. I call them like I see them, regardless of the place," he says.
So what's his opinion on the best burger in Tulsa?
"Bill's Jumbo Burgers. It's a delicious burger. It's consistent — cooked perfectly," he says. "It's the kind of place you go and it's packed. Absolutely packed."
That's a factor several others cited as a sure sign of a good burger. "Go where the crowds are," one burger fan told us.
Pisonero says each time he posts a review on his spreadsheet, he gets a few comments from people wondering why he's left out their favorite or questioning his ranking. He's holding fast to his opinion, but he gets where they're coming from.
"Everyone likes to have their place represented," he says.
A tour of Burger Town
From classics to gourmet to outside the box, these are the burgers to enjoy across Tulsa.