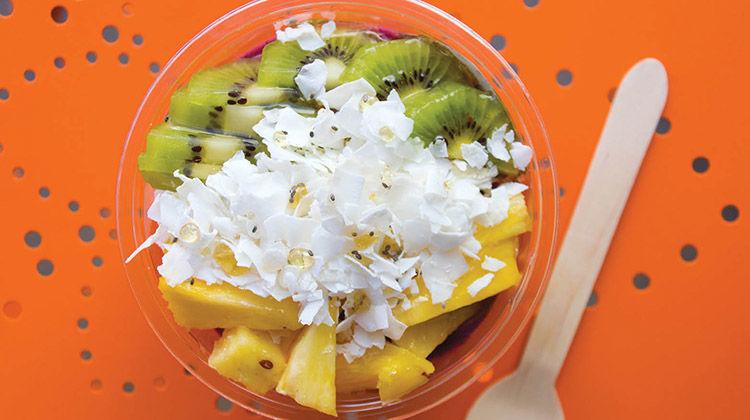 With a bowl, you can scoop out the last grains of rice and tilt for the final drops of broth. A bowl signifies a level of comfort that a plate cannot. Maybe it's engrained in our psyches from steaming bowls of chicken soup and even big bowls of cereal on Saturday mornings.
No matter, the idea of bowls as meals is now everywhere.
We did the hard work of tasting bowl after bowl across Tulsa to tell you about some of the best.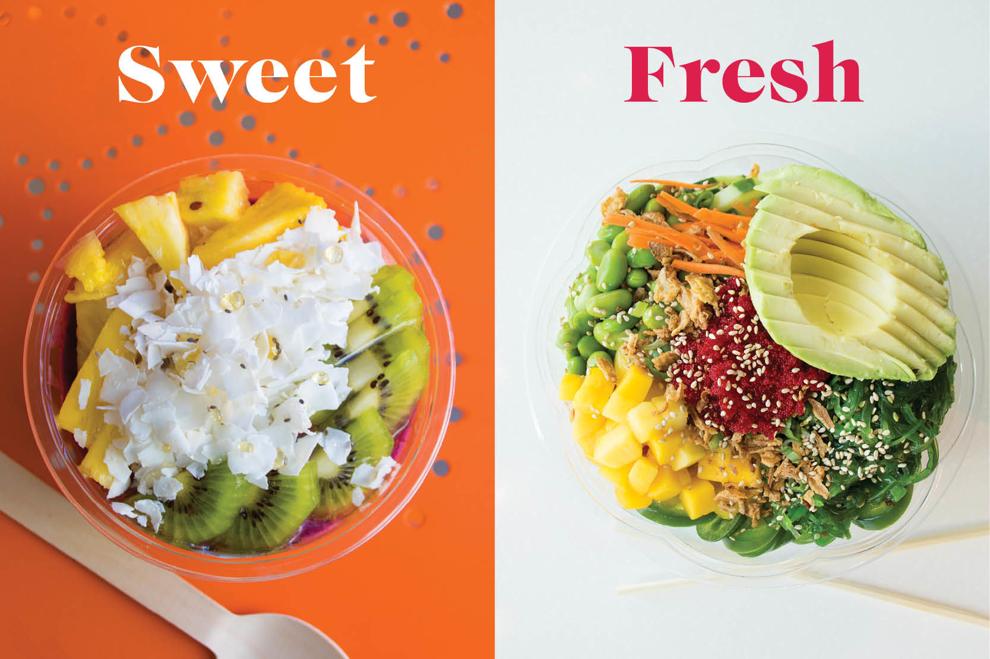 Sweet
For the uninitiated, a smoothie bowl is a smoothie thick enough to need a spoon. Top it with fruit, nuts, seeds and drizzles, and you have something special.
Our favorite spot for smoothie bowls is downtown's fROOT Bowls, 6 W. Fourth St., where the smoothie bases are made with fresh fruit and root vegetables with no added sugar or preservatives.
Choose from a number of options, including the acai bowl ($8) and the Yoga Bowl ($8), which has a great tropical taste with pineapple, coconut water and guava.
If you're undecided, go for the Dragon Bowl ($9), with toppings of pineapple, kiwi, almond milk, coconut and dragonfruit. Adding other flavors like blackberries, bananas or chia seeds is part of the fun.
Smoothie bowls are perfect for breakfast but also great for lunch or a midday snack. Doesn't that sound so much better than whatever might fall through the slot in the vending machine?
fROOT Bowls delivers, so if you're not downtown, no problem.
Another spot to find nourishing smoothie and acai bowls is Inheritance Juicery, 6333 E. 120th Court. Inheritance has a "bowl of the month," so look for changing, seasonal flavors there.
Looking for another kind of sweet? How about a bowl of ice cream? Nothing could be sweeter than ice cream served in an edible waffle cone bowl.
The bowls at Rose Rock Microcreamery, 502 E. Third St., are especially good. The toasty, vanilla flavor of the waffle cone shaped into a bowl is perfect for the small-batch flavors made at Rose Rock. Midnight Chocolate, Salted Caramel and Coffee are all delicious in these bowls. Or you can go all the way over the top with a waffle bowl sundae topped with homemade hot fudge.
Fresh
Poke (pronounced po-keh) bowls are starting to make a splash in Tulsa, and it's no wonder. This bowl has a lot going for it.
If you've never had one, imagine sushi, fresh salad toppings and an Asian rice bowl all piled into one.
The key with poke bowls is freshness, and the freshest we've found is at Poke Bowl Love, 522 S. Boston Ave.
At Poke Bowl Love, it starts with picking a base of either white or brown rice, or you can skip the rice and choose mixed grains. Next choose a protein, of which most are raw. (Remember, this is sushi in a bowl.) Then come the veggies, toppings and sauces.
If you would rather not build your own but let Poke Bowl Love choose for you, go for the Fiery Tuna Bowl ($14-$17) with tuna, spicy tuna, cucumber, jalapeño, tangy and spicy ponzus, sriracha aioli, habanero masago, ginger, wasabi and fried onion. All those flavors pack an amazing punch.
Bolicious, 8518 E. 71st St., offers a big selection of "build your own" sushi or poke bowls. At Bolicious, which opened in 2017, all the bowls can also be adapted into burritos. So picture all your favorite rice bowl or sushi toppings piled and rolled into a tortilla.
Bolicious has raw fish as well as options of cooked chicken, shrimp and shrimp tempura. Perhaps the best sauce is the Bolicious Classic made from soy, sesame oil and ginger. Sprinkles of fried onion, fried garlic, rice puffs, sesame seeds and tempura crunch add great texture and depth to the bowls.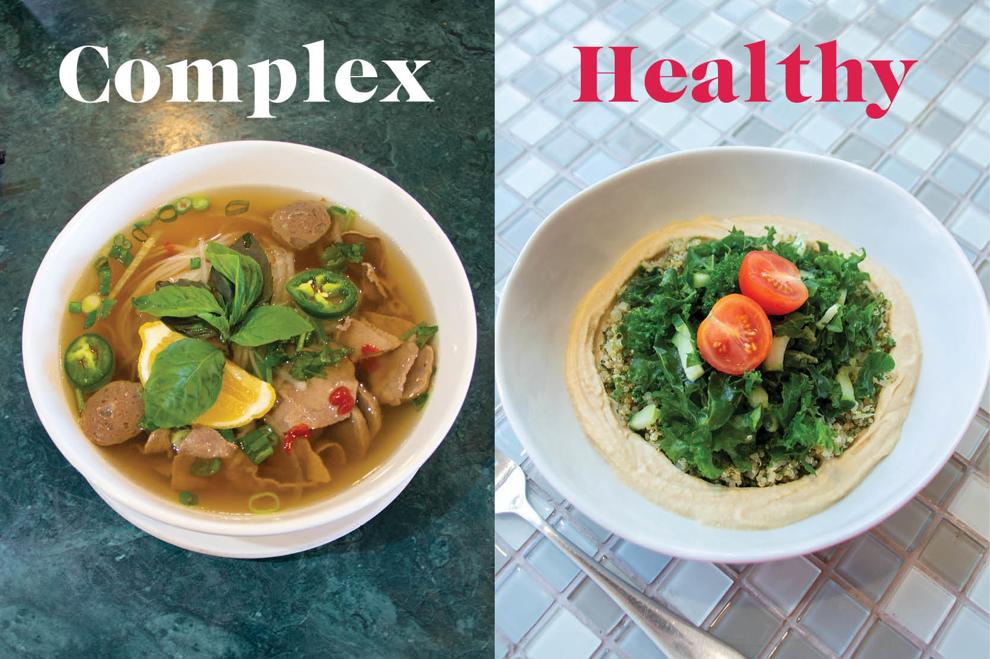 Complex
It's hard to come up with anything more comforting in the winter than a bowl of pho. The addition of pho to so many restaurants in Tulsa might just be the best food gift of the past decade.
One of the best piping hot bowls of pho comes from Pho Da Cao, 9066 E. 31st St. The bowl is filled with a gently spiced broth and served alongside a garnish plate brimming with aromatics like fresh basil, cilantro, jalapeños and lemon slices. You'll also have bean sprouts and rice noodles and a choice of thin-sliced beef, chicken or shrimp. Bowls of pho range from $6.95 to $11.95.
The combination of heat, sour, sweet and umami makes this comfort food equally complex. And the wonderful thing about a bowl of pho is you can tailor it to your liking.
If you're looking for a bowl that's outside of your normal lunch or dinner routine, consider Flavors of Louisiana, 5800 S. Lewis Ave., Suite 129. Cajun bowls of gumbo, red beans and rice or etouffee are some of the best you'll find in Tulsa. Gumbo is cooked low and slow, starting with a roux that's cooked until dark, and then given the holy trinity of bell peppers, celery and onions. Flavors of Louisiana has two types of gumbo — a chicken and sausage or a seafood with oyster, shrimp and crab. Gumbo ranges from $4.75 to $11.50 depending on the size of the bowl.
Healthy
The ingredients are simple, but maybe that's why it's so perfect. We're talking about the Hummus Bowl ($8.50) at Ediblend. You'll find it in the refrigerator case at both Ediblend locations: 2050 Utica Square and 10115 S. Sheridan Road.
The hummus bowl starts with a healthy portion of creamy hummus and is topped with quinoa tabouli, chopped cucumbers, diced tomatoes and kale salad. You can stir it all around or eat it just as it's presented. It's great dipped with pita chips or eaten right out of the bowl with a fork.
It's so good, in fact, that when considering a lunch of fries and a Coke, you might just remember this hummus bowl, consider how delicious — and healthy — it is, and pull into the Ediblend parking lot instead of the fast food joint.
Ediblend has other great options for grab-and-go meals. The taco salad bowl with ground walnuts as taco "meat" and arugula, cashew cream dressing, corn, avocado, tomatoes, peppers and onions is delish.
Pure Food and Juice, 3524 S. Peoria Ave., is another healthy bowl spot. The menu often changes, but look for bowls with Mexican, Italian and Asian flavors. One of our favorites at Pure is a bowl of soup. Chef and owner Cynthia Beavers serves all plant-based foods, including her hot and cold soups. Served hot or cold, the Tantra Thai Soup Bowl ($13) merges the flavors of coconut milk and green curry.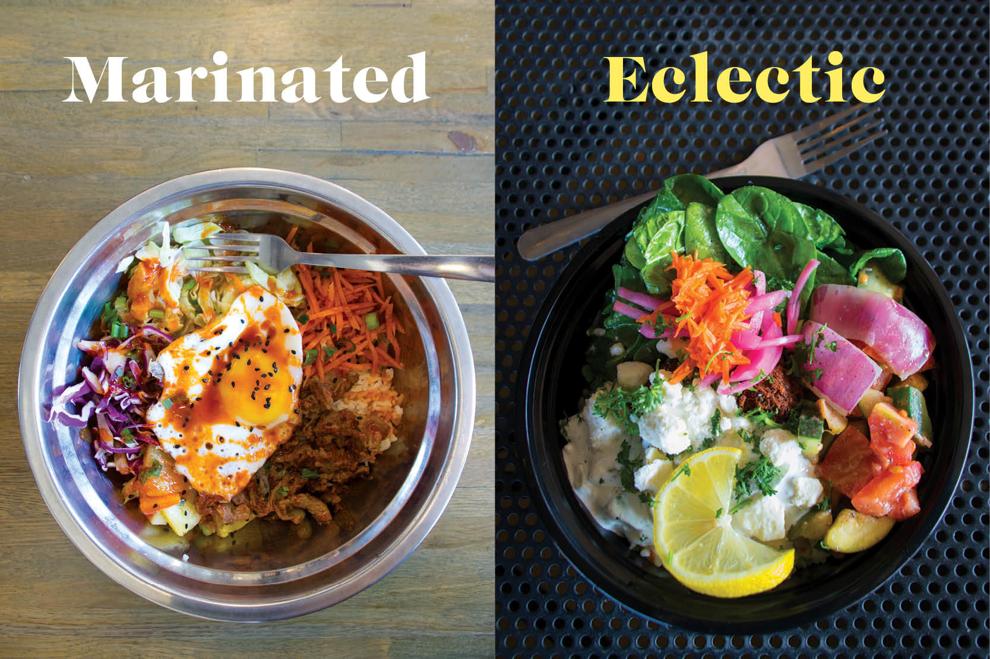 Marinated
The newly opened High Dive, 315 S. Trenton Ave., is the latest concept from Foolish Things.
Owner Justin Carpenter has already made his mark with coffee at the original location and with a delicious sweet and savory menu at Foolish Things Bar and Biscuit. But this concept, Foolish Things High Dive, is quite a bit different.
The menu of Korean-inspired dishes was developed with Nick Corcoran, formerly of Burn Co. And perhaps the best thing on the menu is the bib-im-bap or Korean rice bowl.
Corcoran knows how to pull the most flavor out of food, and that's in part through marinating. Bulgogi beef, a Korean style dish of beef marinated in ginger, is used in several dishes, and to great effect. High Dive's bulgogi beef is tender and thinly sliced.
The Korean rice bowl begins with jasmine rice, covered with a rainbow of toppings, including shredded carrot, purple cabbage, lettuce, fresh pineapple, pickled habanero peppers and a choice of bulgogi, spicy pork, mushrooms or marinated tofu. The whole beautiful bowl is topped with a poached egg and then sprinkled with black and white sesame seeds. It's worth taking a second to appreciate — or snap a picture — before digging in. Bib-im-bap dishes range from $9-$11.
Another place for flavorful bowls is Lone Wolf, 203 E. Archer St. and 3136 E. 11th St. You know Lone Wolf for its banh mis and kimchi fries, but if you haven't given the fried rice bowls a chance, do.
The variations abound — from fried rice topped with jalapeño pesto meatballs to candied bacon and fried egg to pulled pork to cilantro pesto chicken. Try any of them. We've never met a bowl here we didn't like.
Eclectic
Bodhi's Bowl at Mother Road Market, 1124 S. Lewis Ave., doesn't fit into one category.
It serves gourmet rice bowls. But it's so much more than that.
If you're wandering around Mother Road Market and can't decide what to eat, stop at Bodhi's. With a menu as diverse at this one, you're bound to find something you'll love.
Bodhi's has a Mexican bowl ($10.75) with roasted chipotle chicken, refried beans, salsa and a cilantro sour cream. There's a chicken coconut curry bowl ($11.25) with Thai green beans and peanut cucumber salad. Or for classic comfort food there's a macaroni and cheese bowl ($8.25) topped with shaved Parmesan and crisp fried onions.
Or go Mediterranean with the Falafelopolis ($10.75), an impressive bowl of falafel, gingered spinach, feta, cucumber tzatziki, sweet pickled red onion and sumac vegetable salad on an herbed lime rice.
Bodhi's also has kids' bowls, portioned just right for kiddos. The Baby Falafel ($8.25) and Baby Thai Chicken ($8.25) are both popular.