It's hard to think of a better way to celebrate good food, good friends and beautiful weather than with a picnic.
And the many green spaces, shade trees and parks in Tulsa make it a perfect picnic city.
A little planning makes a picnic more fun, but don't put off lunch on a blanket or picnic table because you don't have cute gingham napkins or a wicker basket.
June is a great month for picnicking. Beat the heat with an early lunch and playtime at the park with kids. Or, if it's for a date night or fun with a group of friends, go in the evening, and find a big shade tree. Bring a blanket or two and a few pillows for watching the sunset.
Something as simple as eating sandwiches at the park is how some of the best memories are made. So go out and make them!
Here are some of our favorite picnic recipes.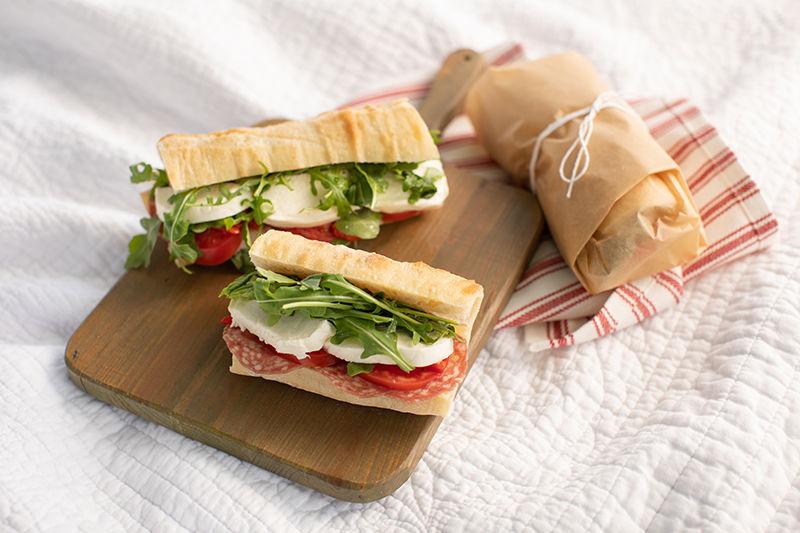 Sub spinach for arugula or sundried tomatoes for the roasted peppers in this forgiving (and delicious) sandwich.
Pressed Picnic Sandwiches 
Serves 4
1    ciabatta baguette, halved lengthwise
1    tablespoon olive oil
1    garlic clove
8-10 ounces deli meats (salami, capocollo, turkey, ham)
1    pound fresh sliced mozzarella
Kosher salt and freshly ground black pepper
2    large tomatoes, cut into slices
½    cup roasted red bell peppers, sliced
1    cup fresh basil, leaves separated
1    bunch arugula, rinsed and dried
Balsamic vinegar
Brush the bottom half of each piece of bread with olive oil and rub with the cut end of the garlic. Top with a layer of deli meat, mozzarella and a sprinkle of salt and pepper. Top with the tomato slices and roasted bell peppers. Top with basil leaves and arugula. Brush the remaining bread with olive oil and drizzle with balsamic vinegar, then place on top.
Tightly wrap sandwich in wax paper or parchment paper. Set a heavy skillet or brick on top of the sandwiches while you prepare for the picnic.
---
---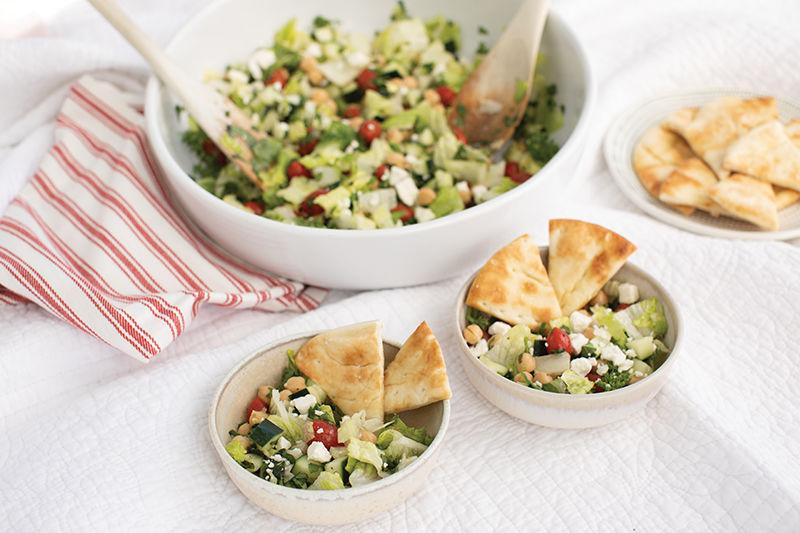 This fresh and pretty salad is great to take on a picnic because it can be made ahead without getting soggy.
Lebanese Chopped Salad
Serves 4
½    head romaine lettuce, chopped
1    pint cherry tomatoes
1    cucumber, chopped
1    can chickpeas, rinsed and drained
1/3    cup chopped fresh parsley
1/3    cup chopped fresh mint
1/3    cup chopped fresh basil
½    cup fresh squeezed lemon juice
1    tablespoon minced garlic
1    teaspoon kosher salt
½    teaspoon black pepper
½    cup olive oil
8    ounces feta cheese
Toasted pita bread, for serving
In a large salad bowl, place the lettuce, tomatoes, cucumber, chickpeas, parsley, mint and basil and gently toss to combine.
In a small bowl, whisk together lemon juice, garlic, salt and pepper. Slowly whisk in the olive oil. Pour the dressing over the salad, tossing to coat. Add feta. Serve with toasted pita bread.
---
---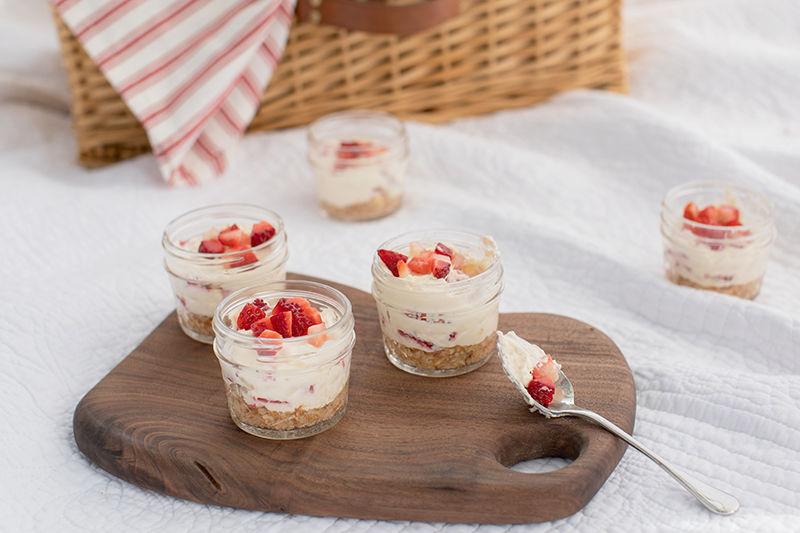 This is such a fun recipe, and will be a nice surprise at the end of a picnic.
Strawberry Cheesecake in a Jar
Serves 6
12    vanilla wafer cookies, finely crushed
2    tablespoons butter, melted
2    tablespoons granulated sugar
6    (½-pint) canning jars with lids
1-pound package strawberries, sliced
1    (8-ounce) package cream cheese, softened
1    tablespoon fresh lemon juice
½    cup granulated sugar
½    cup heavy cream, whipped
In a bowl, stir together cookie crumbs, butter and 2 tablespoons sugar. Divide mixture evenly among six jars, and gently press into bottoms.
Chop strawberries, leaving a few whole for garnish.
With an electric mixer at medium speed, beat together cream cheese, lemon juice and sugar in bowl until smooth. Fold in whipped cream and chopped berries, and divide evenly among jars (about ½ cup each). Garnish with whole berries, and cover with lids. Chill at least 2 hours. Transport to picnic in cooler.
---
---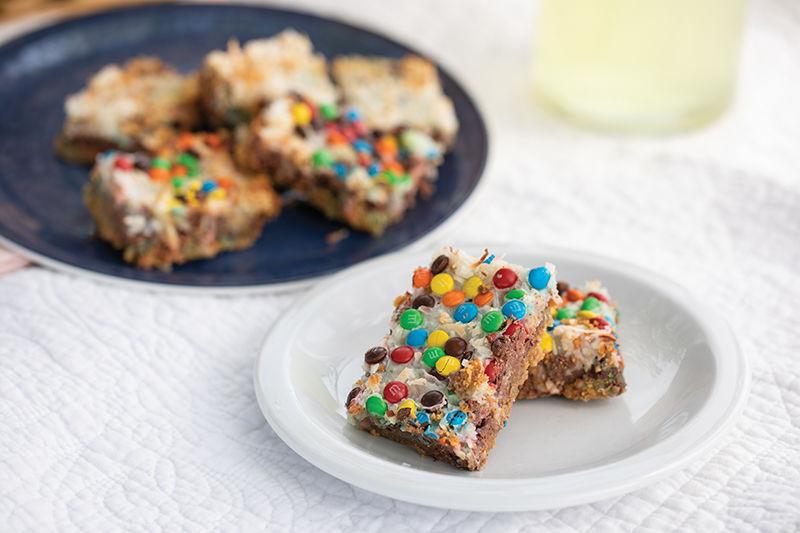 These old-fashioned bars get a pop of color from M&M candies.
Magic Cookie Bars
Makes 16 bars
½    cup butter
1 ½    cups graham cracker crumbs (about 11 whole graham crackers)
1 (14-ounce) can sweetened condensed milk
½    cup milk chocolate chips
2    cups M&Ms (divided)
1 ½    cups flake sweetened coconut
Heat oven to 350 degrees. Place stick of butter in an 11-by-7-inch pan. Let the butter melt while the pan is preheating, but watch carefully after about 4 minutes to make sure butter doesn't burn.
When butter is melted, remove pan from oven and sprinkle the graham cracker crumbs over the melted butter. Press lightly with the back of a spoon. Pour sweetened condensed milk over the crumb layer. Sprinkle chocolate chips and 1 cup of the M&Ms over the sweetened condensed milk layer. Sprinkle all of the coconut on top. Then sprinkle with remaining half of M&Ms.
Bake for 25-30 minutes or until golden brown. Remove from oven and cool completely before cutting into squares. 
---
---
There's nothing like fresh-squeezed lemonade at a picnic. Make it just as sweet as you want by controlling the amount of simple syrup you use. Adding fresh fruit, like raspberries or strawberries, adds great flavor. If you want to give it a try, just mash the fruit, then stir into each drink. 
Best Picnic Lemonade
Serves 6
1 cup sugar
1 cup water (for the simple syrup)
1 cup lemon juice
3 to 4 cups cold water (to dilute)
Make a simple syrup by heating the sugar and water in a small saucepan until the sugar is completely dissolved.
Juice four to six lemons, or enough to make 1 cup of juice.
Add the juice and the simple syrup to a pitcher. Add 3 to 4 cups cold water (depending on how strong you like your lemonade). Refrigerate for about 30 minutes. Serve with ice and sliced lemons.
---
Picnic pick-up: Where to get picnic provisions to go
Putting together a picnic is fun for some, but a chore for others. If you would rather spend your time watching the clouds drift by than stuck in the kitchen, stop by your favorite spot to pick up food to-go to fill your picnic basket. Here are some of our favorites.
Cherry Street Kitchen | 1441 S. Quaker Ave.
This is our favorite spot for picnic packing. Just call ahead and let them know how many will be at your picnic, and the staff at Cherry Street Kitchen will have you covered. Chicken salad sandwiches with chips and a pickle ($10.50) are perfect, and if you have kids along, order peanut butter and honey ($4) or turkey and cheddar cheese ($4.50) on fresh wheat-berry bread. Iced tea and lemon bars, chocolate crinkle cookies and carrot cake are the perfect finishes for your picnic basket.
Lambrusco'z | 1344 E. 41st St.
Opening a box lunch from Lambrusco'z is like opening a present from a great gift giver. You just know you're going to love whatever is inside. Any sandwich can be transformed into a box lunch for a $1 upcharge. One of our favorites is the Fiesta Wrap ($10), a wrap filled with jalapeño pimento cheese, lettuce, tomato and either ham, turkey, chicken or roast beef. It comes with chips and a cookie (the snickerdoodle and soft ginger are wonderful). If you want something more substantial for your picnic, try the meatloaf sandwich ($10) or a beef tenderloin pita with horseradish mayo ($10).
Kitch | 377 E. Main St., Jenks
Take-out sandwiches, cookies and salads at Kitch in Jenks are great for picnics. Food here is super fresh ­— just what you want when sitting in the sunshine at a picnic table. A banh mi ($11) is a good choice for a picnic food because it's sturdy enough to hold up to travel. Here, a French baguette is filled with marinated pork, daikon, carrots, onion, cilantro and a spicy aioli. Kitch's muffuletta ($11) is another sturdy sandwich. Kitch also has cookies worth the calories and other dreamy desserts, like 13 flavors of cupcakes.
Wanda J's | 111 N. Greenwood Ave.
One of the most classic picnic foods is fried chicken. And let's be real — almost none of us are frying chicken to pack for a picnic. So call ahead and order some of the best fried chicken in Tulsa at Wanda J's. A two-piece meal is $10.59. All of the sides at Wanda J's are good, but for a picnic you'll want something that doesn't need to be reheated. We suggest the coleslaw and brown beans. Wanda J's turkey club sandwich ($8.59) is also good for tucking into a bag for an outdoor lunch. And don't forget the sweet tea.