Spring cleaning encourages many to raid their closets, clean out their garages and finally get rid of items they just don't want any more. In Tulsa, you can find a new home for most any of those items by donating to one of several nonprofits that will turn your trash into someone else's treasure while helping the organization meet its bottom line. 
Since the pandemic began, several nonprofits have had to shift their donation and sales processes, some even shutting down to protect customers and staff. 
Here are stories of what one can find at any of these resale shops.
Finding a bargain
Yolanda Taylor was a customer of Bargains Thrift Shop long before she was a volunteer for the Assistance League, a 51-year-old nonprofit that helps Tulsa-area children with new school uniforms and personal care kits through Operation School Bell.
A neighbor introduced Taylor to the Assistance League in 2017. "That look on a child's face when they get a new pair of shoes ... I was in," Taylor says. Today she serves as president of the 250-member organization.
Taylor has helped her son set up his apartment with finds at Bargains. She is always on the lookout for a new pitcher to add to her collection, a gift or a piece of CorningWare's blue cornflower bakeware, which reminds her of her mother.
Houseware is an important part of Bargains' inventory, as well as the collection of high-end clothing and one-of-a-kind home items. A recent visit to the midtown shop spotted a Barry Bricken collection jacket with a Miss Jackson's tag priced at $14. Across the aisle sat a set of six crystal brandy sniffers for $24. There are clothing departments for men, women and children, as well as seasonal items, jewelry, accessories and furniture.
Organized committees of volunteers sift, sort and clean literal tons of donated items Assistance League receives each year. "They cull through donations to ensure we're putting the best things on the floor," Taylor says. "Everything is priced to sell."
If something doesn't quite meet Bargains' standards or sales niche, it heads to the "Waste Not Area," where bins for partner organizations like Loaves and Fishes, Blue Star Mothers and Fostering Connections collect items for donation. Some get sent to textile recycler American Rags. Electronic items are sent to a local processor.
The COVID-19 pandemic forced the Assistance League to close Bargains for months to ensure the safety of its customers and volunteers. "We were worried people would forget about us," Taylor says. Rest assured, there was a line that formed out the door when the shop reopened Feb. 2.
Taylor says sales at Bargains represent "a considerable part of the budget," which funds the organization's uniform and personal-care kit inventory. Over the pandemic, Bargains lost 60% of its income and the organization has been doing a lot of fundraising to ensure its mission is continued.
"We must be able to pivot," Taylor says. "There's still the need that existed before this happened. We made a promise, and our goal is to deliver on that promise."
Visit altulsa.org/bargains-resale.
Good chance for a great deal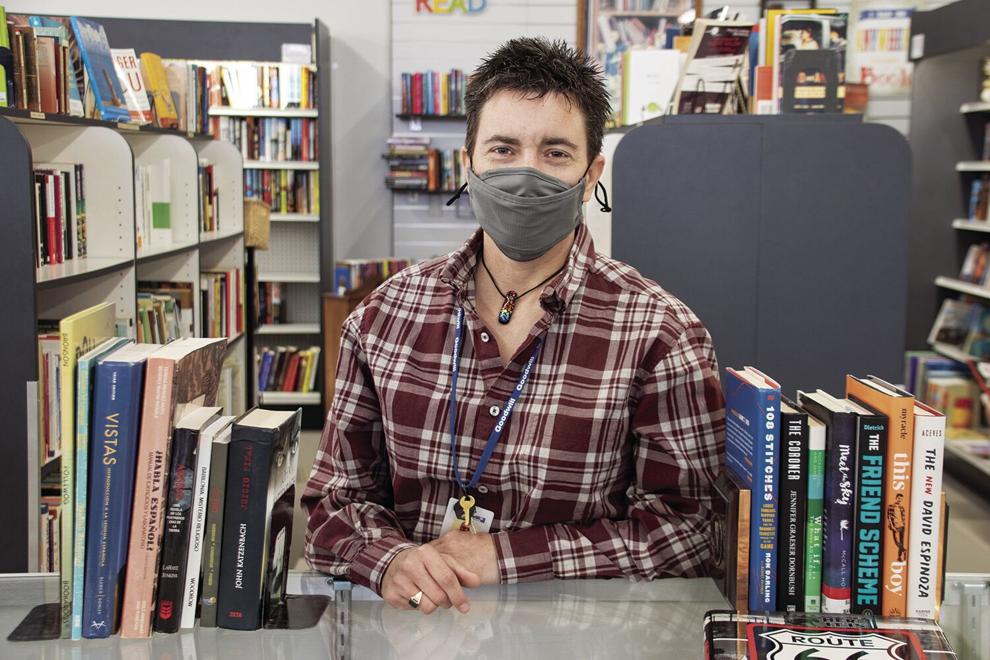 For every dollar spent at a Goodwill store, more than 85 cents goes directly to the organization's mission, which provides work opportunities, job training and support services for people with disabilities or other barriers to employment.
Goodwill Industries of Tulsa President David Oliver says that equates to a $70 million-plus economic impact in the community. That means jobs, skills training, job placement resources, financial wellness training, and a volunteer tax filing program all made possible by more than 20 million pounds of goods repurposed through its stores. "Retail stores are the biggest revenue generator for all Goodwills across the nation," Oliver says.
Goodwill Tulsa has 11 stores. At its largest store on Southwest Boulevard, Eva Kout has found her niche. Working in libraries for the past 16 years, Kout came to Goodwill six months ago where she leads the store's book department. "We have an audience that specifically comes for books," she says. 
Prices range from $6.50 for new releases to 99 cents. Kout has helped several teachers find children's books for their classroom libraries and often sees interior designers scoping out the store's selection of coffee table books.
Kout says she is most intrigued by the old Bibles and leather-bound books that make their way to the store's display case.
Across the store, houseware and clothing also are popular with shoppers. "Many customers even discover rare and valuable finds," Oliver says. Goodwill's customers and store personnel have high standards, and all items must pass a multi-point quality check. Higher-end items are vetted by the retail director. Oliver says those items often make their way to a store's display case for sale.
Visit goodwilltulsa.org.
Restoring and rebuilding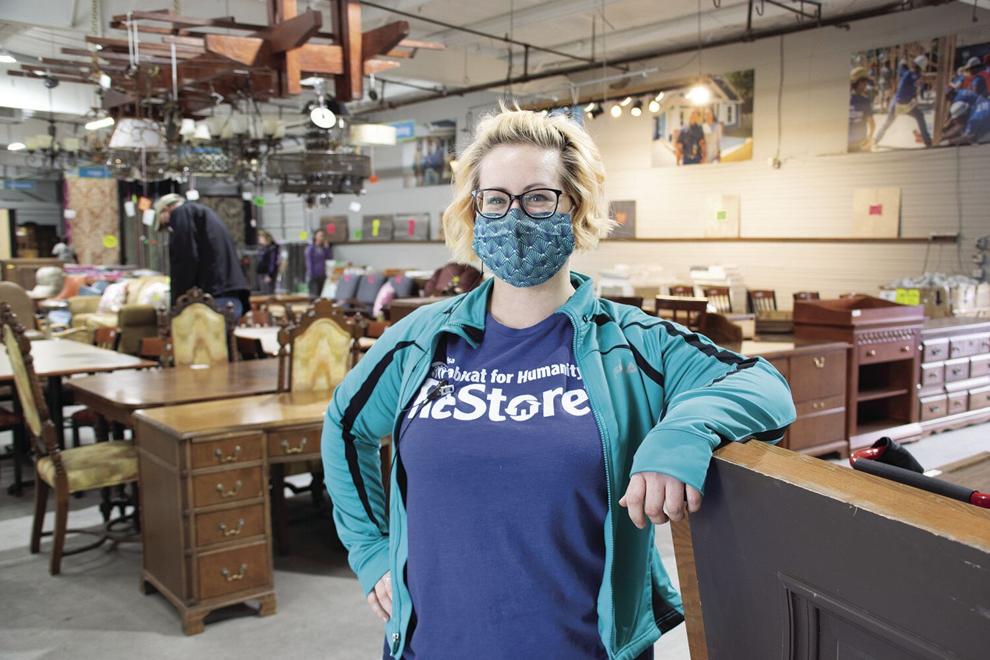 New and used home-related items can be found at ReStore, a home improvement outlet that supports Green Country Habitat for Humanity. 
The "bread and butter" of the store is furniture, according to Thom Golden, director of external affairs for GCHFH, but shoppers also can find lighting fixtures, doors and even building materials like granite countertops. "The best value is some of our appliances," he says, several of which were like new on a recent visit.
ReStore accepts nearly everything, except used mattresses and paint, and thoroughly inspects each item before it hits the floor. Donations come from individuals, as well as businesses that are renovating. "Setting pricing is a bit of an art," Golden explains, but generally it starts at half of new.
The nonprofit even provides a deconstruction service that will visit a residence and remove cabinetry, doors, windows, fixtures, sinks and other items that are in good shape, which GCHFH will sell on its showroom floor.
Along with resale goods, the store sells new items such as flooring, paint, paint supplies and area rugs.
Erin Slauson is the assistant manager and uses the store's Facebook and Instagram accounts to alert followers to great finds and inspirational DIY projects.
"My goal is to get as many people interested as possible," says Slauson, who also shares before-and-after posts from customers who have transformed ReStore items. She even takes it upon herself, a self-proclaimed DIYer, to reimagine items that aren't selling. A few coats of paint and a shine here and there quickly sold a kitchen table that had been sitting on the floor too long.
GCHFH will open a second ReStore in Jenks in April. It also has ReStore Rack, a traditional thrift store at 1112 S. Memorial Drive that opened three years ago. Golden says the two stores bring in enough revenue to cover the vast majority of the nonprofit's administration costs. Traditional fundraising is then available to support the mission of the organization, which builds safe, quality homes for families who can't afford a traditional mortgage.
Recently the organization changed its name from Tulsa Habitat for Humanity to Green Country Habitat for Humanity as it will gradually expand its footprint to include other areas such as Jenks, Claremore and Broken Arrow.
Visit greencountryhabitat.org/restoretulsa.
New home for Animal Aid's thrift store
Animal Aid has rescued and rehabilitated dogs and cats in Tulsa since 1961. Founder Helen Dawson designed the nonprofit's operations with a thrift store to serve as the primary revenue source.
"After occupying the current thrift store for decades, the old building is landlocked and in need of significant repair," President Michelle Morris says. "Fortunately for us, a legacy donation last year allowed us to begin looking for a larger space. Our new location at 6811 E. 21st St. will serve to help us expand our mission."
The new space will provide lots more opportunity for a wide-open floorspace and a better donation drop-off system, according to Karen Nielsen, an Animal Aid board member and thrift store operations manager.
The thrift store closed for six months in 2020 due to the pandemic, reopening in September and closing again Jan. 1 due to COVID-19 concerns and to protect its volunteers, donors, customers and staff. "We weren't willing to take the chance," says
Nielsen, who is hopeful the new site will open in early summer.
As Animal Aid makes its move to the new storefront, it is not accepting donations and is conducting several garage sales to clear inventory and back stock for the new shop. 
Once reopened, shoppers can again find clothing, jewelry, bedding, dishes and glassware, chairs, shelving and everything they've come to expect at Animal Aid's store. "You never know what you're going to get," Nielsen says. "It's a treasure hunt — you just have to look at everything."
Visit animalaid.org.
Shopping success
Since its founding in 2001, Dress for Success Tulsa has helped more than 16,000 women achieve economic independence by providing a network of support, professional attire and development tools.
Up to four public sales are held at Dress for Success each year.
A fifth "pop-up" sale always features items that are new, with tags, at an off-site location.
"Last year our clothing sales were the only fundraisers we were able to have," says Executive Director Katherine Skorvaga. "The proceeds from the sales help us to keep our doors open, so we can continue to help the beautiful women in our community."
Public sales feature name-brand gently worn and new women's clothing, handbags, shoes, jewelry and accessories, as well as designer goods.
Skorvaga says donations are accepted at the office boutique at 3103 S. Harvard Ave. and suggests calling 918-599-8892 first to ensure they are taking donations at that time.
Visit tulsa.dressforsuccess.org.
---
By the numbers
The Environmental Protection Agency reports that in the United States, 17 million tons of textile material — mainly discarded clothing, but also footwear, sheets, towels and carpet — heads to the landfill, representing nearly 6% of total municipal solid waste. Only 2.3 million tons are recovered for recycling or reuse.
About 16-18% of Americans will shop at a thrift store and 12-15% at a consignment/resale shop during a given year. Source: Association of Resale Professionals
First Research estimates the resale industry in the U.S. to have annual revenues of approximately $17.5 billion including, revenue from antique stores, which are 13% of their statistics. Source: Association of Resale Professionals
Online resale marketplace ThredUp estimates the total resale market in 2018 at $24 billion and predicts it will reach $64 billion by 2028. Source: Association of Resale Professionals
Goodwill Industries alone generated $5.9 billion in retail sales from more than 3,000 not-for-profit resale stores and online sales in 2017. Source: Association of Resale Professionals
95% of all textiles have the potential to be reused or recycled. Right now only 15% are recycled. Council for Textile Recycling