This new year brings a unique opportunity for restored hope and renewed resolutions following 2020's COVID-19 pandemic. In 2021, you might look to form better habits that benefit not only your personal life, but also our collective community as we work to keep each other healthy and safe. A few Tulsans shared some small steps toward learning, growing and kicking stress in the new year with the following tips:
Being more active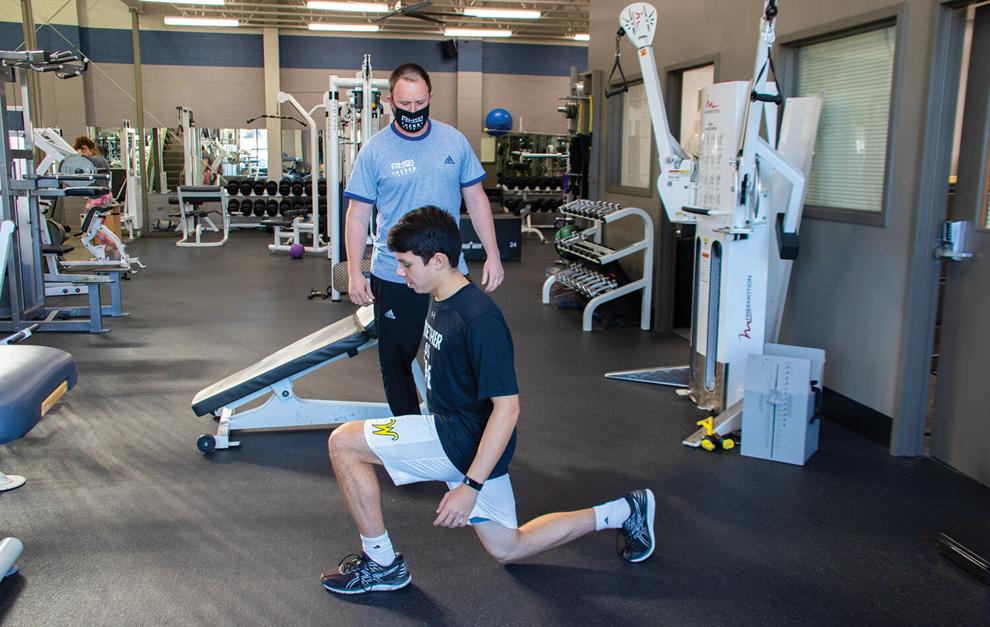 Many New Year's resolutions lay out plans to be more active. This year, these resolutions might look a little different as the COVID-19 pandemic keeps gyms closed or at low capacity.
"I know people miss the escape of the gym," says Travis Neilson, Tucker Tennis fitness director at Racquet and Health 91. "But, this is a great opportunity to be outside more and get creative."
Whether you walk a new route in your neighborhood or join a virtual class, Neilson emphasizes weight loss should not be the sole measure of your fitness goals. Instead, strive for reducing stress and feeling more energized with your exercise plan.
"It's important to be fit in your mind and body," says Andie Buff, head of marketing and communications and member services at Racquet and Health 91.
To meet your long-term goals, Buff and Neilson recommend incorporating attainable activities into your routine, such as taking two 10-minute walks a day or climbing the stairs rather than taking the elevator. By starting small, you reduce risk of burnout.
Buff and Neilson also suggest finding an accountability partner: someone you can share your goals with to provide mutual support. Most of all, the duo says a positive mindset is the most important step to being more active in the new year.
"Ultimately, don't be too hard on yourself," Buff says. "And don't sweat the small stuff." 
Saving
The start of the new year provides time to re-evaluate your savings. Carrie Coles, senior client advisor and senior vice president at Arvest Bank, recommends using the holiday season as an opportunity to determine new financial priorities.
For some, this might include saving more for retirement. If you haven't already, Coles suggests enrolling in your employer's 401K plan. If your employer does not provide a 401K matching plan, you can open an individual retirement account at your local bank.
"Start with any amount," Coles says. "Then increase every year. Include this retirement savings in your yearly budget to meet your goals."
The new year also might bring new purchases. Whether you are looking to buy a home, a car or another big-ticket item, Coles' advice remains the same: decide if you will buy with cash or finance the purchase. If you finance, decide how much you are willing to spend in long-term payments.
Coles emphasizes that financial planning means budgeting for the unexpected. This includes estate planning. Coles recommends these five documents to ensure the secure future of your assets in the event of an emergency: durable power of attorney, health care power of attorney, living will, will and revocable trust.
According to Coles, it is vitally important to choose your powers of attorney and will executors carefully, as they will carry out your wishes in the event you are incapacitated. Additionally, consider revisiting these documents every five to 10 years to re-evaluate your wishes.
Throughout planning your savings strategies and estate documents, do not panic. Even with the pandemic and changing stock market, financial planning can provide stability.
"Financial planning is like a roadmap," Coles says, "but the road isn't always smooth. There may be potholes along the way, but we help you prepare for that."
Creating less waste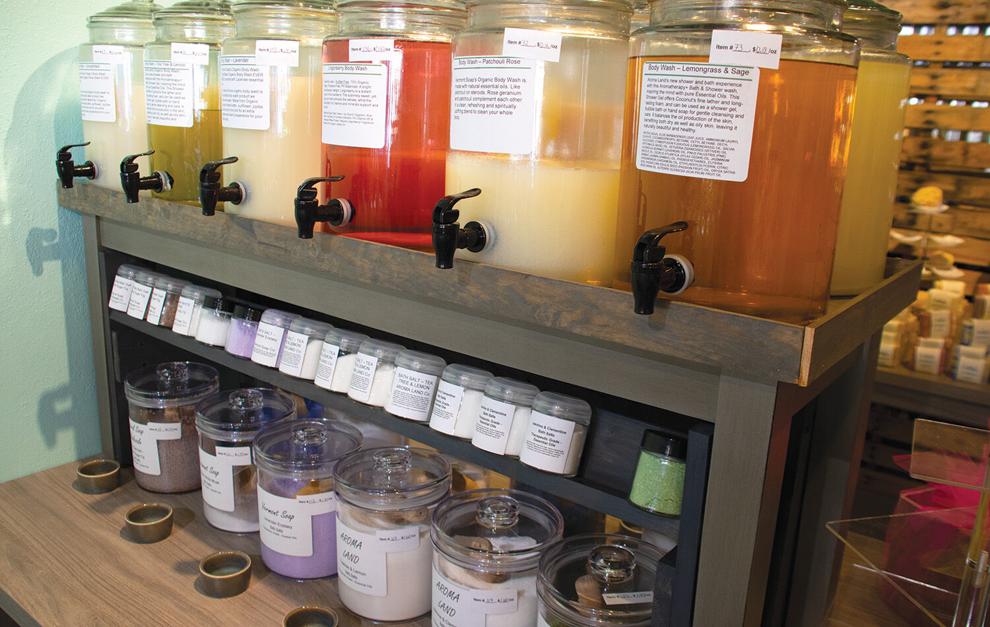 As conversations about our changing climate continue in 2021, you might consider reducing your waste production. This goal could include using refillable personal hygiene products and cleaning supplies. Robert Repsher, owner of the family-
owned business Ecotastic Refill Station, provides customers the opportunity to cut back on packaging waste by refilling old shampoo bottles, soap dispensers and more. Repsher says any container works for Ecotastic — just bring your old containers, weigh them, fill them, label them, then weigh again at the register and pay.
"Recycling is great, and we should recycle more," Repsher says. "But if you can reuse something, that is even better."
Located at 114 E. Main St. in Jenks, Ecotastic
carries organic products. By choosing natural laundry detergent, household cleaner, soap and more, Repsher says you eliminate the use of harmful chemicals that can cause skin irritation or allergic reactions and pollute water systems.
Repsher outlines a few other steps toward becoming a better consumer in the new year. For example, shop local to cut down on shipping waste. Or, you can make a concentrated effort to bring reusable bags when shopping, and when allowed. As you shop, stray away from single-use plastics and opt for reusable products. You can even reuse food waste by composting. Repsher recommends looking into composting kits or local drop-off spots to boost the nutrients in our soil.
Whether you chose refilling your shampoo, committing to tote bags or composting your eggshells, Repsher emphasizes you don't necessarily have to adopt every change to make an impact. Simply start your year off with one of these goals in mind.
"It's all about taking small steps," Repsher says. "It's easy to get started. Just choose your step. It doesn't have to be overcomplicated."
Getting organized
This year saw the rise of popular organizing shows such as Netflix's "The Home Edit" and "Tidying up with Marie Kondo." Joanna Hull, a local professional organizer and owner of the Hull Space for the past two years, guesses these shows succeeded because organizing provides a sense of relief and control in a stressful time.
"You can control your own peace in your own home," Hull says. "It can be a big weight off your shoulders."
If you are looking to organize in 2021, Hull recommends identifying areas of your home that cause you stress. Then begin organizing one area at a time.
"You don't have to tackle your whole house in one weekend," Hull says. "Start with one drawer or one closet and go from there."
To start, Hull recommends you pull everything out of your closet, pantry, etc., and decide what items you can trash or donate. Next, identify what items need to be accessible for daily use versus what can go into storage. Keep the items you use every day handy, and put other items in storage with labels. For example, if you are organizing your closet, keep seasonal clothing in the front and store away pieces for warmer or cooler weather until you need them.
Once you get organized, staying organized can be tricky. Hull's No. 1 recommendation for staying organized is to label everything. Prominent labels will remind you to put items away in their proper place rather than letting them clutter your space. These simple processes can help reduce daily stress and save you time.
"Just remember to start small," Hull says. "But if you get overwhelmed, just call me."
Meal planning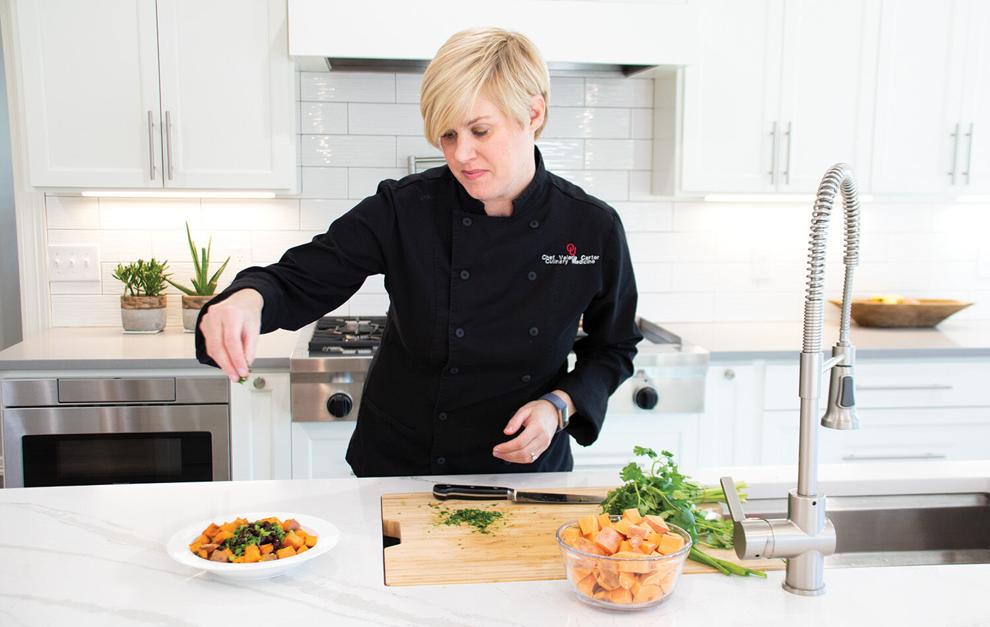 Planning meals ahead is a sure way to save money, eat healthier and cut down on weeknight stress. Plenty of books have been written on the subject. But meal planning doesn't require a book or an entire day carved out to make food ahead of time.
It's a topic Valarie Carter knows a lot about. Carter is chef instructor for the University of Oklahoma-University of Tulsa School of Community Medicine's Culinary Medicine program. Pre-COVID-19 her hands-on community cooking classes on healthy meal preparation were very popular. And the tips and instruction she gives medical students and the community are the same ones she implements at home when cooking for her family: Try to incorporate as many fruits and vegetables, whole grains and bean into your diet and meals as possible.
Rather than thinking about individual meals, Carter promotes cooking in bulk for the week. This means cooking an entire bag of brown rice, barley, quinoa or whatever you like. Then roast a bunch of vegetables — sweet potatoes, beets, butternut squash. Then sauté a green, whether it's spinach, mustard greens or collard greens. "Our program is entirely plant-based," she says, "but all of the recipes would work well combined with a lean protein of your choice." Each of these components is then refrigerated or frozen into small portions. Carter suggests setting aside a couple of hours one day a week to make enough food for the week. An hour and a half of cooking, plus 30 minutes to clean up is all you need.
Carter calls it the Chipotle method. Think about ordering at Chipotle, where layer upon layer is built for a meal. Layering a grain, a vegetable, a green and a protein, like beans, takes the guess work out of the question, "What's for dinner?" This method applies to whatever you're in the mood for, whether it's building a bowl, a salad, a wrap or a burrito. Adding flavor with lemon zest, chili flakes, garlic, beans, other seasonings and more fresh veggies changes up each meal, too.
Planning ahead is the most important part of meal prep. And if you have food already in the refrigerator or freezer, it's a deterrent from rolling through a drive-thru on busy nights.
"Meal planning is the biggest money saver and nutrition booster you can get because if you have planned, there will be something there you can eat. And it's probably healthier than what you would eat on the fly," Carter says.
If you're making soup, stew or chili, make it count by making enough for three meals rather than one. "That way when you come home, all you have to do is pull that stew or chili out of the refrigerator and put something fresh with it," Carter says.
That might mean making cornbread, steaming a bag of frozen vegetables or opening a bagged salad mix, and though Carter says you might have some nutrition loss with convenience vegetables, it's better than a fast-food meal.
Meal prep at dinnertime is the one most of us consider, but Carter suggests doing it for breakfast and lunch, too. Her favorite make-ahead breakfast is overnight oats, which she tops with frozen or dried fruit or nuts.
She also does batch cooking at breakfast, making double or triple the recipe for waffles and pancakes, and then storing them in the freezer. A quick warm-up in the microwave or toaster, and you have a homemade, nutritious breakfast on busy weekdays.
In teaching her classes, Carter says she hears from some people that a typical weeknight means coming home from work, realizing there's nothing to eat, stopping at the grocery store, coming back home to cook while helping kids with homework, taking out the dog, etc. 
"If that's your experience, I wouldn't want to cook either," she says.
Having food made ahead of time is the key. And she's all for taking shortcuts if that will help keep you in the kitchen. If getting out a knife to chop vegetables is too time consuming, buy pre-chopped veggies in the produce or freezer sections of the grocery store. "I might be teaching someone how to properly cut an onion, and I'm finding that people say, 'That's cool, but it would be more helpful if I could just cut the top off a bag of chopped onions?'"
One more tip from Carter is to make sure to clean out space in the refrigerator or freezer before you begin. Investing in inexpensive plastic containers will help, too.
---
This recipe, from Carter is a great one to consider for make-ahead meal prep. Make the components ahead of time, then assemble quickly at dinnertime. You can serve it as a bowl or put the mixture into corn tortillas for taco night.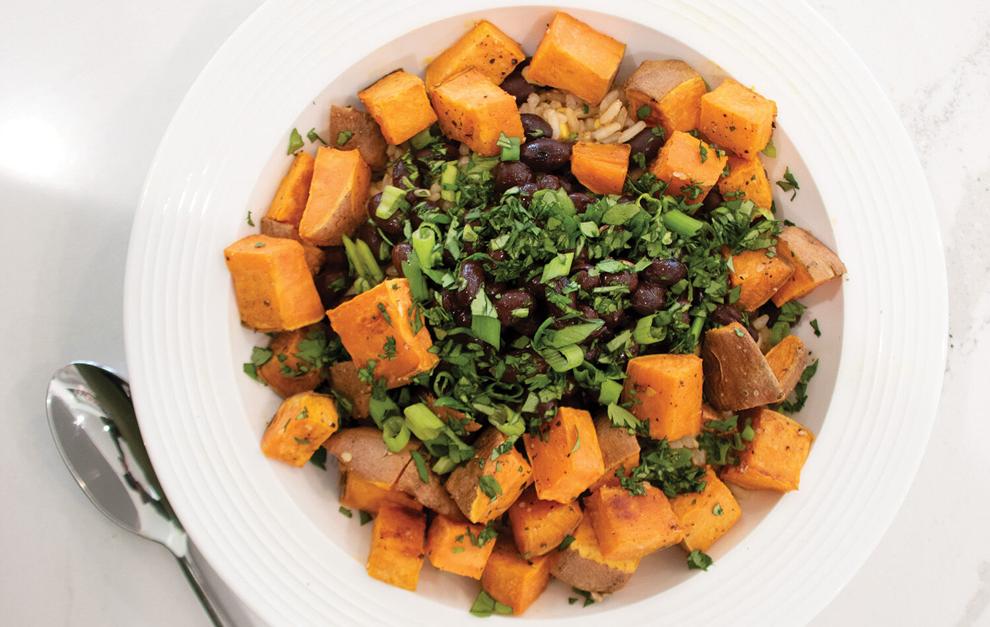 Southwest Veggie and Black Bean Bowl
Serves 6
2 sweet potatoes, scrubbed and diced
1 tablespoon olive oil plus 2 teaspoons, divided
4 teaspoons ground cumin, divided
Zest of 1 orange
Pinch of cinnamon
1 teaspoon dried oregano leaves
1 teaspoon kosher salt, divided
½ teaspoon ground black pepper, divided
1cup brown rice
2 cups low-sodium vegetable stock (or water)
1 teaspoon chili powder
1 cup frozen corn kernels
2 14-ounce cans black beans, drained and rinsed
2-3 cloves minced garlic
2 bunches mustard greens, rib removed, washed and chopped
Juice of 1 lime
½bunch cilantro, chopped
Preheat oven to 400 degrees. Line a baking sheet with aluminum foil. 
Toss sweet potato cubes with 1 tablespoon olive oil, 2 teaspoons cumin, orange zest, cinnamon, oregano, ½ teaspoon salt and ¼ teaspoon black pepper. Place sweet potatoes on foil-lined baking sheet and roast for 25 minutes or until beginning to turn golden and soften. Set aside and keep warm. 
In a medium saucepan, combine rice and stock. Bring to a boil, then stir in 2 teaspoons cumin, chili powder and corn. Reduce heat to low, cover with a lid and simmer about 25-30 minutes or until water is absorbed and rice is tender. Stir in beans, cover and set aside. 
Add remaining 2 teaspoons olive oil to a medium sauté pan and place over medium heat. Add garlic and sauté 1-2 minutes but do not brown. Add greens a handful at a time until wilted and bright green. Add ½ teaspoon salt and ¼ teaspoon black pepper. Add ½ cup of water and continue cooking until greens are tender — about 10 minutes. Remove from heat.
For each serving, place rice mixture in a bowl or on a plate, top with greens, top with sweet potatoes. Squeeze lime juice over the top of each portion. Garnish with chopped cilantro. Serve immediately.