COVID-19 was the first virus to invade Tulsa in March 2020, followed closely by a wildly contagious strain of cabin fever. Soon after the country shut down, families felt the walls of their homes closing in on them. 
Dining rooms doubled as home offices. Garages became gyms and playgrounds. And breakfast bars were the new classrooms central. Family members were literally tripping over each other, and figuratively stepping on everyone's last nerve. 
For many the question, "How can we get out of here and head someplace safe?" was answered by a recreational vehicle. 
Demand for on-the-road houses far outweighed the supply. But now, those two economic factors have found balance and more Tulsans are choosing RV life. 
Getting outta dodge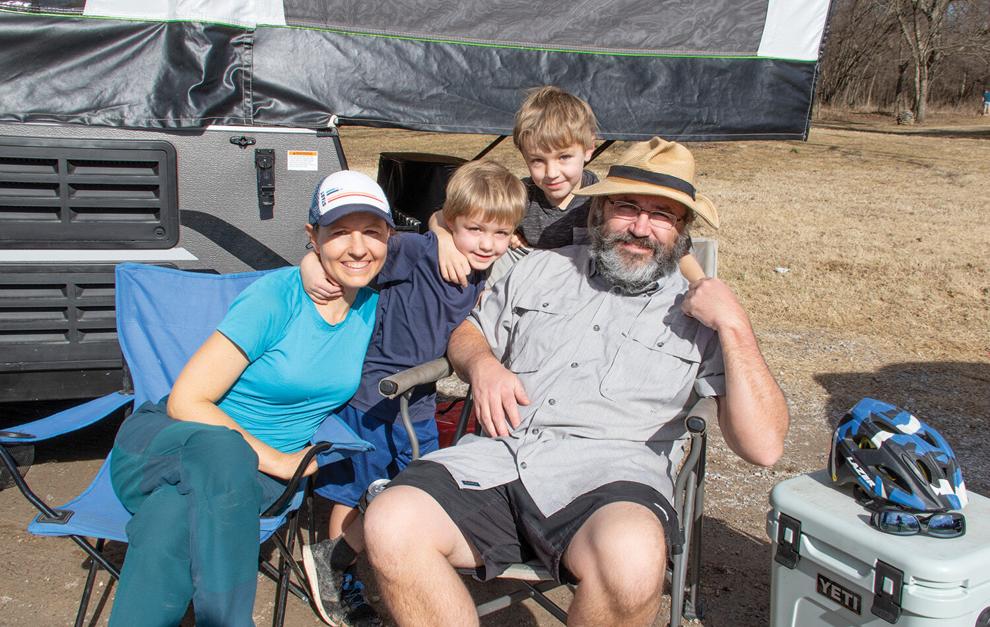 Beth Downing and her husband, Gavin, were among the first to pack up their two boys — Wylie, 7, and Frazier, 5 — and hit the road. 
"We had exhausted all the good and close outdoor opportunities in Oklahoma," Beth says. So they decided to dream bigger and farther. By July, they bought an RV travel trailer and set out for campsites and national parks in Colorado, Utah, New Mexico, Arizona and California.
The Downings were experienced campers — he, with an Eagle Scout background; she, a backpacking pro. But choosing an RV took some study and a new decision-tree process.  
"I'm not the impulsive one," she says. "I'm usually measured and risk averse." Her husband is the shopper who researched online.  
They decided on a model to tow so their car would be free for adventures. They wanted something their smaller, lighter-weight Subaru Outback could pull, so they opted for a pop-up trailer. "Nimble, easy and a glorified enormous tent," she describes. 
The Downings own a small technology company in Tulsa that, luckily, can be run remotely. They signed up the boys for Tulsa Public Schools' Virtual Academy, and they were off. 
The trailer was still a classroom, office and home base, but the backgrounds were vast and changed daily. The campground was just for sleep. As she explains, "My version of a morning triathlon — hike, bike, water activities — until 2:30 p.m. I have to get the kids out of the house so Gavin can work." 
Were there things she missed about being home?
"The home shower and cooking fancy meals," she says. "But when I'm home, what I miss about the road is the simplicity, how aware I am of sunsets and the stars, and all of the incredible places we get to explore, photograph and write about."
The most freeing part for her was being in charge of fewer things. "I never realized how much of my time and energy went into 'stuff' management," she remembers. 
The Downing boys are close enough in age to be buddies. "It's still cool to play with each other," says their mom. But RV life doesn't solve all family dynamics.  
"There are still issues, but we'd have them at home, too," she says. "There are meltdowns on the trails, but they love being outside. They've learned how to make a cave out of sticks and rocks instead of Legos — and how to handle being bored. And that that's not a bad thing." 
A new tradition for the Downing family is an end-of-week photo review. In any given seven-day period, wife/mom/photographer Beth sometimes took thousands of shots.  
"One week in California we started out with a snowball fight, went to riding our bikes that afternoon by an alpine lake, to paddle boarding while people were skiing on the mountain behind us, to hiking a (short) section of the Pacific Crest Trail, to tide pooling and seal watching at the beach," she recalls. 
Downing is aware of how lucky her family is to be able to live their RV life. "It was pivotal to be in different mental place," she says. "Because we're outside, we're happier and living a more balanced life."
---
Inspector general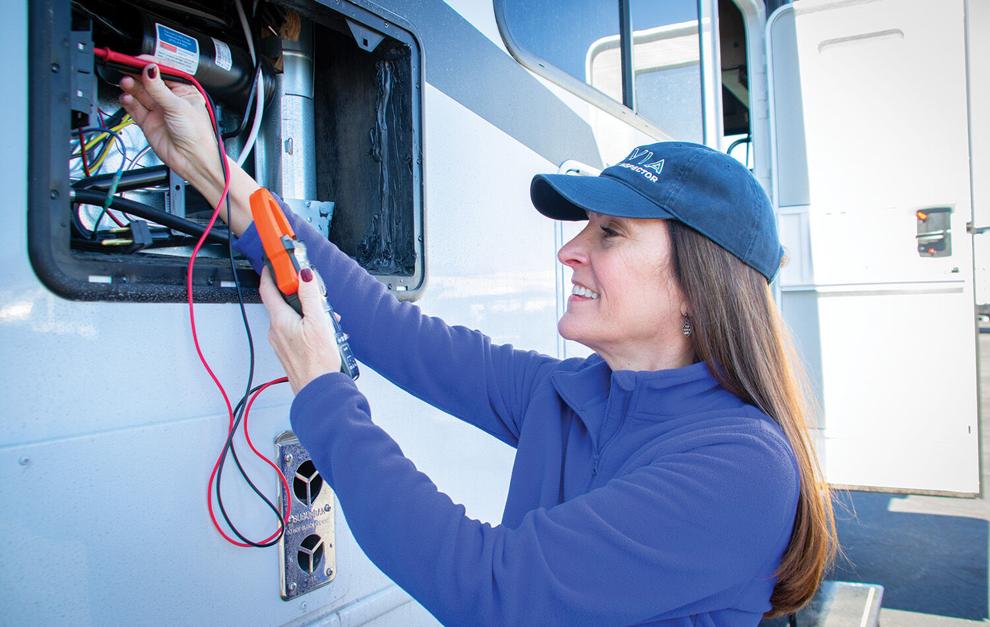 After 15 years as a Realtor, Brenda Puckett discovered solo girl camping in a female adventure group in 2017. "My husband said 'Fine,'" she says. "I found my tribe." 
But she wanted more. Then 54, she was ready for a mid-life career change. At last year's Boat, Sport and Travel Show, Puckett asked anyone who would talk to her about fun jobs in the RV industry. "AMA, ask me anything," was her research approach.  
A week later on social media, she saw a post about the National RV Training Academy in Athens, Texas. One week after that she was packed and Lone Star-bound. 
"I did 80 hours of training and hands-on inspections, more than I did for real estate," Puckett says. She is now a Level II certified RV inspector. 
By the time she returned COVID-19 had changed the world. "That gave me time to set up my business," she says. "When America opened up again, my phones rang like crazy." 
RV buyers call Puckett when they find the vehicle of their dreams and need someone to be their eyes and ears before they make the trek here for purchase. If the buyer is local, they call her to inspect for things they might not know to look for or test.
An RV inspector does everything for houses on wheels that home inspectors do for dwellings on foundations. "I literally kick the tires," Puckett says.  
As with a home, she inspects the big-ticket items — roof, underneath, every inch of the exterior, all systems (water heater, appliances, propane, electric, plumbing) as well as cosmetic features. Even the wear and tear and age of the tires. 
"I find things on new ones, too," she says. "Things can happen during transport or  be overlooked during manufacturing."  
She researches service records. Oil changes. Fluids. Low mileage isn't always a good thing; it can be a red flag for a vehicle that's been sitting around. On the flip side, a file folder of receipts can show a buyer of a used RV that the vehicle has been well maintained. 
People call from out of state. She's in demand with prospective buyers in
Washington, D.C.; Arizona; Washington; all over the country. Anyone can find an inspector in the National Recreational Vehicle Inspectors Association website.
Puckett's certification allows her to inspect RVs anywhere in the U.S. 
For further research, Puckett recommends outdoorsy.com, which she describes as an AirBnB for RVs. She also suggests following forums and online groups. "And YouTube has anything you could want," she adds.
What about renting before buying? "A gigantic yes," she says. 
---
Decisions, Decisions
If something positive can come from a worldwide pandemic, COVID-19 created a record number of first-time buyers for RVs. Now local dealerships are steadily rebuilding their inventories because the travel industry sees personal getaway adventures as here to stay. 
Whether the blue yonder is wild or tame, there are several things to consider before finding the Class A, pop-up, travel trailer or fifth-wheel of your dreams.   
For one, how much does it take out of the family piggy bank to get into RV living? "A small, first-time starter trailer, 25 to 30 feet — more like a bunkhouse for families — runs from $18,000 to $22,000," says Andy Holman, sales manager at Dave's RV. Buyers also will need an SUV or smaller truck with a 5,000-pound towing rating minimum. No special license or training required.
As for amenities, "They're all pretty nice now," Holman says. Recliners, big windows, ovens, refrigerators, microwaves, dishwasher, stackable washer/dryer, internal vacuum system. La-Z-Boy furniture. RVs come fully furnished, everything bolted down. 
An average family of four has 600 pounds of gear. That includes clothing, shoes, sports gear, and pots and pans. Kayaks can go on racks on the roof. 
Many RVs feature pullout kitchens for cooking outside, complete with TV, sink, music and cast iron griddle. "No one's roughing it anymore," Holman says. "Those days are over." 
At Camping World, shoppers can choose from 16 brands of RVs and up to 300 vehicles in stock. General Sales Manager Sean Harper and his staff match prospective buyers to their potential campers by discussing expectations and completing a thorough needs assessment.  
For starters, new or used? Do you have a truck that can pull the trailer? Are your hitch and hardware up to standards? What's the right camper style? Which floor plan fits your family? How many people do you need to accommodate? Where are you going — to the lake on weekends or across the country for months at a time?  
There are other costs to consider. Payments. Service. Maintenance. Where will you store your RV? Indoors or outdoors? Does your neighborhood allow RV parking? Do you need a permit?  
Most RV owners have special RV insurance. In fact, it's required if you finance your vehicle. It works much like homeowner's insurance but also includes campsite and vacation coverage as well as emergency, breakdown and towing expenses.  
RVs may offer a tax benefit. Because they have a bathroom and a bedroom, they can be considered a second home, making the interest on loan payments deductible. 
There's a significant learning curve that comes with operating and maintaining an RV. (Those water lines and sewer lines don't empty themselves.) Dealerships will show new buyers what they need to know.  
Harper recommends a test run closer to home before venturing out across the country. If necessary, spend the night on the dealership lot. He advises, "Once you're sure everything works — electric, water hose, sewer hose, chemicals — you can leave here and go straight to a campsite."
Trendsetting RVs and towables from Dave's RV
---
RV 101 from Brenda Puckett
RVs you drive
Class A: Some of the largest with plenty of storage, places to sleep, comforts of home like bathroom and a kitchen with all of the appliances
Shape and size: Looks boxy in shape like a bus, as small as 20 feet and upwards of 45 feet in length
Fuel: Diesel or gas; poor fuel economy
Perks: Favorite of full-timers; despite its size, usually do not need commercial license in most states
Price range: New models can be $100,000-$1 million, with the majority between $100,000-$300,000. Used can be under $100,000.
Class B: Might have a toilet and shower and fresh water tank, but not always; sometimes called sleepervan or campervan
Shape and size: Smallest of the motorized, usually 17-19 feet
Fuel: Diesel or gas; better fuel economy
Perks: Limitations on space for storage and sleeping, but can be parked just about anywhere; two people fit well
Price range: $75,000-$300,000 for new models; used Class Bs can be as low $50,000
Class C: The midsize of motorized, can fit more gear and people than the Class B
Shape and size: Identifiable by the overhang above the cab/driver area that is typically a bed or storage, some are compact and some can be as long as a small Class A or 20-31 feet in length
Fuel: Gas or diesel; not the best fuel economy, but better than Class A
Perks: Great for family vacation, might not be able to park wherever you want like a Class B
Price range: $80,000-$150,000 for new; $50,000-$100,000 for used
RVs you tow 
Travel trailer: Sometimes called a bumper pull because you tow behind your truck or SUV, it requires a special hitch and vehicle must be equipped with a towing package. Most come with bathrooms and kitchens, but not all.
Price range: $15,000-$50,000 for new; $10,000-$40,000 for used
Fifth wheel: Largest of the towables and very heavy, needs a special hitch in the bed of the truck to tow; very nice amenities and spacious interiors.
Price range: $50,000-$150,000 for new; $25,000-75,000 for used
Toy hauler:

Travel trailer or fifth wheel with its own "garage" to allow RVers to bring the ATV, motorcycles, golf cart and some have their own gas pump to bring extra fuel along for the "toys."

Price range: $50,000-$100,000 for new; $25,000-$75,000 for used
Pop-up or folding trailer: Compact and lightweight with canvas-sided walls that need to be raised and lowered for use; inexpensive; some have kitchens, bathrooms.
Price range: $10,000-$50,000 for new; $5,000-$15,000 for used
Truck camper: Fits on the bed of a pickup truck; small interiors, but surprisingly nice features, including kitchens and bathrooms — especially the new ones.
Price range: $15,000-$75,000 for both new and used
Puckett says prices can be much lower and much higher than those mentioned and factors include length, weight, age, condition, mileage.