Local artist Sara Bost Fisher isn't afraid of color. Neither is one of her clients, whom she worked with to create a one-of-a-kind custom mural for their dining room in spring 2019. After arriving at the bold pink hue, Fisher took a week to complete the project. "I think the end product really turned out great," she says.
Custom artwork is just one facet of Fisher's business, which she started nearly 10 years ago.
"I don't take myself too seriously," she says. "I just like to have fun. I think my pieces evoke happiness." Her signature style is colorful, whimsical and abstract and utilizes mixed media.
"Every once in a while I go on these dessert tangents — because I love dessert," she says. Her first series featuring cakes, pies, cupcakes and ice cream quickly sold out, adding doughnuts and various novelties over the years.
"I did a series in 2018 and painted a bunch of desserts on Whole Foods bags," Fisher says, noting how much she loved the textured result of the pieces. The series exhibited at Tulsa's Orth Contemporary in November 2018.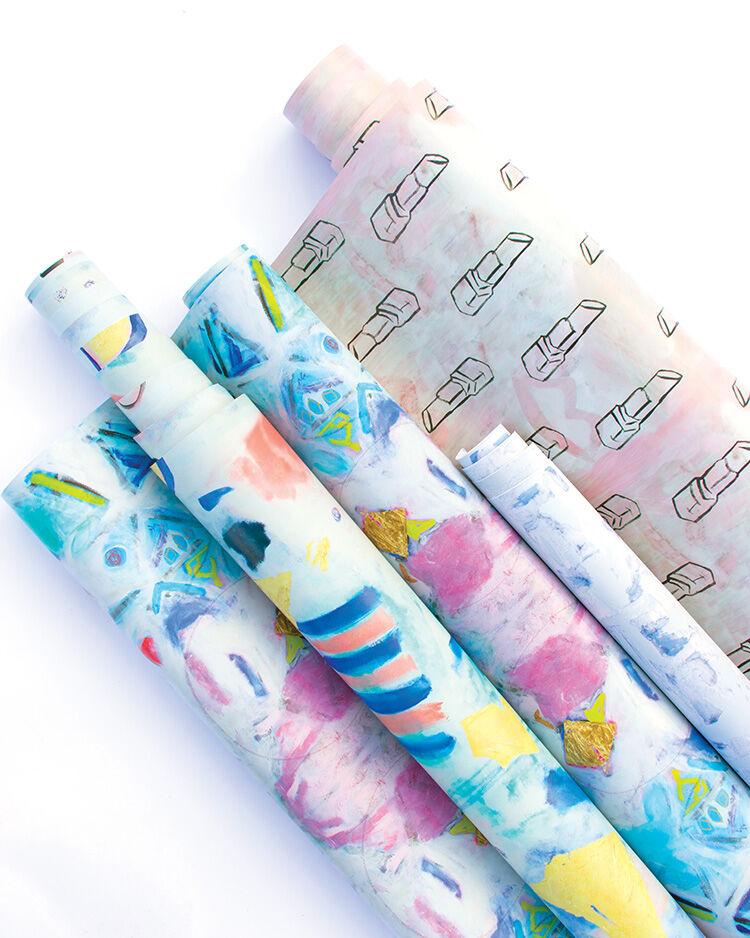 Over the years, her line has evolved to include wrapping paper, fabrics, luxury wallcoverings, home accessories like acrylic trays and pillows, as well as seasonal decor such as ceramic ornaments and glass bulbs. She often works with homeowners and interior designers on commissioned work. 
This year, COVID-19 brought forth a new venture into handmade and embroidered masks. "That has really been keeping me busy," Fisher says. 
In early January, Fisher exhibited at the Dallas gift market. This year, she says she has some exciting things in the works, including additions to her fabric and paper options.
"I never would have expected 10 years ago that now I would be exhibiting at market and selling wholesale, but it's been a really, really exciting ride."
---
Purchase work or inquire about commission pieces at sarabostfisherart.com.