At a time when businesses are struggling to fill any number of staff positions, these six retailers will never have to worry about greeter turnover. 
They rely on lazy felines, frisky pups and a squawking bird to make browsers feel welcome — and these shop pets bring back more repeat customers than any merchandise in the inventories. 
Bella, the Golden Retriever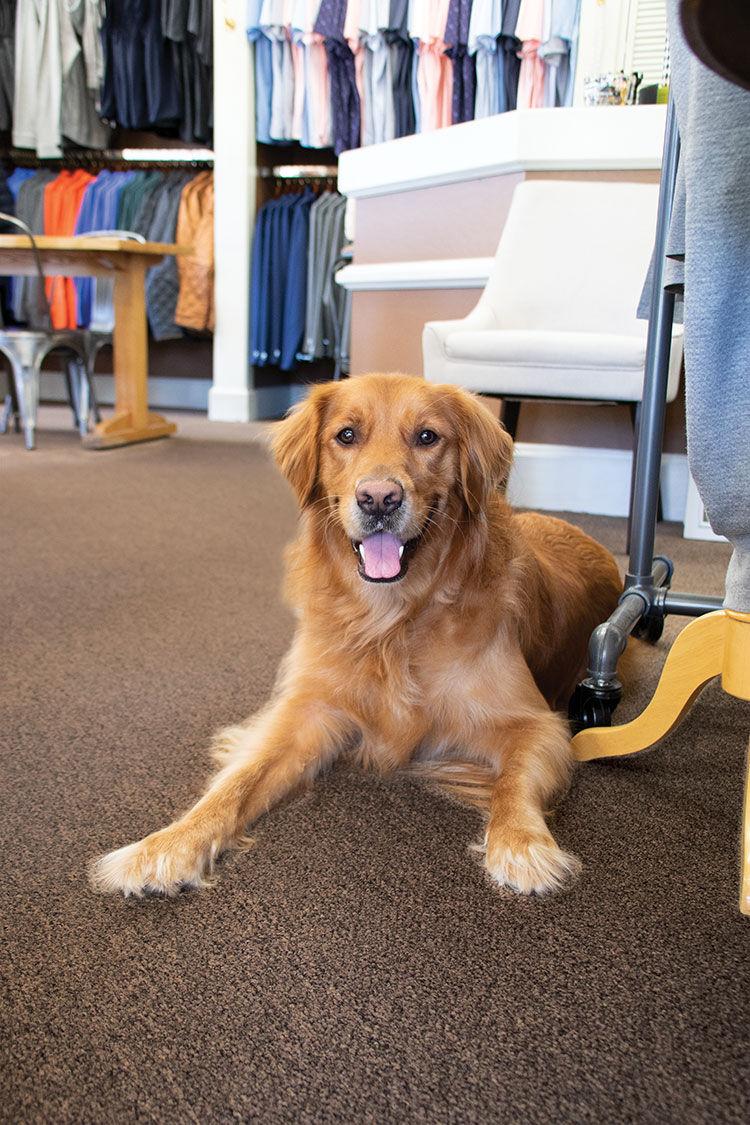 When you're the second-generation shop pet, like Bella Blue Blazer at Travers Mahan Apparel, following in earlier pawsteps can be a challenge.
Like Dusty's. After 13 years as the shop dog at the south Tulsa storefront, Dusty had quite a following, ranging from customers who would bring her toys to mail carriers who would deliver treats as she aged.
At 3, Bella is still developing her fan base. Certain puppy tendencies — like getting overexcited — mean she spends time in the back room until she calms down. "She doesn't mingle a lot. She's still 40% puppy," says Travers Mahan, who owns the shop with his wife, Laurie. But Bella knows that, as part of a family business, she has to do her part. In this case, she greets customers.
It helps that Bella loves people, especially children. She also shares a love/hate relationship with Pepper, the family cat and her real-life toy for chasing at home.
"They're fine if Bella doesn't try to lick Pepper," Laurie says. Bella will always be the only shop pet in the family because who wants cat hair around a men's clothing store?
Travers is the disciplinarian of the apparel couple, who have owned three Golden Retrievers over the years. "They're inseparable," says Laurie of her husband and shop pup. Bella loves a good game of tennis-ball throwing, chasing squirrels, hunting backyard bunnies and relishes her day off at the lake once a week.
"She's basically under my thumb," Travers says. He's her consistent guy. "That's why she loves me," he jokes. "She knows my boundaries. When my voice raises or gets deeper, she realizes she's in a little hot water."
"I see glimmers of hope in there that she'll survive (the role of shop dog)," he says. Their former shop dog was smart and compliant. "She's just as smart, but not quite as compliant," Travers says. 
Tater, the flame point Siamese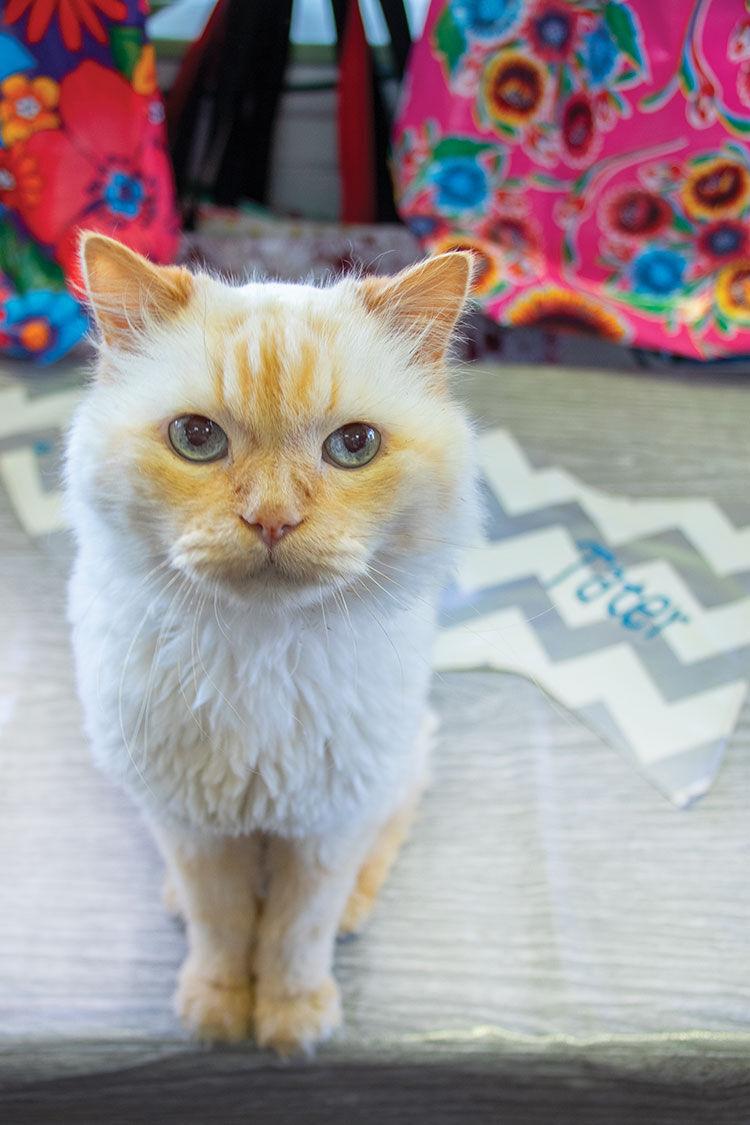 No one working at Tatermash Oilcloth is allergic to cats. Because, for the past 12 years, the main tenant of the store has been Tater the shop cat.
Tater, who got his name not from the name of the store but because he looks like a tater tot, is super chill and lies on his mat or in his basket to socialize. "People come to see him who aren't buying anything at the shop," says Lori Alison, shop owner.
She calls him a great relationship builder. "He's not a playful cat, so we don't have toys," Alison says. But treats are always on the menu. Customers bring him cans of tuna or salmon. A police officer who also has cats regularly brings a treat for Tater. 
Alison's relationship with the cat wasn't even close to love at first sight. She and her daughter picked out Tater. Sort of. There were six to choose from, those got narrowed down to two, and someone adopted the other one, so Tater was theirs. By default. By process of elimination. "He was just big and chill. All the others were pawing us. He didn't even get up. He had more of a 'whatever' attitude," she says.
Tater lives at the shop full time, not with Alison. Too much angst when he's at her house, and he doesn't like the car, except to go to the groomer. On long weekends, someone comes in to feed him.
Tater's breed usually lives 20 to 22 years, some as long as 25. Either way, Tater has passed middle age. This big fluffy round cat also is the ultimate in low maintenance. "Just a litter box and food and he's fine," Alison says. 
Regular customers have kids who have grown up with Tater. Two 5-year-olds lie on the floor with him. He's OK with dogs coming into the store. One customer brought in two service dogs in training to meet Tater so they could get used to cats.
"He's more like a dog. Even people who don't like cats like Tater," Alison claims. She sees him as something of a Matthew McConaughey type. Someone chill. Someone who's thinking, "Alright, alright, alright."
Charlie, the dog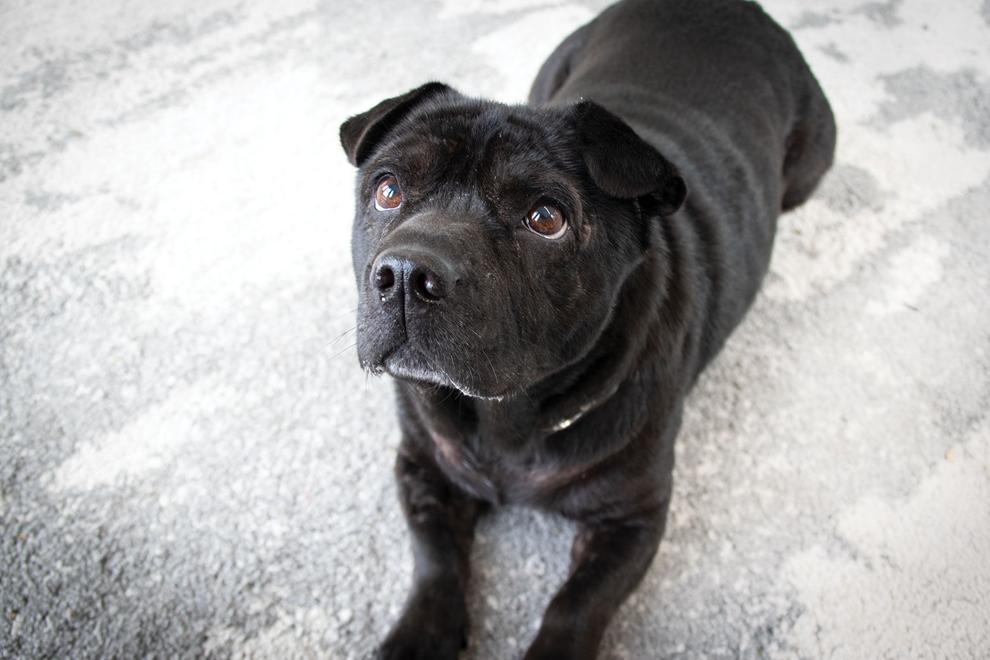 Charlie works half days. "She's my dog, my little shadow," says Trent Morrow, co-owner of Ziegler Art and Frame.
He adopted Charlie as a puppy. He wasn't thinking he was ready for a dog until he saw her on Facebook. "She's the biggest sweetheart," he says of her now. 
Charlie was something of a wild child as a puppy. "By the time she was 3 or 4, she started behaving well enough to come to work," he recalls. She knows Rule One of being at work: Treat the customers with respect. "She's our greeter, and the customer reaction is pretty awesome."
Charlie's at the shop in the mornings, "which leaves her free to sleep the afternoon away at home," Morrow says. She doesn't sleep much at work. Sometimes in a bed under his desk. "Her eyes droop, her face droops, but she doesn't want to miss any of the action."
Charlie isn't one to play fetch, but she does love a good chase around the store. Chase and be chased. "She can cut under tables and ditch us insanely fast," according to Morrow. At 9 years old, "Charlie's chases are a little slower and in shorter bursts, but she's still great for morale."
She makes everyone feel better. "If every place had a shop dog, the world would be a better place," Morrow says.
Several businesses in the Kendall Whittier area also have shop pets. Two years ago KW Main Street published the "K9s of the KDub" calendar, featuring dogs from neighborhood shops. The calendar marks a return for 2022. Check local KW businesses for prices and where to purchase one.
Sinbad, the parrot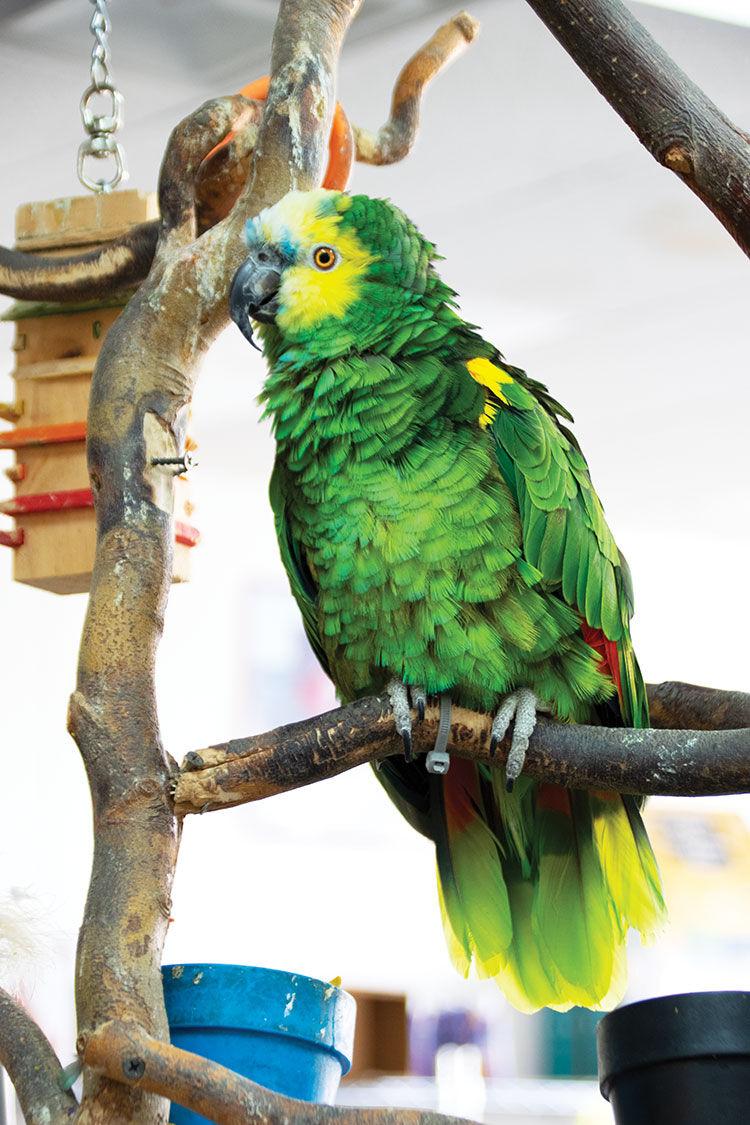 When Sherry Brown arrives at her part-time job at 7:30 a.m. and hears a loud "Get to work," it's not her boss yelling at her, but Sinbad, the 42-year-old Blue-Fronted Amazon parrot who has been a fixture at Harvard Liquors for the past 30 years.
Considering the lifespan of parrot, similar to humans at 70-plus, Sinbad could extend his greeting career another 30 years. And because they often outlive their owners (in this case, store owner Danny Johnson), parrots are frequently bequeathed in wills. 
Sinbad can say other sentences ("Where'd you go?") and mimic the security system alarm that sounds like a vintage arcade game. His habitat looks like a cat village, but with tree branches, a swing, ladder, platform, toys and a bell he rings when he wants a treat.
A year ago, Sinbad's partner of 26 years, an African Grey parrot named Kramer, died from anxiety during a thunderstorm. "He mourned her by molting and picking at his feathers," Brown says. 
At about the same time, a black and white Great Dane puppy named Daisy Mae entered Sinbad's shop-pet world, although she just spends days there, not nights. She and Sinbad share a love of ballpark peanuts. Sinbad pecks through the shell to get to the treasure nut, while Daisy Mae pops them whole. 
Brown plans to add a marmoset to the menagerie at the next exotic pet auction in Inola, Oklahoma. The event also features lemurs, larger monkeys, giraffes, llamas and kangaroos. Hers will come to the store with her but won't roam free. Might look too much like an appetizer to Daisy Mae.
Rosie, the goldendoodle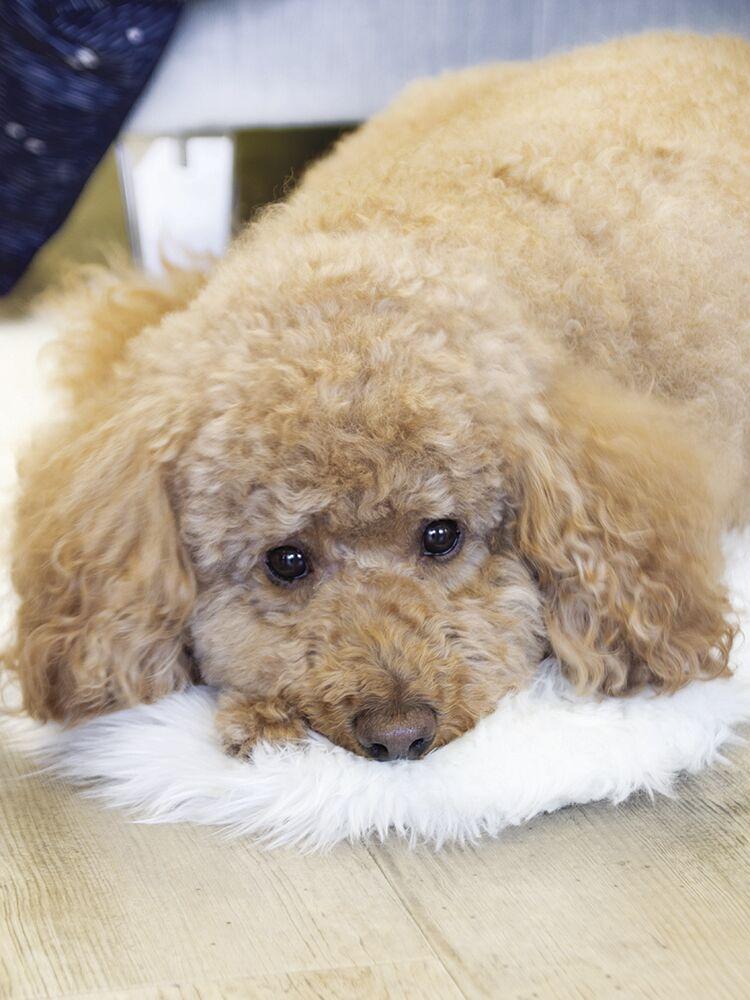 Technically Rosie belongs to Kitina Bartovick's daughter Maria. For years, Maria had asked for her own dog for Christmas (Sam, the family dog, belonged to everyone). One year, the only thing on her Christmas list was a dog. That's when they found Rosie.
But for business purposes Rosie belongs to Bartovick, who is half of the mother-daughter duo with Cristina Woods, that runs the Dolphin Fine Linens. So Rosie is Kitina's granddog and Cristina's great granddog. 
Rosie had a memorable beginning. Friends with two goldendoodles were hosting a dinner party when there was something of a ruckus under the tablecloth. Guests interrupted the family's two doodles in an amorous moment. The pups decided to mate, then and there. And so, with an audience of many, Rosie and her siblings were conceived. Oodles of Doodles.
"She doesn't have papers. She's just Rosie," Bartovick says. Rosie is the third shop dog at the Dolphin.
At home she'll run after anyone. But at the shop, she won't leave the door. In her Cuban accent Woods says, "That girl … she knows where she's got it good."
Rosie's days off are Thursdays and Saturdays. On the other days, she won't eat breakfast at home because she knows she'll eat all day at the store. All sorts of people come to see her, from the banker to the UPS guy, to customers in general.
"She makes everyone feel so happy," Bartovick says. Having Rosie at the store also gives her the opportunity to see people around Utica Square while they're out for walks. "We are a little community," she says of her fellow merchants and their customers. 
Ozzie, the tabby cat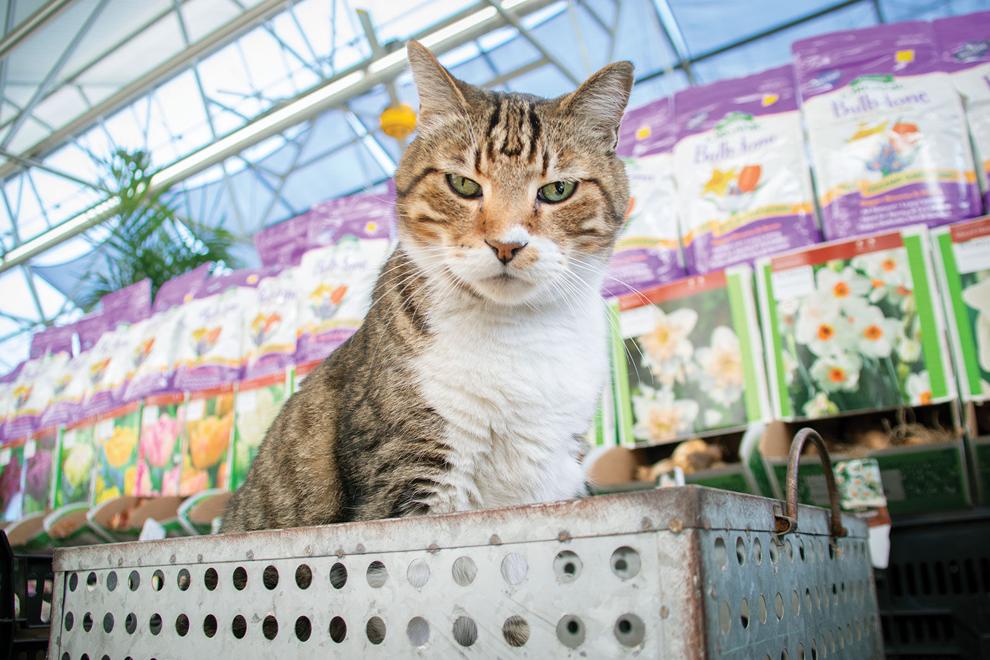 Ozzie is the only cat at Southwood Landscape and Garden Center with its own Instagram account. Anyone can follow @ozzieinthegardencenter to see the escapades of this feline around the greenhouses and sales floor. Or just drop in.
Ozzie was born in 2007 in Southwood's plant growing facility. By 2008, someone had the idea to bring him to the nursery, which he's called home ever since.
When COVID-19 hit and it looked like Southwood would have to close, Emily Grigg, the nursery's bedding plant section leader, took him home with her. There, Ozzie took a couple of swipes at her dog. Luckily, Southwood was allowed to stay open during lockdown, so Ozzie was returned to the nursery and Grigg's dog continued to live in peace. 
Ozzie loves customers. Some customers. Not toddler types, or most kids under 12. "He hightails it outta there when small children approach him," says Grigg, Ozzie's primary care provider at the nursery. He meets her in the parking lot in the morning.
He's not crazy about dogs either. When customers come in with their pooches, "Ozzie finds higher ground," Grigg says.
His favorite places vary. On hot days he's near air conditioning. On cold days, he can be found snuggling on whatever jacket someone has removed. It's not unusual to find him asleep in a pot, which has known to scare customers who don't expect their planter contents to move.
By cat standards, Ozzie is huge. And considered middle aged. With that comes the usual maladies, like heart issues, which means his meds have to be hidden in his food.
Ozzie has no loyalty when it comes to food. He's demanding — meaning that whoever arrives first in the morning has to feed Ozzie. He'll attack their ankles until they do.
"I have blonde hair. He likes blondes," Grigg says. "He associates blonde hair with being fed."