Driving the interstates of Kansas to get to the big cities of Wichita, Topeka and Kansas City can give the motorist misconceptions about the geography of Oklahoma's neighbor to the north. Travel off the beaten path to explore some unexpected geologic formations that makes one think Kansas isn't so flat after all.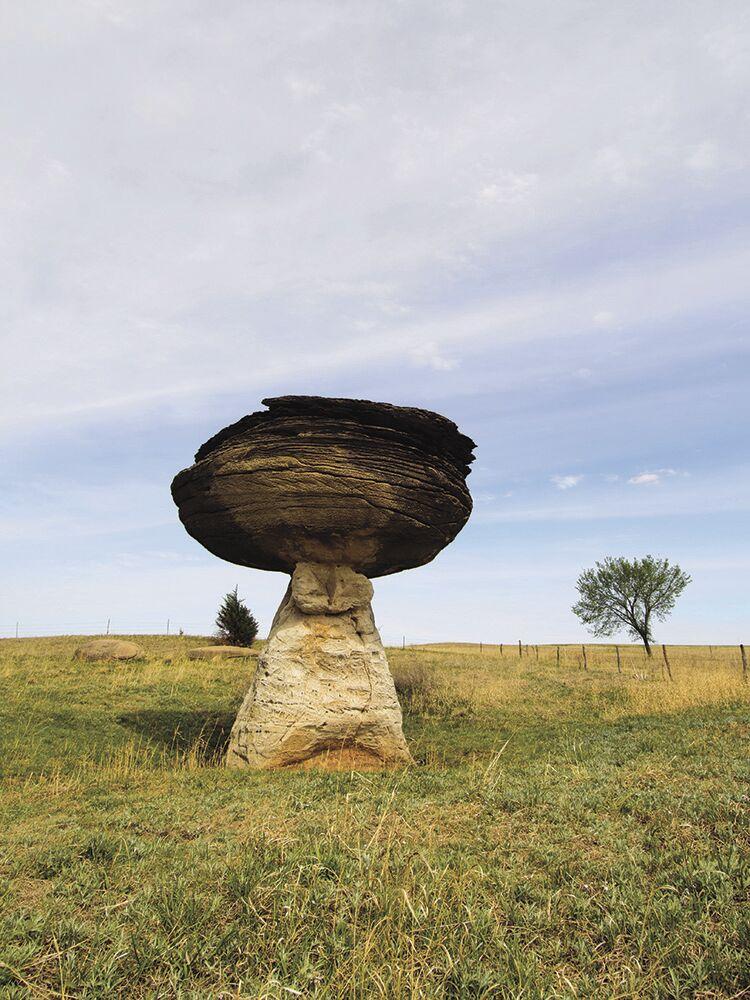 In central Kansas sits Mushroom Rock State Park, the smallest unit of the state park system situated about 30 minutes west of Salina near Highway 140. Considered one of the eight wonders of Kansas geography, the park gets its name from the fungus-shaped rock formations, some measuring almost 30-feet wide, that date to the Cretaceous Period. The Dakota sandstone caps withstood millennia of weathering to create the top of the hoodoo (a tower of rock). Many stop at the 5-acre park as they travel the Prairie Trail Scenic Byway, an 80-mile route that cuts through northcentral Kansas. 
Tourists might find the Swedish charm of Lindsborg worthy of a pitstop. Located on the Byway and about 30 miles from Mushroom State Park, the town's quaint Main Street draws visitors to the various acclaimed art galleries that call the town home. Nearby Coronado Heights, a 1930s Works Progress Administration project built from Dakota sandstone, provides far-reaching views of the Smoky Hill River Valley. 
Mixed among the shortgrass prairie, a collection of chalk monoliths and buttes arise from the western Kansas landscape. Monument Rocks, also known as the Chalk Pyramids, is located just south of Interstate 70 in the Kansas badlands, which were formed from water flowing through the Smoky Hill River Valley. Visitors can drive right up to Monument Rocks. The site is located on private property, but its owners allow visitor access during daylight hours. The entire area is rich with fossils. Numerous sites and museums are scattered throughout the area and provide in-depth knowledge of the region's geologic history. 
Just east of Monument Rocks, in nearby Oakley, Little Jerusalem Badlands State Park contains more than 330 acres and features a mile-long stretch of chalk spires and cliffs. The park was established in 2018, but has been preserved for several years by the Nature Conservancy. 
Similar to Monument Rocks,Castle Rock is a nearby monolith formed from chalk deposits and sits alone in the prairie.