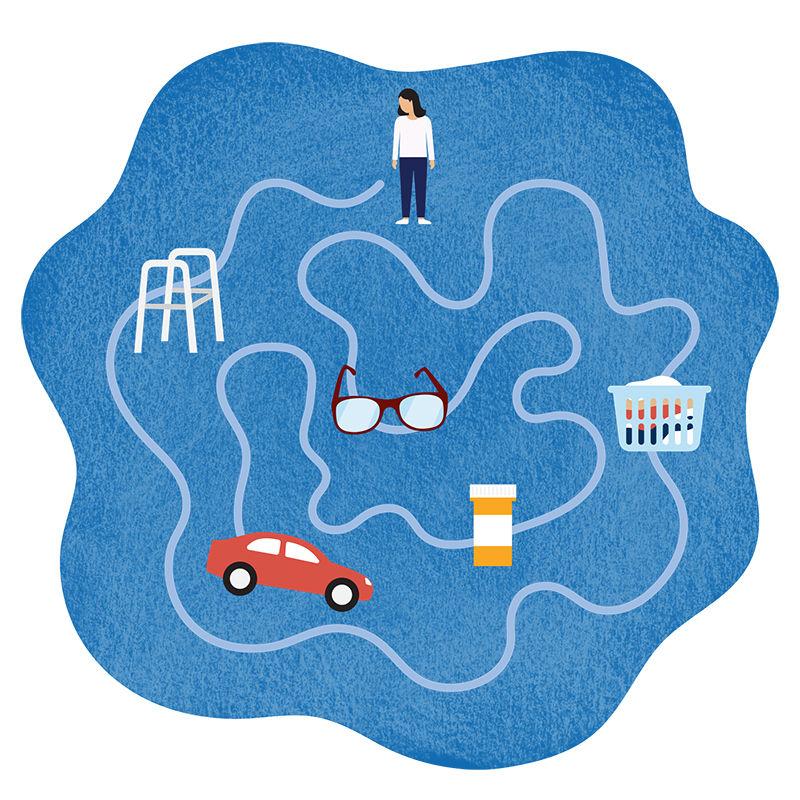 One of the most challenging times in life comes with the realization that an aging parent needs more care than you can give.
The options are overwhelming. Which is best for your parent: in-home services, independent or assisted living, or nursing care? And who makes the decision?
"The decision is typically made by the adult children, the parent and the doctor," says Chelsea Edwards, supervisor of the SeniorLink program at LIFE Senior Services. "Doctors often give recommendations because they know your parent's needs."
In Tulsa, there is an abundance of resources to help navigate the maze of choices, select the needed level of care and ensure insurance is in place to pay for it.
LIFE provides comprehensive and personal consultations on choosing a care option and the right place for your loved one.
"A lot of times people call and say, 'Where do we start?'" Edwards says. "That is when we say, 'We've got you.' We're going to get in there and work for you as if they were our own parent or grandparent."
Many adult children who call LIFE's Senior Line admit they fear beginning the discussion with their parent about a change in living situation.
"The conversation isn't always an easy one," Edwards says. "We have resources to help adult children broach the subject with their loved one. And we can be a third-party to help guide the conversation."
Many adult children have taken on caregiver duties themselves, but eventually recognize they can't do it anymore.
More than 524,000 Oklahomans care for older parents, spouses and other loved ones. They provide 488 million hours of unpaid care valued at $6 billion each year, says Joy McGill, associate state director of community outreach for AARP Oklahoma.
Caregivers often fall ill themselves due to the stress. And the relationship with their parent might suffer.
"One of our main goals is to get that caregiver back to feeling like a son or daughter," Edwards says. "When you take care of a parent around the clock, the relationship changes. We want to help the family be a family again."
Care options
There are three primary levels of care: in-home services, assisted living and nursing facilities. The least restrictive, cheapest and most popular option among seniors is care in the home.
In-home care is typically for people who are relatively independent but need a little extra help to live in their own home. In-home services can range from round-the-clock care to a once-a-week visit.
AARP's HomeFit program is a rich source of in-depth information about home modifications that can help people stay at home as long as possible, McGill says.
"We have some fantastic resources for people to consider what this looks like before they make the leap to moving from their own homes," she says.
LIFE Senior Services offers an all-inclusive in-home care program called PACE (Program of All-Inclusive Care for the Elderly) in Tulsa. It's one of three PACE locations in Oklahoma; Oklahoma City and Tahlequah also have PACE programs.
PACE is funded through Oklahoma's Medicaid program as well as through Medicare, for people 65 years of age and older.
"This program was created to keep people independent and living safely in their homes, as opposed to nursing homes," says Samantha Blue, senior director of Tulsa's PACE program.
Clients have constant access to physicians, nurses, social workers, physical therapy, dietitians, adult day care and transportation.
Medications, which are delivered to their homes, and medical services have no co-pay or deductible.
The program also provides clients help with light housekeeping, running errands, laundry and assisting with bathing.
An interdisciplinary team meets daily to discuss each participant's plan of care.
"The great thing about PACE is we know all of our clients well. It's the best plan out there for senior adults," says Mike Fogle, chief operating officer of LIFE Senior Services. "And it saves the state millions of dollars each year. I see this as the future of Medicare."
Assisted living and nursing homes are the right fit for many older adults. Clients in assisted living facilities receive medical care, as well as help with activities of daily living. Nursing homes provide clients comprehensive bedded care around the clock.
"In the Tulsa area, we are really blessed," says Carol Carter, LIFE community affairs manager. "We have so many options and so much help. And all of us in the nonprofit world collaborate and work together to ensure our seniors are safe and have the care they need."
Types of housing
There are three primary levels of senior housing: independent, assisted living and nursing facilities.
Independent housing is typically for older adults who can still care for themselves, but are downsizing or wanting to get away from the hassles of home maintenance. Many independent housing communities offer meal plans and housekeeping services. They also provide opportunities for new friendships, activities and socialization.
Assisted living residents benefit from nutritious meals, nursing services, planned activities and help with some activities of daily living. They also can receive housekeeping and linen services, medication management and transportation. Some assisted living facilities also provide specialized memory care.
Nursing facilities provide 24-hour medical and nursing care for adults who are unable to provide basic care for themselves. Other services may include memory care, rehabilitation or restorative therapies, and ventilator care.
Source: LIFE Senior Services