With what appears to be the wave of a candy cane wand and the sprinkling of glitter, Breniss O'Neal's home becomes a beacon of holiday festivity with 11 Christmas trees, dozens of elven mice, twinkling lights and shimmering snowflakes.
"I do it because I love it, and I enjoy sharing it with people," O'Neal says. "I want people to walk through that front door and say, 'I'm in a winter wonderland.'"
For Brenda Lloyd-Jones, nothing says the holidays more than hosting parties in her home decorated with her collections of nearly 50 angels and 75 Santas. Welcoming friends and family into her home is a tradition she learned from her parents. "When I entertain, I want everyone to feel included," she says. "I want people to feel as if they are home."
As we move on from Thanksgiving and into Christmas, these Tulsa hostesses have provided some of their tried-and-true tips for holiday decorating and hosting.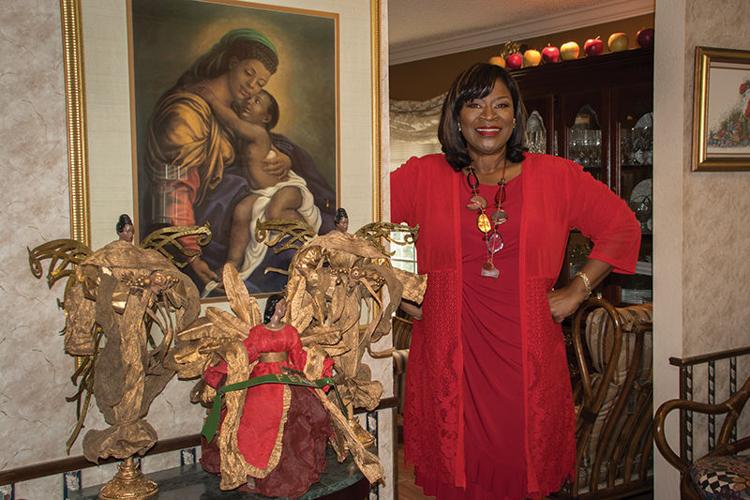 Guests lists don't have to have a single origin.
Invite a mix of people from work, worship and the neighborhood. "A variety of people adds to the excitement," according to Lloyd-Jones.
It's about more than food.
"While everyone typically spends time on menus, think about what types of interaction you can create," says Lloyd-Jones, whose parties typically feature ice breakers or trivia matches for some friendly competition. She'll set aside a prize, such as an ornament, for the winning team. "I love the laughter," she says.
Enjoy yourself.
Hire someone to ensure there is plenty of food and it's ready when you want to eat it, plus help when it's time for clean-up. "The worst thing to do is to have a party and not enjoy your guests," O'Neal says.
Decorating doesn't have to be extreme.
Simple flairs can add a splash of holiday to any scene. By topping a hanging picture with silk poinsettia sprigs, Lloyd-Jones adds seasonal charm to a piece of art on display year-round.
She turns an everyday item like a chandelier into a feast for the eyes by hanging ornaments from its arms and chain.
O'Neal embellishes dollar store felt snowflakes meant to be placemats with silver glitter glue. She finds items at estate sales and garage sales, then jazzes them up or breaks them down to fit her needs. "With a hot glue gun you can do a million things," she says.
Embellishments are key.
Once you have decorated your setting, back up and take a good look at the vignette. O'Neal then asks herself, "What's missing? Are there holes?"
That's when you embellish. She'll add marabou around candles in the living room, use fresh flower picks in a tablescape, add some jingle bells to a Mrs. Claus or string tinsel garland around the ornaments of one particular tree. "Those embellishments help naturalize the decorations into the space, rather than having them look like they were just plopped down," she says.
Remember foreground, middle ground and background. Create the illusion of depth. "If you just lined it all up, it would be boring," O'Neal says.
Keep them moving.
O'Neal says, "I encourage people to sit and experience the fun and embrace the holiday," but then move around to another room or sitting area. She encourages this movement by adding multiple vignettes in a room.