Road trips are a summer must, especially in light of our spring under quarantine. We've compiled some of our favorite destinations, attractions and must-see sites in Oklahoma and the surrounding states.
---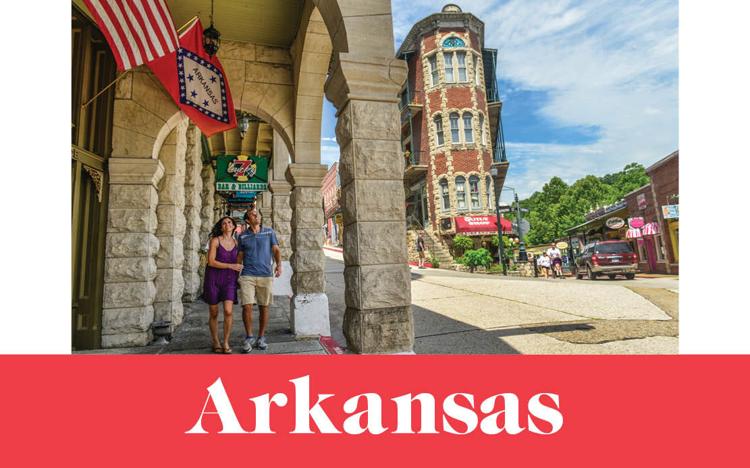 Ahh, Arkansas. Just hop in the car and head east. A short hour and 30 minutes outside of Tulsa, you'll enter the Natural State, home of winding roads, scenic overlooks and abundant wildlife. But Arkansas isn't all lush landscapes; it's also a great spot for history buffs and those in need of some out-of-town relaxation or "retail therapy."
Attractions
1. Bathhouse Row, Hot Springs
Nestled in the Ouachita Mountains, Hot Springs has drawn visitors to its spring water since the mid-1800s. Multiple spas along "Bathhouse Row" still offer relaxing private soaks and other treatments sprinkled between hotels, local shops and restaurants.
2. Little Rock Central High School, Little Rock
A National Historic Site Visitor's Center, 2120 W. Daisy L. Gatson Bates Drive, marks the school's role in desegregation with interactive exhibits that tell the story of the "Little Rock Nine": the first nine black students to enter the previously all-white school in September 1957. Surrounded by protesters, the students were protected by the Arkansas National Guard by order of President Dwight D. Eisenhower.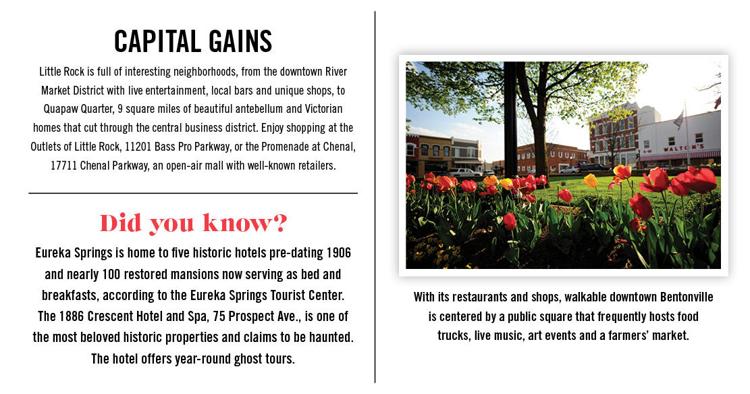 3. Scott Family Amazeum, Bentonville
A hit for young families, the Amazeum, 1009 Museum Way, specializes in hands-on play and science-based programming. One acre of outdoor space lets kids get messy with water and sand.
4. Crystal Bridges Museum of American Art, Bentonville
Opened in 2011 at 600 Museum Way, Crystal Bridges boasts a permanent collection of American masterworks paired with temporary exhibitions celebrating the power of art and architecture. Sculpture and walking trails link the museum's 120-acre park to downtown Bentonville, where patrons can also visit the Momentary. The satellite site showcases contemporary art forms and hosts events.
5. Crater of Diamonds State Park, Murfreesboro
One of the only diamond-bearing sites in the world open to the public, the park located at 209 State Park Road is a 37-acre plowed field on the surface of a volcanic crater. Search for variety of rocks, minerals, and gemstones — any you find are yours to keep. The largest diamond found there was 40.23 carats in 1924; the most recent notable find was 3.03 carats in 1990.
---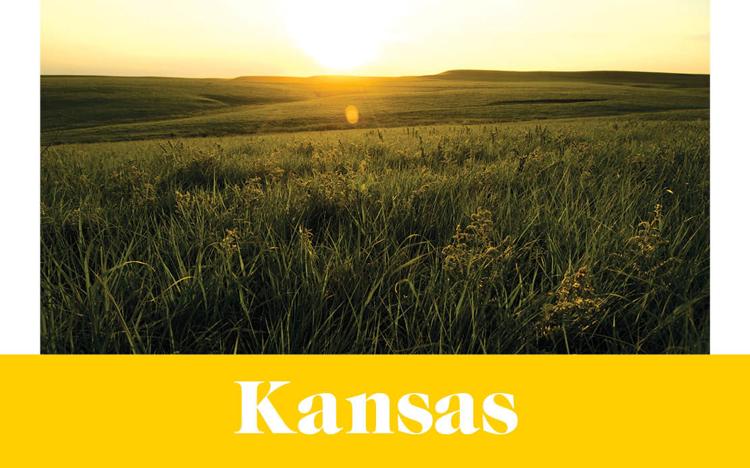 Our neighbor to the north has a lot to offer. Between energetic college towns with healthy live music scenes like Manhattan and Lawrence, operating ranches open for visits, museums, hiking and more, there is plenty to do. A quick getaway to Kansas might be just what the doctor ordered.
Attractions
1. Evel Knievel Museum at Historic Harley-Davidson, Topeka
You might notice the huge billboards advertising the Evel Knievel Museum on your way, and it is a hot destination. The museum, 2047 S.W. Topeka Blvd., displays genuine artifacts that once belonged to the death-defying daredevil himself. The two-story museum features motorcycles, Knievel's genuine leathers and helmets, and interactive exhibits like a virtual reality 4-D jump experience.
2. Flint Hills Discovery Center, Manhattan
More than 10,000 square feet of interactive exhibits and displays make up this center at 315 S. Third St. dedicated to teaching and exploring the tallgrass prairie of the Flint Hills region. All five senses will be engaged in the Horizon Ranch Flint Hills Immersive Experience Theater, a 15-minute presentation shown throughout the day.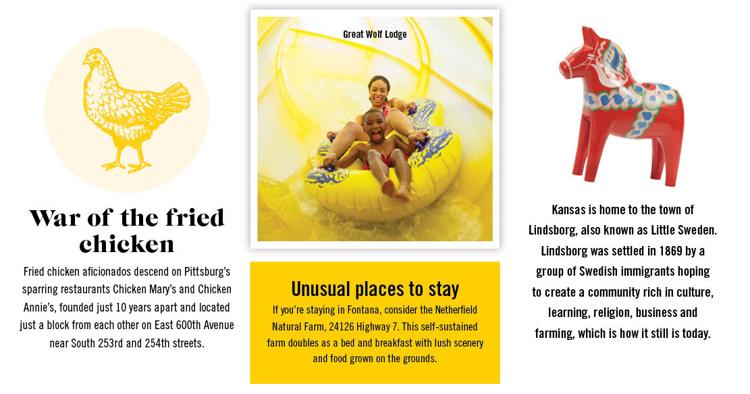 3. Strataca, Hutchinson
This museum, 3650 E. Avenue G, will take you 650 feet underground to see a raw mine as it was left more than 50 years ago on the Salt Mine Express. The salt in the mine was formed by salt deposits from the Permian Sea long ago.
4. Lake Shawnee, Topeka
Fishing, kayaks, picnics, paddle boats, swimming, cycling: The possibilities are endless at the beautiful Lake Shawnee, 3137 S.E. 29th St. The lake has amenities like sand volleyball and tennis courts, golf courses, a swimming beach with a water slide, playgrounds, marinas and plenty of places to kick back and get outside.
5. Great Wolf Lodge, Kansas City
Near the border of Kansas and Missouri on the Kansas side of Kansas City, Great Wolf Lodge, 10401 Cabela Drive, is a one-of-a-kind hotel. There are more than enough activities to occupy your kiddos, such as nightly storytimes, numerous character shows and the impressive indoor water park. There also is rest and relaxation aplenty for the grown-ups like hot springs, restaurants and more.
---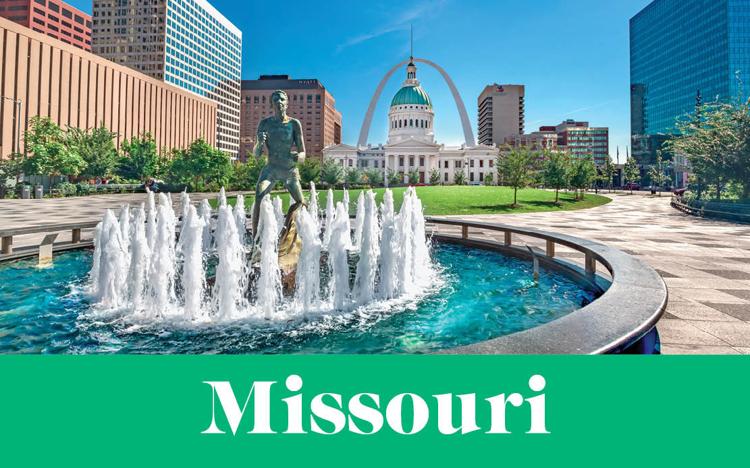 Freshwater rivers and tributaries flow abundantly in Missouri, shaping both the geography and the history of the state. As fur trade routes, the waterways turned the region into the gateway to the West. In the "Show-Me State," there is indeed a lot to see.
Attractions
1. National World War I Museum and Memorial, Kansas City
Learn about the Great War in this comprehensive experience detailing the events from 1914-1919. The site, located at 2 Memorial Drive, contains one of the largest collections of World War I artifacts in the world, and has won numerous accolades with its thought-provoking exhibits. Visitors can walk the open-air observation deck of of Liberty Memorial Tower, a 217-foot tall structure that oversees the grounds.
2. Kansas City barbecue, Kansas City
It's known nationwide for a reason. Try delectable, savory burnt ends with cheesy corn bake at Fiorella's Jack Stack, ranked No. 2 on Kansas City Magazine's list of 10 best barbecue spots. This third-generation family restaurant concept has grown to five locations. But you can go to almost any barbecue joint in KC and find burnt ends, so explore the city's menus to find the right place for you.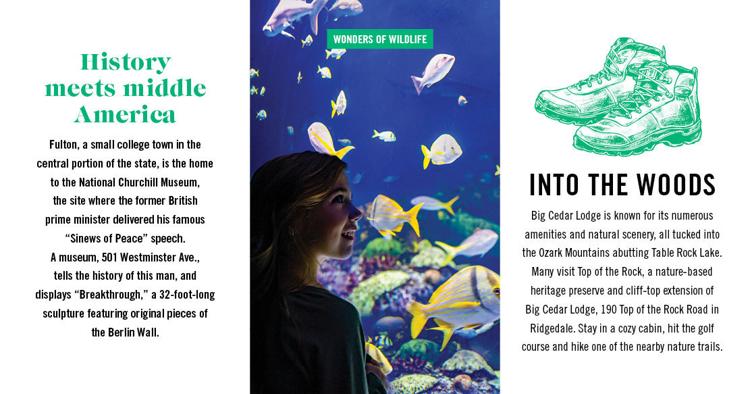 3. Johnny Morris' Wonders of Wildlife National Museum and Aquarium, Springfield
Less than three hours from Tulsa, this attraction boasts a 1.5-million-gallon Aquarium Adventure showcasing more than 35,000 live fish, mammals, amphibians and reptiles. The immersive wildlife galleries bring visitors eye-to-eye with a massive collection of record-setting game animals. When the new facility opened in 2017 at 500 W. Sunshine St., readers of USA Today voted it the Best New Attraction in the country.
4. Gateway Arch, St. Louis
Built from 1963-1965, the Gateway Arch represents the doorway to the West and the expansion of the United States with the Louisiana Purchase of 1803. The Arch honors President Thomas Jefferson, credited for the Louisiana Purchase, and is part of the Jefferson National Expansion Memorial, 11 N. Fourth St., which also includes the Old Courthouse, where the cases for Dred Scott, the enslaved black man who sued for his freedom, were held.
5. Uranus Fudge Factory, St. Robert
A road trip isn't complete without a wacky roadside attraction. This one, at 14400 State Highway Z, is an easy pitstop off I-44 for snacks, including handmade fudge and a huge candy selection; state-specific souvenirs; pictures with the "world's largest belt buckle"; and, of course, just to say you've been there. Every customer is greeted by every worker in the store with, "Welcome to Uranus!"
---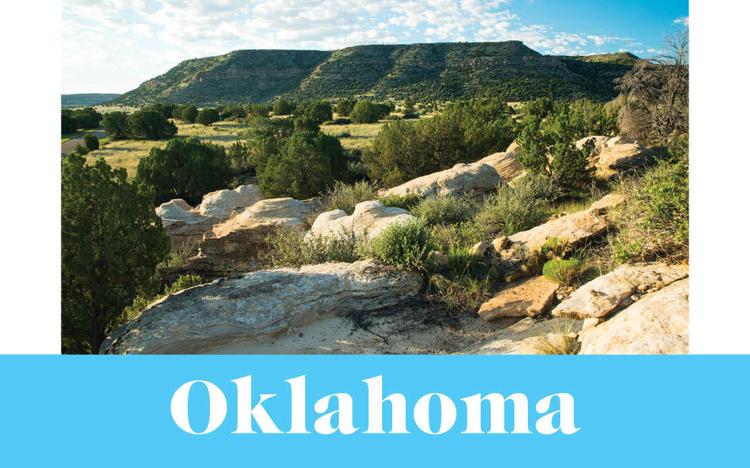 Yes, it's our home, but when was the last time we hit the road for a vacation in the Sooner State? The state can be divided into 10 different geographic regions, providing any vacationer with a trip to the mountains, the lake shore, the plains or the desert without crossing state lines.
Attractions
1. Route 66
The Sooner State boasts the longest drivable stretch of the Mother Road. Travelers can make pit stops at the famous Blue Whale and Round Barn, but also at attractions like Lucille's Service Station, Totem Pole Park or the Heart of Route 66 Auto Museum. Located in Sapulpa at 13 Sahoma Lake Road, this museum features rare cars, memorabilia and the world's tallest gas pump.
2. Marland Mansion, Ponca City
Originally built for oil tycoon E.W. Marland, the Palace on the Prairie was constructed from 1925-1928 at a cost of $5.5 million. Visitors can take a guided tour of the home and grounds, 901 Monument Road.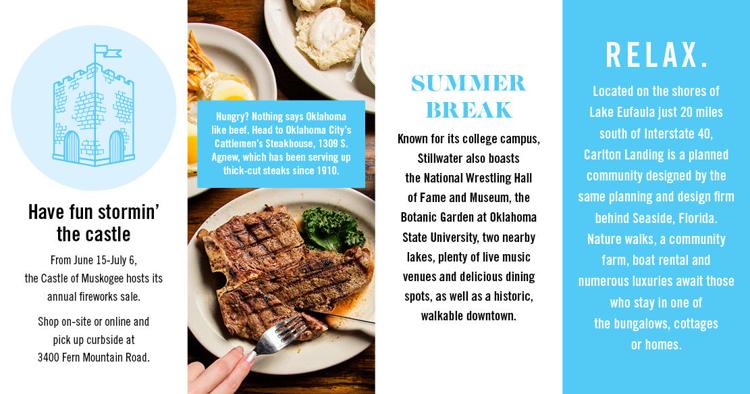 3. National Cowboy and Western Heritage Museum, Oklahoma City
During the recent pandemic, #HashtagTheCowboy gave us all some much-needed entertainment. But, seriously, this Oklahoma City institution, 1700 N.E. 63rd St., is home to a grand collection of Western art and artifacts. New this summer, Liichokoshkomo' (a Chickasaw phrase meaning "Let's play") is a hands-on, interactive learning space where visitors can learn about diverse cultures, play games, create art and make memories.
4. Wichita Mountains Wildlife Refuge, Lawton
More than 59,020 acres make up this attraction, which is home to numerous wildlife — including bison, elk and deer — and spectacular summer wildflower displays. The refuge has 30-plus miles of designated nature trails that take the visitor through forest, mountain and grassland ecoregions. Mount Scott, a 2,464-foot peak, has a paved road shared by motorists and hikers.
5. Talimena National Scenic Byway, southeastern Oklahoma
More than 50 miles of breathtaking vistas and winding mountain roads await motorists. Known for its fall color, the area is also a summer getaway enroute to area state parks like Beavers Bend and the Ouachita National Forest.
---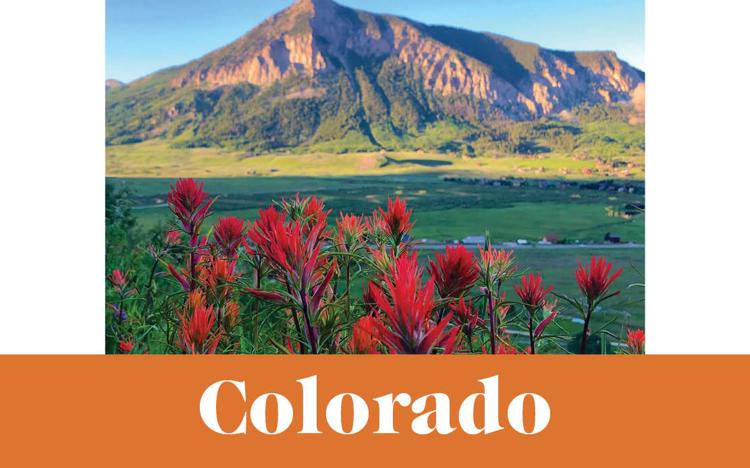 If the mountains are calling, a trip to Colorado fills the void. Nicknamed the Centennial State for its admission to the union the same year the U.S. turned 100, Colorado is home to diverse regions and some of the country's most beautiful scenery.
Attractions
1. Denver Art Museum, Denver
This world-renowned museum is a must for any visit to the Mile-High City. This summer "Norman Rockwell: Imagining Freedom" is on view through Aug. 23, while the the monumental "Natural Forces: Winslow Homer and Frederic Remington" wraps up June 7. The museum, 100 14th Ave. Parkway, is known for its stunning architecture and magnificent grounds.
2. The Million Dollar Highway, Durango to Ouray
Drive the 70 miles of U.S. 550 and see breathtaking scenery throughout the San Juan National Forest. Stop at an overlook near 10,910-foot Molas Pass before hitting Silverton and some mining ghost towns. Drive cautiously on the winding mountain highway, which sometimes lacks guardrails. You'll eventually arrive in Ouray, Colorado's little Switzerland, known for its waterfalls, hot springs and historic Main Street.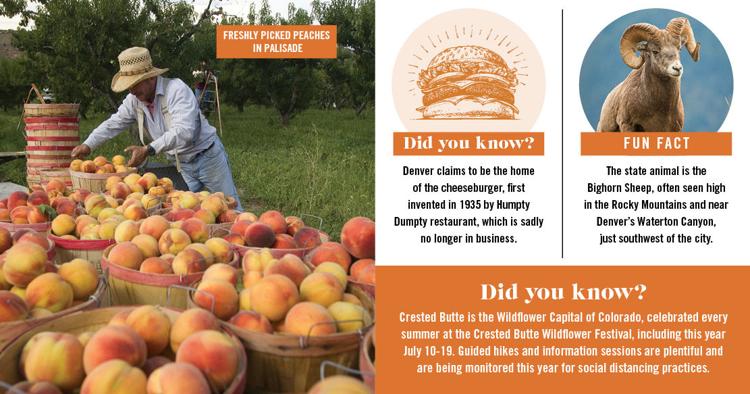 3. Pikes Peak and Garden of the Gods, near Colorado Springs
Known as "America's Mountain," Pikes Peak is one of Colorado's 58 mountains over 14,000 feet — a 14er. Hike or drive to the top for spectacular views. Nearby, Garden of the Gods is 1,367 acres of free outdoor activities. Hike, bike or ride horseback through its red sandstone formations and uplifts.
4. Palisade Peach Festival, Palisade
For more than 50 years, the farming community of Palisade, located just east of Grand Junction, has celebrated its most famous crop: peaches. Scheduled for Aug. 13-15, live music, kids' activities, contests and peach products are highlights of this annual event.
5. Mountain ski towns in summer
Sure, Vail, Aspen, Breckinridge and Telluride are popular in winter, but summer is just as good a time to visit. Ride the Forest Flyer Mountain Coaster before a stroll in Vail with its 45 works of public art. Take a ride on the Silver Queen Gondola in Aspen, or fly fish in the streams surrounding Breckenridge. Hike to Bridal Veil Falls in Telluride to see the tallest free-falling waterfall in the state.
---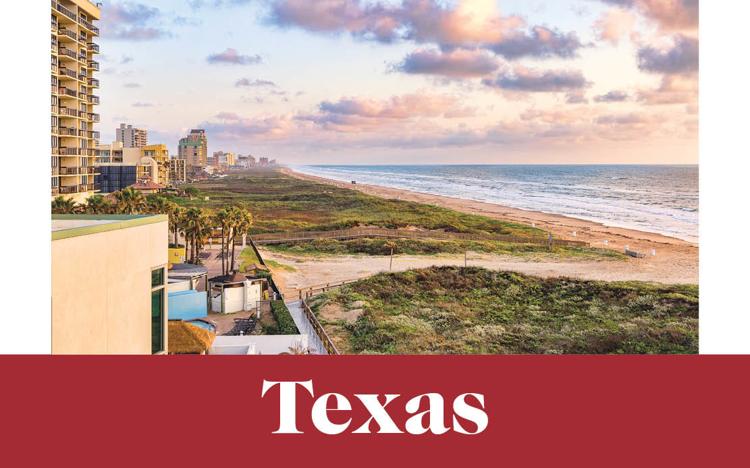 Texas is home to four of the nation's largest cities (Houston, Dallas, Austin and San Antonio), and there's plenty to do en route to these metros or without ever paying them a visit. More than 180,000 miles of road span the Lone Star State. Time to hit the road.
Attractions
1. Hico
If you're looking for a scenic route to Austin or San Antonio, go west just south of Fort Worth until you get to Hico. It's a small community at the top of the state's Hill Country and, legend has it, was the final stop for infamous outlaw Billy the Kid after his New Mexico run-in with sheriff Pat Garrett. A Billy the Kid Museum is situated in its historic downtown. From there, go south on Highway 281 to enter Hill Country.
2. Lyndon B. Johnson National Historical Park, Johnson City
An hour's drive west from Austin is the birthplace and final resting place of Lyndon Johnson, 36th president of the United States. While in office, Johnson spent a lot of time at his LBJ Ranch, which is referred to as the Texas White House. Now it's known as Lyndon B. Johnson National Historical Park, 100 Lady Bird Lane, which features his reconstructed birthplace, his first school, the ranch and the Johnson Family Cemetery where he and "Lady Bird" Johnson are buried.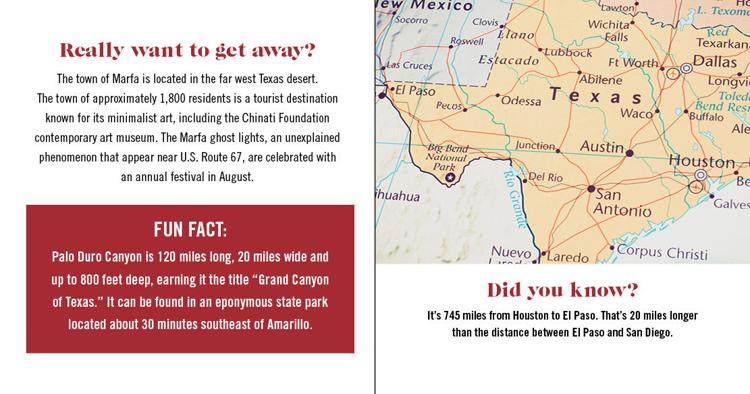 3. Barbecue country, Lockhart
For barbecue aficionados, a visit to Lockhart is a requirement. Located 30 miles south of downtown Austin, Lockhart is considered the "Barbecue Capital of Texas." Whether it's Original Black's Barbecue, Smitty's Market or Lockhart Chisholm Trail Bar-B-Que, with any of these restaurants you can't go wrong. The locals all have personal favorites. Lockhart also was the filming location for numerous movie and TV productions, including "The Getaway," "What's Eating Gilbert Grape" and "The Leftovers."
4. National Museum of the Pacific War, Fredericksburg
Settled by German immigrants, Fredericksburg is known for its unique Texas German dialect, and it's also the hometown of Navy Fleet Admiral Chester Nimitz, who oversaw operations in the Pacific during World War II. The town honored him by opening the National Museum of the Pacific War, 340 E. Main St., which features a museum bearing his name. Numerous hiking trails span the area, including those at Enchanted Rock, one of the largest batholiths (a mass of intruded igneous rock) in the U.S.
5. Sea Turtle Inc., South Padre Island
Sea Turtle Inc., 6617 Padre Blvd., rehabilitates and cares for injured sea turtles and is one of many attractions embracing the aquatic life in this small beach resort town in the Gulf of Mexico. Public beaches dot the shoreline. Visitors can choose from guided deep-sea fishing trips, dolphin watches and watercraft rentals. It also features the South Padre Island Birding and Nature Center, 6801 S. Padre Blvd., a destination for birdwatching with its 3,300-plus feet of boardwalk, bird blinds and viewing tower.
---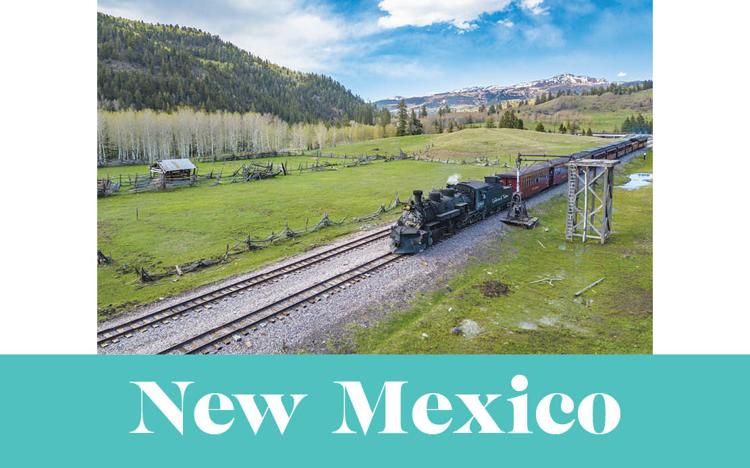 New Mexico is known as "The Land of Enchantment." The state has plenty to do, whether it's visiting national parks, hiking mountains, learning about local Native American tribes or going for a scenic train ride. 
Attractions
1. Wheeler Peak, Red River/Taos
At 13,161 feet, Wheeler Peak is the highest natural point in the state and is the southernmost subrange of the Rocky Mountains. This adventure getaway is nearly 11 hours away from Tulsa. Mountain trails are accessible from Red River and Taos, which offers the more popular route to take. Give yourself a few days to acclimate and start at sunrise as storms often develop in the afternoon.
2. Taos Pueblo, Taos
For over 1,000 years the Taos Pueblo have called the lands at the base of the Sangre de Cristo Mountain range their home. Today over 150 people live there full time, making it the only living community that is a UNESCO World Heritage Site and a national historic landmark at 120 Veterans Highway. Spend a day with the Taos Pueblo tovisit their adobe homes and peruse the traditional arts and crafts that are for sale.
3. Bandelier National Monument, Los Alamos
Located in the north central region of the state near Los Alamos, this area was home of the Ancestral Pueblo from 1150-1550. Now the more than 33,000-acre park at 15 Entrance Road features a museum, campsites and hiking trails. The star attraction is the remains of the Ancestral Pueblo homes that were carved from volcanic tuff, rock created from volcanic ash after an eruption.
4. Manhattan Project National Historical Park, Los Alamos
The Los Alamos park, 475 20th St., is where the U.S. government developed the world's first atomic bomb. Park visitors can visit the areas where Robert J. Oppenheimer and other scientists designed the "Little Boy" bomb, where they assembled components of for the Trinity project, the first detonation of a nuclear device, and where they did plutonium chemistry research. "Little Boy" was dropped on Hiroshima, Japan on Aug. 6, 1945.
5. Cumbres and Toltec Scenic Railroad, Chama
Take a 64-mile ride on a steam-powered train that climbs to elevations as high 10,000 feet — the highest-elevation train ride in the country. See gorges 600 feet deep, snowcapped mountain peaks and wildlife as it crosses back and forth across the New Mexico and Colorado state lines. The Cumbres and Toltec train offers unrivaled views atop the gondola car, and passengers can ride between cars and hold onto railing while taking in the unique views. Constructed in 1880-1881, the scenic railway has been named the best scenic train ride in North America, according to USA Today readers.