'Play in the dirt'
During the winter months, the trails at Turkey Mountain are dotted with bicycle treads. After all, cooler temperatures mean fewer bugs and snakes, none of which can be appealing to mountain bikers who take to the miles of trails at Tulsa's urban wilderness, 6850 S. Elwood Ave. 
Jim Shipman was an avid motorcyclist before a wreck in the 1980s motivated him to switch from a motorized cycle to one powered by human energy. He got into mountain bike racing and continues to find ways to "play in the dirt" today. "In mountain biking you must stay engaged," says the 69-year-old who touts the mental perks of the sport along with the physical.
"You don't forget how to ride a bike, but you can forget how to mountain bike," says Chris Duke, who has been active in the sport since 1997. His wife, Mary Ann, still considers herself a novice on the trail, but has been road cycling for years. 
The three encourage beginners in the sport to ride with a buddy and try the 1.5-mile trail at Lubell Park, 2910 W. 53rd St.
"Anyone can ride there," Duke says. Once a rider feels more comfortable in the saddle, trails can be explored at regional sites. Stillwater's Lake McMurtry has more than 30 miles of multi-use trails, and the Claremore Mountain Bike Trail boasts more than 15 miles of single-track trails along the banks of Claremore Lake. Shipman loves heading to northwest Arkansas, which he describes as a world-class mountain bike haven.
Although some of the benefits of trail riding include not worrying about road traffic, Duke reminds, "Know your limitations." 
Tracks and tricks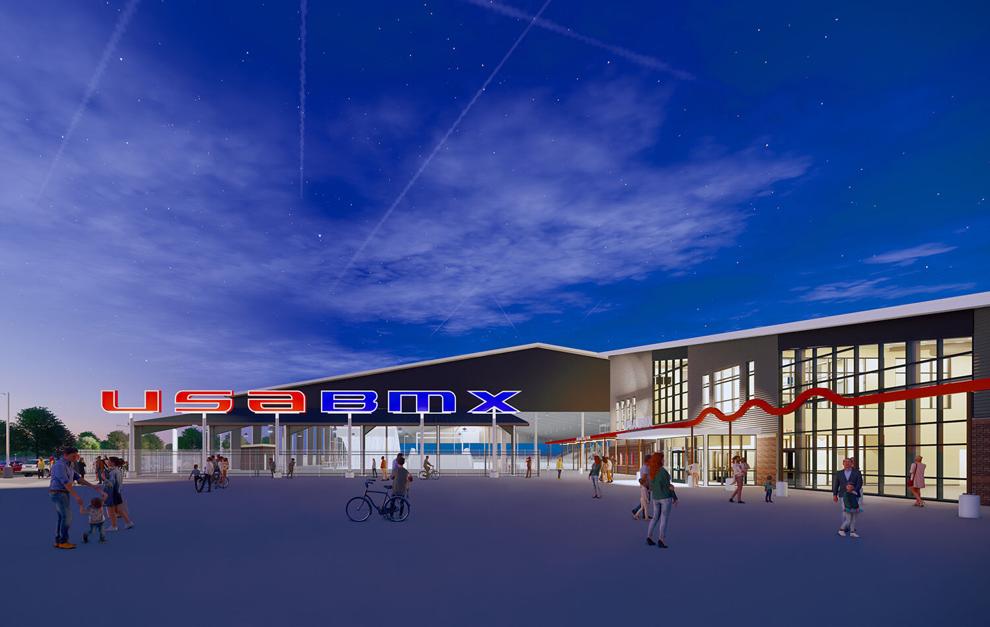 "The culture of BMX is extremely strong in Oklahoma," says Shane Fernandez, president and chairman of USA BMX, which is building its new national headquarters just north of downtown.
In the Tulsa area, many in the community relate BMX to the racing side, where riders compete with one another on a specific track. Sand Springs and Pryor's Mid-America Industrial Park both have competitive tracks for local and regional events, according to Fernandez.
"BMX can also be defined as freestyle," he adds. "These are riders that aren't necessarily on a track racing — they're at the Gathering Place in the pools (concrete bowls where riders perform tricks). These are more of like what you see on the X Games, doing tricks out of the pools."
Several other parks, including Skatenorth, 2910 E. 56th St. N., provide opportunities for riders to practice.
All of this was part of the reasoning for USA BMX to relocate its headquarters to Tulsa, a city that has hosted its Grand Nationals championships for years at Expo Square.
"We're anticipating us moving in in December and to have gates dropping and racing in January," Fernandez says.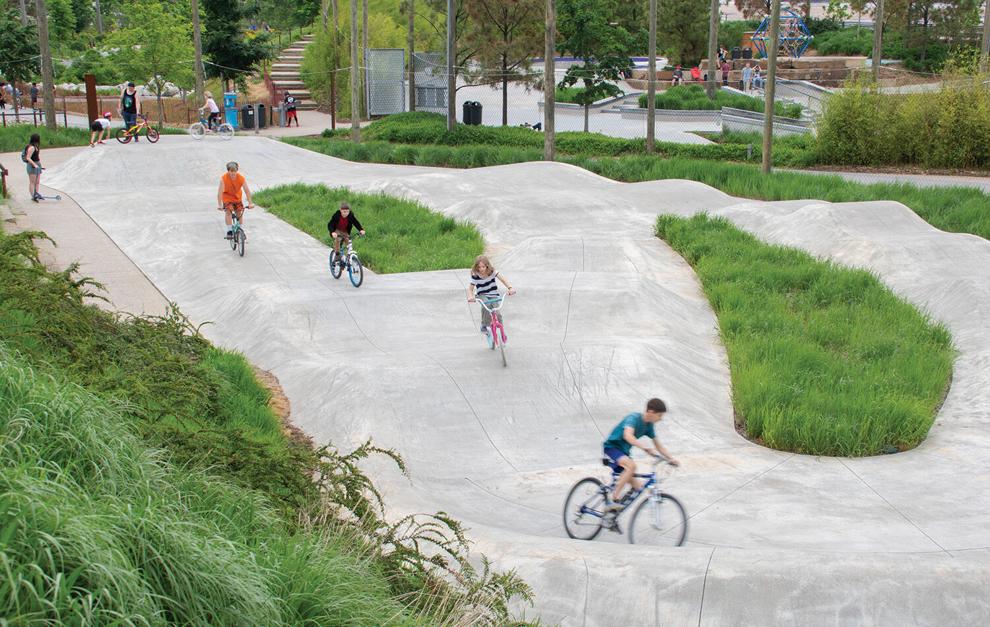 This is a $23 million project, with funding coming largely from Vision Tulsa dollars, as well as Tulsa Parking Authority and the Hardesty Family Foundation. A 125,000-square-foot arena is visible from Highway 75 as commuters make their way to downtown. It will have bleacher and balcony seating and an 82,400-foot recessed track.
A smaller building will house the organization's hall of fame, offices, concessions, gym and the foundation, which hosts and promotes STEM programming to students across the nation and locally.
Working with organizations like Bike Club, Tulsa Public Schools and
Terence Crutcher Foundation, USA BMX plans to further its endeavors to after-school programs in the Greenwood and north Tulsa communities.
The new arena will host national events, as well as local and regional competitions and practices, Fernandez adds. Expo Square will remain the site of the organization's Grand Nationals competition.
With the never-ending interest from kids to get into the sport, USA BMX is starting BMX League, a program for loaner bikes, gear and coaches for those who don't know anything about the sport. Once they decide if BMX is for them, Fernandez says they might try a local shop like T-Town Bicycles for racing bikes or Quickie Mart, whose freestyle riders place on the podium at USA BMX national events. "It's really cool to see them there." 
Road ready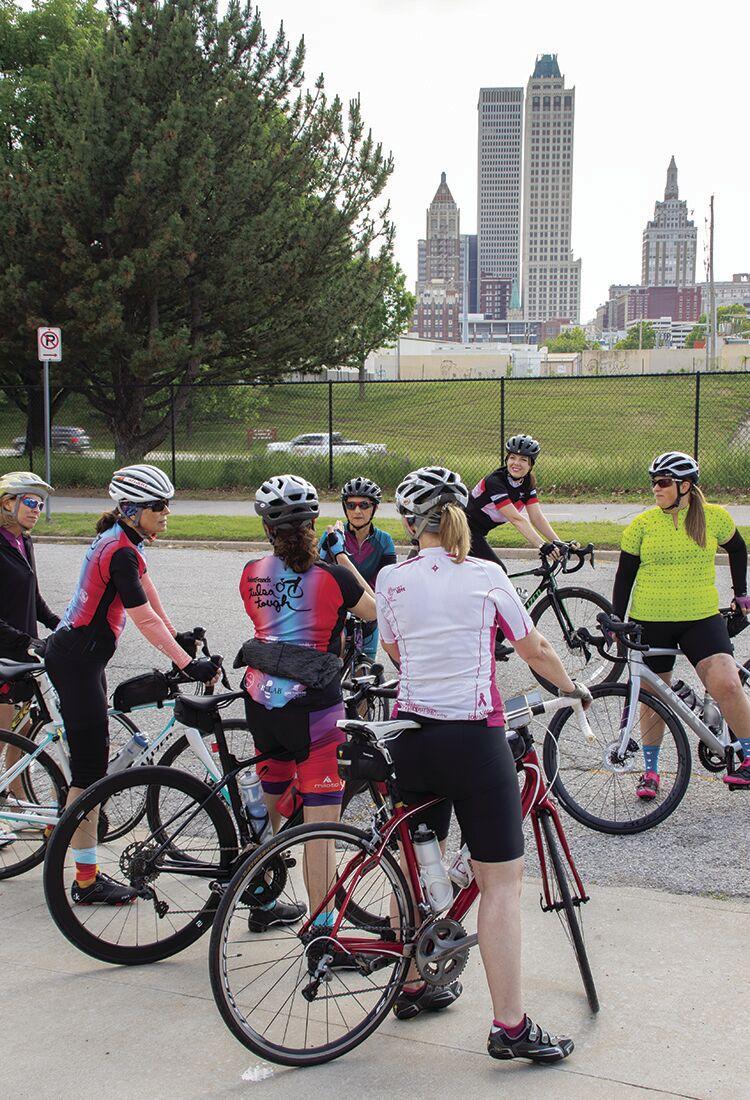 Three to four times a week you can catch Heidi Blackmon on the back of her fuchsia Specialized bicycle. For the past 12 years she's really been into the sport and is often a mentor for beginners to road and mountain biking.
On Mondays she leads Girls Gone Pedalin', a group ride that departs from T-Town Bicycles, 4329 S. Peoria Ave. It's an opportunity for new riders to learn bicycle basics like how to shift gears, ride with traffic, fix a flat and what to wear.
Blackmon helps organize the Tulsa Tough Divas, a group of women who train for the annual fondo rides associated with the cycling event. It was the first female club team in Tulsa, she says.
"For a lot of women, this is their free night out away from their guys, kids and life," Blackmon says.
Many are familiar with the Wednesday Night Ride, which departs at 5:30 p.m. each Wednesday from the River West Festival Park. The Divas, along with numerous other cycling groups, participate in the weekly ride. 
Michael Schooling, a longtime member of Tulsa Bicycle Club, says one of the most important elements to cycling is finding a group to ride at your pace. He listed numerous entities to find that group, including your favorite local bicycle shop, club rides, the Wednesday Night Ride and Young Life's four cycling groups. 
Booming business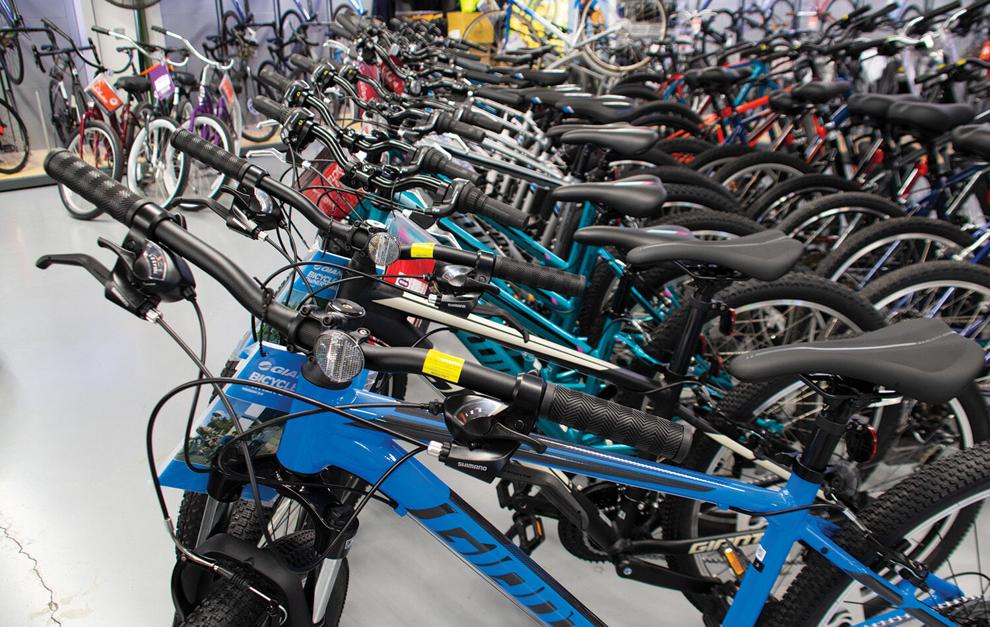 The past year will definitely go down in the record books for Scott Eckes and the team at Bicycles of Tulsa, 4733 S. Mingo Road.
"Starting about mid-March (2020), and especially April and May, were just record breaking. We doubled our business year over year," says Eckes, the sales manager for the 34-year-old store. "We're still continuing with some record-breaking months."
While many retailers have had limited stock of bikes, equipment and parts, Eckes has ensured his store's massive inventory with long, late nights sitting at the computer and ordering everything available.
"It was definitely a risk and a gamble to order that quantity," he says. But it has paid off as he says shoppers have come from as far away as Kansas City, Missouri, to shop his supply.
What are people wanting? Fitness hybrids, comfort-to-ride bikes and entry-level mountain bikes.
"With the growth of trails nearby, including Claremore, interest has grown," he says.
Let's go
The Tulsa area is home to numerous city, county and regional trail systems, many connected to one another, that are perfect for a leisurely pedal or a longer mile ride. We've included some of our favorite shorter rides near downtown Tulsa that are just right for a summer day.
Don't have a bike? This Machine is a bike share program with more than 200 pedal-assist bikes and 30 stations across the city — all available with a click of a smartphone. The organization, which has been around since 2018, has a great list of possible rides on its website, thismachinetulsa.org.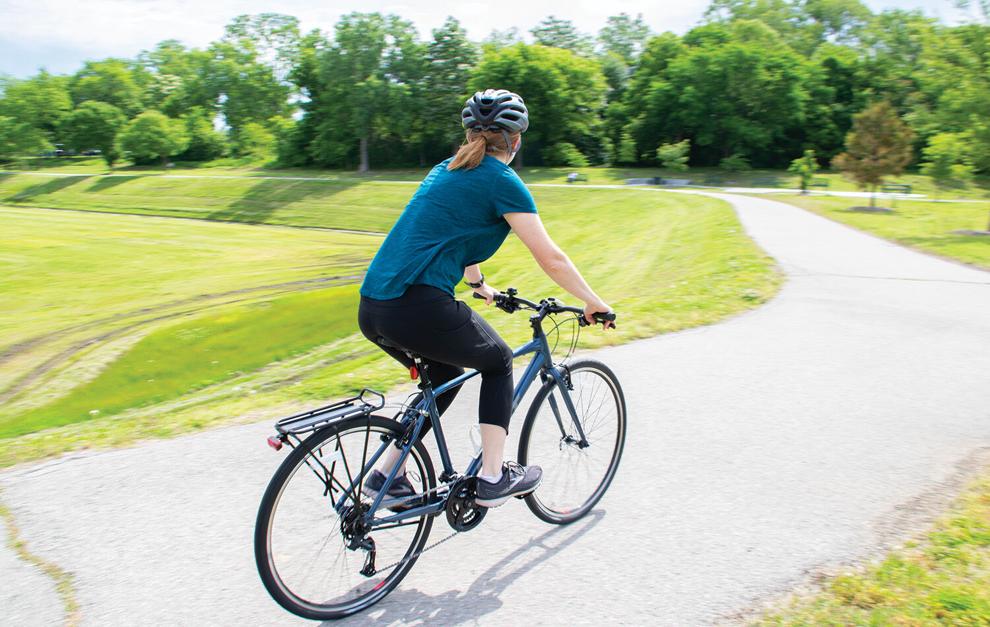 The 14.5-mile Osage Prairie Trail begins at the northern edge of Oklahoma State University-Tulsa, East Independence Place and North Greenwood Avenue, and sits atop the old Midland Valley railbed. It's a great starting point to begin a tour of Greenwood, the Tulsa Arts District or the historic homes in the Heights or Owen Park neighborhoods. 
If you're up for some miles, follow the trail through north Tulsa as the path features many new tree plantings and seating areas. When you make it to Sperry, you can see its historic downtown and centrally located gazebo before heading to Skiatook.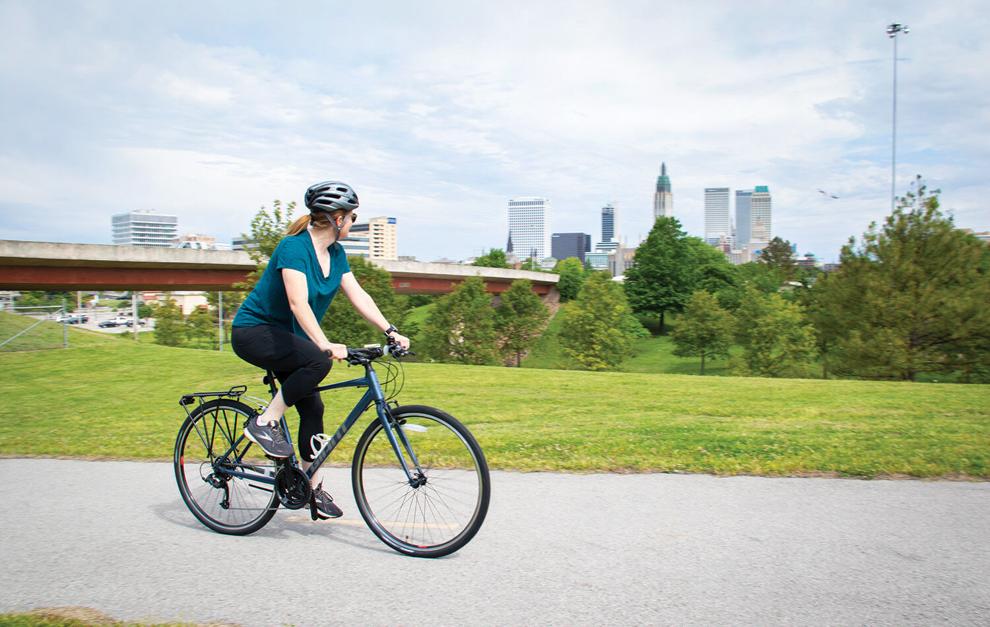 At the corner of Southwest Boulevard and Riverside Drive sits Cyrus Avery Plaza, a Route 66 landmark and a stone's throw from the action that takes place every year at Tulsa Tough's Cry Baby Hill. From the Plaza, take the Newblock Park trail underneath the highway and over the train tracks to discover the Crosbie Heights neighborhood. Along the way you'll find an overlook with an informational panel detailing the history and significance of the Arkansas River in Tulsa's history. When water levels are low, you can actually see the rock ledge that formed a natural river crossing. 
Farther down the trail, stop at Newblock Park, ride past Tulsa's cave house (the home tucked into the hillside dating to the 1920s) and perhaps venture on to Sand Springs, as the trail connects to the Katy Trail. 
From Maple Park, at East 15th Street and South Madison Avenue, cruise north on the Midland Valley Trail past Tracy and Centennial parks and arrive at Dead Armadillo taproom, 1004 E. Fourth St. The local brewery is home to the popular Tulsa Flag blonde ale. Grab a beer and get dinner in the nearby East Village before heading back to Maple Park to catch sunset against the Tulsa skyline.
If you're up for some more miles, the Midland Valley connects travelers heading south to the SoBo District and eventually leads to Gathering Place. 
Really feel like an urbanite and head to H.A. Chapman Green, East Sixth Street and South Boston Avenue, a downtown green space with numerous eateries nearby for a pickup picnic. Cruise new bike lanes for your own art deco tour. 
The Pearl District, Meadow Gold, Kendall Whittier, Cherry Street and all the downtown districts are accessible to cyclists with these thoroughfares. Travelers will see buffered bike lanes or streets with bicycle markings throughout the area.