February in Oklahoma can sometimes feel like the doldrums of winter. The temperatures can be bitterly cold, and spring feels so far away.
On the flip side, it's a great time to travel. If you're looking for somewhere to get away and experience something different, it's hard to select a better cold-weather destination than northeastern New Mexico.
The region is a hub for world-class art, history and outdoor activities, not to mention the magnificent landscapes.
Santa Fe is a rich and vibrant artistic community. It is home to the Georgia O'Keeffe Museum, 217 Johnson St., which contains the largest collection of the
American Modernist's works. Dozens of museums, galleries and boutiques can be found throughout the downtown plaza area — a National Historic Landmark all on its own. If you have a sweet tooth to satisfy, check out the Kakawa Chocolate House, 1050 Paseo de Peralta.
Meow Wolf, 1352 Rufina Circle, is arguably the most unique place to visit in Santa Fe. This art complex provides a unique environment where curious souls can experience some of the country's premier alternative art and music. If you enjoy contemporary, interactive art, there's no other place like Meow Wolf. Inside the complex is the permanent exhibit "House of Eternal Return," a maze of non-linear storytelling that includes a trip through a mastodon's musical bones, pictured here.
North of Santa Fe, Taos has long been known as an artist's hideaway. The town retains the same charm as it did back in the early 20th century. It offers many galleries and boutiques in addition to a historic town square; it's a great home base for exploring nearby attractions such as Taos Pueblo, the Rio Grande Gorge or the Earthship biotecture community.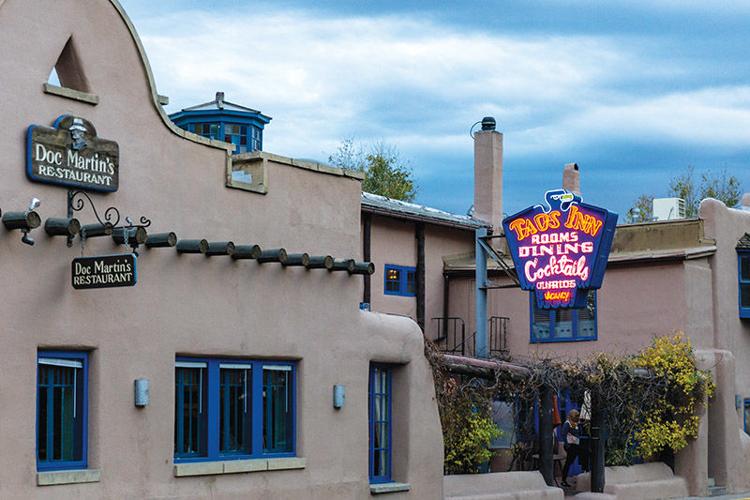 Taos sits on the southwest corner of what's known as the Enchanted Circle Scenic Byway, a stunning 84-mile loop of spectacular scenery surrounding the state's highest mountain peak.
The highway weaves through the mountains and several small towns. A drive around the circle also reveals the Vietnam Veterans Memorial and multiple renowned ski resorts. A wide range of slopes peak at 12,000 feet above sea level.
A stunning neon thunderbird greets guests at the Taos Inn, a hotel that has served the community since 1936 at 125 Paseo del Pueblo Norte, near the town's main plaza. The on-site restaurant, Doc Martin's, is named after early settler and former resident Thomas "Doc" Martin. In 2019, the restaurant brought James Beard award-winning chef Zak Pelaccio and local chef Nite Marquez on board to reimagine the menu.