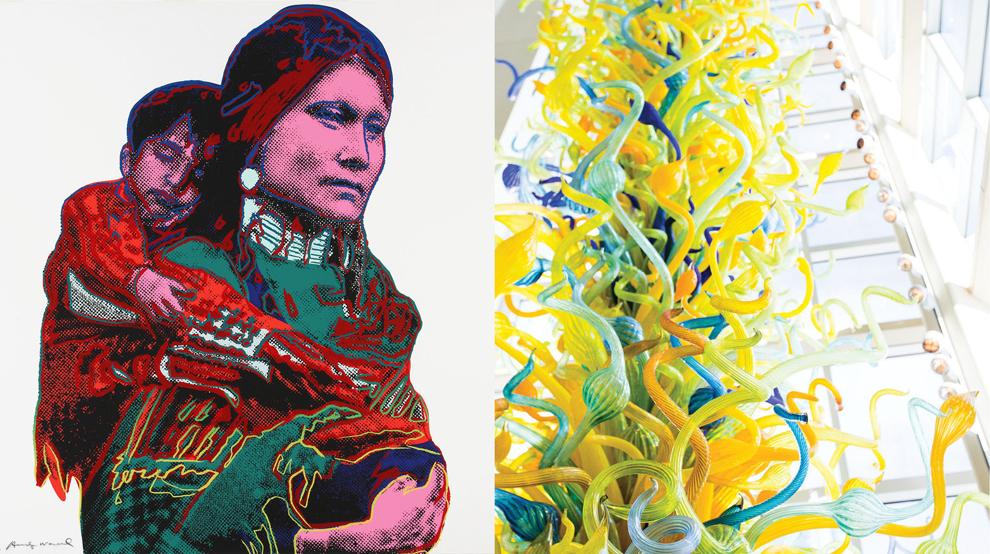 Oklahoma City's newest attraction is Scissortail Park, 300 S.W. Seventh St. The first phase of the park was unveiled in September and provides ample space for outdoor activities. Within the existing 36 acres, there are a small lake, roller rink, dog park, ornamental garden, playground and more. The outdoor stage has already hosted several concerts. Check out scissortailpark.org/calendar for an up-to-date calendar. The second phase, to be built on the other side of Skydance Bridge, is slated for completion in 2021.
The Oklahoma City Museum of Art, 415 Couch Drive, features one of the largest permanent collections of Dale Chihuly's glass in the world. Another museum exhibit, "Renewing the American Spirit," highlights artwork from the Great Depression. It runs through April 26. One piece is a massive George Washington mural that has not been on public display since 1932. This is in addition to the rest of OKCMOA's world-class collection.
The National Cowboy and Western Heritage Museum, 1700 N.E. 63rd St., provides a window into Oklahoma's most familiar history, but for the first part of the year an exhibit is reflecting the American West with a new array of color. "Warhol and the West" showcases iconic contemporary artist Andy Warhol's love of the West. His passion for the subject is displayed through various media, from photography to film to personal artifacts. The longtime OKC institution is only one of three museums in the U.S. to host the exhibit, which runs through May 10.
Of course, a spring break visit to Oklahoma City would not be complete without a visit to Riversport Rapids, 800 Riversport Drive. This multi-million-dollar facility provides the excitement of whitewater rafting in the heart of the city. That's not all; there's also an 80-foot-tall adventure course, kayaking, tubing and other activities. The park opens for the season March 14.