On the corner of East 21st Street and South Cincinnati Avenue sit the Eugene Apartments. Built in 1935 by Cyrus Avery, the father of Route 66, the complex's rich history is one for Tulsa's record books.
According to historical accounts, Avery's office was in unit 2C. Today the building has only its third owner, Vicki and Gary Heitgrass.
"I've just always noticed these apartments on the corner like everyone else," Vicki says. "And I've always wanted to own them, like everyone else in the apartment business."
Since purchasing the Eugene in July 2018, an extensive renovation has been underway by Heitgrass Construction, which builds and renovates properties in Tulsa and the Grand Lake area. Heitgrass says the structure proved to be sound as it has double brick walls and I-beam construction — similar construction to other Maple Ridge properties, the Philtower and Villa Philbrook.
The 19 units — six two-bedroom, 12 one-bedroom and a basement apartment — rent for $1,195-$1,525 per month and are being rented as they are completed.
"I basically did everything as if I were going to live there," says Heitgrass, who lives in a 100-plus-year-old home just a few doors down from the Eugene.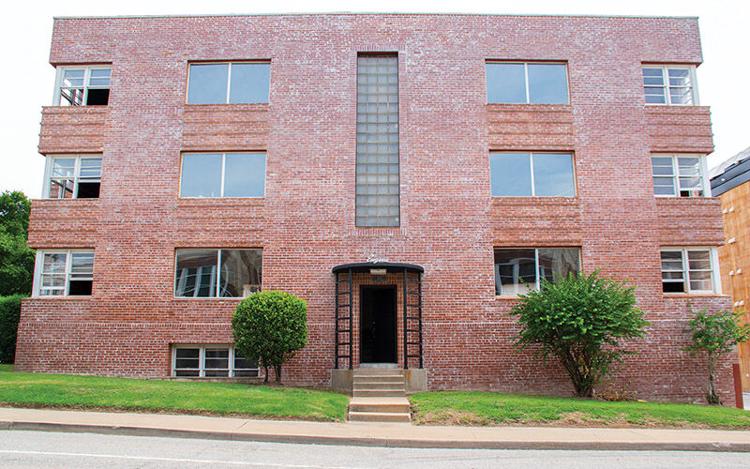 The units have exposed ducts, large kitchen islands with quartz countertops, contemporary finishes and hand-scraped wood floors. The interiors boast an industrial vibe while the exterior remains more art deco, according to Heitgrass.
The Heitgrasses met in college at Oklahoma State University and worked in corporate America for 20 years before purchasing the 1950-built R21 Apartments, also built by Avery, at Riverside Drive and East 21st Street.
They decided to be in the apartment business full time and have owned several historic multi-family properties over the years. Gary focuses on home construction at Grand Lake.
A look inside Eugene Apartments