If you're in the mood for something a little different this autumn, head to the southeast part of the state, where several festivals are sure to change the way you think about Oklahoma in October.
Oct. 4-5 — 
Honobia

 Bigfoot Festival

The festival has grown over the years to include a 5K run, a conference of Bigfoot researchers, live music and more — all to help fund a scholarship for nearby schools.

The Kiamichi region is the perfect setting for exploring Oklahoma's natural beauty. The festival takes place in a quiet, rural part of the state that makes for excellent camping. In fact, campfire stories and nature walks are a big part of the event. And who knows? If you keep your eyes open, you might catch a glimpse of the famed creature itself.

The Talimena National Scenic Byway is not far from the Kiamichi Mountains. The highway stretches from Talihina to Mena, Arkansas. It weaves through the Ouachita National Forest and is well-known throughout the region for stunning displays of fall foliage.
Oct. 18-19 — 
Poteau's

 Hot Air Balloon Festival

Tens of thousands of visitors travel to Le Flore County each year for this festival at Poteau's LeFlore County Fairgrounds. In addition to rides in the hot air balloons themselves, people of all ages can ride in a monster truck, partake in a variety of carnival attractions and cheer on competitors in the mud races. If it's not good flying weather, the pilots will still be on hand to teach listeners about the art of ballooning.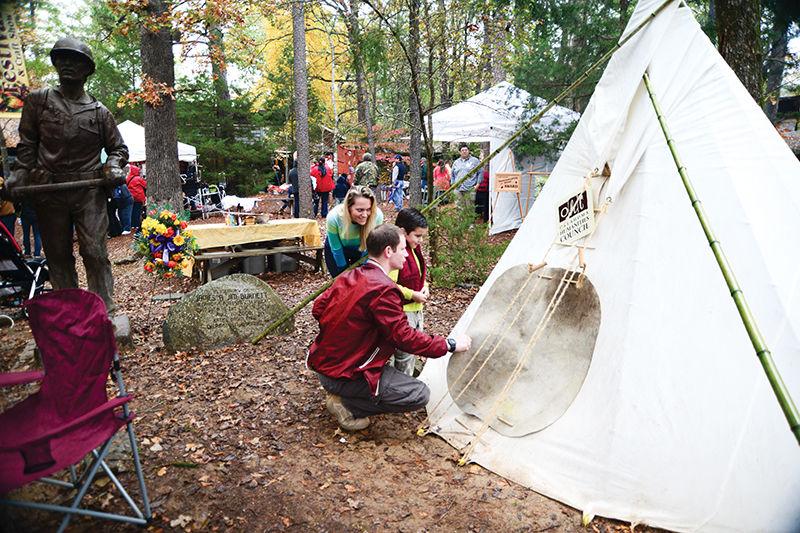 Nov. 8-10 — Beavers Bend Folk Festival
Although the Beavers Bend Folk Festival is in early November, its eclectic variety of activities is worth the wait. Held in the Forest Heritage Center in Beavers Bend State Park, quilters, woodworkers, blacksmiths and other artisans showcase their wares as the sound of fiddles and bagpipes fill the air. The park will be putting on a show of its own, full of vibrant color, and nearby Broken Bow Lake offers one of Oklahoma's beloved scenic vistas.
As you venture back to Tulsa from southeast Oklahoma, you might notice an odd, detached monument in Big Cedar at the intersections of Highway 63 and Highway 259. This secluded memorial is dedicated to the 35th president of the United States, John F. Kennedy. He visited this small patch of the Sooner State in October 1961 for a highway dedication; 25,000 people came from all over to see the new, young president and hear him speak.