Long after the floodwaters recede and the chaotic spring weather is replaced by the hot days of summer, Tulsa-area communities and many of their residents will continue to face ongoing recovery from the devastating consequences of May's storms. After the debris is cleared and the river is back within its banks, much remains to be done. 
According to Joseph Kralicek, the executive director of the Tulsa Area Emergency Management Agency (TAEMA), close to 600 homes in Tulsa County were affected. Over half of those were in west Tulsa's Town and Country neighborhood, most of which had 3 or more feet of water. At most, 25% of those homes had flood insurance, according to Kralicek. Parts of the area are in the 100-year floodplain, others are in the 500-year floodplain. Kralicek believes it will take years to recover from the damage.
"I always want to stress to people that this isn't something that is going to be fixed in a matter of days or even weeks," he says. "You're looking at about one year of recovery for every day of disaster. Some of these homes were under water for a week, which means some of these homeowners and some of these families will not be back in the position they were prior to the disaster for seven years." 
Beyond the short-term plan for debris cleanup, TAEMA has coordinated a long-term recovery committee comprised of government agencies, civic organizations, volunteer groups and disaster relief philanthropies to continue the efforts. A fund has been created through Tulsa Community Foundation, in partnership with United Way, to receive donations. Support can be directed online to vast.bank/floodrelief.
Although Kralicek was impressed with the city and the community's response to the event, he believes the recovery will still be long and costly. "This isn't over at all. The response has ended, but the work hasn't. It has changed its shape and appearance," he comments. "I was working 18-hour days at one point, and I'm going to continue to work massive amounts of hours to help get these folks back to where they were before this happened."
Damage from the storms has displaced many families, and it has also brought an unexpected financial burden. The Community Food Bank of Eastern Oklahoma is working to ensure these families have enough to eat. 
"I've been at the Food Bank for seven and a half years," says its executive director, Eileen Bradshaw. "This is the largest disaster event I've been a part of."
The Food Bank is distributing special Disaster Relief Food Boxes, which include more ready-to-eat products. Bradshaw encourages Tulsans to volunteer their time by signing up for a shift on the organization's website okfoodbank.org. Hosting a food drive and monetary donations also are great ways to show support. 
 "It's just the community serving people because that's how we get the food out, through the community," she says. "This is really neighbors taking care of neighbors. It just passes through our doors."
The river itself and the parks and trail system were greatly impacted, too. Although repairs will be ongoing for some time, most of the public areas are up and running, thanks to the hard work of the River Parks Authority, volunteers and other organizations.
According to Tony Moore, executive director of Tulsa's Gathering Place, that park is fully opened. "We did have some erosion in the areas of the park that are closest in proximity to the river, and we did have some flooding on our sports courts," he notes. "But as far as guest experiences, minimal to no impact." The park was closed for four days during the flooding event. As of press time, two of the six courts remain closed.
Matt Meyer, executive director of the River Parks Authority, says the stabilization of the riverbanks will be a long-term project. It will be funded through a number of sources, including the Federal Emergency Management Agency (FEMA). At press time, engineering assessments were underway.
"We'll have hundreds of feet of bank stabilization to do to protect our trails," he says. "Some of it could be riprap (a rocky material), which is cheaper, and some of it could be cabled concrete." 
As the sun shines again, most Tulsans return to "normal life," but it's important to remember the ongoing challenges that remain. "I have to remind people that this was a very catastrophic month of May for most of Tulsa County," TAEMA's Kralicek says. "Most people probably know at least one person who is impacted by this. If you really want to help, reach out to that person and help however you can. Help them with pulling carpet out. If they need a place to stay, give them a roof over their head, even cook them a meal. Give them a friendly ear.
"There are a lot of people in our community who are hurting right now and could use a friendly shoulder. I urge everybody to be that friend."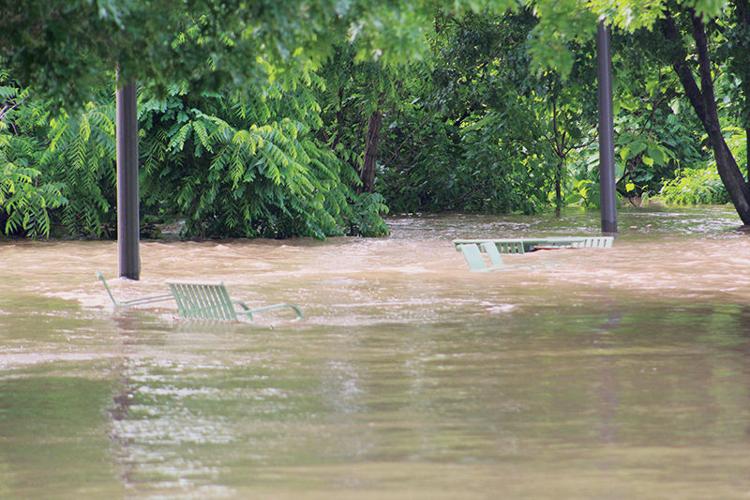 Flood insurance 101
May's catastrophic weather, overflowing rivers and ear-piercing sirens were a stark reminder of the destructive power of Mother Nature. Although you can't control the weather, you can take steps to mitigate its consequences.
Flood losses aren't covered by most homeowner insurance policies. Purchasing coverage for your home and its contents through the federal government-backed National Flood Insurance Program (NFIP) is something to consider.
Tulsans are eligible to buy the insurance. It's available to homeowners, as well as renters. The City of Tulsa has a discount of up to 40% on flood insurance for homeowners living in a Special Flood Hazard Area (100-year floodplain) and a 10% discount for all others. Homeowners are required by law to buy flood insurance if they have a federally backed mortgage and live in a high-risk flood area. This insurance provides a maximum of $250,000 for repairs and $100,000 for damaged contents, and it's available for purchase through any agent who participates in the NFIP.
According to the Federal Emergency Management Agency (FEMA), no home is completely safe from flooding, and as little as an inch of water in a home can cause more than $25,000 in damage. Statistically, more than 20% of flood claims come from properties outside of high-risk flood zones. Without flood insurance, those costs are out of pocket to the homeowner. Even when an area receives a Presidential Disaster Declaration — as Tulsa recently did — making it eligible for FEMA disaster grants, those grants pay only $5,000 per household on average. By comparison, the average flood insurance claim is closer to $30,000.
In light of Tulsa's devastating spring storms, it might be a good time to take stock of your risk, as well as your coverage. For more information, visit floodsmart.gov.