Retrofit relic
Patience and flexibility are a must for remodeling a 1920s home.
"In remodeling, things never go as planned," says Jeff La Rue, owner of La Rue Homes Inc.  
But the results can be stunning, as in the kitchen remodel of Chase and Whitney Williams' 1927 midtown home. The grand solarium, visible from the kitchen, is what initially drew Whitney Williams to the home.
"It's just a beautiful, beautiful room," she says.  
The kitchen had seen only slight updates over the decades. Before it could be turned into the stylish stunner it is today, La Rue and his team gutted the space. 
The redesign reconfigured the kitchen and breakfast area to accommodate the growing family and their frequent guests. 
The owners "wanted to keep the feel of the original home, but they wanted an updated kitchen and dining room," La Rue says. "Whitney entertains a lot and loves to cook, so they also wanted something functional." 
La Rue and the owners opted for Calacatta marble on the floors, countertops and counter-to-ceiling slab backsplash. Dark-stained custom cabinetry helped retain the character of the glamorous old home. There are no upper cabinets in the cooking area, which features an eight-burner Wolf stove and double oven combo. Columns finished with mini-mosaic Calacatta marble tiles frame the appliances.
"Since we didn't do upper cabinets in this area, we did the tiled columns to frame the range and give this wall some dimension," Whitney Williams says.
A 12-foot peninsula with bar seating was added to the bar/beverage area to create a gathering spot for guests. The space is complete with a glass-front wine fridge, a beverage refrigerator, a dishwasher and ice maker, a setup La Rue says is becoming popular for homeowners who love to entertain. 
"It's kind of a two-in-one kitchen," Williams says of the room's design and function. "The guests can all stay around the bar area, and if you are having a catered party the caterers (have their own cooking space away from the guests)."
The family's breakfast area just off the bar area features a steel table purchased from SR Hughes but handcrafted locally. 
A glass-blown Arteriors chandelier over the peninsula and Arteriors light fixture resembling a starburst over the main sink add sparkle to the space, as do the faucets. 
High style in a high rise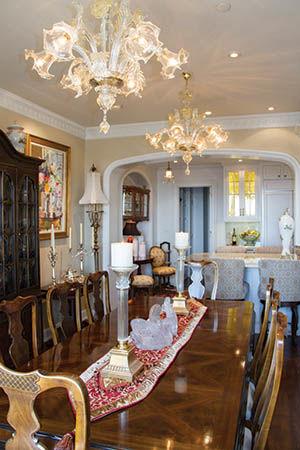 Downsizing your living space doesn't mean compromising your style. Tulsan Bonnie Klein recently downsized from a single-family home to a condominium, which she remodeled to mirror her elegant approach to living. 
From the cast-stone molding on the doorways to the Sherle Wagner cabinet pulls to the Old World finish on the vent hood, Klein wanted her new space to reflect her penchant for traditional, yet one-of-a-kind, design. 
"Everything is totally custom," says   Debbie Zoller, owner of Zoller Designs & Antiques Inc., who helped her longtime client achieve the look. "It's just a comfortable, upscale feel."
Klein chose ever-popular granite countertops, wood floors and all stainless steel appliances. The custom cabinetry was finished in a creamy white in keeping with the home's fresh color palette of soft ivory, cream, terra cotta and soft blues. 
"She likes color, but didn't want it in your face," Zoller says. 
A small nook just off the kitchen provides a comfortable area for Klein to enjoy her morning coffee. A glass-front curio cabinet hangs in the nook and holds a collection of glass stemware. The large kitchen island opens to the dining room, where two Murano Italian glass chandeliers hang above the dining table, adding a bit of sparkle.
Most of Zoller's clients request a kitchen design featuring open spaces and ample seating, especially those who enjoy entertaining. 
"I don't care what kind of party it is, people always end up in the kitchen," Zoller says. 
When it comes to getting the look you want, she has a few words of wisdom. 
"When (my clients) want to remodel, I want to know what their final objective is," Zoller says. "I want to know what they want the room to look like when finished and how they are going to use the room. 
"Kitchens and baths are going to be the most expensive remodels. Don't cut corners. Wait until you can do it right, or you're not going to be happy with the money you've spent."
Trend setter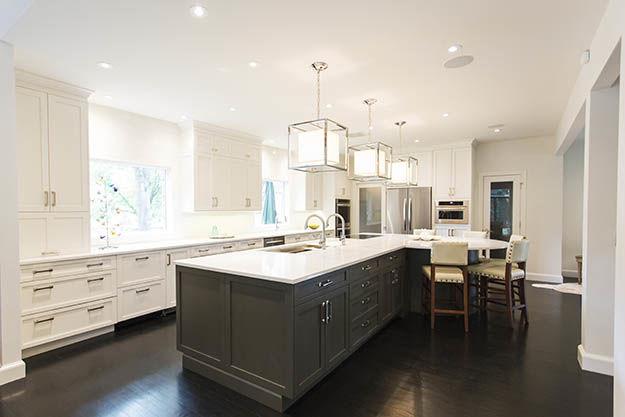 Kitchen Ideas founder Roger Shollmier doesn't just have his finger on the pulse of kitchen design trends — he's creating them. 
Several years ago he developed The Galley Workstation, and it is taking the kitchen design industry by storm. 
"When we design a kitchen, we always focus on function, function, function," says Lesley Shollmier, Kitchen Ideas designer and Roger's daughter. "You can always make any kitchen look pretty, but you can't always make a pretty kitchen functional. To be able to marry the two together is, I think, what makes our company as successful as it has been."
The Galley Workstation has given new life to one of the most used but under-appreciated appliances in the home — the sink. The Galley includes a cutting board, a colander, a drying rack, a food prep station, a buffet and additional counter space. 
Most homeowners put the Galley in the kitchen island. Doing so creates a prepping and cooking work zone that allows the home cook to engage with family and guests, who often end up gathered around the island. 
Lesley Shollmier says the outdated kitchen work triangle was "invented by architects in the 1950s when women were back in the kitchen … and they had to create a tight little triangle for her to … work efficiently in a tight space." 
The art of meal preparation has become more of a family effort that includes kids, she says. 
A recent transitional south Tulsa remodel by Kitchen Ideas includes a 5 1/2-foot Galley Workstation in a 14-foot island. An induction cooktop and flush mount ceiling vent add extra functionality to the island, which has a rounded end for seating to promote eye contact and communication. 
An additional sink with a nearby dishwasher creates a designated cleanup zone. Refrigerator drawers in the lower cabinetry create a space for the kids to prepare drinks at mealtime. 
The homeowners chose all stainless steel appliances, including double ovens. With input from the designers, they also chose Quartz countertops for their array of stylish colors and durability, especially important for a home with children and a high-traffic kitchen.
White and gray Shaker-style cabinets create a clean, bright look, and dark wood floors complement the adjoining living area's reclaimed wood beams to add character and warmth.