It's hard to believe, but it's holiday time again … the season for list making, shopping, wrapping, decorating, performances, parades, lights and the fast-paced frolic and fun with family and friends that November and December are known for. And nearly everywhere you look, Santa will be peeking around the corner.
* Santa Claus spotting
Starry lights and nights 
Nov. 21
Jenks Lights On!* 5-8 p.m. Jenks Main Street, between First and Third Streets. Jenks welcomes the holidays with carriage rides and live entertainment. jenkschamber.com
Nov. 23
Boare's Head Feast 7-9 p.m. The Castle of Muskogee, 3400 W. Fern Road, Muskogee. Begin the holidays with a four-course medieval meal, live music and entertainment. $49.95. okcastle.com
Nov. 23-Jan. 5
Arvest Winterfest* Various times. Outside the BOK Center, 200 S. Denver Ave. Tulsa's only outdoor skating rink comes alive with illuminated trees, horse-drawn carriage rides and live music. Various prices. tulsawinterfest.com
Nov. 27-Jan. 1
Rhema Christmas Lights 5:30-11:30 p.m. Rhema Bible Church, 1025 W. Kenosha Ave., Broken Arrow. Walk or ride through a glittering display of colorful holiday lights. rhemalights.org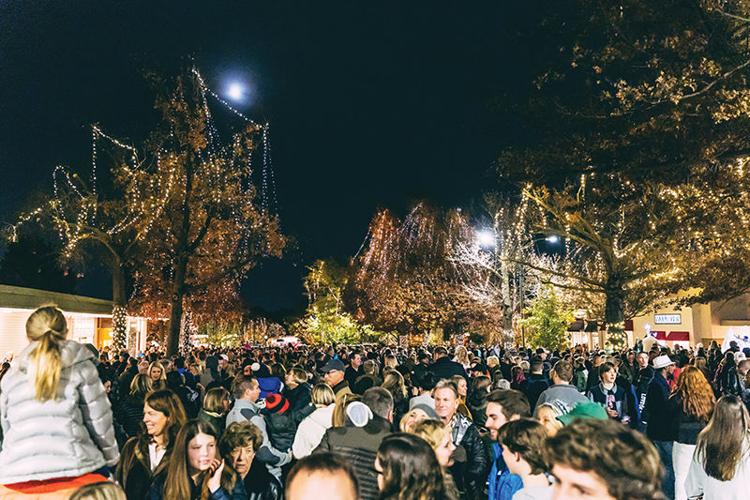 Nov. 28 
Lights On!* 6:30 p.m. Utica Square, East 21st Street and South Utica Avenue. Watch as more than 1 million white lights in 175 trees are turned on after a 10-second countdown. uticasquare.com
Nov. 28-Dec. 31
Castle Christmas* 5:30-10 p.m. The Castle of Muskogee, 3400 W. Fern Road, Muskogee. Visit an Olde World yuletide with Christmas train, pony rides, Christmas cafe, holiday lights, merchants and Saint Nicholas. Free to drive through; train, hayride and pony ride, $5 each; donations accepted. okcastle.com
Nov. 28-Jan. 1
Garden of Lights at Honor Heights Park 5:30 p.m., gates open; 10 p.m., gates close Sunday-Thursday, and 11 p.m., Friday-Saturday. $5 per car; free on Monday. 1400 Honor Heights Park Drive, Muskogee. Drive through more than 1 million lights timed to holiday music. visitmuskogee.com
Nov. 29-Dec. 26
Lights on the Hill* 6-9 p.m., Friday, Saturday and Sunday only through Dec. 8; every night Dec. 13-26. Chandler Park, 6500 W. 21st St. Drive through 3 miles of bright lights and whimsical holiday displays. Horse-drawn carriage rides and visits from Santa. parks.tulsacounty.org
Nov. 29-Dec. 28
Philbrook Festival* 6-9 p.m. Philbrook Museum of Art, 2727 S. Rockford Road. Usher in the holidays with lighting in the gardens, live music, Santa and more. Pre-purchase tickets as space is limited. philbrook.org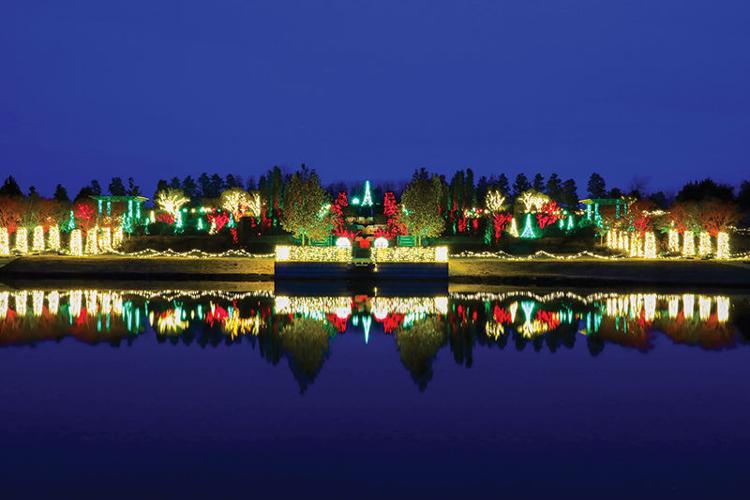 Nov. 29-Jan. 5
Garden of Lights* 5-10 p.m., Thursday-Sunday. Tulsa Botanic Garden, 3900 Tulsa Botanic Drive. Stroll through the Garden aglow with millions of lights. $15, ages 13+; $5, ages 3-12; free, children under 3; $10, members. tulsabotanic.org
Dec. 1
GLOW on the Green 6-9 p.m. Guthrie Green, 111 E. Reconciliation Way. Music, holiday art market, food and drinks. guthriegreen.com
Dec. 7
Hometown Holiday Christmas Celebration* 2-8 p.m. Main Street and Broadway Street, Sand Springs. Live performances from Sand Springs school choirs, bands and dance teams, a Santa sing-a-long, holiday inflatables and more. Free. sandspringschamber.com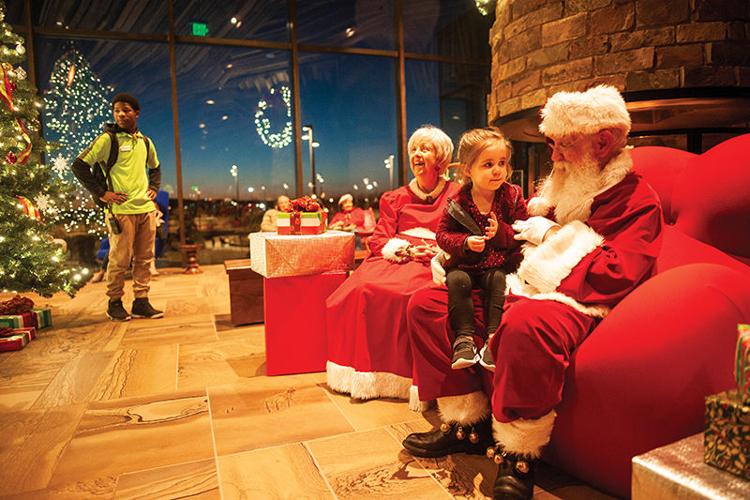 Dec. 18-Jan. 1
Winter Wonderland at Gathering Place* Various times. Gathering Place, East John Williams Way and Riverside Drive. European-style holiday market with vendors, carolers, artists, festive food and drinks, a train for the kids, thousands of twinkling lights, and family photos with Santa. gatheringplace.org
Dec. 22
ShalomFest Hanukkah Party 4:45-5:45 p.m. Temple Israel, 2004 E. 22nd Place. Celebrate the Jewish Festival of Lights on the first night of the eight-day holiday with a lawn party and candle-lighting at the synagogue. Free. templetulsa.com/shalomfest
---
Holiday kids' fun 
Nov. 28-Dec. 24
Santa House at Utica Square* 11 a.m.-9 p.m. Monday-Saturday; noon-6 p.m., Sunday. East 21st Street and South Utica Avenue, Garden area. Santa will visit with kids before he boards his infamous sleigh full of toys on Christmas Eve. uticasquare.com
Dec. 7
TSHA's Deaf/Hard of Hearing Children's Holiday Party* 2-4:30 p.m. Boston Avenue United Methodist Church, 1301 S. Boston Ave. Refreshments, games, crafts, prizes, stockings, visits and photos with signing Santa and hearing Mrs. Claus. Email demerson@tsha.cc. tsha.cc
Dec. 7 and 14
Breakfast with Santa* 9 a.m. Tulsa Zoo, 6421 E. 36th St. N. Enjoy breakfast, take part in arts and crafts, chat with the animals and, most importantly, visit with Santa. $24, Tulsa Zoo Friends; $29, non-members; $5, children under 3; reservations required. tulsazoo.org/santa
Dec. 8
Pictures with Santa at Dog Dish* 11 a.m.-1 p.m. 1778 Utica Square. Don't let Santa "Paws" forget your favorite four-legged children this year. thedogdish.com
Shop, Shop, Shop.
Nov. 15-17
Vintage Tulsa Show: "Home for the Holidays" 10 a.m.-6 p.m., Friday; 9 a.m.-6 p.m., Saturday; 10 a.m.-5 p.m., Sunday. Exchange Center, Expo Square, 4145 E. 21st St. Find everything you need — decor, jewelry and gifts — with an out-of-the-ordinary retro twist. $8, adults; $4, children age 9-12; free, children 8 and under. vintagetulsashow.com
Nov. 23
Holiday Mart 9 a.m.-2 p.m. The Center for Individuals With Physical Challenges, 815 S. Utica Ave. Find unique artwork created by Center members at this annual holiday shopping event. Free. tulsacenter.org
Dec. 6-8
Christkindlmarkt* 10 a.m.-7 p.m., Friday; 10 a.m.-5 p.m., Saturday; 11 a.m.-5 p.m., Sunday. German American Society of Tulsa Event Center, 2301 E. 15th St. Experience Bavarian Germany at this annual event featuring authentic holiday crafts, decor, food, entertainment and a children's area with Saint Nikolaus. Free. gastulsa.org
Dec. 7
Carols and Crumpets 8 a.m.-3 p.m. Tulsa Garden Center, 2435 S. Peoria Ave. Purchase holiday wreaths, swags, plants, flowers, herbs, and additional decor and gifts here. Sponsored by Tulsa Herb Society. Free. 
Dec. 8
10th annual Alliday Show 10 a.m.-5 p.m. Retro Den, 1216 S. Harvard Ave. Don't miss the final unique holiday shopping experience featuring works by local craftsmen. Free. theallidayshow.com
Dec. 8 
Cascia Hall Christmas Walk 11 a.m.-4 p.m. Cascia Hall Preparatory School, 2520 S. Yorktown Ave. Tour four midtown homes decorated for the holidays by local florists and designers. $20. casciahall.com
The season onstage
Dec. 5-8, 12-15
"The Best Christmas Pageant Ever" Various times. Clark Youth Theatre at Henthorne Performing Arts Center, 4825 S. Quaker Ave. Watch as the Herdmans hilariously mess up an annual church Christmas pageant. Teen cast. $13, adults; $10, seniors, military, students. clarkyouththeatre.com
Dec. 6-8, 13-15
"Miracle in Bedford Falls" 7:30 p.m., Friday-Saturday; 2 p.m., Sunday. Broken Arrow Community Playhouse, 1800 S. Main St., Broken Arrow. A fresh, creative adaptation of "It's a Wonderful Life." $22-$25. bacptheatre.com
Dec. 7-22
50th anniversary of "The Nutcracker" Various times. Tulsa PAC. Don't miss the soon-to-be-retired Tulsa Ballet production, set in 1920s Paris, choreographed and staged by Artistic Director Marcello Angelini. $25-$108. tulsaballet.org
Dec. 12-23
"A Christmas Carol" Various times. Tulsa PAC. Tightwad Ebenezer Scrooge doesn't stand a chance of ignoring Christmas when American Theatre Co. presents its own musical adaptation of this holiday classic. Various prices. tulsapac.com, americantheatrecompany.org
The music box
Nov. 23
"Hodie Christus natus est" 7:30 p.m. First Baptist Church, 403 S. Cincinnati Ave. Maestro Tim Sharp conducts Tulsa Chorale (formerly Tulsa Oratorio Chorus) performance of Ralph Vaughan Williams' Christmas Cantata, accompanied by Tulsa Symphony. $10-$25. $1 from each ticket goes to the Community Food Bank of Eastern Oklahoma. tulsachorus.com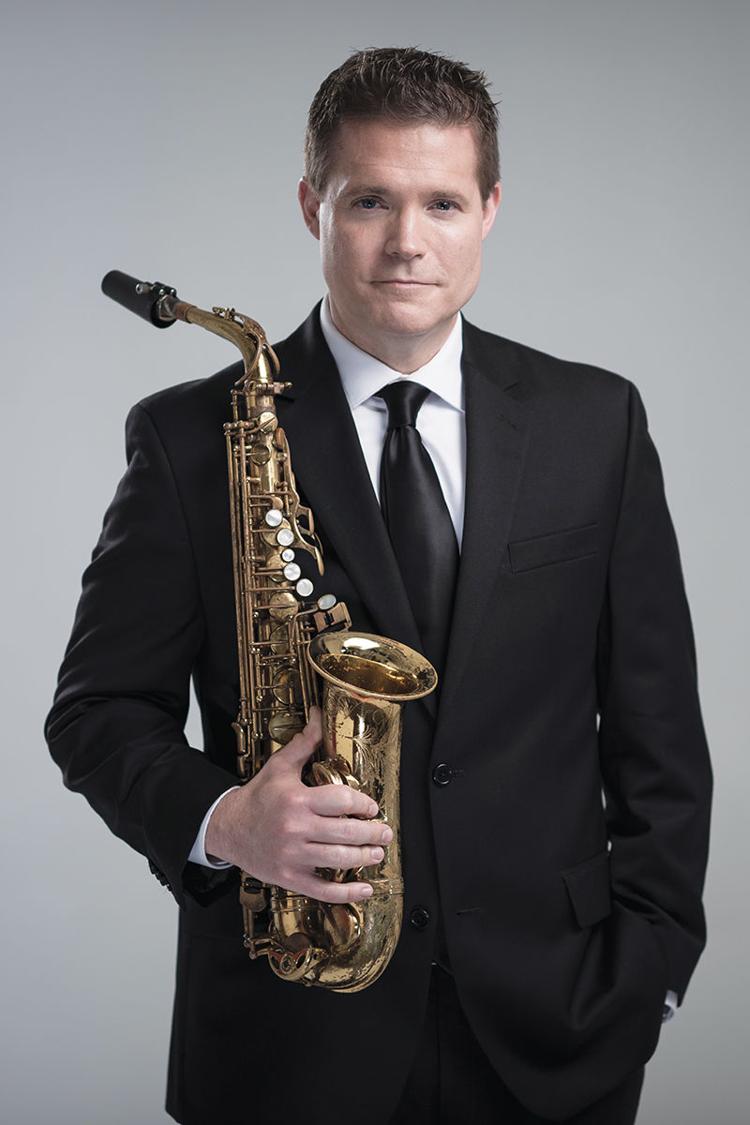 Nov. 30
Grady Nichols "Falling in Love with Christmas" 8 p.m. Tulsa PAC. The "smooth saxophonist," with vocalists Kelly Ford and Andy Chrisman, present yuletide favorites. $30-$55. Benefits ALS Patient Outreach. tulsapac.com
Nov. 30
Holiday Dreams — A Spectacular Holiday Cirque! 8 p.m. The Joint, 777 W. Cherokee St., Catoosa. Holograms, acrobatics and more. $19.50-$39.50. hardrockcasinotulsa.com
Dec. 4
Tulsa Festival Ringers 11:30 a.m., 12:45 p.m. Tulsa PAC. Bring your lunch and hear your favorite carols on handbells by this local group. Free. tulsafestivalringers.com, tulsapac.com
Dec. 6
Oral Roberts University's annual Christmas Concert 7 p.m. Mabee Center, 7777 S. Lewis Ave. Enjoy holiday performances by ORU music and theater students. Admission: one toy, donated to Salvation Army. mabeecenter.com
Dec. 7
Christmas with the Petersens 7:30 p.m. Tulsa PAC. Live from Branson, enjoy the holidays with toe-tapping music by this popular musical family. $22. tulsapac.com
Dec. 7-8
99th annual All Lutheran "Messiah" 5 and 7 p.m., Saturday; 3 and 5 p.m., Sunday. Grace Lutheran Church, 2331 E. Fifth Place. Hear Handel's popular oratorio. Free; donations accepted. glctulsa.org
Dec. 10
IL DIVO: A Holiday Song Celebration 8 p.m. Tulsa (Brady) Theater. The popular male quartet performs its popular and holiday hits. $46.50-$550. bradytheater.com
Dec. 13-14
"POPS: Christmas in Tulsa" 7:30 p.m. Van Trease Performing Arts Center for Education, 10300 E. 81st St. Signature Symphony's annual event includes the Signature Chorale and Sam Briggs, the 2019 winner of Tulsa Sings! $40-$80. signaturesymphony.org
Dec. 15
Diamond Rio: "Holiday and Hits" 6 p.m. The Joint at Hard Rock Casino and Resort, 777 W. Cherokee St., Catoosa. Country meets Christmas with this legendary group. $19.50-$39.50. hardrockcasinotulsa.com
Dec. 15
Natalie Warren Presentation of Messiah 5 p.m. Boston Avenue United Methodist Church, 1301 S. Boston Ave. Boston Avenue choirs, with soloists and the Tulsa Symphony, present the Handel masterpiece. Free. bostonavenue.org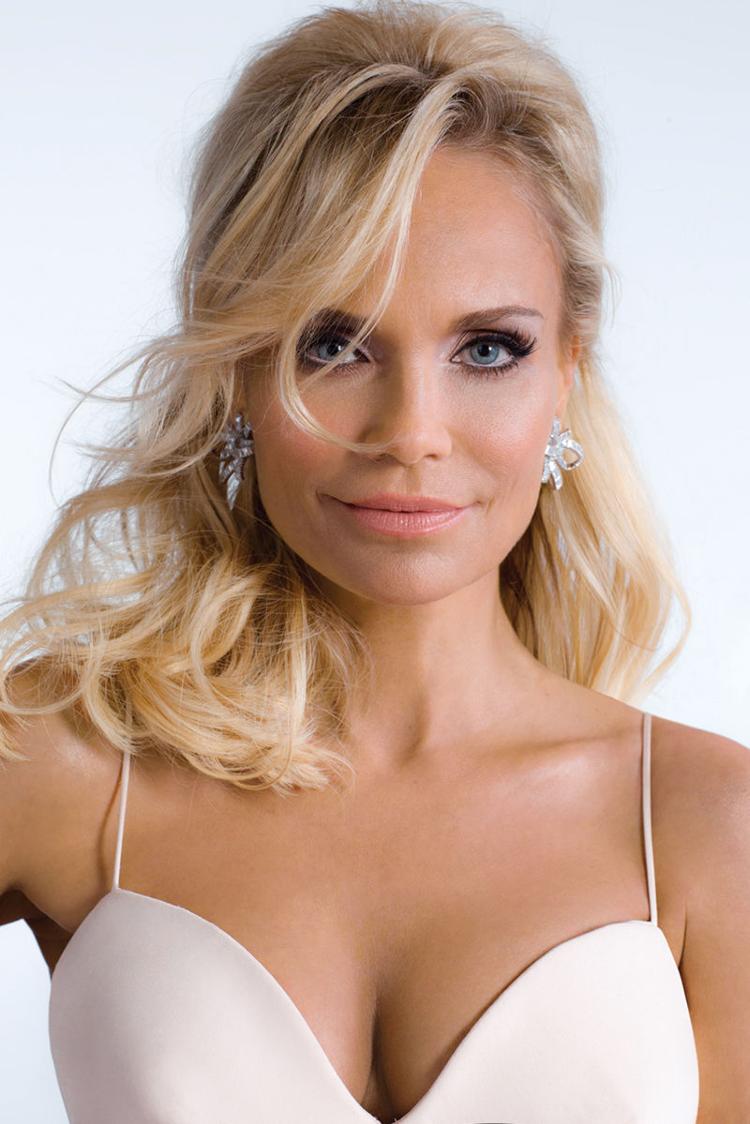 Dec. 20
Kristin Chenoweth and Sandi Patty Christmas 7:30 p.m. Broken Arrow Performing Arts Center. Two award-winning, powerhouse vocalists come together to perform classic Christmas carols. $35-$75. brokenarrowpac.com
Dec. 20 
"Christmas Eve and Other Stories" 8 p.m. BOK Center. Trans-Siberian Orchestra's all-new staging brings back the musical phenomenon that started it all 20 years ago. $40.50-$79.50. bokcenter.com
Dec. 22
"Holiday Wishes" 8 p.m. Paradise Cove Theater, River Spirit Casino Resort, 8330 Riverside Parkway. Cirque Musica's extravaganza brings the holiday story to life in a full-theatrical cirque event, featuring a world-renowned cast and live orchestra. $50-$60. riverspirittulsa.com
The spirit of giving
Nov. 23
Holiday Mart 9 a.m.-2 p.m. The Center for Individuals with Physical Challenges, 815 S. Utica Ave. Shop items made by the Center's member artists. Find holiday decorations, jewelry, knitted and crocheted Items, mosaics, paintings, sculptures, sketches, stained glass and more. Benefits member artists and the Center for Individuals with Physical Challenges. tulsacenter.org
Dec. 3
Salvation Army annual Christmas Luncheon and Fashion Show 10:30 a.m., silent auction; 11:30 a.m., luncheon seating. Renaissance Tulsa Hotel and Convention Center, 6808 S. 107th E. Ave. Local media personalities and community leaders model holiday clothing chosen from Donna's Fashions. Presented by Salvation Army Women's Auxiliary of Tulsa. Benefits Salvation Army. $75. salarmytulsa.org
Dec. 7
Jingle Bell Run 9 a.m. BOK Center. It's the longest-running holiday-themed race anywhere, benefiting the Arthritis Association. $25-$40. arthritis.org
Dec. 8
ABATE of Tulsa 40th annual Toy Run 10 a.m.-5 p.m. Expo Square. At 2 p.m., kickstands go up and bikers ride down Cherry Street to South Boulder Avenue, continuing to the Guthrie Green, where two 40-foot trailers manned by Marines take the toys. Admission is one unwrapped toy for USMC's Toys for Tots, benefiting kids in northeast Oklahoma. abateoftulsa.com
'Let's go to the parade!'
Bands, inflatables, kids on bikes, Santa. You'll find all this and more at area parades.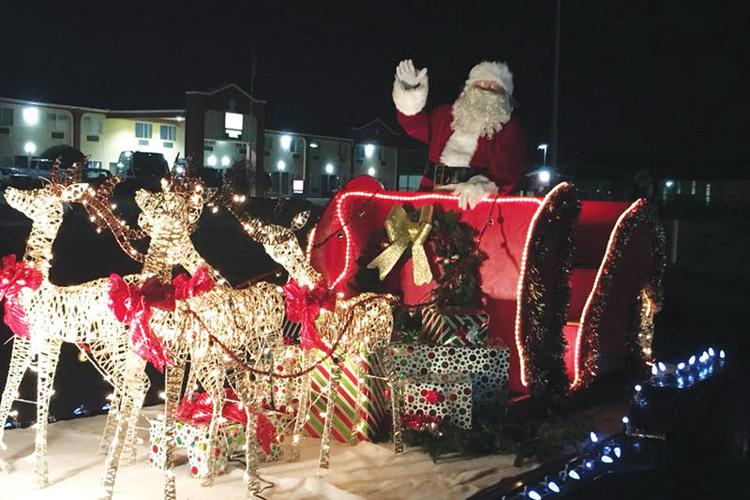 Dec. 6
Sand Springs "Festival of Lights" Christmas Parade* 7 p.m. Second Street and Adams Road, winding through downtown to Broadway Avenue and Main Street, Sand Springs. sandspringschamber.com
Dec. 7
Broken Arrow Civitans Christmas Parade* 10 a.m. Rose District, Broken Arrow. rosedistrict.com
Dec. 14
Tulsa "Rockin' Around Tulsa Town" Christmas Parade* 1 p.m. Starts at East Seventh Street and South Boston Avenue, heads north on East Third Street, then proceeds south to East Seventh Street and South Boulder Avenue. tulsachristmasparade.org
---
Popular holiday venues 
BOK Center, 200 S. Denver Ave. bokcenter.com
Tulsa Performing Arts Center, 110 E. Second St., tulsapac.com
Tulsa (Brady) Theater, 105 W. Reconciliation Way, bradytheater.com
Broken Arrow Performing Arts Center, 701 S. Main St., Broken Arrow, brokenarrowpac.com