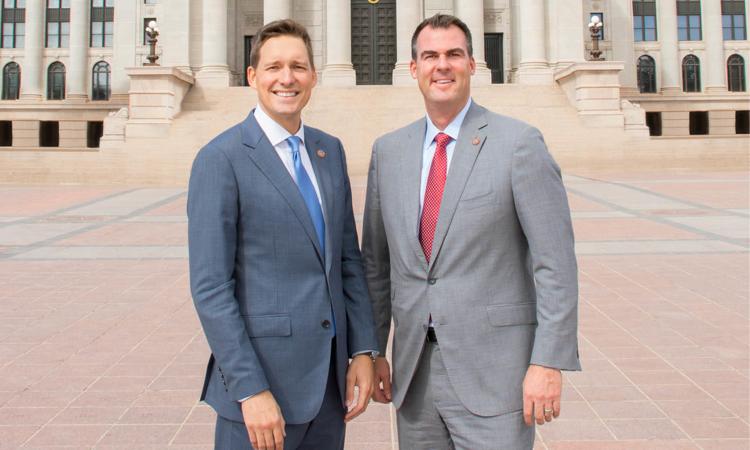 In the waiting room of Gov. Kevin Stitt's office, staffers pass by in black jackets with "Turnaround Team" stitched in white on the sleeves. All are friendly as they speed in and out of the office. The phone rings nonstop with incoming calls; a young man is answering one after the other, responding to questions about gun laws and other issues.
Across the hall, past a small conference room, is Stitt's temporary office, where the Republican leader is working during an eight-month restoration of Capitol offices and the rotunda. Photos of his family, former President Ronald Reagan and a framed newspaper front page from his Nov. 6, 2018, election night victory provide an air of permanence.
As the Capitol is under construction, so is the state. Tulsans Stitt and Lt. Gov. Matt Pinnell are leading the team to create a strong framework.
Changing the tide
In recent years Oklahoma has consistently ranked among the worst in the country in most categories: quality health care, short-term fiscal stability, public education funding and incarceration rates. Previous Gov. Mary Fallin termed out and exited with a 74% disapproval rating, making her the least popular governor in the United States, according to Morning Consult's Approval Rankings.
As for Stitt, it has been a highly productive and positive first year for a man who had little name recognition when he entered the gubernatorial race as an outsider and as a fiscally conservative businessman among career politicians.
He's relaxed. He's smiling. He says he's having a good time being in charge of the state. In October he was named the sixth most popular governor in the country by Morning Consult.
When sworn in on Jan. 14, Stitt went to work with a Senate comprised of 39 Republicans and nine Democrats, and a House of Representatives comprised of 77 Republicans and 24 Democrats.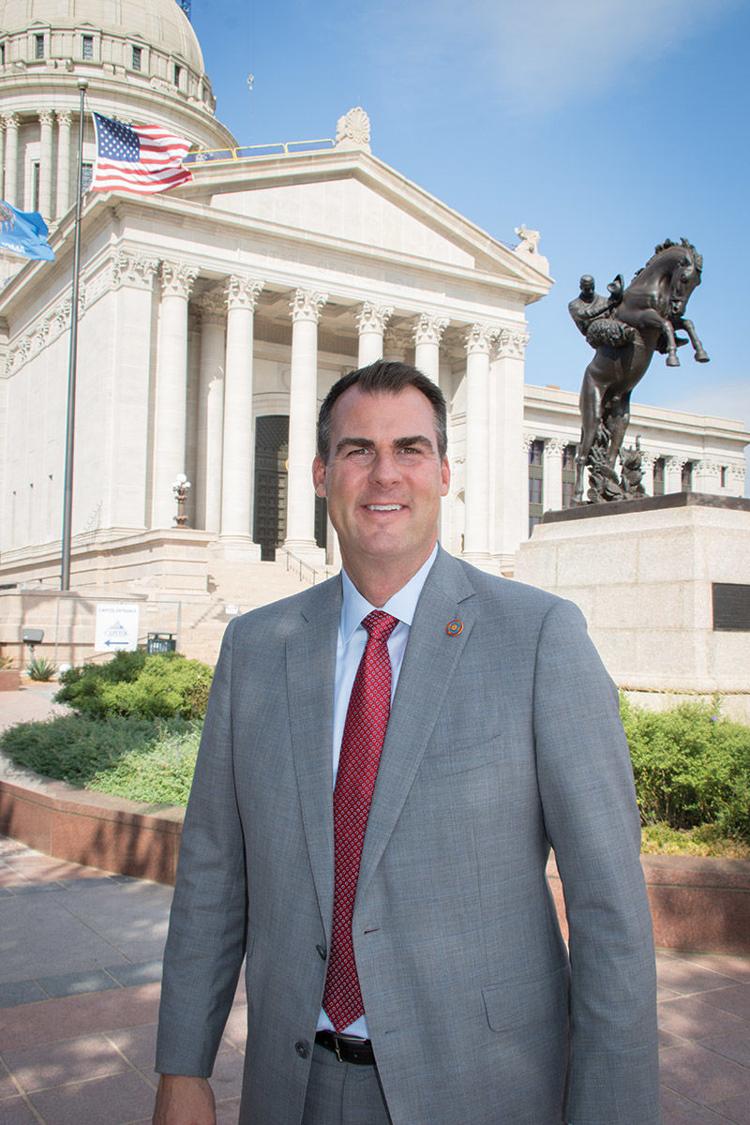 "This a lot of fun, and I thought it would be more challenging working with the Legislature getting the agenda passed," says the sixth Republican governor in state history. "But the Legislature, they're looking for their governor to say, 'Here's the direction we need to go. Let's go charge the hill together.'"
The first bill he signed on Feb. 27 was HB 2597, which established permitless carry, making it legal to carry a gun without a permit or training. The law went into effect Nov. 1.
"When I looked at that bill, 15 other states have very similar language, and I remind people that Bernie Sanders' Vermont has the same constitutional carry language," Stitt says. "The one thing that I did push to get in there was to make sure that personal property rights were validated, as well. So some of these major venues like Chesapeake Arena — businesses still have the right to say, 'You can't carry here.'"
In March, he signed five agency accountability bills, giving him the authority to hire and fire agency leaders of the Oklahoma Healthcare Authority, the Department of Transportation, the Department of Corrections, the Office of Juvenile Affairs, and the Department of Mental Health and Substance Abuse Services.
"It was my huge win early on, to give the governor the authority to hire and fire the right people," Stitt says. "The Healthcare Authority is a $6 billion agency. They spend the most money of any agency in state government. We were the only state out of 50 states that didn't give the governor the authority to run that agency.
"We're going to make sure those dollars get into our rural hospitals and get into our health care system." Stitt says he's opposed to Medicaid expansion in its current form and says his administration will soon roll out his health care plan.
In May, Stitt signed the largest-ever appropriations bill, which is an $8.1 billion spending plan that funds pay raises for teachers and state workers. It also included $200 million to be put into a savings account, which is now up to ten digits.
"We have over a billion dollars in our savings account for the first time ever. It is a huge win for Oklahoma," Stitt says. "That is a lot of money, but when you think about a $19 billion budget, it's not even enough. My goal is to have $2 billion."
In comparison he says, "Other states — North Dakota, for example — they've got $5 billion in their savings account, and their overall budget is only about $4 billion. So they have over a year savings built up. When I got here, we had almost nothing." 
State Rep. Regina Goodwin, a Democrat representing Tulsa's House District 73, opposed HB 2765.
"I was not in agreement with our saving money because we still have lives that need to be saved. We have infrastructure. We have core services that need to be restored," Goodwin says. "If your house is on fire, you need all the buckets you can get to put the fire out. If we were using two buckets and now we're down to one, I don't think it's the best strategy."
In his first steps toward justice reform, Stitt on Nov. 1, signed off on the recommendation by the Oklahoma Pardon and Parole Board to commute the sentences of 527 state inmates. Three days later, more than 400 inmates across the state were released in what was called the largest single-day mass commutation in U.S. history.
It was a result of the passage of House Bill 1269, a bipartisan bill making retroactive a number of criminal justice reforms that reclassified some drug and property crimes. Those whose sentences were commuted effectively earned one-year sentences with time-served, meaning they were eligible for release that day.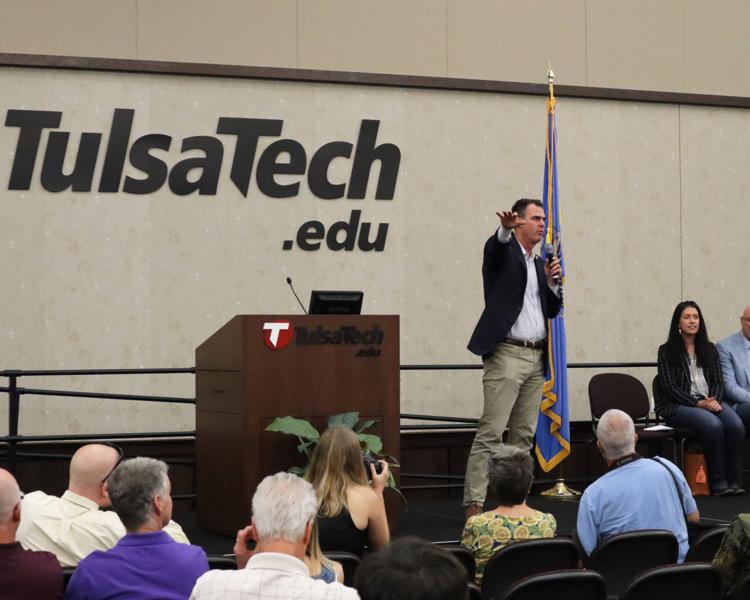 The business of running a state
So how did Stitt get to the Capitol?
The 47-year-old was born in Florida, raised in Norman, graduated from Oklahoma State University and for 23 years was a Tulsa resident, where he founded and served as chairman and CEO of Gateway Mortgage Group. In 2017, he says he decided it was time to run for public office.
He started by defeating eight other Republican candidates in the primary to enter a runoff with former Oklahoma City Mayor Mick Cornett, who earned 29% of the primary votes compared to Stitt's 24%. In the runoff, Stitt then cruised past Cornett, earning 55% of the vote.
In the general election, Stitt earned 54% of the votes to defeat Democratic candidate and former state Attorney General Drew Edmondson to become the 28th governor of Oklahoma.
"I was going up against kind of a guy that has been around politics for a long time, and I really think Oklahomans elected me to kind of think of things differently, bring in some fresh blood into the Capitol," Stitt says. "I don't know how you can be effective in this job if you weren't a former CEO businessperson because this is a business. This is running a 33,000-person organization. There's $19 billion in federal and tax dollars that flow through here, so people want the governor to make sure it's managed properly."
He says he was determined to bring in fresh perspectives to help him achieve his goals. His cabinet is loaded with many Tulsa-area residents, including Secretary of State and Education Michael Rogers, Secretary of Science and Innovation Dr. Kayse Shrum, Secretary of Commerce and Workforce Development Sean Kouplen, and Budget Secretary Mike Mazzei. He also brought in Tulsan Michael Junk to be his chief of staff. Junk previously served as Tulsa's deputy mayor under Mayor G.T. Bynum. 
In what might be one of the shrewdest moves of Stitt's first year, he split the job of Tourism and Commerce secretary into two positions, and for the first time appointed Lt. Gov. Pinnell to the cabinet as secretary of tourism and branding.
Like the governor, the 2018 election marked Pinnell's first time to run for public office, but unlike Stitt, he's no political outsider. Pinnell has worked behind the scenes for the Republican party at the state and national levels for nearly two decades.
Pinnell's journey to his ultimate victory began with a second-place finish in the Republican primary, where Dana Murphy earned 46% of the vote to Pinnell's 36%. In the runoff, Pinnell cruised to victory with 58% of the votes. His general election victory was even more lopsided when he defeated Anastasia Pittman by earning 62% of the votes. 
"I was the only one running that really was defining what the job of the lieutenant governor is.
It's a sales and marketing job. I'm a sales and marketing guy. That's what I love to do," says the 40-year-old, who became the first Tulsan to be elected to the position. "There were other people running because they wanted to get out of one political position and you know, climb a ladder, so to speak, or they were term limited and it was a free shot."
Pinnell understands the importance tourism brings to the state. His office is decorated with tourism branding logos and mementos he has acquired touring the state, including his travel cup stating he was a calf fry judge at a 40th annual event.
"Tourism is the third largest industry in our state. It's a juggernaut for the state of Oklahoma, as sales tax dependent as we are as a state. We're arguably the most sales tax dependent state in the country," says Pinnell, who ran on championing tourism.
Marketing Oklahoma
Pinnell is a Tulsan through and through, except for his birthplace. He was born in Dallas in the final months of his dad's pursuit of a master's degree at Southern Methodist University. He jokingly calls it "one of the great stains on our family history."
The Pinnells returned to Tulsa six months later, and Matt grew up going to Lee Elementary (now Council Oak), followed by Wilson Middle School, which no longer exists. He then attended Metro Christian Academy where he fell in love with his future wife, Lisa. 
Following his graduation from Oral Roberts University with a public relations degree in 2002, they moved to Washington, D.C., where he worked for the International Auto Dealers Association and then for an orthopedic political action committee. Once they started a family, they returned home. They now have four children and live in the Jenks School District.
Back in Oklahoma in 2005, Pinnell became immersed in Oklahoma politics, working for Scott Pruitt's lieutenant governor campaign and a Tom Coburn congressional campaign. Pinnell says as he progressed through these efforts, he noticed a lack of political interest in his peers and those a few years younger. 
"I wanted the next generation to get involved in politics. I thought, 'What better way to demonstrate that than to run to represent the state party in the state of Oklahoma?'" Pinnell says. "I also didn't think it was being run the right way. We weren't engaging college Republicans, young Republicans, young conservatives. I don't think our messaging was well done."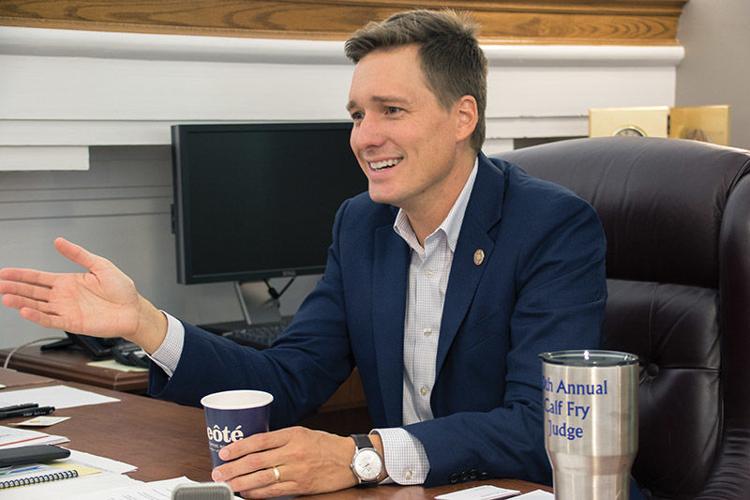 In 2010 Pinnell, at 29, became the youngest state party chairman in the country. His leadership helped revolutionize Republican politics in Oklahoma and pave the way for where we are today as a state in terms of political landscape. Three of the last four governors have been Republican, and Republican governors won back-to-back for the first time since Henry Bellmon and Dewey F. Bartlett were elected in 1962 and 1966, respectively.
"Over the next four years, we really transformed the Oklahoma Republican Party," Pinnell says. "When I left, we had every federal elected position and statewide elected position for the first time in state history."
They were pragmatic fiscal conservatives who spoke to the next generation, as well as those who were upset with both parties — voters who were looking for a party home, he explains. "And we gave them a reason to join the Republican Party."
In 2013, he joined the Republican National Committee as the national state party director. The role meant he had to travel the country during the 2014 and 2016 election cycles to help alleviate internal issues.
"I would get phone call on a Monday from the national party saying, 'Hey, the Arkansas GOP is burning to the ground. Go fix it,'" says Pinnell, who visited all 50 states during his tenure. "So I had to identify problems very quickly. I had to bring together a very diverse group of people," many of whom weren't getting along, "and really help fix their problems," he says. "My job was to go in and rebuild state parties, and I loved that part of it."
His work ultimately helped the Republican Party regain the White House in 2016. 
"We knew if state parties were not well run, then we were never going to win a presidential election," Pinnell says.
Pinnell says he was largely sheltered from the "Trump Train" during the campaign, but after Donald Trump's victory, he says he was on the shortlist to become the next Republican National Committee chairperson. 
The president instead chose Ronna McDaniel, which Pinnell considers a blessing in disguise because he was already eyeing the lieutenant governor race at the time.
Since taking office, Pinnell has overseen a major rebranding effort that will redefine how leaders market the state.
On brand
There's the new TravelOK Trip Planner mobile app. There's the creation of the Oklahoma Fishing Trail, which categorizes the state's lakes and rivers into six loops organized by lake and species. Visitors to state parks no longer have to pay cash to stay the night.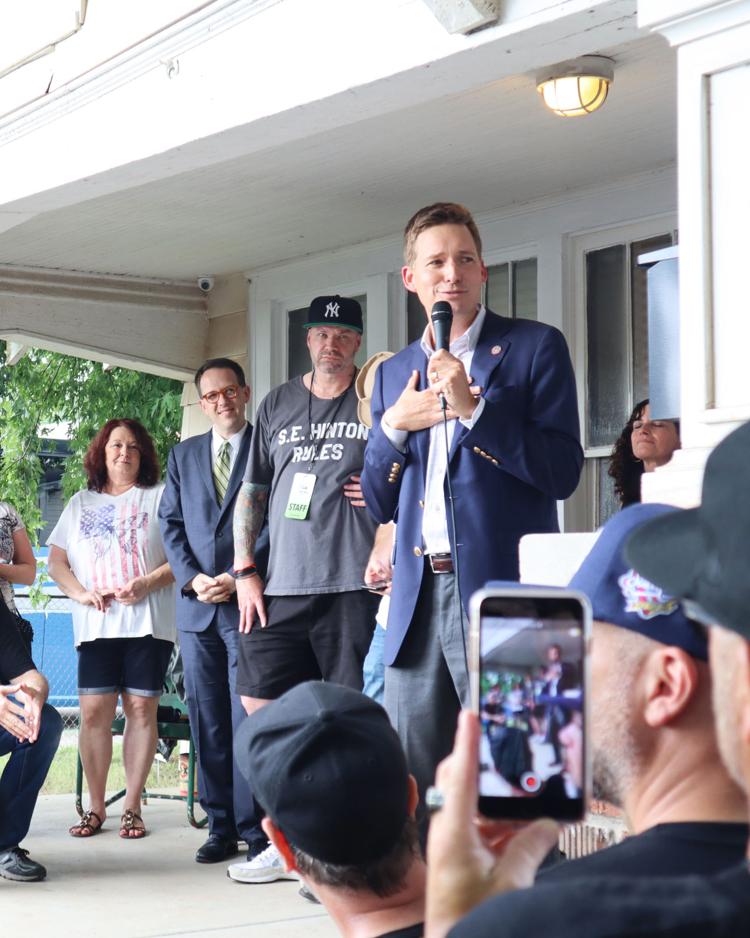 Among his biggest plans is to make Oklahoma the face of Route 66, the historic highway that stretches from Chicago to southern California. 
"We will be the center of the universe when it comes to Route 66, and I say universe because international tourists are so fanatical about Route 66," Pinnell says. "Tulsa is leading the way. You have city and county leadership. Then you have the private sector with Kathy Taylor and others. 
"It's authentic America. It's as authentic as it gets, that Mother Road. And it's a money-making machine. If I can get dedicated dollars to Route 66, we're going to generate a ton more sales tax, particularly for a lot of those small towns."
To help him achieve his goals, lawmakers boosted the tourism department's budget from $14.9 million to $18.1 million. He has received questions about increasing annual spending, and he has a simple answer.
"With that marketing budget, for every dollar I spend on tourism advertising, I get (at least) seven bucks back," Pinnell says. The new Fishing Trail provides the state a 55-1 return on investment.
Among Pinnell's biggest allies in the massive promotional effort are the 39 federally recognized Native American tribes that draw thousands of tourists daily to casinos and cultural tourism programs.
He has been in talks with multiple tribes, including the Cherokee Nation, about working together to bring movie and TV productions to the state. There also are ways to generate sales tax dollars in the local economies.
One example is Chickasaw Nation's "Be Native Tours," which buses sightseers to towns to show off tribal history. There, tourists spend dollars and pay state sales tax.
"The tourism department and our tribal sovereign nations, they have to work together because in Oklahoma, you have to play to your strengths," Pinnell says. "Let's not turn Oklahoma into something that we're not. Let's just be Oklahoma. A big part of it is Native America — that authentic American experience that you can get in Oklahoma, that you really can't get in a whole lot of other states."
In a highly successful first year for Stitt, the governor's toughest challenge is attempting to negotiate new terms for the tribal gaming compact.
As part of the cabinet's public relations efforts, members are touring the state and hosting townhalls in communities to share information about their work with constituents.
At the Owasso tour stop in September, Pinnell stated Thackerville and Durant — home to two of the largest casinos in the region and the world — are among the top five arrival cities in the state for tourists.
It's one of many new initiatives by the Tulsan-led administration.
Fresh start
Stitt's first year in office is nearly over. He has money in the bank, and he has a team working to refine and redefine the state's image. Most importantly, he says, there's an air of confidence at the Capitol as it continues its transformation and enters a new decade.
"I would consider the most important thing that I've done is changing the atmosphere and the vision for Oklahoma that we can be, we will be, we should be, a top 10 state," Stitt says. "That's the most important thing that I've done, just to reinject confidence and the winning attitude back into Oklahoma."