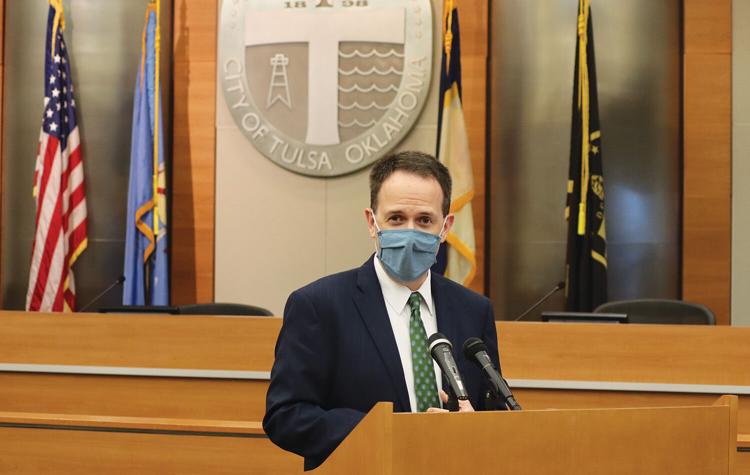 Things were moving along smoothly in Tulsa in early 2020 until they weren't. On March 16, state and local health department officials confirmed three cases of COVID-19 in Tulsa County. 
Mayor G.T. Bynum responded by issuing a civil emergency declaration. No large gatherings, all major attractions closed. Twenty-four hours later bars, restaurants and other non-essential businesses were shut down, and City and County leaders had a major crisis on their hands. 
Bynum, Tulsa County Commissioner Karen Keith and Bruce Dart, Tulsa County Health Department executive director, each stood at the press conference lectern daily to provide updated information and take actions backed by data and science to try to locally combat the worst pandemic in a century, including approving a mask mandate in July and then pushing for surrounding cities' mayors to do the same. 
"We pretty quickly established a team for communicating the local response to this pandemic among the three of us," Bynum says. "Bruce is the technical expert, Karen has the best feel for what people are thinking, and I've found myself as the person in the best position to act on what we as a team have determined is the proper course. Our laws for civil emergencies give the mayor significant authority to act to protect lives, and I have been very thankful that I could walk through different ideas with them before we moved forward."
In January, Bynum announced the appointment of Wendell Franklin as chief of police after telling the internal review panel, "This guy is a once-in-a-generation talent."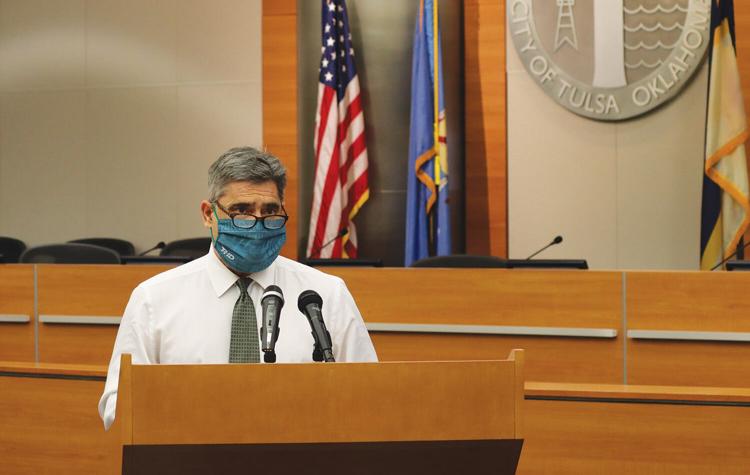 Franklin started the job in February and barely had time to get his office decorated before the pandemic hit, and that was only the beginning. 
"Several times I've looked back at the photo taken when Mayor Bynum announced my appointment and I shake my head," Franklin says. "I knew how big the job was then and had real fear about assuming the role. I had no idea what was coming. I think about how comfortable I was in my career prior to February and how I'd always told my sons uncomfortable circumstances build perseverance. I'm now practicing my words." 
On top of the pandemic response, Franklin led the department through unprecedented challenges all year.
"There were mass retirements due to pension adjustments, followed by the tragic conclusion to the Miracle and Tony Crook investigation (the toddlers drowned in Mingo Creek on May 29), then budget reductions due to COVID-19," says the 23-year TPD veteran and first Black chief. "Then we moved into protests and civil unrest, a presidential visit, the murder of Sgt. Craig Johnson and the attempted murder of officer Aurash Zarkeshan, the McGirt Decision (a U.S. Supreme Court ruling that most of eastern Oklahoma, including Tulsa, remains tribal land), enforcement of emergency orders, and the (COVID-19) deaths of officer Jerad Lindsay and 911 dispatcher Joey Phillips.
"Many other notable events occurred, but TPD officers have handled everything thrown their direction in stride and did not flinch."
Bynum says Franklin has "proven what a remarkable leader he is in 2020."
"He has done an incredible job in just his first year," Bynum says. "My big takeaways seeing him up close through so many challenges this year are that he is unfailingly calm amid crises, and he is one of the deepest thinkers you'll ever meet."
---
Shoutout to the City of Tulsa's communications team led by Director of Communications Michelle Brooks. The eight-person team disseminated an enormous amount of information, organized and ran daily press conferences, and responded to nonstop media requests throughout the year to help keep residents informed.