"This year has been all consuming," says Christina Howard, a registered nurse who works in the COVID-designated ICU at Ascension St. John.
Since the novel coronavirus first appeared in the city, thousands of frontline health care workers like Howard have risked their lives to care for those potentially infected. 
Across the board there have been longer hours. More shifts. For those at the testing sites, long days spent swabbing Tulsan after Tulsan. There haven't been breaks. They've gone to work, day after day, in a work climate they didn't think was possible.
"It's just more stressful. It's a little darker than what we're used to. It's also more lonely," says Dr. Brian Worley, medical director of the ICU at Hillcrest South. "Even though we're surrounded by people, there's something about having gowns and masks and gloves. Even if you're right next to somebody, you just feel detached from them."
In early December, Worley reported his 15-bed unit was "never not full." The fast-paced atmosphere has grown more emotional. He says the smallest thing might affect someone on his staff, who typically carry a thick skin given the line of work. "We deal with death," Worley says. "Death is an everyday occurrence for us. It's just, this is a lot." He chokes back tears.
Howard has coped and dealt with the past nine months by leaning on her fellow co-workers. "Being in health care, it's hard for someone outside of this field to understand what we are seeing and the kinds of things that we're going through," she says. "Because even if you go home, it's hard to talk to your spouse or your family about what's happening. We've all grown, I think, a lot closer through this year and through this pandemic."
Teamwork and the strength of coming together is echoed by Doug Williams, senior vice president and administrator of Saint Francis Hospital.
"From the first meeting about this virus in January and every moment since then, I have had a level of measured confidence that we would be able to navigate through whatever the future would hold," Williams says. "We never thought it would be easy, but we knew it would be easier because of the strength of our team."
For medical personnel caring for those in nursing homes or senior residences, their roles as health care professional have expanded to supplemental family, according to Dana Hammer, Montereau's director of nursing. 
Visitation restrictions forced canceled visits, which has taken a toll.
"We've seen how that has caused residents to decline," Hammer says.
She and the center's staff have implemented measures to keep staff and residents safe, while also maintaining spirits during a pandemic.
"The pandemic has created an overall sadness. It's heartbreaking," she says. As a health care worker, a central focus of hers is COVID risk and prevention, in addition to other risks facing the aging population. And, her emotional state, as it is for many, is a teeter-totter.
"There certainly have been days I felt defeated and wanted to give up," she says, "and then others when I have felt fierce and ready to fight."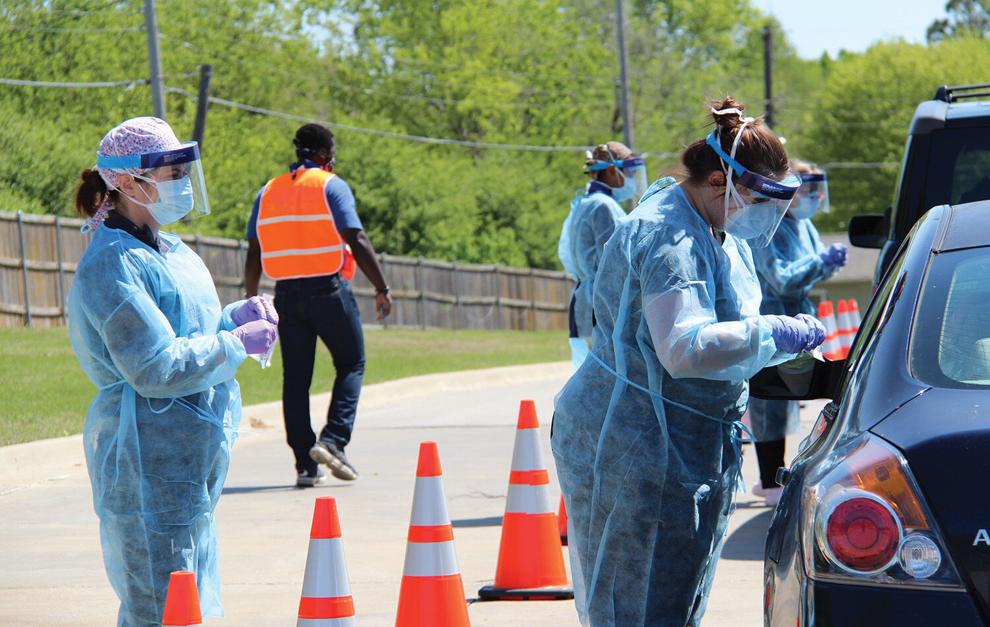 Even though Whitney Burk, an advanced practice registered nurse at the Tulsa Health Department, was in direct contact with potential positive cases during her four- to-six-hour shifts swabbing at test sites, she was not afraid. After all, she says the strict PPE guidelines provide evidence-based safety measures. She felt more for those she was meeting.
"We feel empathy for those in the drive-thru clinics," Burk says. 
It's safe to say most have taken 2020 as a learning opportunity or a chance for personal growth. For Howard, she has realized the importance of relationships, whether it's with your friends, family or co-workers.
"I realized I am capable of accomplishing more when I am surrounded by an extremely strong, unified team," she says. "I have an abundance to be grateful for. I'm a very lucky person."