Ki'Eisha Cathey proved she could take 'em to the mat when she won an individual championship this past February at the Oklahoma State High School Wrestling Tournament. A Broken Arrow High School junior, Cathey pinned all three of her opponents in the 185-pound weight class and plans to continue wrestling at the next level. 
Now a senior at BA, she is one of a growing number of girls who have taken to the recently sanctioned sport. 
It's not that females couldn't previously be on a wrestling team, but they had to compete on the boys' squad. 
Earlier this year, the Oklahoma Secondary School Activities Association officially sanctioned girls' wrestling. Now the sport is growing significantly across the state, and girls like Cathey are finding new opportunities to earn scholarships to compete in college — just like the boys in the state have been doing for generations. 
"I'm telling you, it's exploding," says Broken Arrow girls' wrestling coach Cassidy Jasperson, herself a former wrestler.
With three individual champions — including seniors Allison Hynes and Olivia Brown — among the 10 different weight brackets, the Broken Arrow Tigers won the first OSSAA team state title this year. With about 24 girls on the high school squad and another 26 in its junior high program, Broken Arrow is one of just a handful of Oklahoma schools that has its own girls' program, with a dedicated girls' coach, separate from the boys' wrestling team.
"We're like a sisterhood," Cathey says of her team.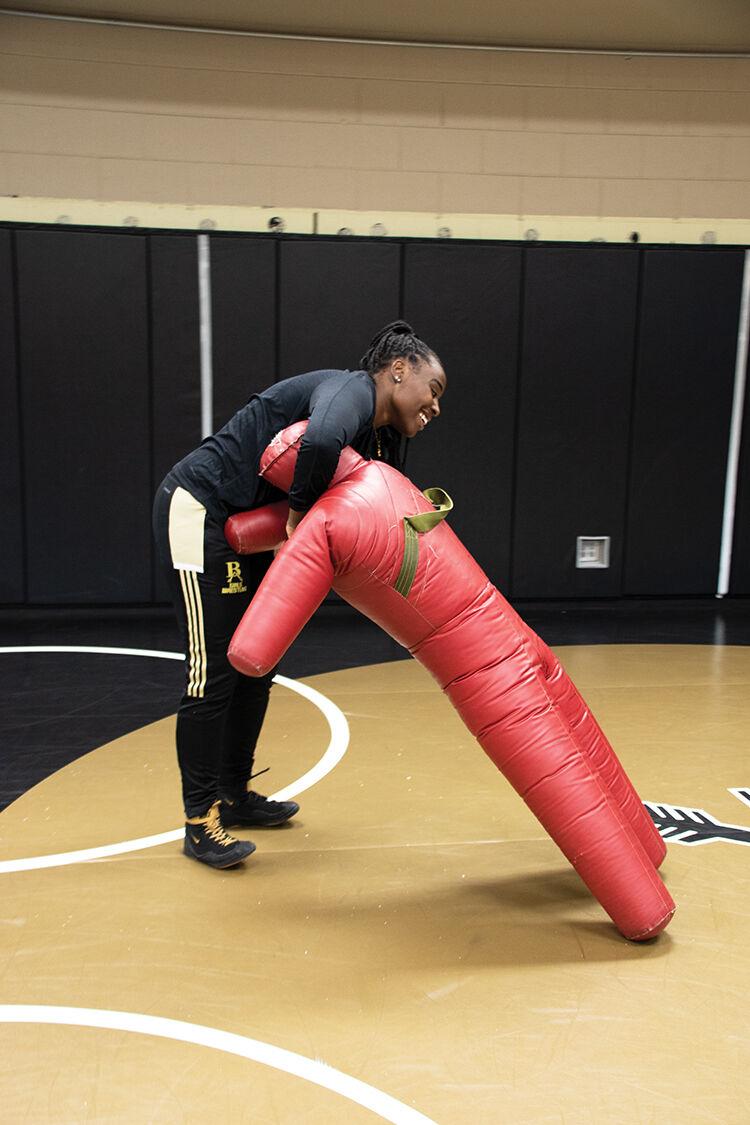 The high school was ahead of the curve, hiring Jasperson in 2019 before the OSSAA sanctioned the sport, because they already had a blossoming girls' wrestling scene. With a rich tradition in boys' wrestling that has seen the school win 21 state championships — 11 in the past 12 years, including 2019, 2020 and 2021 — BA Executive Director of Athletics Steve Dunn says adding the state's first girls' program was an easy decision, regardless of its sanctioning.
"Our community is just crazy about wrestling; there's such a tradition of excellence in our program, it just made a lot of sense to provide those opportunities for young ladies in our youth, middle school and high school programs," Dunn says. 
"We saw we had a lot of girls who were wrestling and making their way through our program," he explains. "We've had girls' wrestling in our boys' program for many years, and we knew we were out in front of the OSSAA in terms of their sanctioning of the sport, but we also knew it was just a matter of time because it's a trend across the country.
"Whether other schools followed suit, whether (OSSAA) was able to do it this year or last year or in five or six years, we knew eventually they would, and we were willing to travel and provide opportunities for our kids."
Before its official girls' state wrestling tournament in 2021, OSSAA first held an exhibition of girls' wrestling in 2020 alongside the boys' state tournament, on the same mats, and liked how it went, according to Todd Goolsby, assistant director of OSSAA. Plus, nearby states Missouri (2019) and Kansas (2020) also sanctioned girls' wrestling, so that made the decision easier.
"After we saw the successes of our exhibition year, we decided to go ahead and make it an official championship activity," Goolsby says. "I think probably the fact that other states around us jumped in and made it official helped make it a priority in Oklahoma. In our minds, Oklahoma is a leader in the sport of wrestling, and it made the most sense to sanction the girls, as well."
With heightened visibility, more girls are giving it a try, both at the youth level and in high school. 
"I think it's only going to get bigger," says Jasperson, 24, a former state champion high school wrestler from Houston, Texas, who also competed for Oklahoma City University. However, "Wrestling is a little intimidating for people when there's not a culture here yet," she adds. Maybe a male relative wrestled, but it's truly a first-generation sport. "These girls have a lot of courage to try this out when they're already teenagers."
The girls' wrestling boom has been ongoing for several years, with more and more starting the sport in elementary school. 
Sophomore Tiara Revan also competed this year. After touching the mat for the first time as a freshman at the beginning of the season, she placed third in February at the East Regional at 107 pounds, qualifying for the state tournament, but was forced to miss it after testing positive for COVID-19. 
Now, fully recovered, she continues to wrestle, and in June, helped represent Broken Arrow at the Junior Women's National Duals tournament.
"I was looking for a sport to play, and my counselor offered wrestling," says Revan, a former basketball player and now 2021 Folkstyle National All-American. She tried wrestling and loved it.
Having a female coach in Jasperson has been important to Broken Arrow's success. She is one of the rare women in the state who has already lived the experience these girls are seeking. 
"I'm younger, I'm a short little thing, I look like half the girls I coach, so I think there's an appeal," says Jasperson, a multiple NAIA All-American at OCU. "They see this little blond girl as the coach and think, 'OK, it can't be that brutal.' I think that is a huge draw — having somebody they can relate to." 
"We trust her and her experience," says Cathey, who has been wrestling for three years now. "She knows exactly what we're going through. She looks out for us. She always has our back. We don't have to share our coach with anyone else." 
As of this summer, nine Oklahoma schools have dedicated girls' wrestling coaches, with several more planning to hire one before next season starts, according to Goolsby. Wagoner,
Claremore and Fort Gibson all had individual state champions this year. 
Since 2018-19, the number of registered female wrestlers has more than tripled, from 98 to 362. Additionally, 98 schools have at least one girl wrestling. That means more attention on recruitment and promotion, including the fact that wrestling can pay for college.
"I'm hoping to get a full-ride scholarship to college through wrestling," Revan says. "I didn't know that was possible when I first started."
---
Oklahoma State not quite ready to add women's wrestling
Oklahoma State University is one of the most decorated Division I colleges in wrestling. So what about women's wrestling? 
Coach John Smith has a history of involvement in female wrestling, including coaching the U.S. national team to a second-place finish at the 2017 World Championship tournament, but right now, OSU is not quite ready to take the plunge.
"We are closely watching the landscape with that," says new OSU Athletic Director Chad Weiberg. "Yes, we are aware of the growth in Oklahoma, the growth in Texas and other states around us. We have a proud wrestling tradition here and have for a long, long time, and I believe, if that is something that continues to develop, we'll be part of that. But at this point, we're just going to continue to monitor and watch that growth."
It will likely take multiple universities adding programs for OSU to take the next step into that arena.
"Ideally, there would be some sort of simultaneous growth, because that helps with competition, right?" Weiberg asks. "In terms of travel — where are you going, who are you competing against, and that kind of thing." 
---
Wrestlers aspire to continue fueling rise of women's MMA fighting 
Even casual sports fans will remember the hype surrounding female mixed martial arts fighter Ronda Rousey a few years ago, as she became the face of the Ultimate Fighting Championship female division before losing her title and fading from public view. 
But since then, the competition in women's MMA fighting has remained fierce and has steadily gained popularity at all levels. Even in Tulsa, where Dale "Apollo" Cook has been putting on his XTreme Fight Night showcases periodically at the River Spirit Casino Resort, women's bouts have often been a key part of the lineup. 
Jaymee "Ambush" Jones, who is from Tahlequah, was a regular combatant and crowd favorite, fashioning an 8-3 record from 2013-16, although she has since retired to raise her children. 
Cook says the pipeline of local women has dried up a bit recently, but he is still on the lookout for the next generation of female fighters.
"I love women in combat sports, but I can't find any in Oklahoma," Cook says. "The last girl star I had was Jaymee 'Ambush' Jones — she was a tremendous draw and a tough fighter. 
"Maybe the (rise of) women's wrestling in high school in Oklahoma will change things. As a result of no up-and-coming talent, we haven't had a female fight in a couple of years. The last girl I promoted, Montana De la Rosa, was from Texas, where women's wrestling is big. She was a state champ and is now a star in the UFC."
Broken Arrow girls' wrestling coach Cassidy Jasperson believes the rise of MMA, and the popularity of female fighters, also has helped fuel the increase of girls' wrestling.
"Just exposure to females in combat sports (helps)," Jasperson says, adding that a few of her girls have done jiujitsu. "It kind of leads them into that realm. There's not jiujitsu in junior high or high school right now, that's not a school-sanctioned sport, so wrestling is pretty similar."