Tulsa in 1920 was a city of opportunity — the "Oil Capital of the World." Its population had quadrupled in a decade as migrants rushed to eastern Oklahoma in hopes of striking it rich like the Cosdens, Skellys and Sinclairs. 
But housing had not kept pace with the population explosion, and rent was at a premium. Most oil field jobs were low paying and in the refineries. 
So while wealthy Tulsans lavishly entered a new decade, others were living in abject poverty just across the Arkansas River.
By 1921 the situation in west Tulsa was more expansive than well-meaning citizens could tackle, and the federal welfare system would not be established until 1935. The Boston-based Family Welfare Association of America was called in to survey Tulsa's existing social agencies and needs.
"In and around the city lie ragged spots of wretched housings where people live in any kind of miserable shelter, without sewers, water supply or garbage collection; many people crowd together in a shack or tent with no possibility of decent privacy and with no sanitary protection," wrote FWA in its Tulsa report.
The Tulsa Daily World on Feb. 20, 1921, published FWA's recommendations, which included consolidation of agencies to form a more effective "council of social services." By October a group of thoughtful Tulsans, including oilman Waite Phillips, formed Family Welfare Society of Tulsa. Its mission: "To restore disadvantaged families, where possible, to independence and normal life by means of careful planning and the carrying out of … relief, employment, medical care and education through friendly supervision."
One century later that thoughtful group has become a powerhouse of community response: Family and Children's Services. From a fledgling organization in 1921 to one providing $86 million in services in 2021, it has stayed true to its mission of serving Tulsa's disenfranchised while adapting to meet the needs of a changing city and culture. 

Filling the gaps
The early work of FCS — providing food, clothing, shelter, counseling and financial aid — sought to lessen issues that undermined the wellbeing of local families, including domestic issues.
In 1921 the divorce rate of Tulsa County was 23%, more than double the national rate. When a husband, the breadwinner, separated from his family, the women and children left behind quickly became desperate. Others were stuck in impossible situations.
"My youngest child has never been to school," wrote a woman to FCS in 1925. "She only has rags to wear, and I have no food for her lunch. My husband has been offered work, but he won't take the jobs. Can you help protect me and my children while I try to rise up out of poverty?"
In 1925 board member Phillips donated a building at East Sixth Street and South Cheyenne Avenue, which FCS shared with its sole funder at the time, Tulsa Community Chest Fund, later known as the Tulsa Area United Way.
By the early '30s, the Great Depression hit Tulsa hard, causing record unemployment rates and financial stress. In 1936 the Oklahoma Department of Welfare was established, helping to serve the state's poor, yet records show FCS continued to fill gaps. For example, when state funds were exhausted in 1938, the organization provided emergency school lunches to all children in need.
By 1940 Tulsa's population had multiplied again, and FCS caseworkers were busily filling the needs of the growing community, from providing disaster relief to counseling single mothers.
When the U.S. entered World War II, military wives entered the workforce. FCS operated child care centers and provided counseling services to working mothers. After men returned from war, mental health came into focus.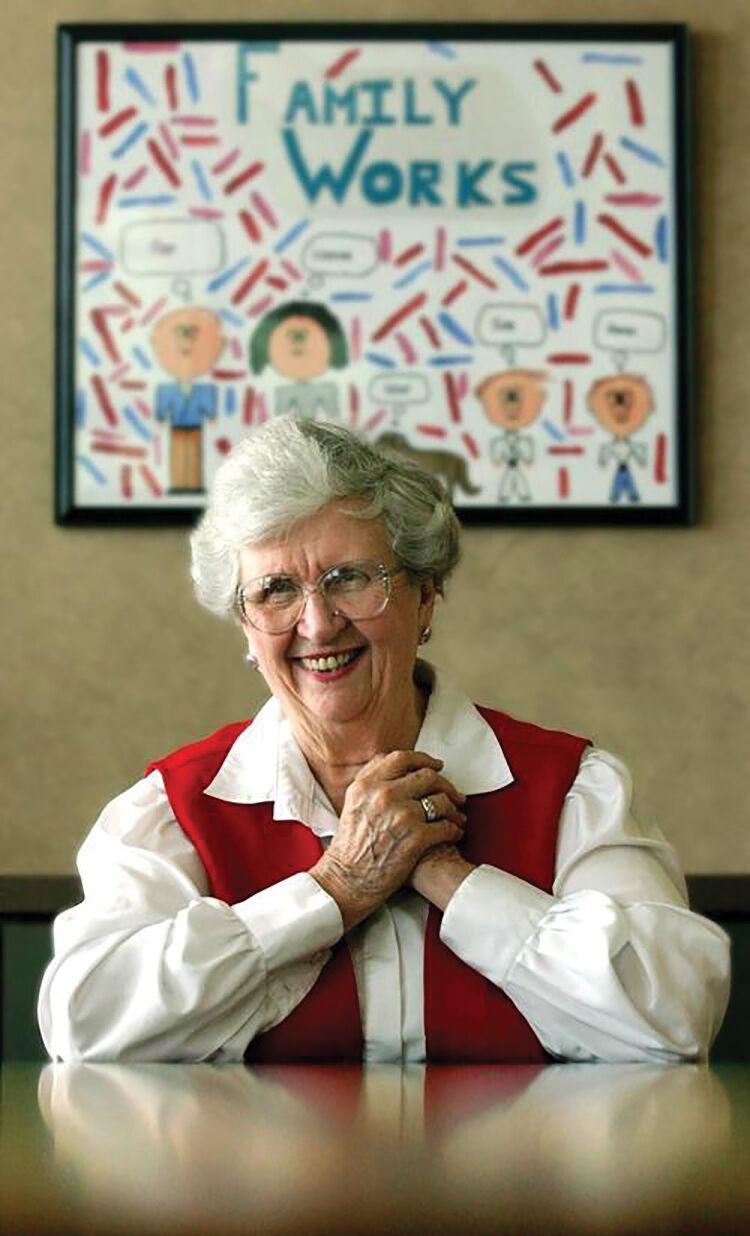 In 1952 FCS took over a state program called Homemaker Services to stabilize and preserve families by providing temporary in-home child care. Young social worker Florence Beeman was hired to oversee the program. "We had one wonderful woman who was placed with a family of 10 children (including) two sets of twins," recalls Beeman, now age 100. "What I remember about her was she sure knew how to cook up a big pan full of macaroni and tomatoes and onions and make a pretty good meal out of it."
Beeman's role eventually shifted to counseling women living at the Salvation Army Home and Hospital for Unwed Mothers. "Back then it was a shame (to be pregnant and unmarried). You didn't want anyone to know you were pregnant," Beeman says. At the Salvation Army "they would make their decision about whether to keep the baby or whether to give it up for adoption. That was not our decision, but I would work with them." 
Many girls chose to put their child up for adoption. As a result, FCS became an adoption agency and offered temporary foster care for newborns while adoptions were being processed. 
FCS also offered programs in sex education in the 1950s and '60s, and until 1974 it was the largest adoption agency in Tulsa. According to FCS CEO Gail Lapidus, the program ended due to the advent of the birth control pill, the legalization of abortion and changing attitudes about pregnant teenagers.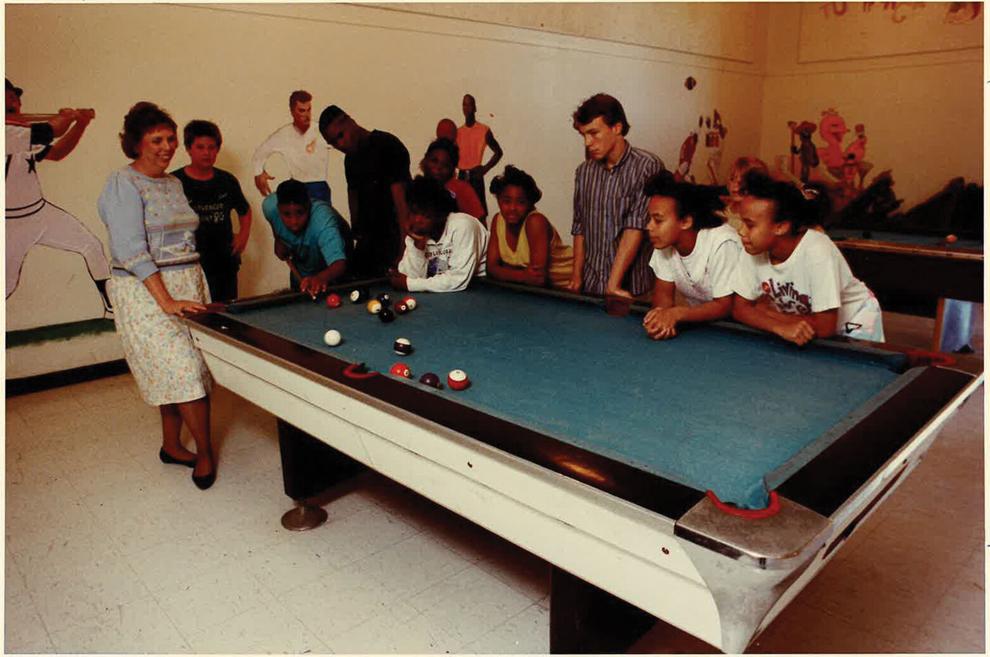 Changing relationships
In the 1960s American gender roles changed as more woman sought careers. Around the same time, cities like Tulsa saw a significant rise in child abuse, divorce, domestic violence and substance abuse, Lapidus says.
"People don't do well in transitions of roles," she explains. "If you know your role, you can usually function much better. These were all changing, and women were gaining more power and, with their income earnings, expecting more help from their spouses."
At the request of FCS Executive Director Richard Borden, in the 1960s Beeman often spoke to church and support groups on topics related to well-being and relationships. "He was innovative and creative," Beeman recalls of Borden. "He recognized my ability to go out into the community and talk, so I got to be very well known whether I wanted to be or not." This launched FCS' Family Life Education programs that have remained current with the times to address modern-day family stressors.
In the 1970s, family therapy emerged as an alternative form of of counseling that worked with families and couples to nurture relationships. In 1979, after Lapidus received her master's degree in social work, she was ready to advance her knowledge in family therapy only to find there was no one locally to teach it.
She and former FCS Clinical Director Barbara Bramble had the idea to bring a trainer to Tulsa for a ticketed community workshop, then to use the proceeds to pay for the trainer to stay and do intensive training for the FCS Family Therapy Department. The model was so successful, it continued into the 1990s. 
"Some of the best family therapists were trained by FCS at that time," Lapidus says. "We sort of became this little mecca (for family therapy)." FCS brought to Tulsa family therapy experts from all around the world to train staff and the community. 
At one time, FCS provided field placements for all DHS child welfare staff working on their master's degree in social work. FCS' internship program continues to offer field placements for bachelor and graduate students from area universities. This year, the organization will assist 40 students with their study requirements.
"For the last seven decades, Family and Children's Services has used its own resources to educate and train the future professionals in our field," Lapidus says.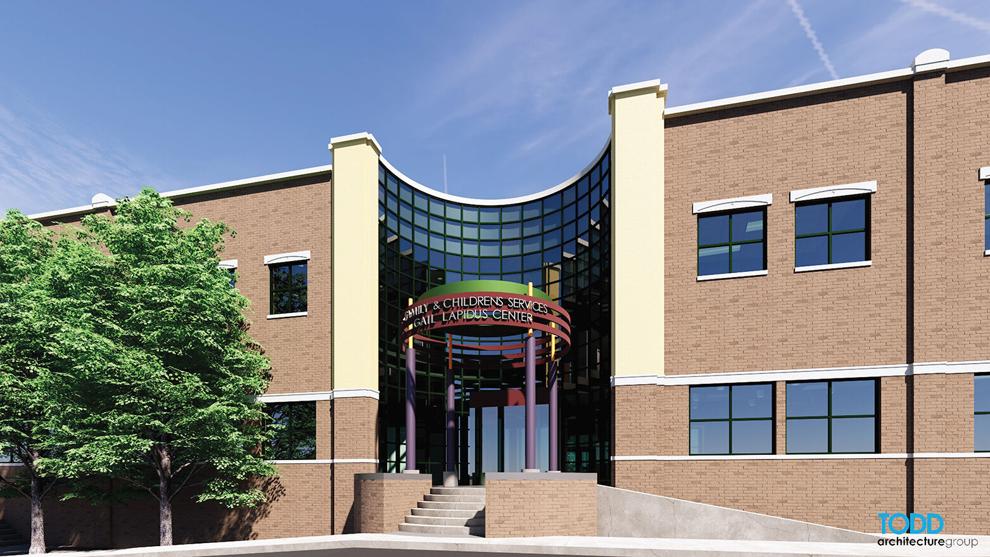 Pioneering programs
Over the years FCS operated branch offices to serve communities in north, east and west Tulsa, Broken Arrow, Owasso and Claremore. In the 1970s, east Tulsa was booming with working-class families when FCS launched services at the local library in 1979 at the request of the East Tulsa Coordinating Committee. "(They said), 'There's no family services here. There's no counseling. The schools don't know what to do,'" Lapidus recalls.
Part of the clinical team, Lapidus and therapist Claudia Arthrell learned by knocking on doors that people wanted a place to come in and talk privately about their family problems. Quickly FCS opened its own facility, which it still operates. "In east Tulsa, what we really saw was there was so much divorce," Arthrell says. "For me, that's what became starting divorce groups for parents, education groups for kids."
FCS began offering Helping Children Cope with Divorce, which in 1995 became a court-ordered program for all divorcing parents in Tulsa County. When Arthrell retired in 2019 after 41 years with FCS, 85,000 people had gone through the program to learn how "to shield their children from the burden of divorce," she says.
In the early '80s sexual abuse treatment was new, and FCS was the first in Tulsa to offer therapies for victims. That work in particular spoke to FCS board member Gil Morris when he joined the board in 1983. "What got me was all the sexually abused children we have in Tulsa that no one even knows about," he says. "At the time I was maybe a little naïve. I didn't realize that was a big issue, and so that really caught my heartstrings and made me want to work with the board."
Through a unique partnership with Community Action Project Tulsa, FCS has provided support to families of children enrolled in the Tulsa County HeadStart program since the late '90s. "I think the CAP HeadStart program is the only one in the country that partners with a community organization (FCS) to provide family services and mental health care to parents of HeadStart children," Lapidus says. 
Since Lapidus became FCS executive director in 1986, there have been countless directions the organization could have gone; but Lapidus' commitment was to prioritize serving the uninsured, low-income populations in Tulsa through various programs. 
"We always saw ourselves as being a leader and bringing our expertise to poor, disadvantaged families and individuals," she says. "Those two themes have really followed all the way through."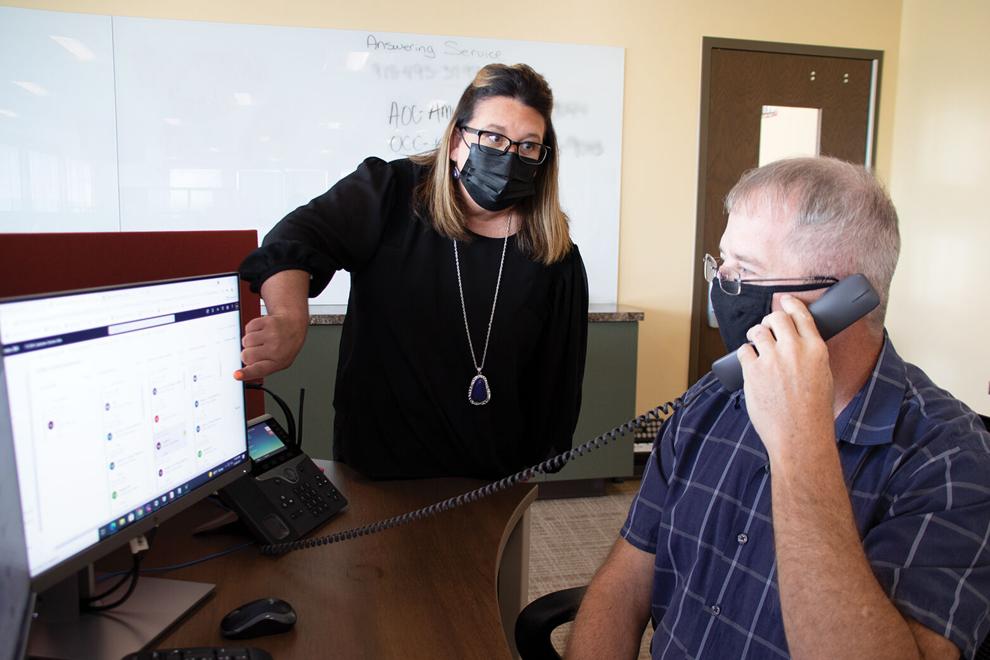 Mental health and addiction
In the 2000s a huge shift propelled the growth of FCS from a $6 million budget in 1999 to $26 million by 2008. The organization transformed from family service agency to mental health provider to combat growing depression, substance abuse and other mental illness. 
Within five years FCS became the largest community mental health center in the state. To Lapidus, the common thread is still poverty: "The people we serve are often overburdened and under-resourced. For many, their illness has caused challenges for employment, housing, health and family relationships. FCS meets all of these needs, along with mental health and addiction treatment."
In 2009 FCS launched Women in Recovery, an intensive outpatient alternative for eligible women facing long prison sentences for drug-related offenses. To date the program has graduated more than 500 women, helping them overcome addiction, recover from trauma, address mental illness and acquire tools to build successful and productive lives.
In 2014, the ongoing statewide shortage of beds for inpatient mental health care often forced Tulsa-area patients to be transported out of their communities for treatment. As a result, FCS created the Crisis Care Center, 1055 S. Houston Ave., to stabilize individuals through counseling, medication and/or ambulatory detox.
The program began with seven chairs for quick turnarounds and 16 beds for in-patient care; today the unit has grown to 20 chairs and 20 beds, which are at full capacity, according to Krista Lewis, FCS chief program officer for adult mental health medical and crisis services.
In 2020 a sally port — a dedicated law enforcement entrance — was added to the Center to streamline the assessment process for citizens and police. Since Jan. 21, 2021, 38% of those served in the Crisis Care Center have come via law enforcement, while the others come through referrals or simply walk in. 
More individuals are suffering from anxiety, depression and substance abuse because of the ongoing pandemic. Adults and children suffering a mental health crisis and suicidal ideation are increasing and calling FCS' , a telephone and mobile crisis program, for help. COPES helps with deescalation and, when possible, a warm hand-off to mental health outpatient services or, when required, to facility-based care. 
"People are turning to substances in greater numbers because of the pandemic," Lewis adds. "While they think this will make them feel better, what we are seeing is an increase in substance-induced dependency along with depression and anxiety."
Lapidus says FCS' community mental health work will continue to grow through initiatives like a new maternal mental health program for mothers experiencing postpartum depression. "To achieve better outcomes for the seriously mentally ill with multiple chronic conditions and needs, FCS will add whole person care incorporating medical care coordination, intensive case management and additional criminal justice diversion offerings," she says.
Today FCS' mission statement reads: "Family and Children's Services heals hurting and abused children, strengthens families, and provides hope and a path to recovery for those battling mental illness and addiction." 
"(FCS) sees the problems," says Alison Anthony, CEO of Tulsa Area United Way, which continues to help fund FCS. "They have an idea grounded in data, knowing what would make a difference, and they fuel that with their energy. They are able to develop and execute a plan better than just about anybody."
One hundred years after its founding, the 809-employee organization serves an estimated 120,000 people a year, and the ripple effect of those touch points has changed not only a community, but also generations of Tulsans, for the better.
Before retiring from FCS, Arthrell often ran into clients from 30 years ago. "There would be parents who would come up to me and say, 'I had counseling with you when you were in east Tulsa, and you changed my life. And you're the reason my family and I know you all can help us now.'"
The Gail Lapidus effect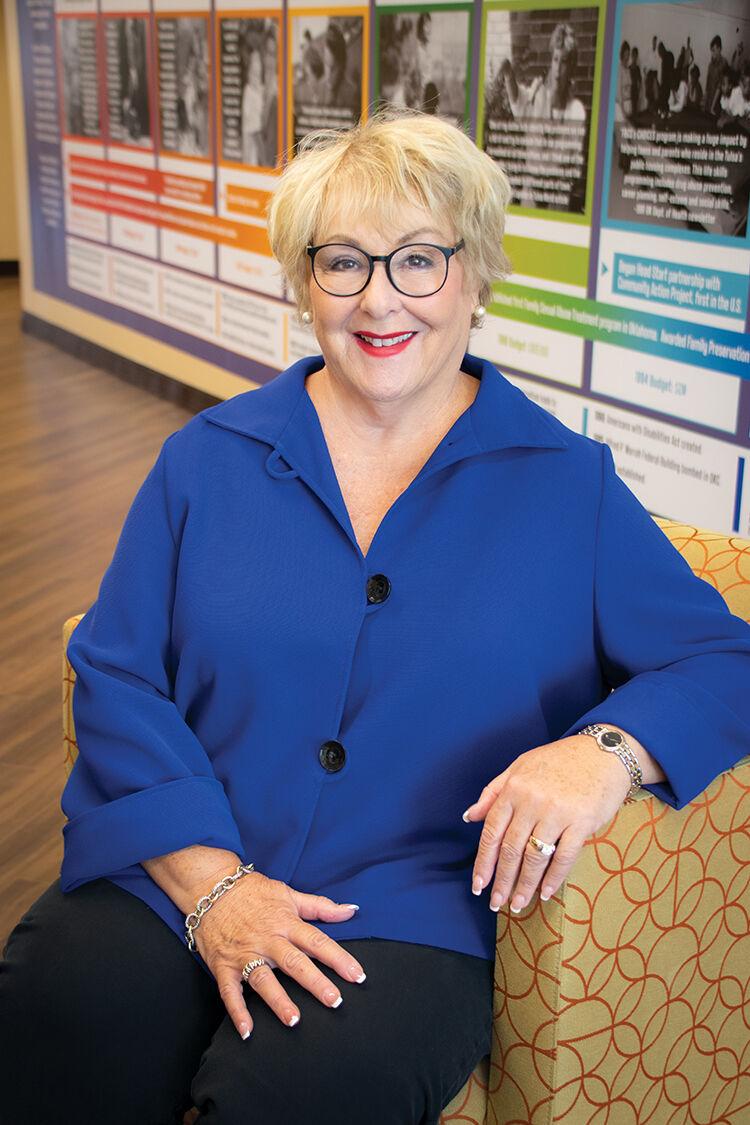 Ask anyone who is responsible for the growth and success of Family and Children's Services over the past 47 years, and the answer becomes redundant: Gail Lapidus.
Lapidus joined the organization in 1974 as a fresh-faced 22-year-old hired for outreach in Tulsa's housing projects in west Tulsa, near the site of FCS' early work.
The complexes were built in sparsely populated areas "in the middle of nowhere," Lapidus says. "(The residents) had so many problems, and the Housing Authority at the time just housed them. They had no transportation, no grocery store, no community connectivity."
To reach the children and families, Lapidus became a school-based social worker. The principal and counselors would send her to knock on the doors of the children they were worried about.
Then, "my supervisor at the time came up with this great idea, and thank goodness when you're young, you'll do just about anything," Lapidus laughs.
The idea was for Lapidus to create and coach a softball team at Eugene Field Elementary School, which she did for five years. The team name? The West Side River Rats. Although coaching preteen sports was an unconventional approach to family therapy, the strategy was inventive.  
"The strategy was, these kids have nothing to do," Lapidus explains. "So maybe you can teach them life skills and boost their confidence and help them make a transition to seventh grade … and then you should get to know their families. And then you'll be able to become part of that community in that neighborhood." 
After several years as a family therapist working in west Tulsa and other communities, Lapidus transitioned to executive director in 1986. Her title changed to CEO in the early 2000s. 
Behind all her work is a deep respect for those in poverty. Reflecting on her experiences working with the poor, Lapidus says, "They had all the same troubles or worries and fears I did, but they also didn't know where the next meal was coming from, or how they were going to get shoes for their child or boots for their job. I grew to have this enormous respect for people who don't have means and their ability to still love and dream and wish and find ways to make things work." 
From the get-go, Lapidus was thinking outside the box at the organization's helm. "I still remember our first fundraising we did in 1986," says Gil Morris, longtime FCS board member. "Gail talked me into a dressing up as a turkey and going on TV, and then going downtown and selling turkeys. I think we raised somewhere between $500 and $1,000 total." At the time, it was a win for the still-small nonprofit.  
All these years, Lapidus has continued to grow or add data-driven programs that address community issues, from divorce to female incarceration to mental health. "The number of people we can help: That's what it really comes down to — 120,000 people in Green Country," Morris says. "To take care of more people, you have to add more services. And that's what she's done. 
"Gail could be CEO for a large private corporation," Morris adds. "She has that ability. She just chose to stay with Family and Children's Services because of her passion for children and behavioral health. That's why she's here, but she could do anything." 
Alison Anthony, CEO of Tulsa Area United Way, has seen Lapidus adapt the organization time and again — a feat considering it's a century old. 
"If you think about betting on the jockey, I'm going to bet on Gail Lapidus every time because she knows what she's doing," Anthony says. "And she is going to bring that horse across the line by telling the story (of FCS), advocating with passion and energy, having great ideas and listening to her team and her colleagues in the community, and collaborating to come up with the best solution to solve those problems.  
"She's been doing it since the '70s. And I hope keeps doing it for many years to come."
---
100 years of Family and Children's Services
1921 
Founded as Family Welfare Society of Tulsa.
1925
Moved into donated building at East Sixth Street and South Cheyenne Avenue.
1931
Renamed United Family Service Association.
1944
Merged with Children's Service Bureau; renamed Family and Children's Service.
1952
Began Homemaker Services program to aid families during mothers' illness or stress.
1954
Established programs for juvenile court and counseling of delinquent and "at risk" girls. 
1960s
Expanded community partnerships and youth programs; opened north Tulsa office. 
1961
Began graduate internship program through partnership with University of Oklahoma School of Social Work.
1979
Opened east Tulsa office. 
1980s
Established first family sexual abuse treatment program in the state.
1986
Gail Lapidus became the first female executive director.
1990s
Began Tulsa County HeadStart partnership with Community Action Project Tulsa.
1994
Launched Helping Children Cope with Divorce program.
2000
Became certified as a Community Mental Health Center, the first new center in 20 years.
2001
Opened Sarah and John Graves Center for mental health care at 2325 S. Harvard Ave.
2009
Launched COPES mobile crisis hotline; founded Women in Recovery.
2000s
Founded Urgent Recovery Center for in-patient mental health needs.
2014
Opened Crisis Care Center for individuals in mental health crisis.
2018
A mental health Community Response Team was formed with FCS COPES, Tulsa Police Department and Tulsa Fire Department.
2020
Established specialized facility on South Peoria Avenue for children with mental health, abuse and trauma.
2021
Launched maternal mental health program; COPES embedded in Tulsa 911 Dispatch Center; became a Certified Community Behavioral Health Center.