Sometimes I'm a party trick. And a bad one at that.
It's not just me. TulsaPeople Editor Anne Brockman and I have laughed about how often friends and spouses assume, because of our occupations, that we are "in the know" about everything Tulsa.
We're frequently asked in public settings about specifics on topics like downtown development:
"What's going in at Second and Cincinnati?"
"How many hotels do we have downtown?"
"How much do those new apartments rent for?"
Of course, sometimes we know the answers because we've recently assigned or written an article, or we've researched it on our own. But I've gotten pretty good at saying, "You know, I'm not sure. I'll have to look into that." (Or to my husband, when I'm being sassy, "Let me Google that for you.")
The fact is, it's hard to keep up with downtown development. A lot has changed, even in the past five years.
Back in 2015, TulsaPeople asked three Tulsa architecture firms to redesign three downtown buildings in need of redevelopment. Though for imaginary projects, the renderings designers created were stunning, and conducting the interviews for that cover story was one of my personal highlights.
The article birthed the now-famous "twister building," KKT Architects' proposed Oklahoma Weather Museum and Research Center at 202 S. Guthrie Ave. The idea took on a life of its own when the fictional rendering was picked up by media around the world.
Another concept was KSQ Design's redesign of the former Oklahoma Tire and Supply Co. (OTASCO) store at 201 E. Second St. Our cover image, the project was named Artist Repertory Tulsa, a hypothetical performance space with 30 units for artists to live and work.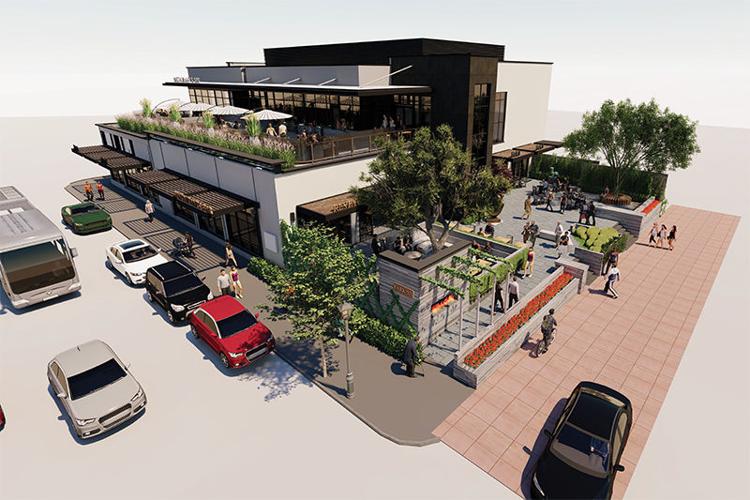 Jeff Scott is the longtime owner of the 15,000-square-foot, two-story OTASCO building in which the Williams Cos. refurbished its office furniture until this past March. "It made all the sense in the world in 1993 for this to be a carpentry shop," Scott says. "It doesn't make much sense now."
He is currently redeveloping the building, for real — not into a performance space, but into something just as exciting.
In January, the Brook restaurant will open its third location upstairs with a rooftop patio, Scott says. Another, yet-to-be-named restaurant will occupy part of the lower level with a courtyard patio to the east.
Also coming to the street level is the Artery. In November, the gallery representing local and regional artists will move from its current location at 119 S. Detroit Ave. Two other retail spaces had not been filled at press time.
Now you know what's happening at Second and Cincinnati. One property, five prospective businesses.
Like I said, it's hard to keep up.
Morgan Phillips
City Editor